Today is Victoria Day, i.e. the Monday before May 24th. May 24th. was Queen Victoria's birthday and this day was celebrated as Empire Day during her long reign from 1837 to 1901. It is still celebrated in Canada. In 1952 Victoria Day was declared a statutory holiday in Canada to be celebrated on the Monday before May 24th.
>>>>>>>>>>
3 Good Reasons to be proud
On Friday, Listowel Town Council held a civic reception to honour Dr. Patricia Sheahan, for her work in cancer care. Patricia, originally from The Square, Listowel, heads up the palliative care team at Kerry General Hospital. Everyone who has encountered Patricia and her team at a very hard time in their lives sings her praises. Well done to Listowel Town Council for recognizing Patricia's invaluable work.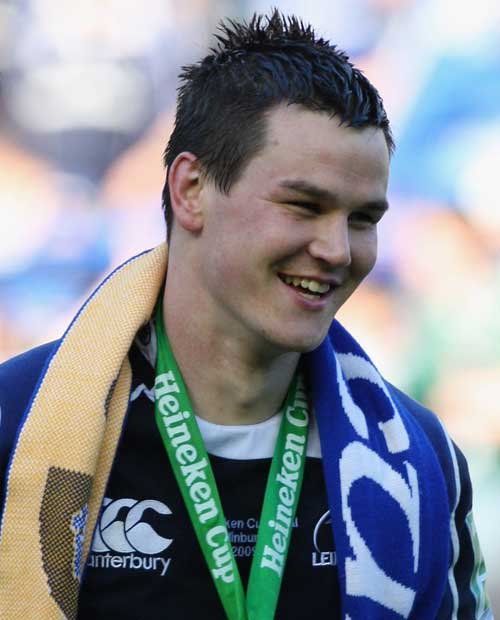 Congratulations to Jonathan Sexton on Leinster's great victory on Saturday. He has given Listowel another reason to be proud.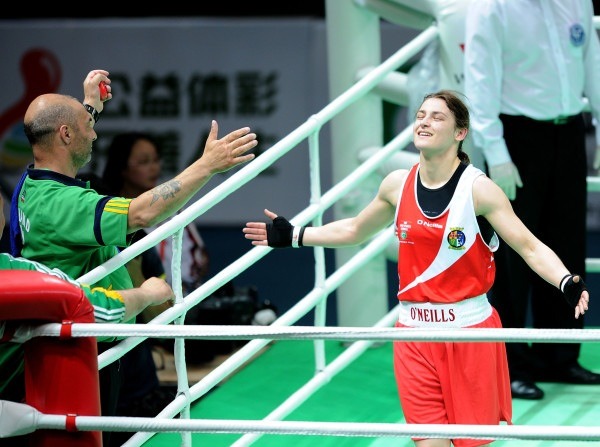 Malachy Browne took this great picture of Katie Taylor and her dad. No Listowel Connection that I know of but a reason for the whole country to be proud!
>>>>>>>>>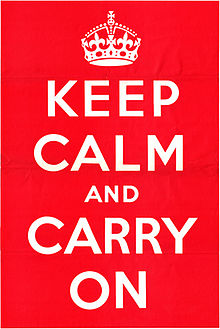 This poster was issued by the Ministry of Information in Britain in 1939 at the beginning of the war. The intention was to boost morale. For some reason only a few of the posters were distributed. I suspect that the bossy tone of the exhortation might not have had the intended effect.
Anyway, it was thought that only a few of the original posters survived, until in 2012 a lady turned up at a filming of The Antiques Roadshow with 20 of them.
The posters caught the imagination and spawned many pastiches. I like this one.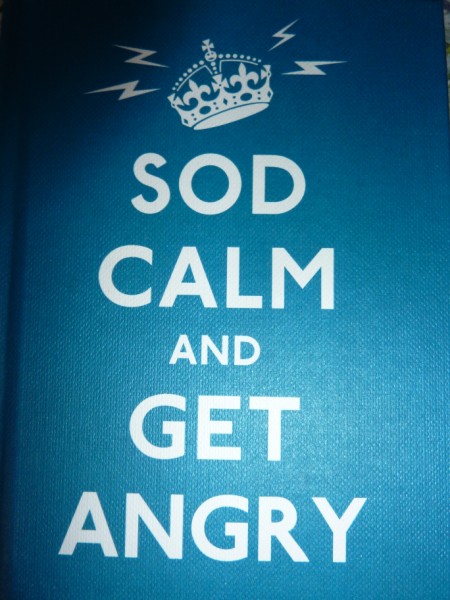 This leads me to something in Saturday's paper that made me angry. The article was entitled The Jobless Generation. This paragraph is so so sad.
For
many young people, qualifications, degrees and experience count for little in a
distressed economy. About 30 per cent, or 80,000, are out of work; the rate is
twice that of the general population. Our youth-unemployment rate isn't the
highest in Europe – that distinction belongs to Greece and Spain, where just
over half of young people are jobless – but it is right up there among the five
worst-performing countries in the EU.
The
extent of the problem is likely to be masked by the number emigrating for work
or choosing to stay in further education. In fact, in recent months, the number
of young people out of work has fallen slightly; a stagnant economy means there
are nowhere near enough jobs to absorb the wave of young people entering the
workforce each year.
For
many the experience of job-hunting is simply one of repeated rejection. What's
worse is that research shows that those out of work during their 20s are more
likely to be permanently scarred, with lower earnings and worse health later in
life. It's little wonder, then, that most policymakers see the issue as little
short of a social emergency.
"If you have a
growing number of people left behind, there is a cost to society," says Anne
Sonnet, senior economist at the Organisation for Economic Co-operation and
Development. "You run the risk of a jobless generation disconnected from
society."
But there may be some light at the end of the tunnel. If you are one of the 30% of our young people who has no job, read on…
It's not what you know, it's who
you know'….The Irish initiative looking to use the power of the Diaspora to
bring business back home…
BY ADMIN ⋅ MAY 15, 2012
Just two days ago, the Irish Sun newspaper reported that
currently an average, 200 people emigrate from Ireland every day! "More
than 40,000 emigrated last year — a figure not seen since the Great Famine in
the 1840s"…. the report then goes on to highlight.
With unemployment currently sitting at around 14% of the working population,
the figures are a shocking reflection of the demise of the Celtic Tiger and the
continued fallout of the Euro and Global financial crisis and recession.
There is a history of Irish emigration, throughout the last few
centuries, and a warm Irish welcome can be found in all parts of the Globe (and
in a few Irish bars too!). However, one initiative currently being launched in
Ireland is ConnectIreland, a crowdsourcing
inspired project, that is looking to use the strength of the Irish diaspora to
attract new business and business opportunities back to Irish
soil…TheEmployable contacted Connect Ireland to find out more and get the low
down on this innovative approach…
Tell
us all about ConnectIreland? What is it, how does it work, and what are you
looking to achieve?
ConnectIreland is a crowdsourcing inspired initiative asking
individuals to use their contacts, family, friends and business connections, to
identify and make introductions between ConnectIreland and overseas companies
who are considering international expansion. Any individual who introduces a
company that subsequently invests in Ireland and creates new jobs will receive
a minimum reward of €1,500 per job, up to a maximum of 100 jobs, from the
Irish Government.
ConnectIreland has been appointed by IDA Ireland, the agency
responsible for attracting foreign direct investment to Ireland, to deliver the
Succeed in Ireland initiative as part of the Irish Government's Jobs Action
plan for 2012 and aims to create a minimum of 5,000 jobs over five years.
Any
stand out good news stories so far?
We have received interest from all over the world including the
US, Canada, India, China, Brazil and other countries. Since our launch date on
March 8th, as a result of introductions made by people in Ireland and overseas,
ConnectIreland has built an impressive pipeline of potential projects including
a number of final stage negotiations with companies planning on investing in
Ireland.
Hireland
is another excellent Irish employment initiative, do you think the financial
crisis has unleashed an innovative spirit in the Irish people?
Irish people have always been known for their innate
entrepreneurial drive. Business people everywhere are dealing with reduced
demand for products and services, tighter regulations and restricted access to
finance. These factors have combined to make some more cautious while others
are trying new ideas to get ahead. More Irish SMEs than before are now looking
to export markets to grow their businesses and also strategic partners to tap
into new markets. These activities will serve to strengthen businesses across
Ireland and ultimately lead to a more robust economy.
In
this sense too, do you think Ireland is leading the way within Europe, in innovative
attempts to create new jobs
Ireland has one of the world's largest Diaspora communities with
an estimated 70 million people claiming Irish ancestry. Harnessing this great
asset in a systematic way via ConnectIreland is a very innovative way to drive
jobs. Ireland is the first country in the world to offer an incentivised
referral system to boost efforts to attract foreign direct investment.
What
can someone do, right now, to help this scheme succeed?
Visit www.connectireland.com and
register your support. Tell your family, friends, business contacts about
ConnectIreland and think about who else who you know that can help put us in
touch with a company that is expanding internationally. ConnectIreland is on
Facebook, Twitter, LinkedIn and YouTube.
TheEmployable welcomes this innovative project to try and drive
employment and jobs. Ireland is currently coming up with some really creative
approaches, to try and combat the Euro crisis and recession, and ConnectIreland
is another scheme that hopefully will work. We support this scheme and let's
hope that this type of innovation can be replicated elsewhere!
>>>>>>>>>
Something funny to lighten the mood.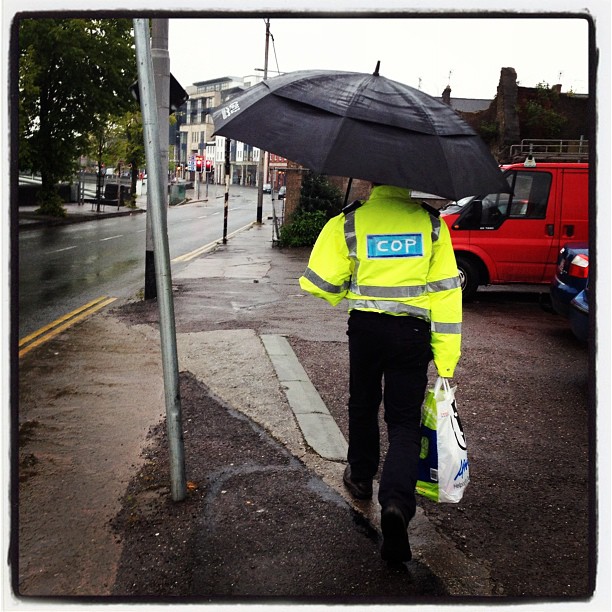 John Henry Donovan took the photo and he captioned it "Only in Cork"
>>>>>>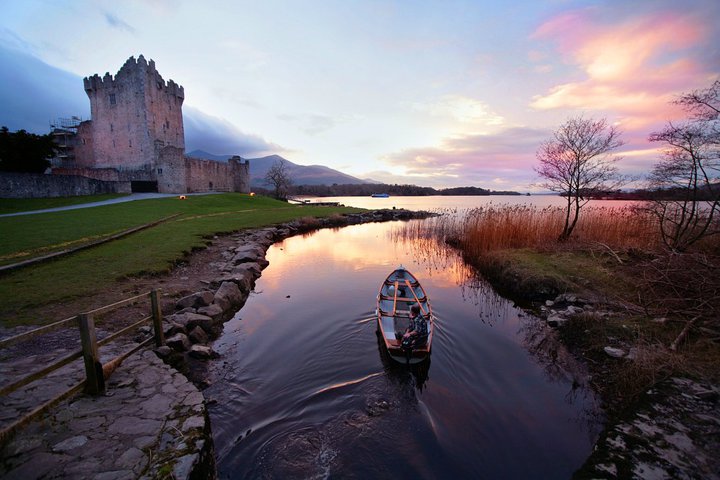 Beauty's home, Heaven's reflex; this absolutely beautiful picture of Ross Castle is from the Discover Kerry website. The photographer is not credited but it looks like the work of Valerie O'Sullivan.