Vintage Fashion Day at Listowel Races 2015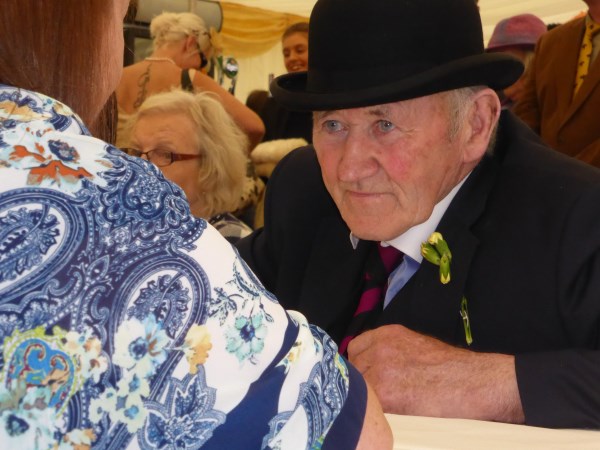 This is Joe Broderick telling the story of his outfit to Angela Wall of An Taisce who were co sponsoring the Recycle/Upcycle event at Listowel Races 2015. Joe actually had a new suit and a lovely bowler hat. But he had a vintage accessory. On his watch chain he had a North Kerry football medal. He was recycling and reusing his corsage as well. He claimed he swiped the flowers on his way in.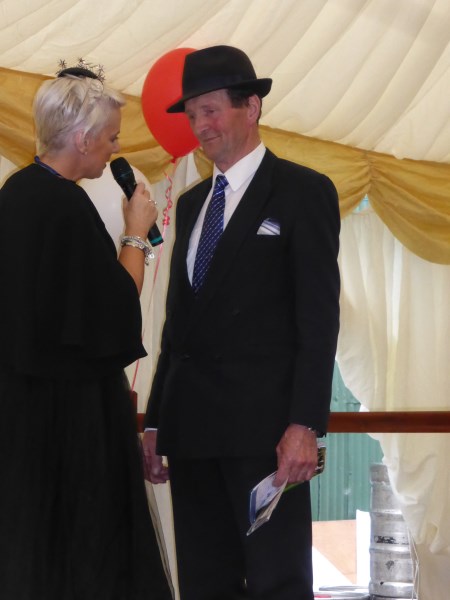 This man won this competition last year. He looked just as smart this year, when he replaced the red tie with a blue one but the competition was very keen this year and he failed to make the final cut.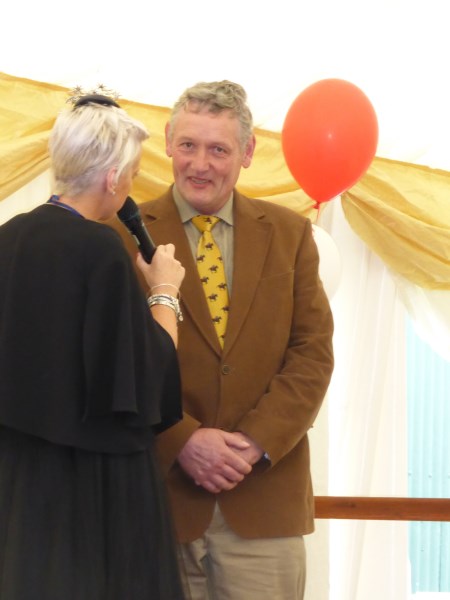 Paudie Moriarty was sporting a tie given to him by his late father, Gene who worked on The Island for many years. It was a lovely yellow number decorated with racehorses. His jacket was a present from his brother. It was actually a hand me down, passed on when his older brother lost some weight but it looked perfect on Paudie.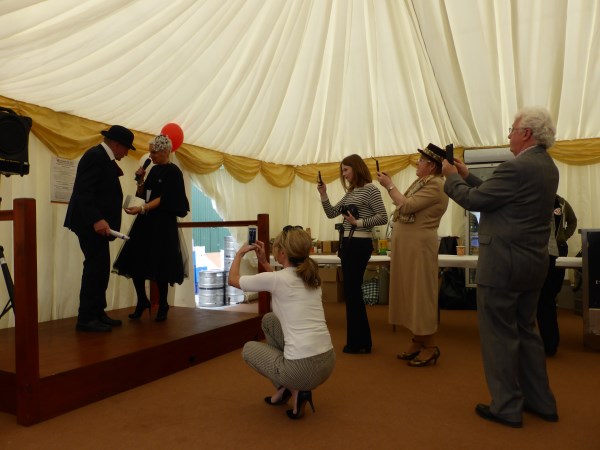 When Joe Broderick stepped up for his interview, the paparazzi were on it in an instant. I videod a bit of his interview HERE. Joe was a big hit with the judges and the audience.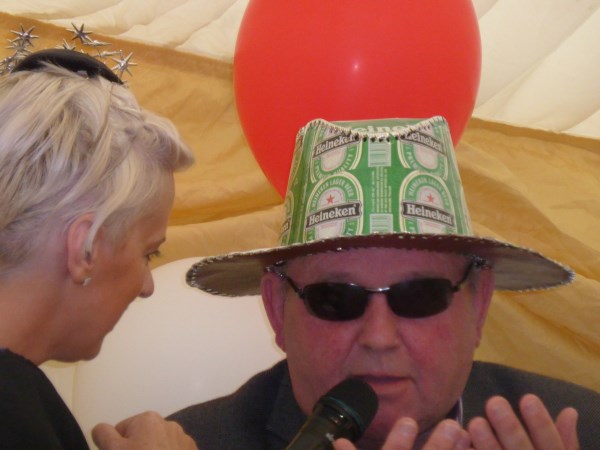 This Galway man was a kind of novelty item. He was wearing a hat made from Heineken cans. He bought it in The Phillipines for €2 and he has been wearing it to race meetings since. He was full of praise for the Tidy Town movement. He, himself has a Super Valu who are sponsors of Tidy Towns. In answer to the so frequently asked question; No, he didn't drink all the beer. He is a teetotaler.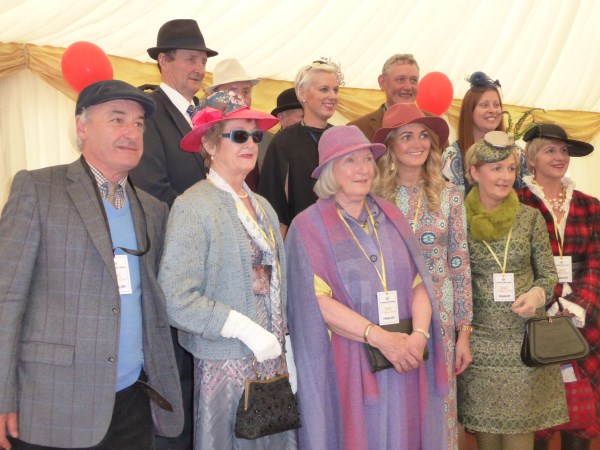 The final line up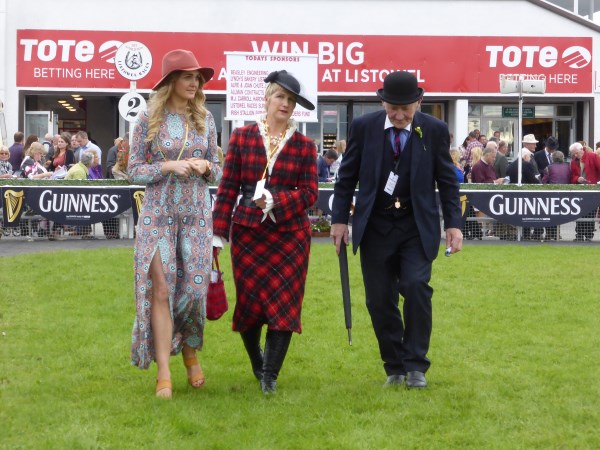 The finalists made their way into the parade ring for the announcement of the winner.
The Races were going on as usual and Mick Ó hUallacháin was interviewing jockeys.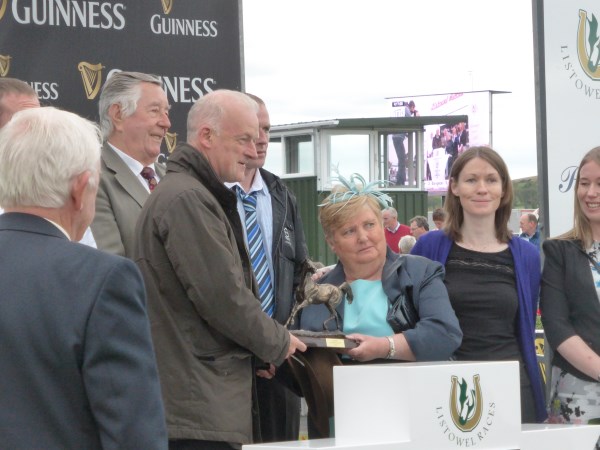 There was a poignant presentation taking place. Mrs. McElligott was presenting the winning trainer's trophy to Willie Mullins in memory of her husband who had a long association with Listowel Races and who passed away earlier this year.
The winners were announced and there were two Moriartys in the shake up. Nora won the Ladies category and her brother in law, Paudie was the runner up in the mens'.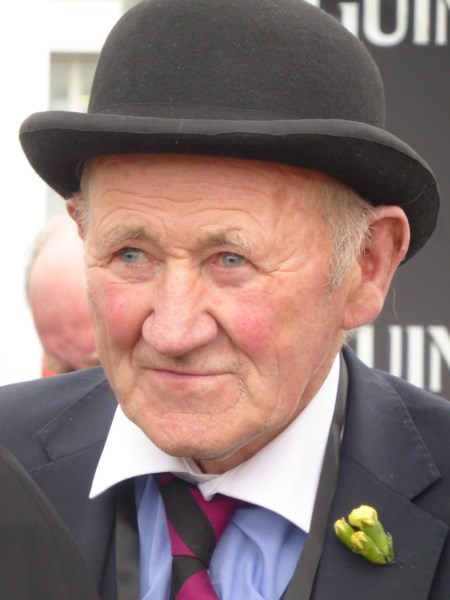 No one was surprised when the charming Joe was declared the winner.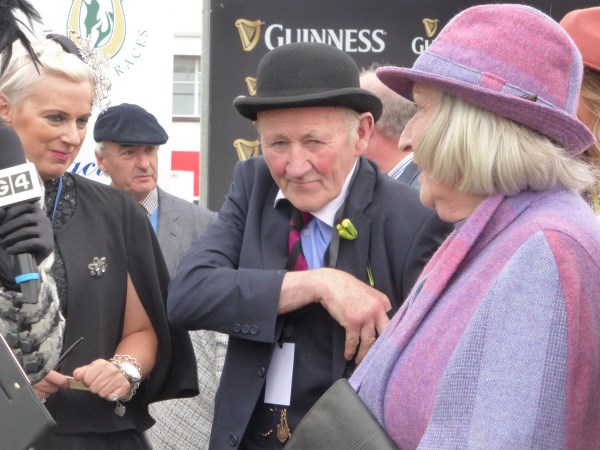 Joe is a man who knows how to celebrate a victory. His hand went immediately to his pocket and he ordered a bottle of champagne.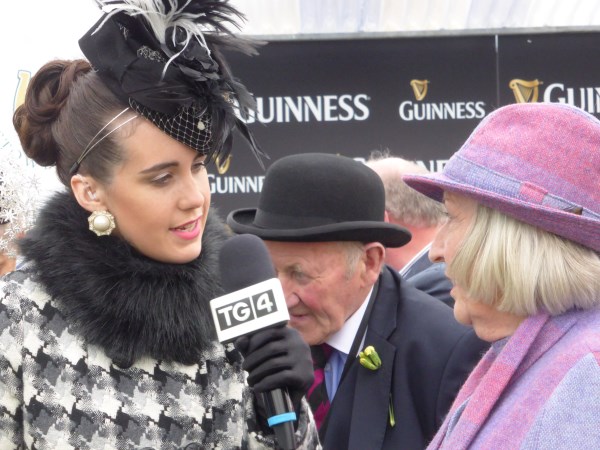 Mairead from TG4 interviewed both winners.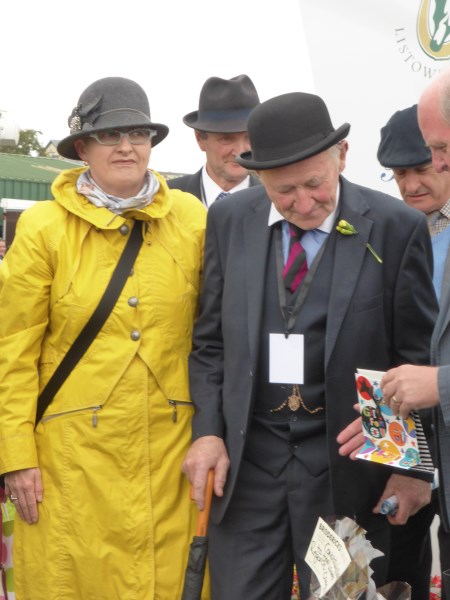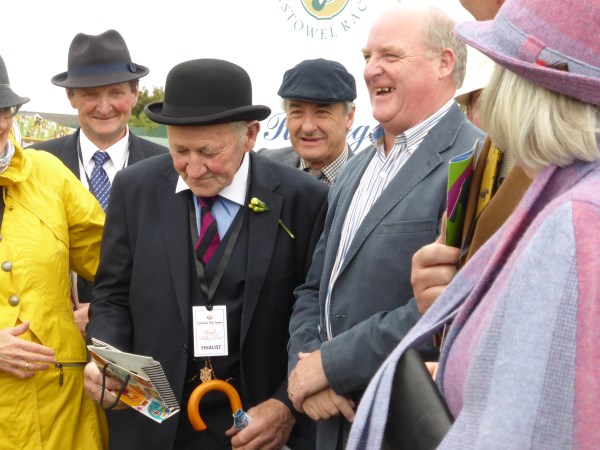 Oonagh Harnett of Broderick's Pharmacy sponsored the Ladies competition and Con McCarthy of McCarthy Insurance sponsored the mens'.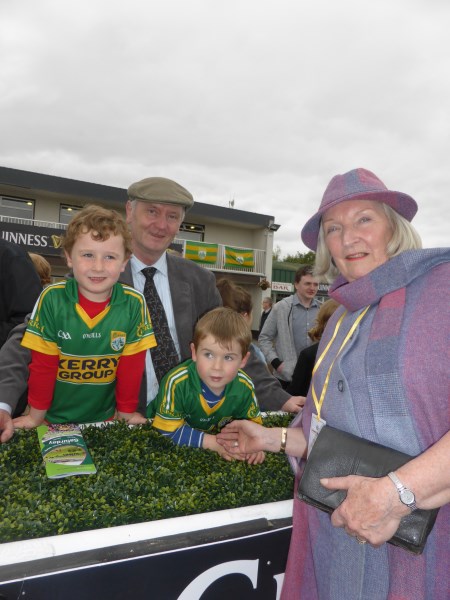 Nora's family were delighted with her win.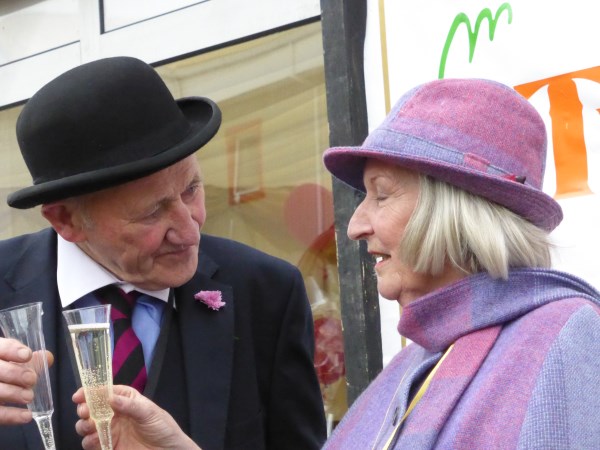 Joe and Nora toast their success.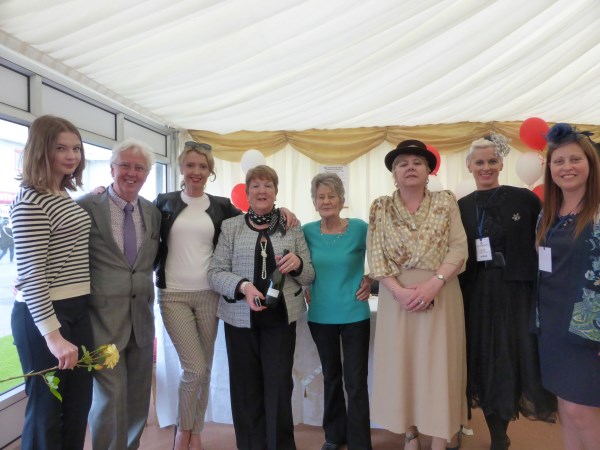 Listowel Tidy Town members with the organizers and judges of the event. Well pleased with how everything went.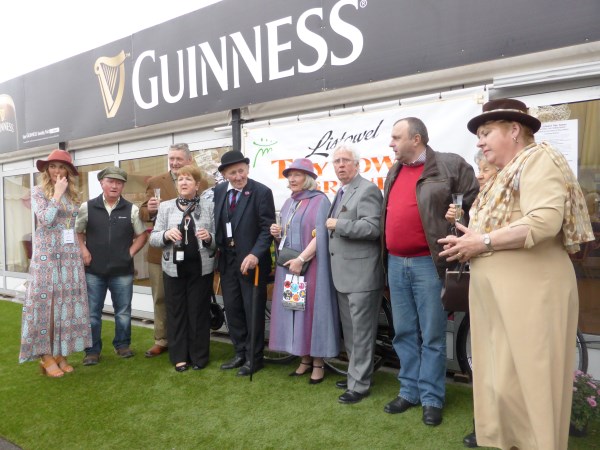 Back at the tent everyone lines up for a photo and the ebullient Owen MacMahon leads us all in Lovely Listowel, just to get us in the mood for the following day's match.
"Twas more like Geneva than Lovely Listowel"
<<<<<<<<


Looking Ahead to Drama in 2016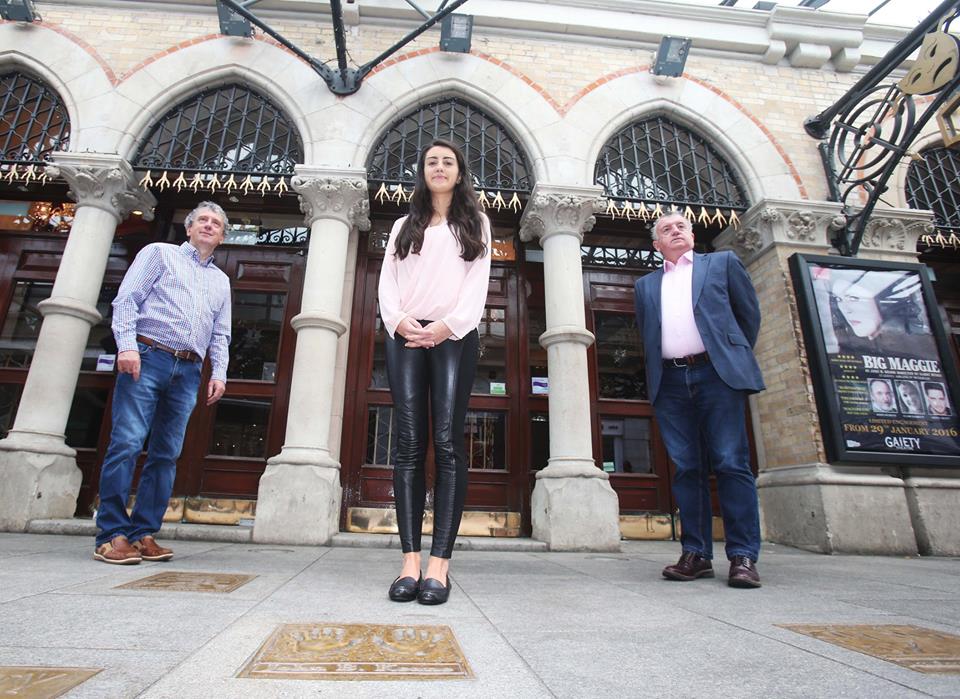 Some of the Keane family gathered in Dublin last month for the launch of Druid's production of Big Maggie at The Gaiety which is due to take the stage 29 January 2016 – 20 February 2016 .
It was an emotional event for the family as it came just months after the passing of their mother,Mary, widow of the late playwright, John B. Keane. In February 2015 The family accompanied by Mary were in that same theatre for the premier of The Field.


<<<<<<<<


+ R.I.P. Kevin (Geg) Sheehy +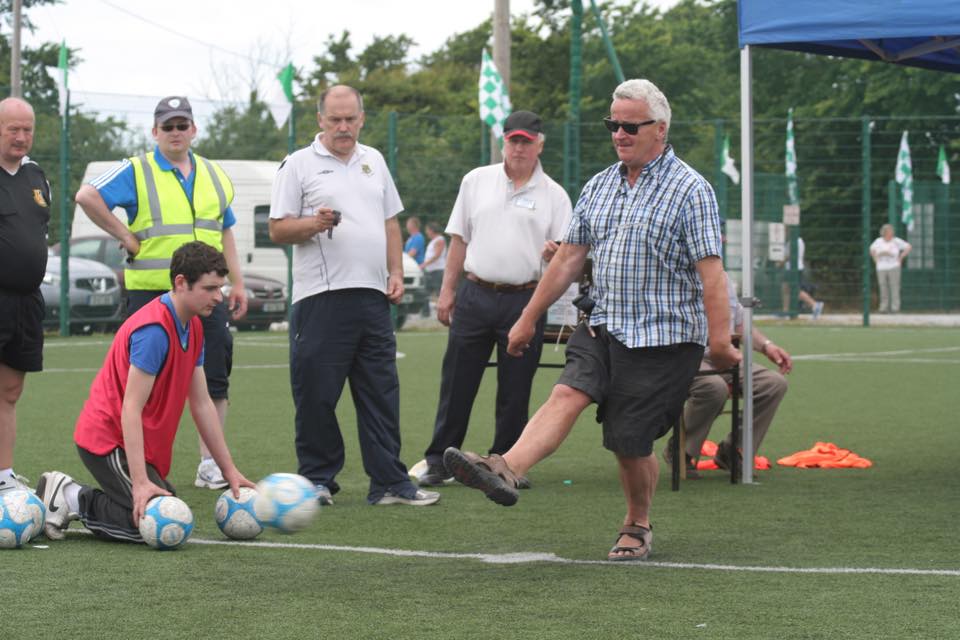 (Photo:Listowel Celtic on Facebook)


Our streets will be lonelier and less colorful with the sad and untimely passing of Giggs Sheehy. The above photo posted by his friends in Listowel Celtic captures Kevin's fun loving upbeat personality.


He is a huge irreplaceable loss to his family. Listowel too has lost a great character.