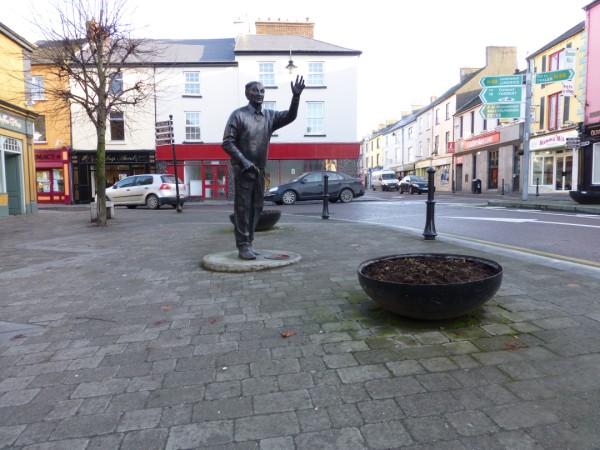 The Small Square is looking bare and wintry these days. Roll on Christmas and the extra street lights we are promised for this year.
>>>>>>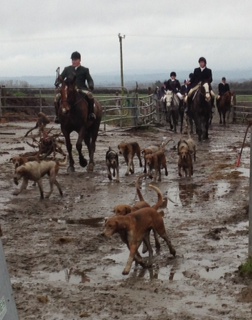 Yesterday's hunt/mudbath in Ballyduff
Bernard O'Connell (Upper William St. and Canada) sent us this photo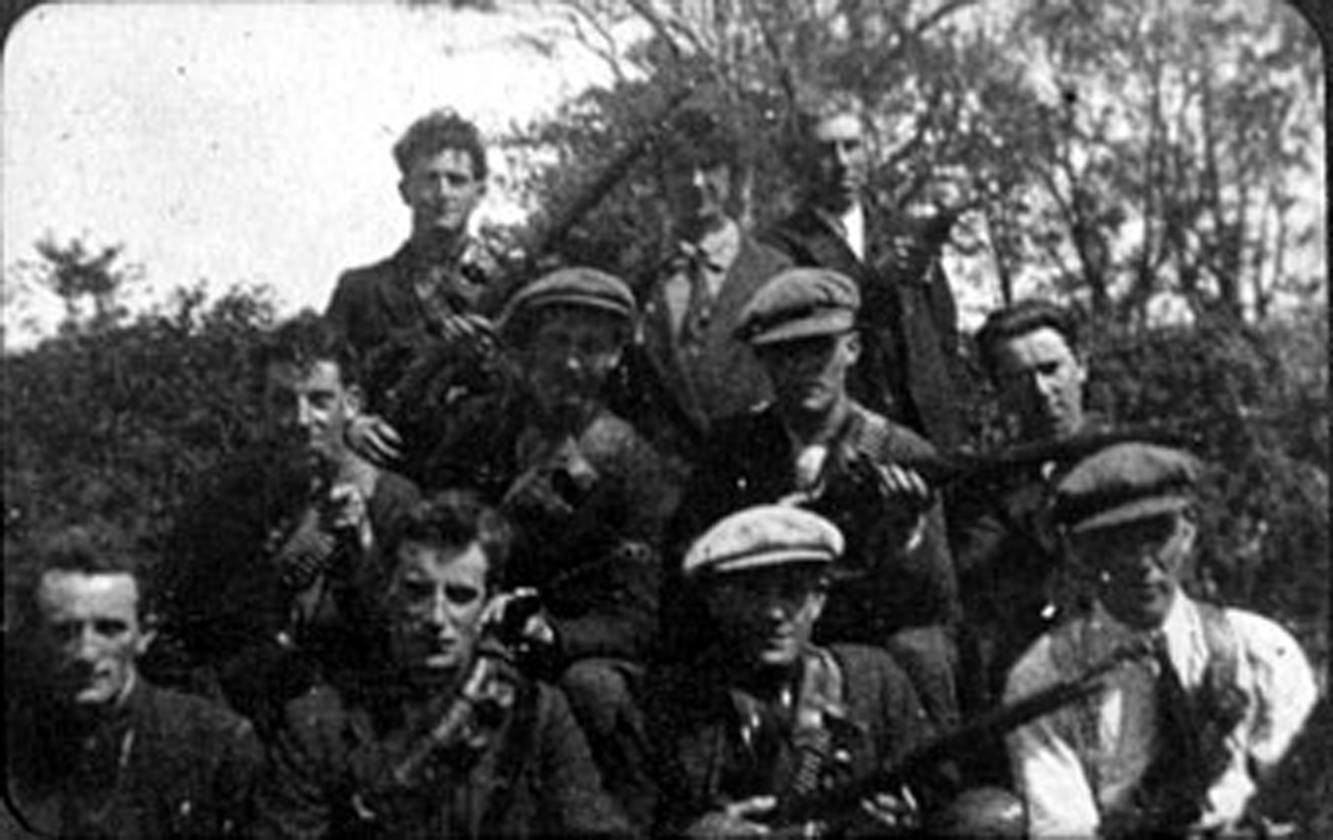 Front row (L-R) Patrick J McElligott, Denis Quille, James Sugrue, Brian O'Grady
Middle Row Martin Quille, Christopher Broder, Con Brosnan, Timothy O'Sullivan
Back Row Daniel O'Grady, Miss Mary Aherne, Sean Coughlan
Bernard writes;
"Denis Quille 2nd left in the front row was married to my Gran Aunt Julia O'Connell she was a sister of my Granfather Jack my Dad's father, he was a Tailor at 31 Upper William St, my home where I grew up."
>>>>
They don't make 'em like they used to….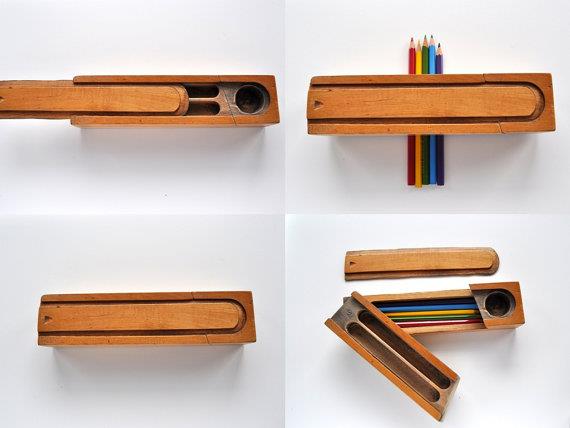 Design classic! Did you have one of these? They never wore out or broke and could be passed from one child to the next.
<<<<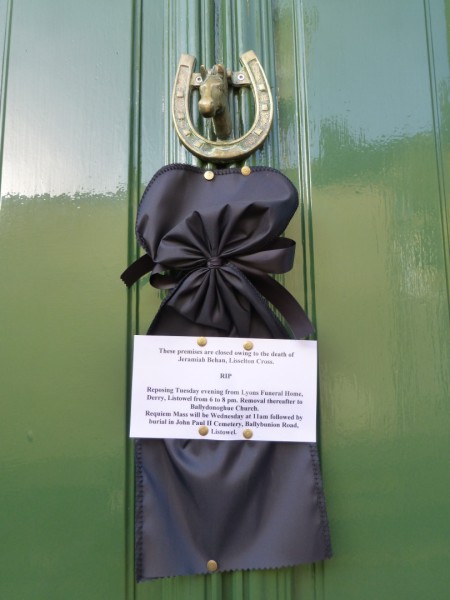 Last week one of the old stock of North Kerry passed away.
Jeremiah Behan R.I.P. of Lisselton was one of nature's gentleman.
When I came to town first and was raising a young family, I used to own a chest freezer and I used to buy the meat to fill it in Behan's of Lisselton. The twice yearly trip to Behan's was never a chore. There was always a cup of tea and a chat in the friendly cheerful atmosphere of a family shop. Jeremiah will be missed by his family and his many friends.
Ar dheis láimh Dé go raibh a anam uasal dílís.
>>>>>>>>
Two photos from The Kerryman archives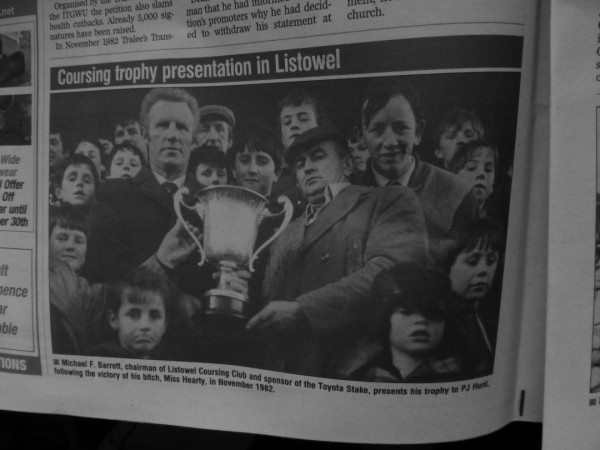 Coursing in Listowel in 1982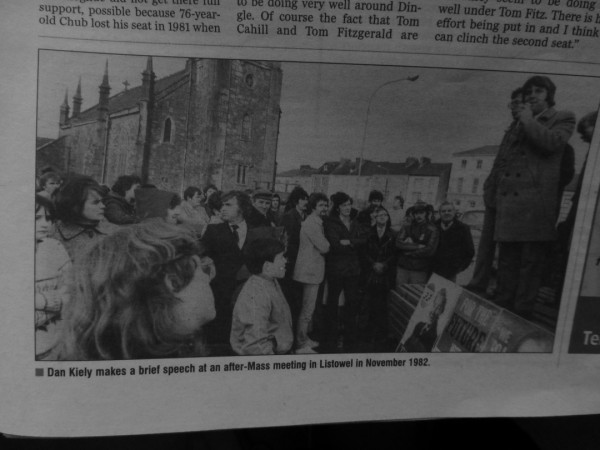 Dan Kiely on the platform after mass in Listowel in 1982
<<<<<<
An idea for local people on your Christmas list
IN THE SHADOW OF
THE SCHOOL memories of growing up in rural North Kerry in
the 1950's by Dick Carmody will be launched on Friday, 30th Nov. at 8.00pm inClounmacon
Community Centre. Book proceeds go to support the work of Kerry Emigrant Support.
>>>>>
This news is from Radio Kerry:
A decision on whether to give the go ahead to a primary care centre in Listowel has been deferred. An Bord Pleanala was due to make a decision on November 20th, however the decision has now been put back to January 24th. The proposed two-storey facility on Convent Road, Listowel is to comprise a regional primary care centre, a GPs care centre, a medical suite, as well as 50 car parking spaces. Listowel Town Council granted planning permission, however that was appealed to An Bord Pleanala, who will now make a decision on January 24th.