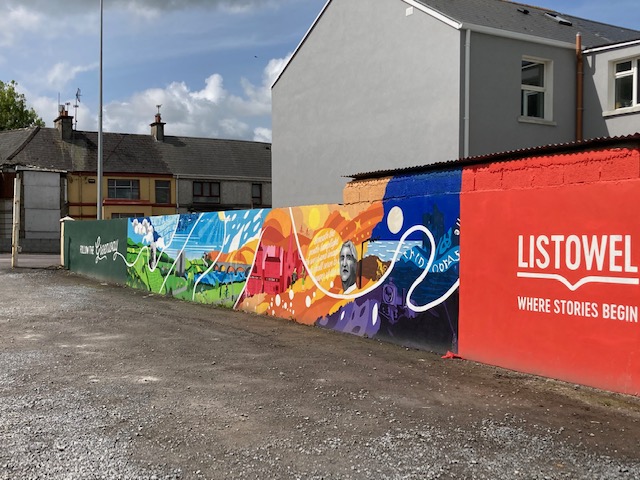 Greenway Mural at the old Neodata site, May 2023
<<<<<<<<<
Progress on the Greenway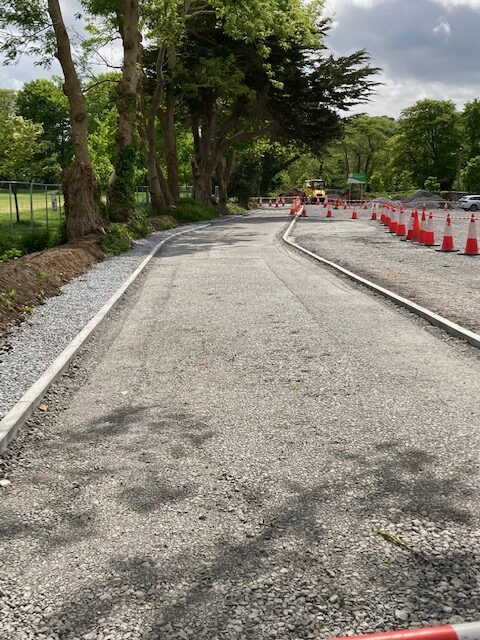 This is the Bridge Road entrance
<<<<<<<<<<
Another Prestigious Prize for a journalist with a Listowel Connection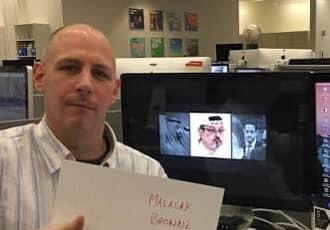 This is Malachy's father, David Browne's Facebook post
"Proud and privileged to witness the announcement of the Pulitzer Prize Award to my son Malachy last Monday in the New York Times offices. His team were acknowledged for their unflinching coverage of Russia's invasion of Ukraine, including an eight-month investigation into Ukrainian deaths in the town of Bucha and the Russian unit responsible for the killings.'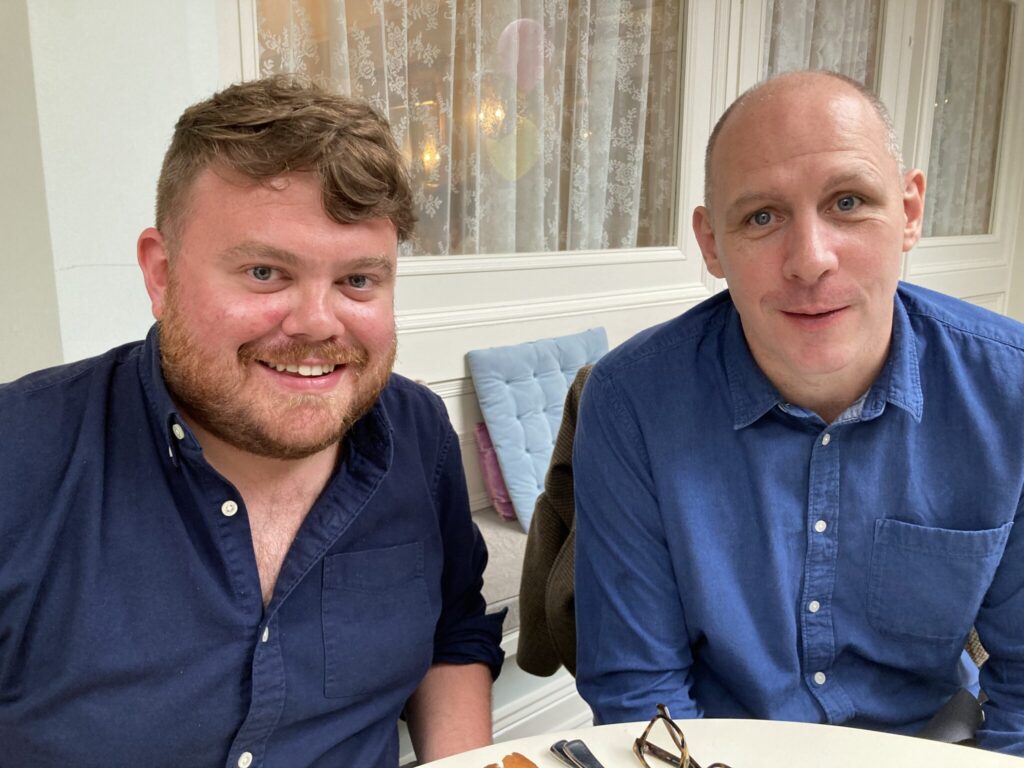 Malachy Browne with Donnie O'Sullivan at Listowel Writers' Week 2022
<<<<<<<<<<
A Settle Bed
This is a picture of an old farmhouse from Floklore.ie. On the left of the picture is what was known as a settle bed. The bedclothes were stored underneath the seat and brought out when the bed was dressed for someone for the night. This was a fine cozy bed beside the fire and often used by visitors or travelling workmen.
<<<<<<<<<<<
Listowel's Newest Amenity
"My heart, tonight, is home again in Ireland
Upon thy banks, my silver river Feale."
Bryan MacMahon's words were sung to us by his son, Owen, at the launch of Listowel Kayaking Club on May 14 2023.
The sun shone. The water was resplendent. The birds sang. A small crowd gathered (small, for health and safety reasons) and Jimmy Deenihan presented us with his latest project, a kayaking club. Jimmy and friends have brought this to fruition in jig time.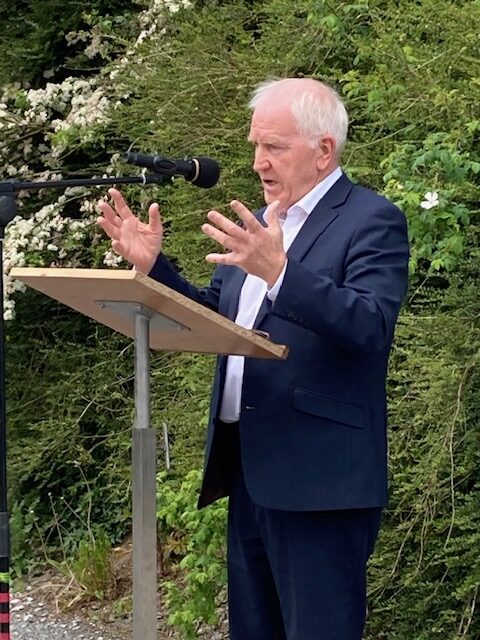 Jimmy Deenihan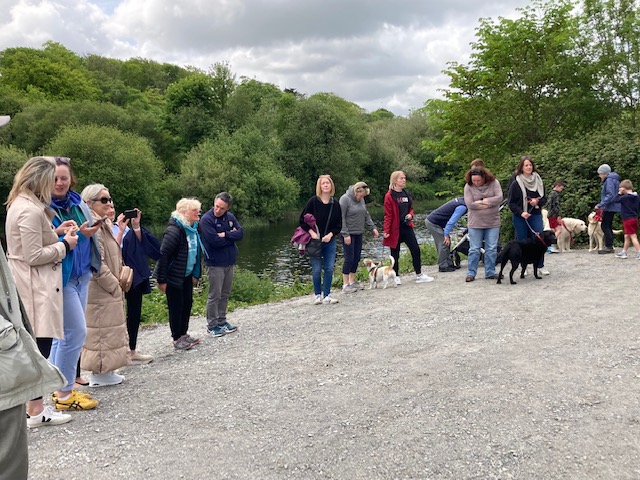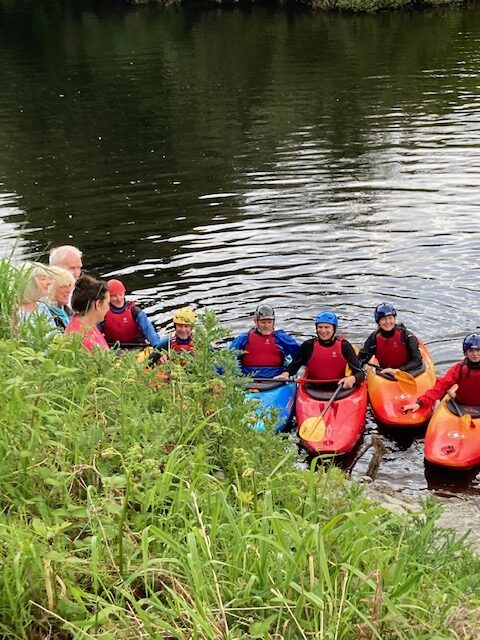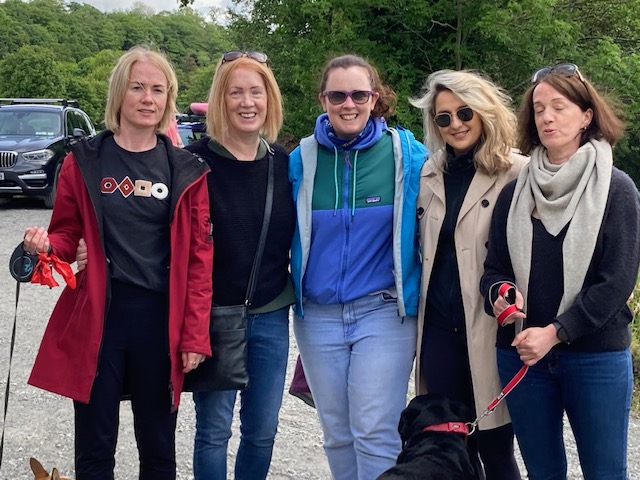 I was delighted to meet this group of my former pupils, all involved in this healthy outdoor activity. Lovely to see these young ladies emerging as leaders in their community.
<<<<<<<<<<<
A Welcome Treat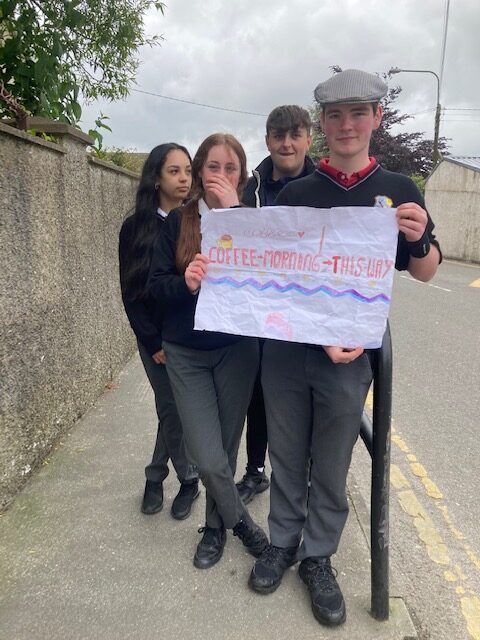 On my way to town on Friday, I met these lovely young people at the gate of their school, Coláiste na Ríochta. They were inviting me to their Bake Sale in aid of Áras Mhuire.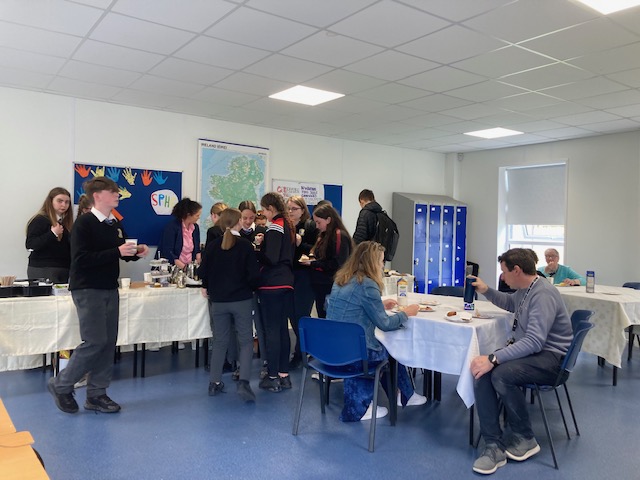 I took up their invitation and a lovely young man accompanied me to the classroom where selling, eating and chatting was in full swing.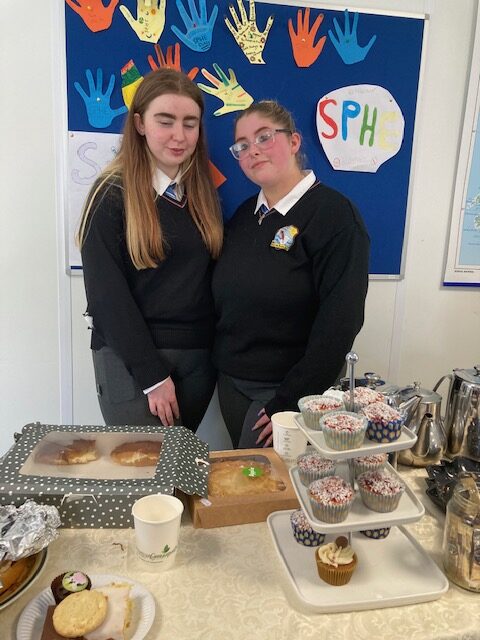 I even met someone I knew. I bought some cakes . They were delicious.
Well done enterprising seniors in Coláiste na Ríochta.
<<<<<<<<
A Coronation Tale
Did we ever think we would see Kay Caball, cousin of Canon Declan, renouned historian and genealogist and a pillar of respectability feature in The Irish Daily Mail?
Don't panic. Kay was merely telling the tale and it all happened in the eighteenth century.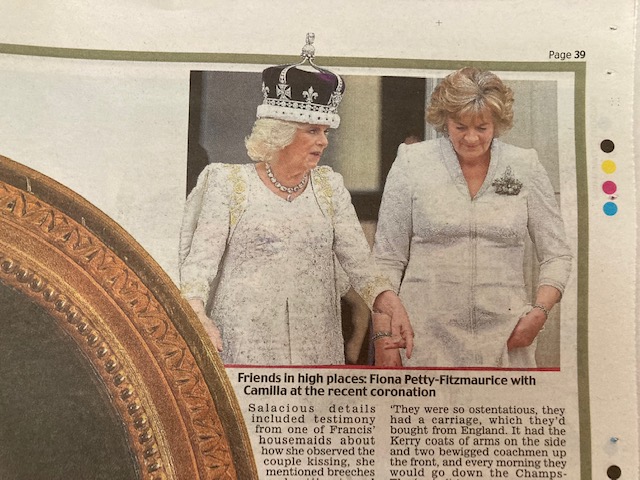 This is the coronation connection. Lady Fiona Petty Fitzmaurice is Queen Camilla's best buddy.
The Fitzmaurice connection: Fiona's husband. is one of the once Lixnaw based Fitzmaurices who used to own most of Kerry.
"After a gatherer comes a scatterer" they say and the Fitzmaurices had the father of all scatterers. Kay told the story replete with "Petticoats up and pantaloons down" to a journalist from The Daily Mail and below is a photo of the centre page in the paper on Saturday.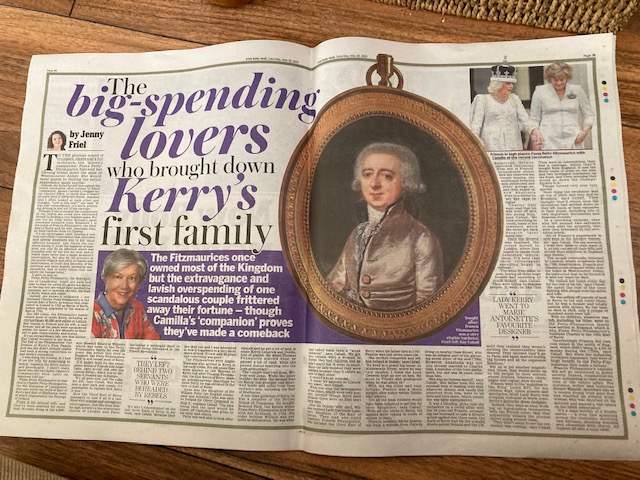 If you missed the paper, Kay will tell it all again on Jimmy Deenihan's walking tour at Listowel Writers Week on Friday June 2 starting from Kerry Writers' Museum at 10.00 a.m.
<<<<<<<<<<
I told you so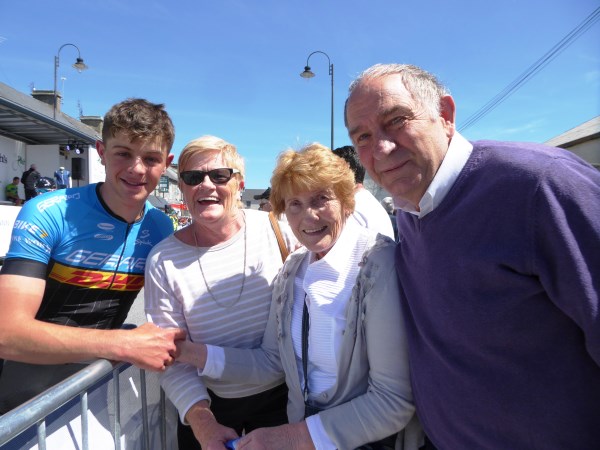 In 2018 I posted this picture on here. It is cyclist Dillon Corkery being greeted by his grandparents at the stage finish of the Rás in Market Street.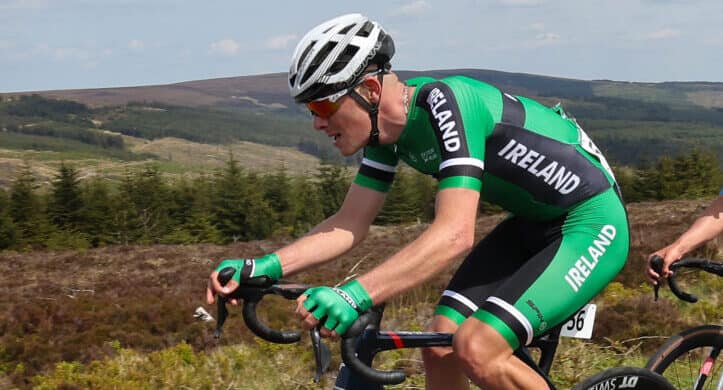 Yesterday Dillon won Rás Tailteann outright as part of Team Ireland. I told you he was destined for great things. My exact words were " Is Dillon the next Sam Bennett?"
The Listowel Connection?
I went to school in Kanturk with his grandmother and still count her as a friend today. I'm over the moon!
<<<<<<<<<
A Fact
The word NEWS comes from the fact that stories were gathered from all corners of the world. News is actually an acronym North East West South.
<<<<<<<<<<