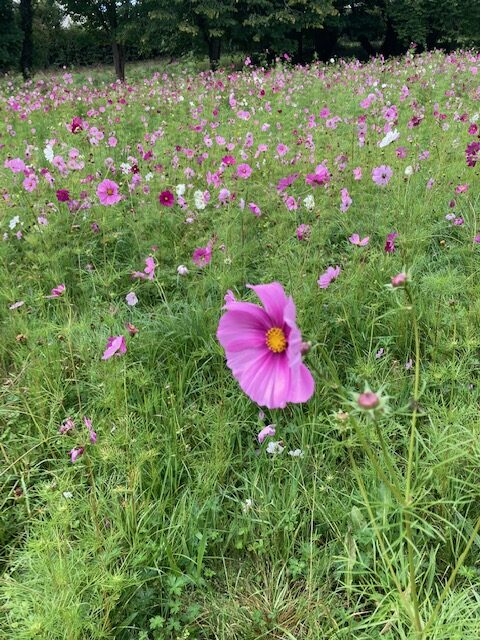 Childers Park Wildflower Meadow, September 2023
<<<<<<<<<
Contrasting Murals
Creative Walls is a marvellous project by Listowel Community and Business Alliance.
Here is what they have to say about the latest Listowel mural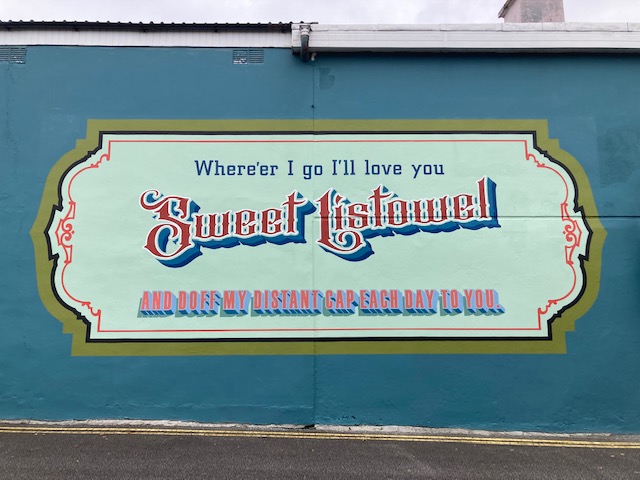 ~ Listowel Characters ~
The latest Listowel Characters mural has been commissioned by the Listowel Business & Community Alliance. With support from Kerry Co Arts and Creative Ireland.
The artist selected for the new typographic mural is the talented Master Signwriter – Martin Chute. As with our previous walls, the artist gets to choose an inspiring quote from a selection of Writers, Poets, Songwriters, and more. Martin was keen to create a mural featuring John B. Keane.
"Where'er I go I'll love you sweet Listowel and doff my distant cap each day to you"
– Sweet Listowel.
Martin lived and worked in the United States for many years. Now his exquisite lettering enriches the fascias of his native Listowel. The Chute family's sign writing and artistic painting work are a prominent feature on Listowel's shopfronts.
Since his return from America, Martin's unique, handcrafted signs and shopfront designs have transformed the streetscape in Listowel. His work offers an identity and a sense of place that has contributed to the preservation of the town's character.
Thank you Martin and all involved for this exquisite piece which has attracted massive attention and admiration already. An asset to the town of Listowel. A special thanks to Pat Nolan from Pat Nolan's Furniture & Carpet Centre for kindly donating this wall space for this project.
#listowel #wherestoriesbegin #soundtown #followthegreenway #kingdomofkerrygreenways #discoverthekingdom #listowel4all
Listowel Business and Community Alliance
Kerry County Arts
Creative Ireland
John B. Keane's Pub, Listowel, Co. Kerry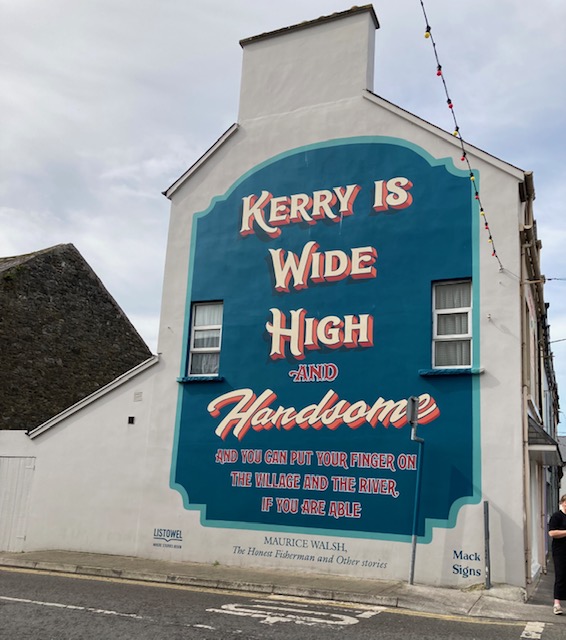 This is the other Charles Street mural. The contrast in styles is striking. Listowel Community and Business Alliance is catering for all tastes.
I particularly love the quotation Martin chose. Listowel is often described as lovely. Sweet is somehow to me more emotive, more tender, The colours, the shape and the timbre of Chute's mural is reminiscent of an old sweet wrapper, a taste of childhood.
The doffing of the cap suggests to me respect and reverence, an acknowledgement of all that Listowel has given. It's a gesture of gratitude and loyalty.
My blog has brought me into contact with many Listowel emigrants. This mural speaks to them and for them. I find among the Listowel diaspora, a massive loyalty to the town. I haven't met a Listowel person yet who was not proud of where he came from.
<<<<<<<<
Kilbrin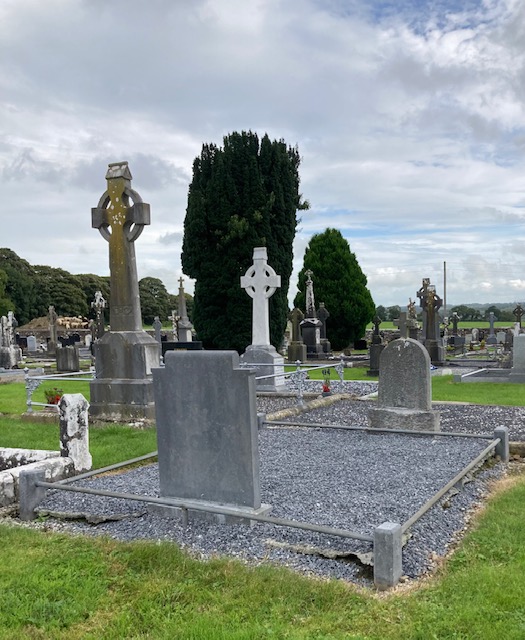 Kilbrin is a very small village in North Cork. It has no shop and no pub now. It has a primary school and preschool and a thriving GAA club.
My family are buried in Kilbrin.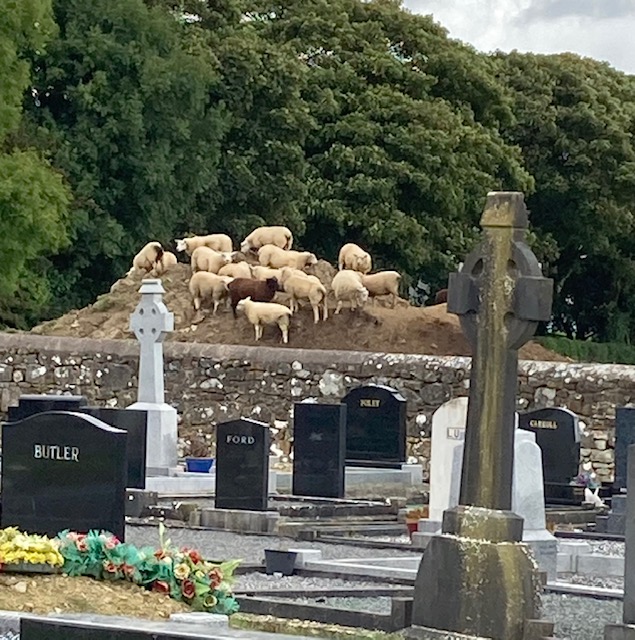 Over the graveyard wall a flock of sheep were investigating a mound of earth. Kilbrin is in the heart of the countryside.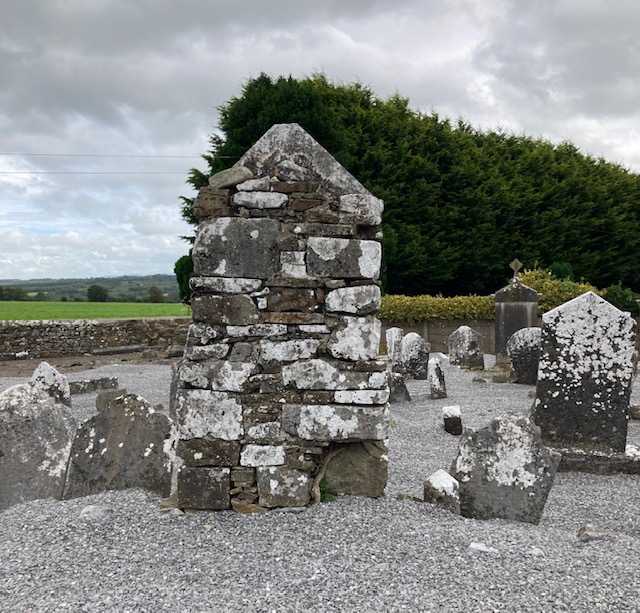 Kilbrin is a very very old burial ground, still in use today . A wonderful restoration job has been done here by the local graveyard committee. All of the graves' inscriptions which can be read are also online;
Kilbrin Graveyard inscriptions
<<<<<<<<<<<
My Family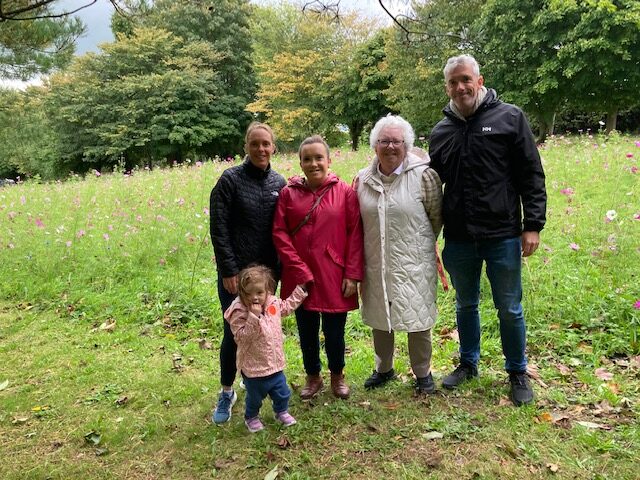 For the first time in years we were all together for race week.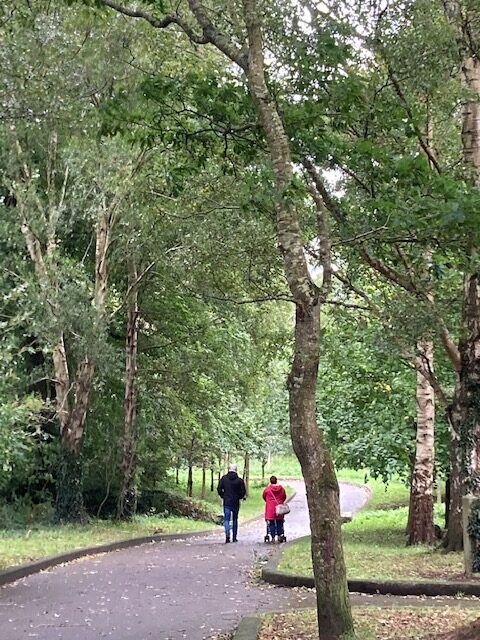 We took walks and they discovered new things about the place where they grew up.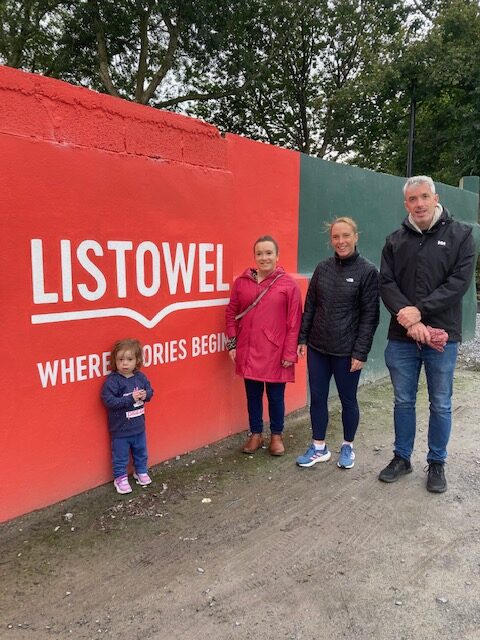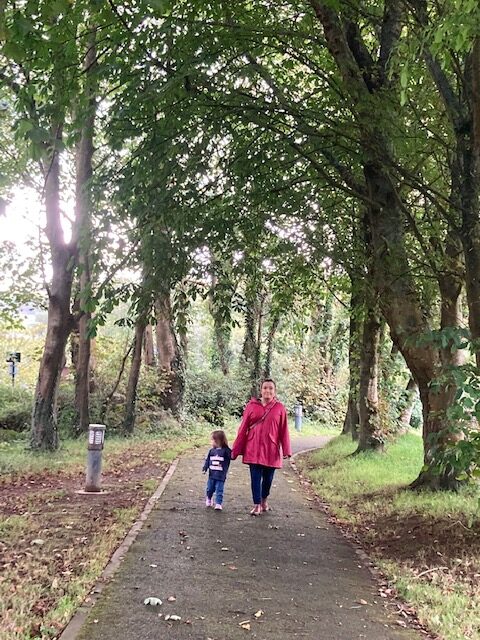 <<<<<<<<<<
.
Death of an Irishwoman
(Michael Hartnett wrote this about his grandmother who was a link to another era in Irish social history.)
Ignorant, in the sense she ate monotonous food
and thought the world was flat, and pagan,
in the sense she knew the things that moved at night
were neither dogs nor cats
but púcas and darkfaced men
she nevertheless had fierce pride.
But sentenced in the end to eat thin diminishing porridge
in a stone-cold kitchen
she clinched her brittle hands around a world
she could not understand.
I loved her from the day she died.
She was a summer dance at the crossroads.
She was a cardgame where a nose was broken.
She was a song that nobody sings.
She was a house ransacked by soldiers.
She was a language seldom spoken.
She was a child's purse, full of useless things.
<<<<<<<<<<
Great Idea… but you must book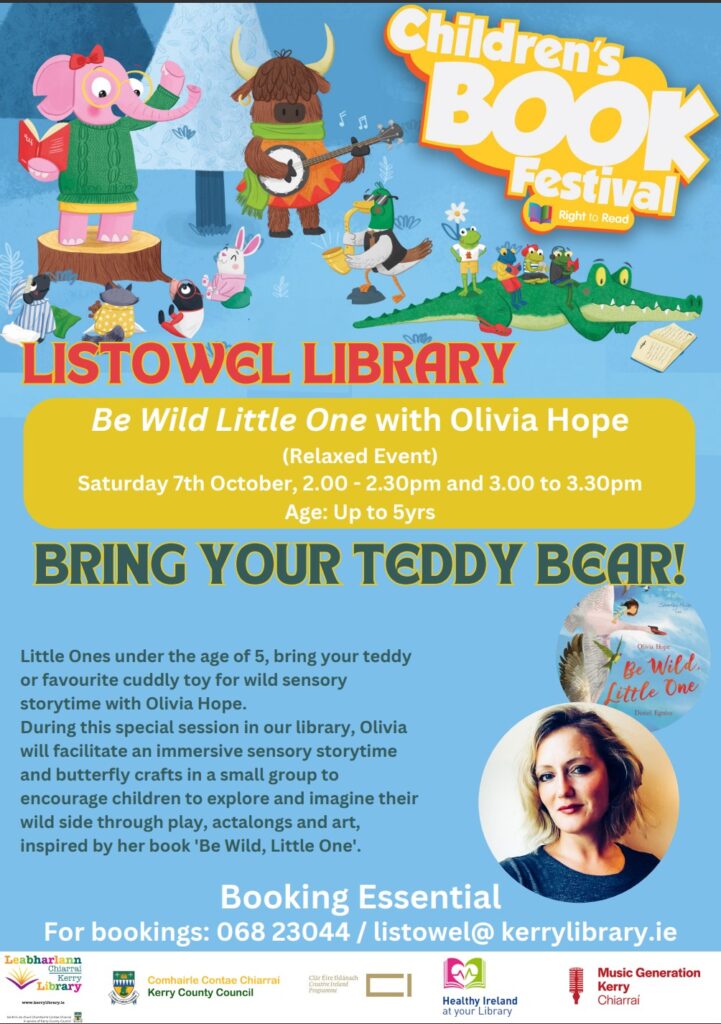 <<<<<<<<<<<
A Fact
Be warned: You can overdose on coffee!!!
Ten grammes of coffee or about 100 cups over 4 hours can kill the average human being
<<<<<<<<