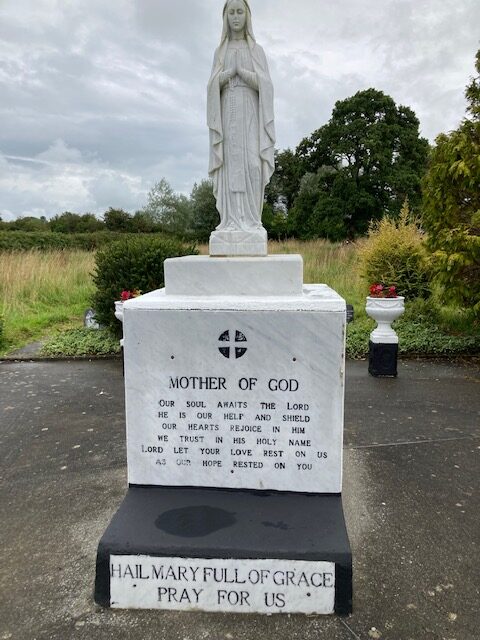 An image for today, August 15 2023 , feast of The Assumption of Our Lady into Heaven. Photo taken in Teampall Bán in August 2023
<<<<<<<<<
Kanturk Arts Festival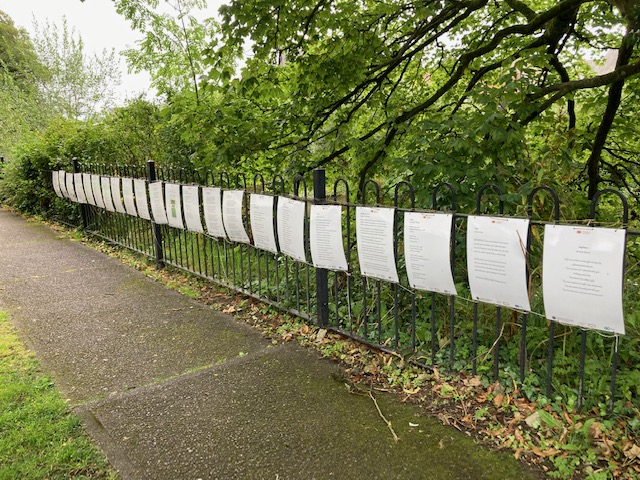 This is the scene in the O'Brien Street Park in Kanturk in summer 2023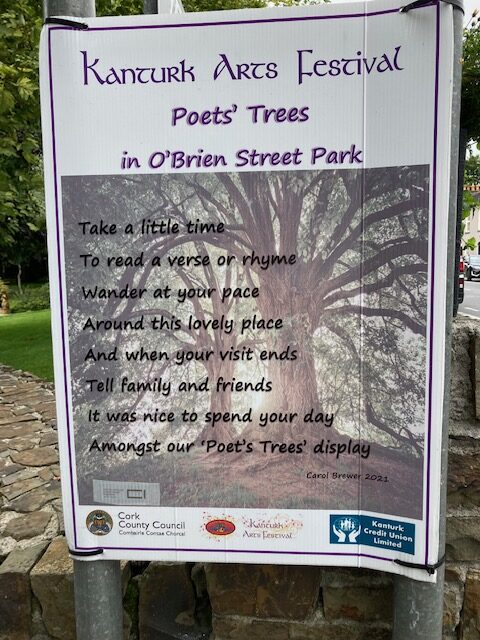 This is a lovely way to spend a bit of time. I photographed some of the poems for you so I'll be sharing them here now for a while.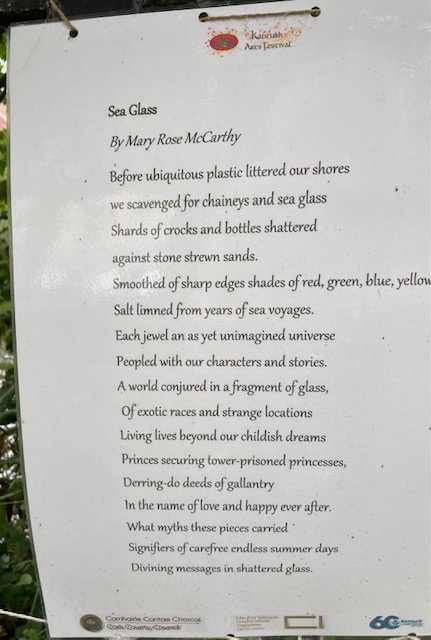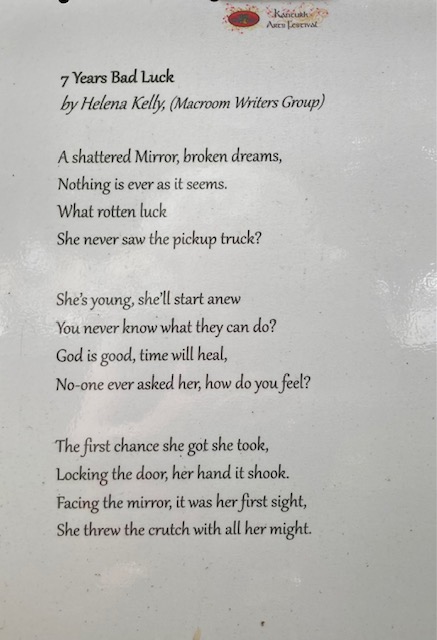 <<<<<<<
End of an Era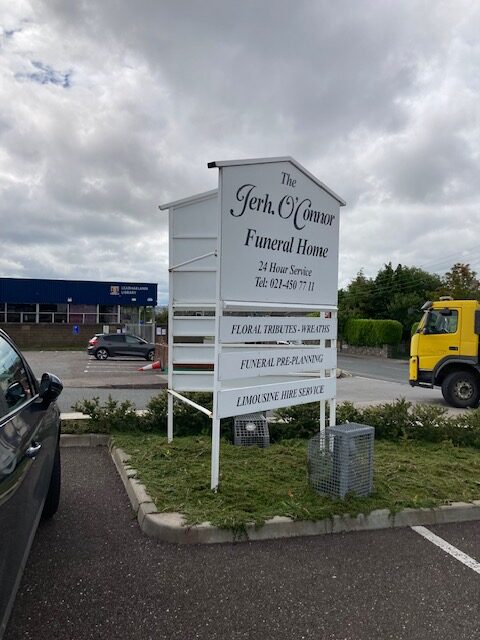 Last week I was at two funerals. Both deceased were nuns. Slowly I am witnessing the end of a way of life I thought would continue forever.
Sr. Mary Salmon was the sister of Listowel's Michael. Her life was one of service to the communities in which she lived. She was a member of a very small order of sisters, The Little Sisters of the Assumption. They live among the people they serve and give witness to God's love in a practical way.
Sr. Mary was a nurse and though a succession of roles, eventually a director of home care services in the north of Cork city. She had many friends in the neighbourhood and it was lovely to meet her friends from the rosary group she set up 40 years ago and her more recent friends from the active retired group all come to celebrate her life at her funeral mass.
Sr. Mary was active right up to her final few days. She loved her family, her community and her beloved Mayo. May she rest in peace.
Sr. Benedict O'Connor was my colleague in Presentation Secondary School, Listowel.
She passed away after a long life of service to education in Kerry and in the U.S. Sr. Benedict loved books, she loved reading and encouraging others to read. She kept abreast of what was happening in the world by reading the newspaper and she loved to do the crossword.
Many Pres. past pupils will remember her in the school library, where she was in her element. She loved to encourage girls to read the classics and she encouraged many a reluctant reader to take up a book .
In her final years she lived in a silent world, being profoundly deaf. She still attended mass in St. John's nearby to where she lived in Pres. Tralee and she lived as full a life as she could. She accepted her cross and was resigned to death when it came suddenly at the end.
Ar dheis Dé go raibh a hanam uasal.
<<<<<<<<<
An Old Ad.
( shared by Liam OHainnín on Facebook)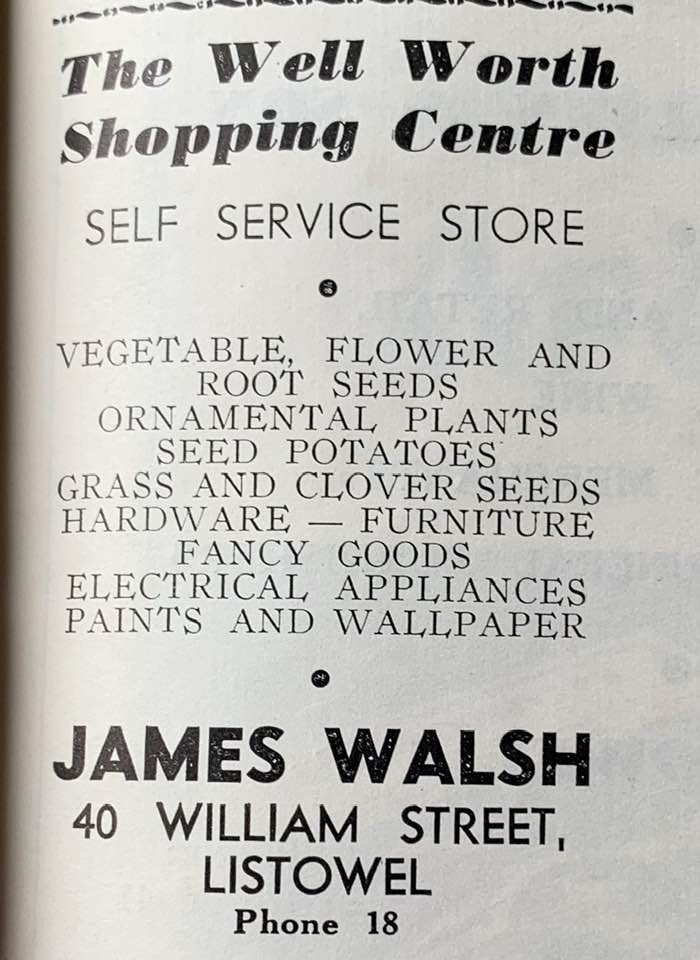 Listowel's first department store?
<<<<<<<<
Just a Thought
My reflections which were broadcast last week on Radio Kerry are here;
<<<<<<<<<
A (Mad) Fact
In the 19th century madness was an occupational hazard of hatmakers. Hence the phrase "as mad as a hatter".
Mercury was an ingredient in the solution that was used to treat the felt that was used in the making of hats. Mercury poisoning attacked the central nervous system causing trembling, irrationality and confusion. People just thought that all hatters were mad.
<<<<<<<<<