Do You Remember the Telethon?
The telethon was a fundraising drive that took place ever second year in the late 1980s and 90s. It was televised and raised thousands of much needed pounds for small local charities.
In 1992 in Listowel, the local branch of the M.S. Society decided to spearhead this fundraising drive in our area by organising a local event. The way the telethon was organised was that money raised locally was sent to Dublin and then it was channelled back to local charities. Anne (O'Connor) Brosnan came up with the idea of organising the longest Conga line in Ireland. The aim was the get 2,500 people to Conga around The Square. Other local organisations came on board with ideas for other fun events and soon it became a night of fun in Listowel Town Square. It was a great success.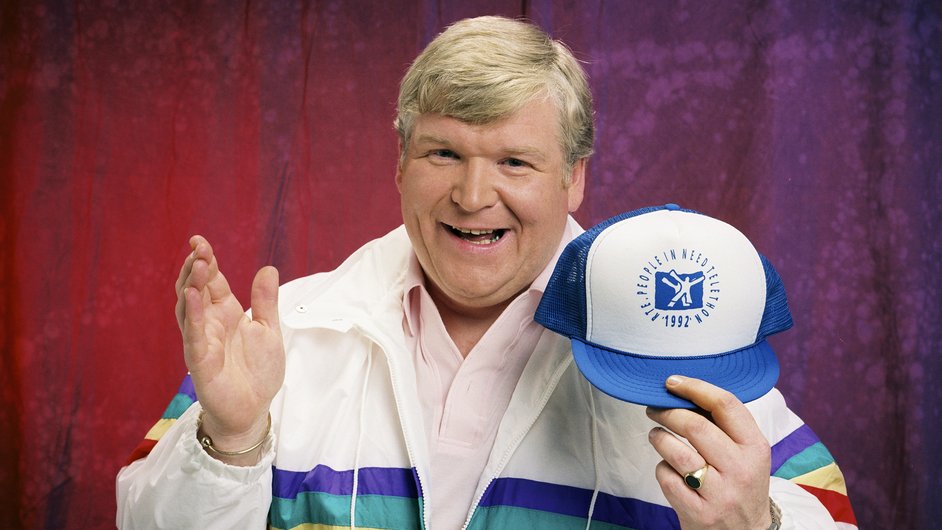 The late Derek Davis with one of the baseball caps which was one of the promotional materials sent to those taking part.
Stickers with the People in Need logo were distributed to all the participants in the Conga line. There were 2846 people in all.
Recently Michael Guerin resurrected a video of the night which was shot by Patrick Guerin and Mike digitised it and uploaded it to Youtube.
Listowel People in Need fundraiser, May 7 1992
The singer is Louise Morrissey who kindly travelled from Tipperary to be the special guest on the night. She is still going strong. Louise is performing in the INEC, Killarney on Oct 1 2016.
Another special guest was Big Bertha, the oldest cow in Ireland who came from Kenmare to be part of it all. Bertha was a big celebrity at the time and raised thousands for charity.
Anne Brosnan, who filled me in on the details, is having a rummage for photographs of the night. If anyone else has photos or memories, it would be lovely to share them.
<<<<<


The People's Republic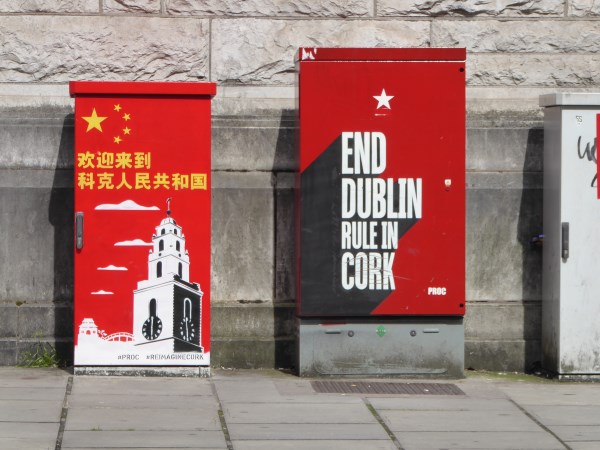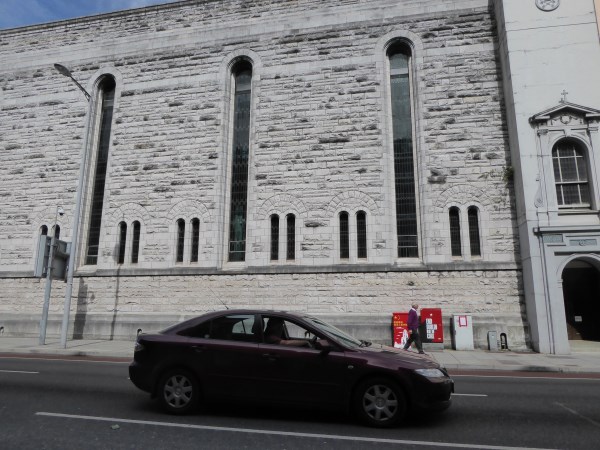 I spotted these recently by the side of St Augustine's church in Washington Street, Cork. I don't know who did it or what it's all about. I'm curious though.
<<<<<


Heaven Reflects Killarney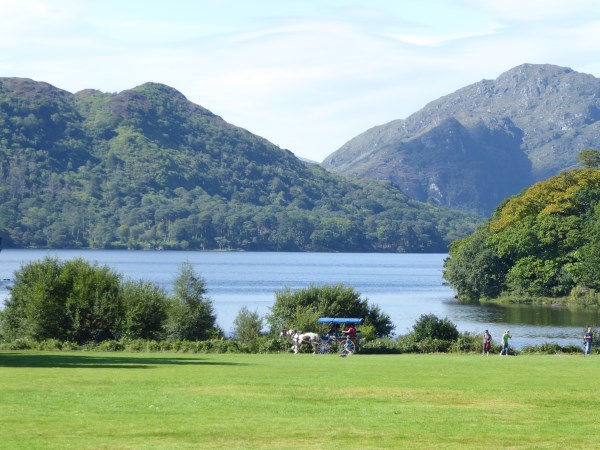 Muckross on a glorious Summer Sunday.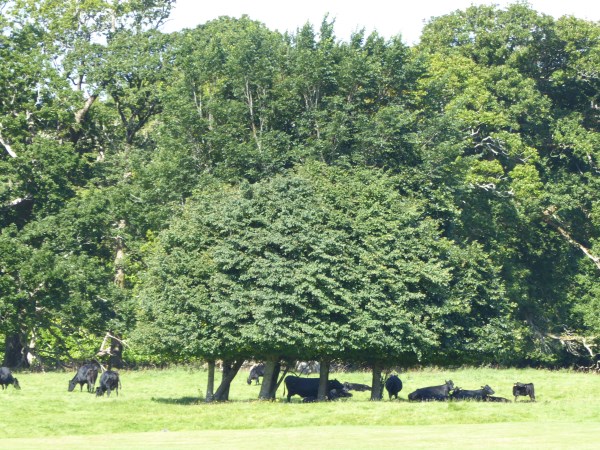 Beautiful sleek Kerry cows, "the silk of the kine" shelter from the sun under one of the demesne's ancient trees.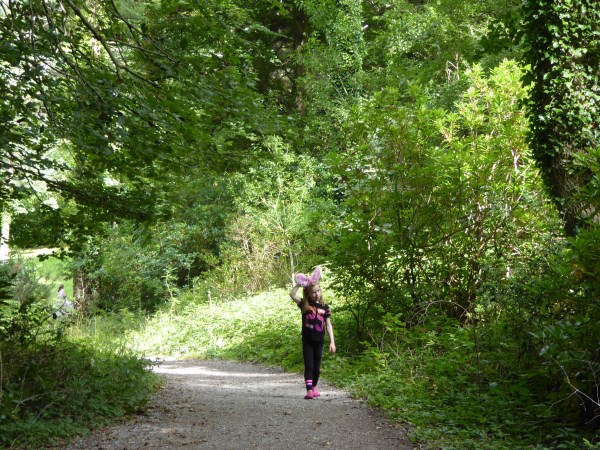 We walked from the great House to Torc waterfall.


<<<<<<<


A Listowel Connection


Recently I received this email from another of the extended Buckley family of Upper William Street.
"My name is Bill Boyle. I saw your recent post about John Carpenter's recent visit to Listowel in your blog.


Patrick's first cousin is Regina Moore Boyle (daughter of Johanna Buckley). I am Regina's grandson by way of her second oldest son, John.


Last May, I came over to Ireland as part of a college trip. We spent time in Dublin and Cork. Luckily, I was able to make an excursion to Listowel with my then fiancé (now my wife), Lauren.


We took the train from Dublin with Vincent and his wife. I've attached a few photos of our visit.


Regina turned 90 back on July 27th. We had a large group of Buckley descendants on hand to celebrate.


We weren't able to get a picture during the party (very poor weather), but I have a picture of Regina with her children and grandchildren at my wedding at the end of this past May. She is center right in the gold jacket."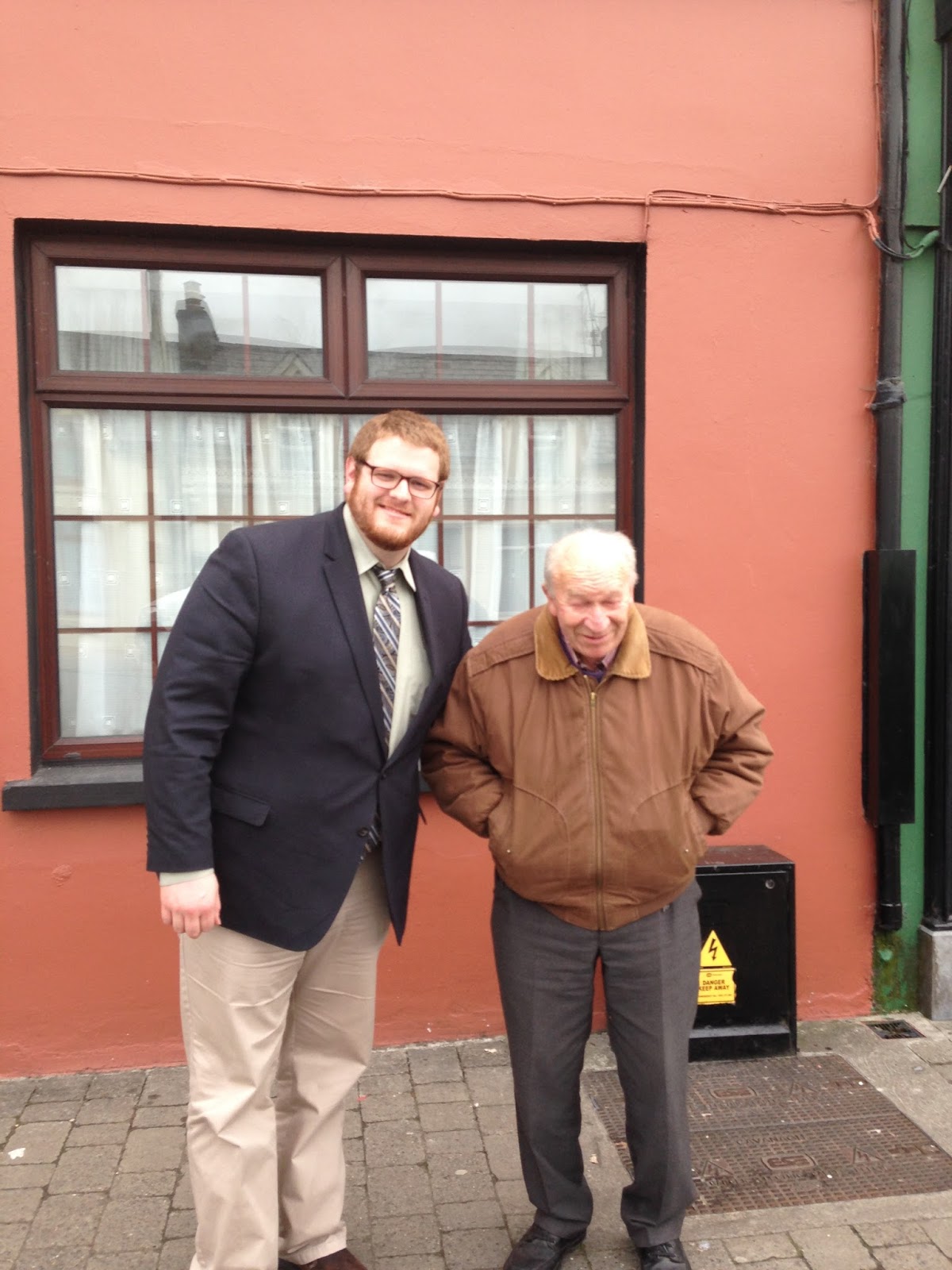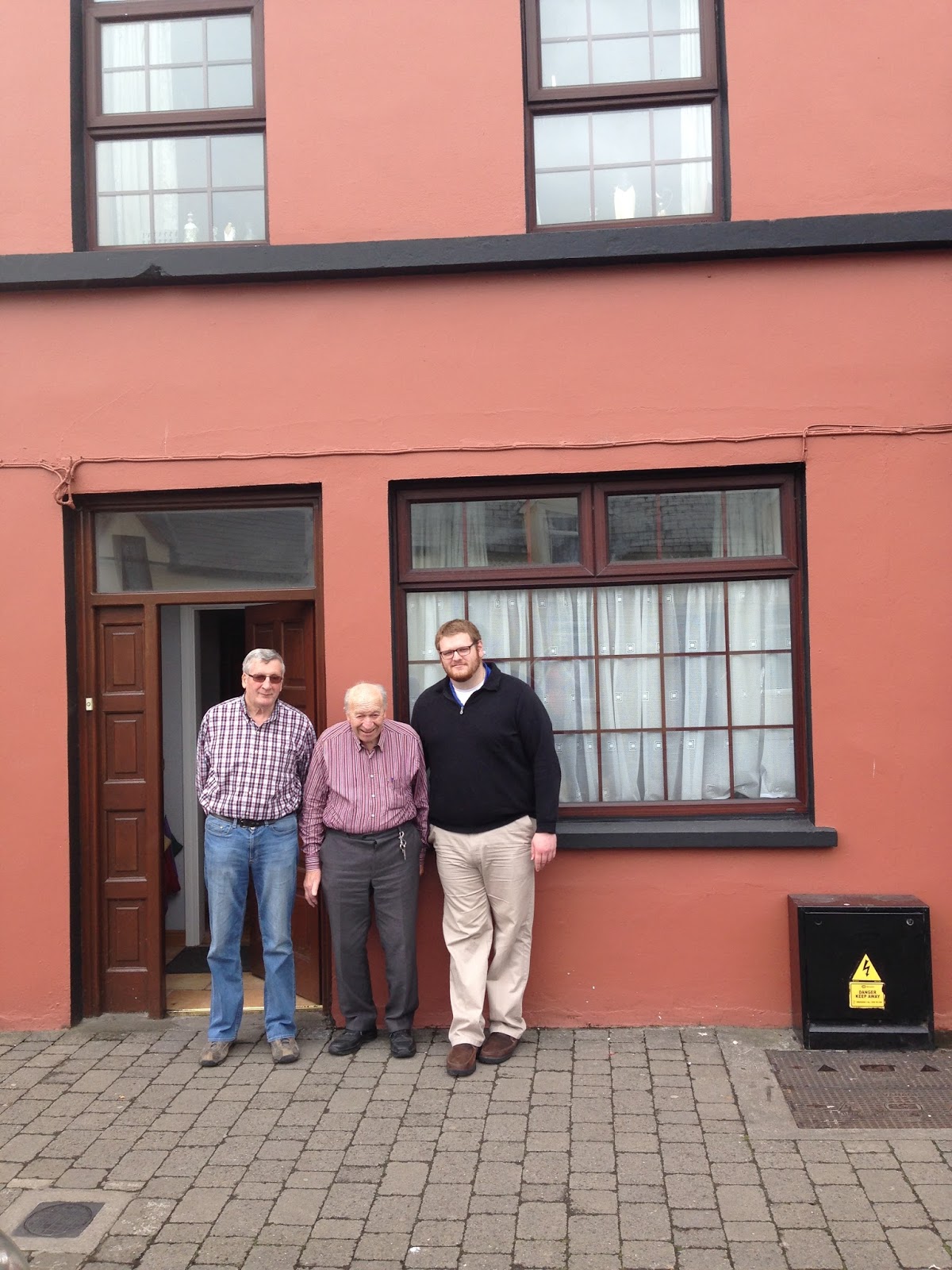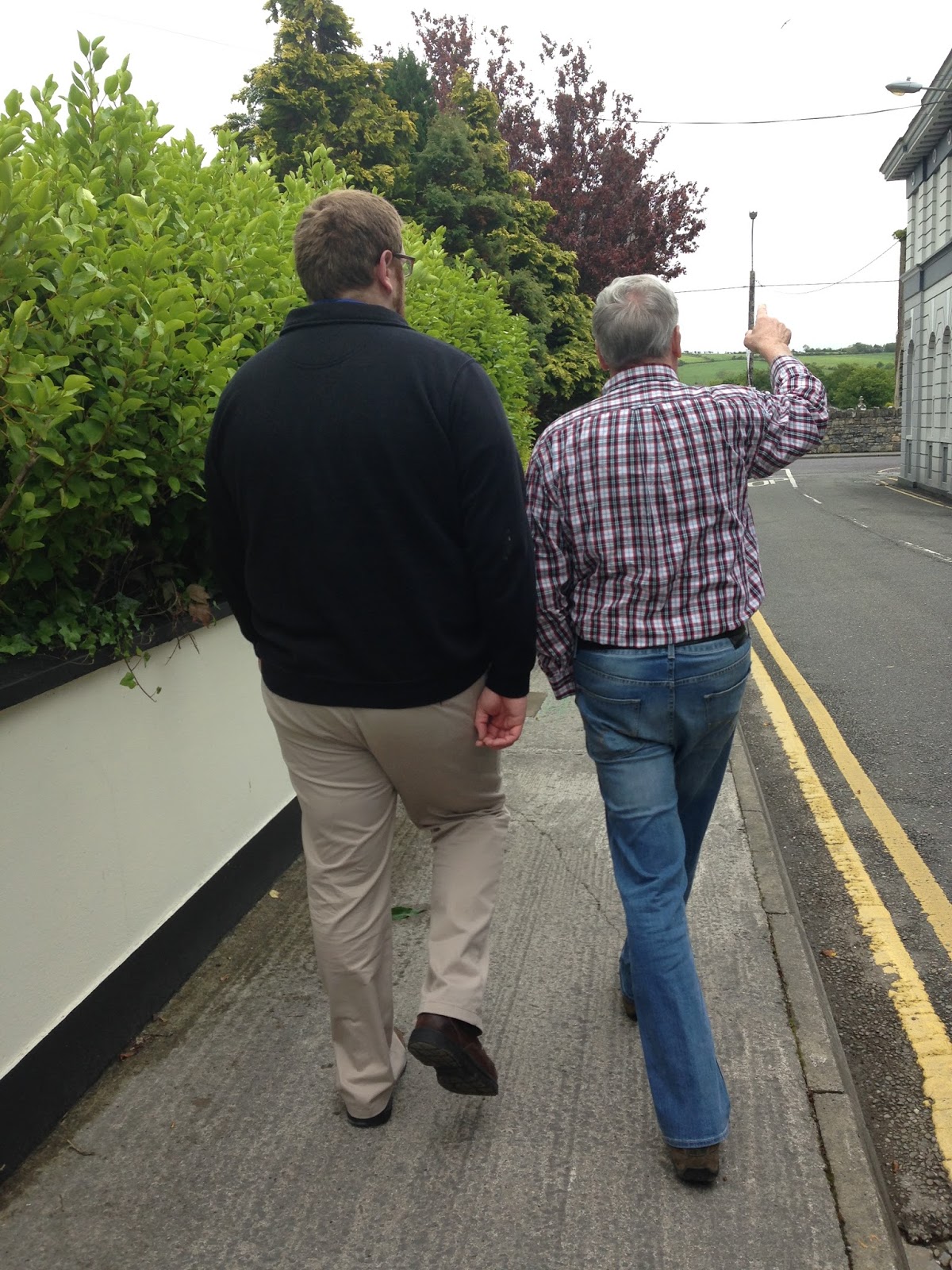 <<<<<<<<<


A Sporting Connection for the Moyvane class of 1989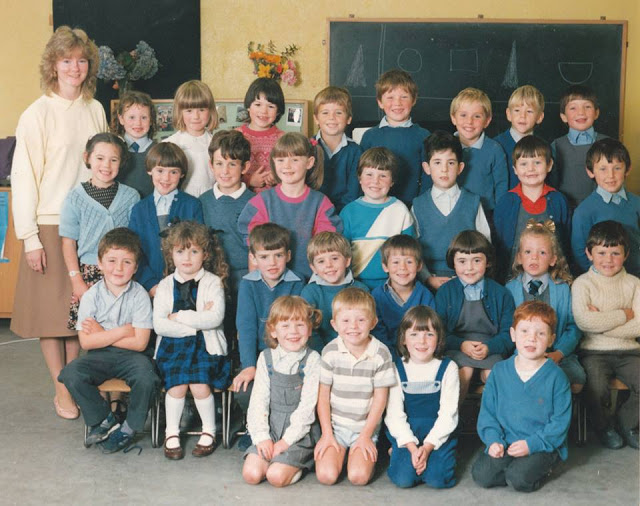 Junior Griffin looked at this photo here the other day and he saw many people he recognised. He got to know them as adults and he knows of another connection between many of these youngsters and their teacher. Here is what he says;
Looking at the names of that lovely photo of the 1989 Moyvane class which you posted last week I realised that I got to know several of them in later years as members of the very thriving Moyvane Badminton Club.
You mentioned that 4 of the class were married in recent times. Just to say that another member of the class was married last December and I was an invited guest at that wedding.That was Timmy Hanrahan who married Catherine Murphy of the Castleisland Badminton Club. This was another romance that blossomed through the sport of Badminton and I have seen many of these over my 50 plus years in Badminton..
Another in the photo is James Sheehan. James has won the Kerry division 3 mens doubles County Championships for the last 3 years, each time with a different partner which is a rare achievement and he is the current secretary of the Kerry Badminton Association..
Their teacher, Mrs Goulding is the former Rita Groarke and she was an outstanding Badminton player also. She won a Munster under 15 mixed title with Listowel's Mike Kirby in the late 1970's and both were selected on the Munster team at that time. She also went on to win Kerry titles at the division 2 and 3 grades.
Indeed her son, Jack Goulding, was a member of the Kerry panel that won the All Ireland minor football final in 2015 and this year, 2016, saw him starring on the Kerry senior hurling team who had a great year on the hurling front.. Indeed, he is a valued member of the Ballyduff hurling team who will contest the Kerry County hurling final in Tralee on Sunday next.