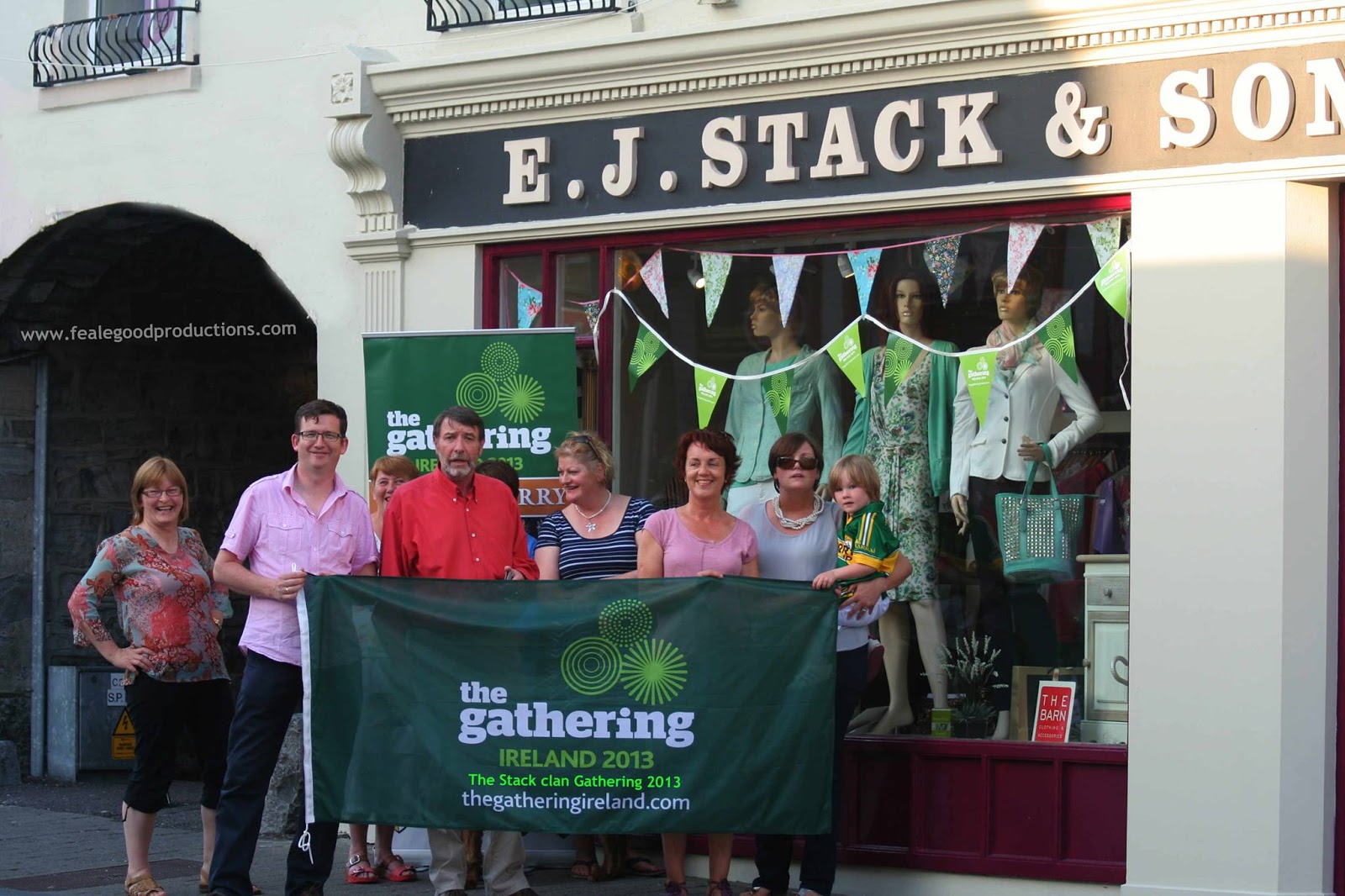 One of the very successful Gathering events of 2013 was the Stack clan gathering. Stacks of stacks and half stacks returned to their roots in Listowel for short week of fun, entertainment and learning.
I attended their barbeque in The Square with my 2 grandsons.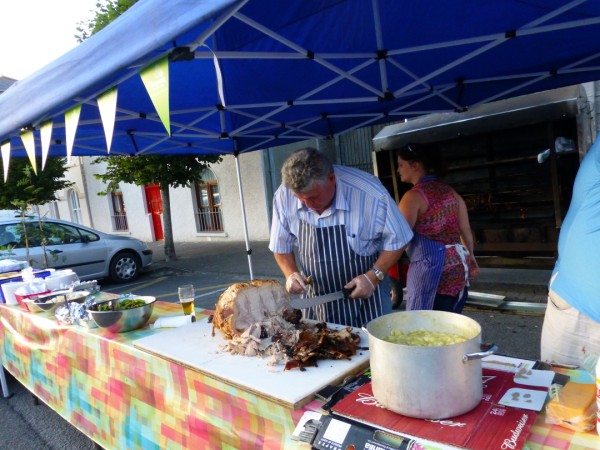 We ate a pig that had been cooked on a spit.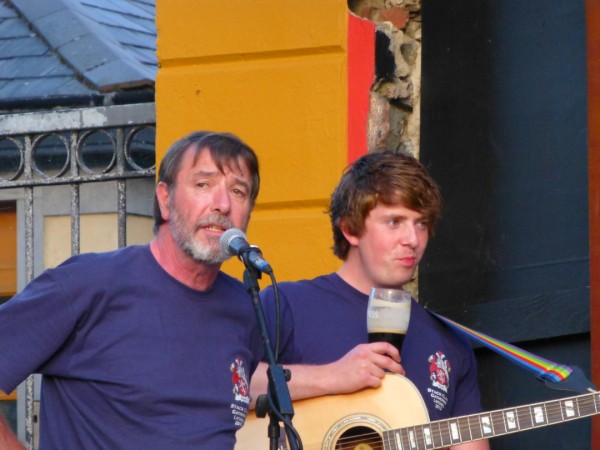 Stuart Stack provided the musical entertainment. Here he is with his dad, Damien. Damien is the brains behind the clan gathering and he is already working on next year's event.
<<<<<<
A sign of the times in 21st. Century Ireland
(from Irish
Central)
The first
ever celebration ofPolishheritage, history and culture inCounty Clarewill be held later this month.
The
three-week long Polish Festival will take place at Clare Museum in Ennis from
20th September to 12th October and is being targeted at the region's
significant Polish population.
There are
more than 2,500 Polish people living in County Clare with an estimated 19,000
other Poles living in the surrounding counties of Galway,Limerickand Tipperary.
Amongst
the free public events being hosted at Clare Museum will be lectures on
Poland's World War Two experience, Polish film screenings, an exhibition of
Polish modern art, and a lecture by a Polish descendant of two Clare men who
were shipwrecked in the Baltic Sea coast during the 17th century. The Festival
is being supported by Clare Local Authorities and the Department of Arts,
Heritage and the Gaeltacht.
Jakub
Kacprzak, Organiser of the Polish Festival, said: "We are very excited about
hosting the upcoming festival, the first of its kind ever to be held in Clare,
a County that has been home to hundreds of Polish people for a number of years
during which they have become active and valued members of the local community.
The upcoming series of events will not only celebrate Poland's rich culture and
heritage but also will showcase some of the many connections and similarities
between the people of Ireland and Poland. We look forward to welcoming all
members of the local community to Clare Museum during the festival.
<<<<<<<<<
Some Listowel premises that got a facelift during summer 2013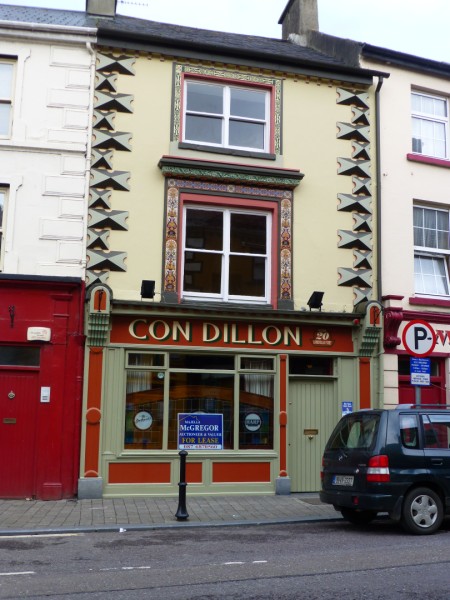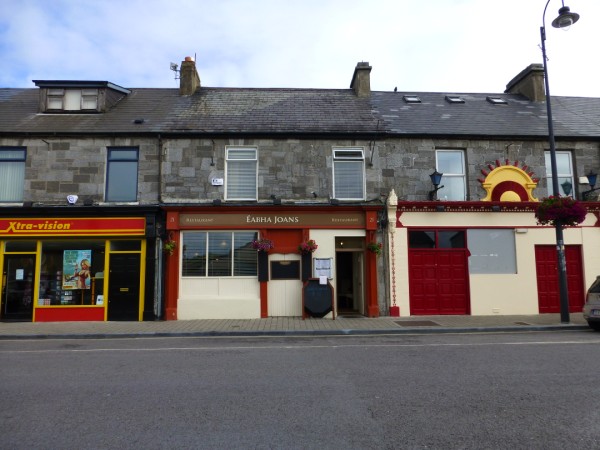 <<<<<<<<
I spent a week in Dublin in August. I became a culture vulture for the duration. I saw Cats in the Bord Gáis theatre. I enjoyed the singing and dancing but I would have liked a storyline as well. I saw Oscar Wilde's The Happy Prince in Bewleys at lunchtime. It was brilliant. I hope Joe gets to bring it to Listowel during Writers' Week. It is as good as you'll get for lunchtime entertainment.
I spent a very enjoyable morning in The National Gallery. You can borrow this phonelike gadget from the desk and if you see a picture with a number beside it, you enter the number in your gadget and you will hear a short guide to the picture; brilliant for people like me who are not too well up on art.
I saw an great exhibition of photographs on the subject of life in Pearse Street in The National Gallery of photography.
Below are a few photos I took to bring you a taste of summer in Dublin.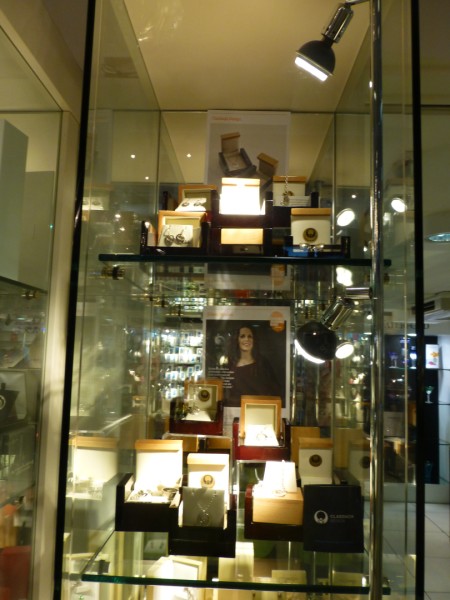 First up is the Listowel connection. I called to The Kilkenny shop to view Eileen Moylan's http://www.claddaghdesign.com
jewellery up there with all the best in Irish design. This very talented Listowel silversmith goes from strength to strength.
<<<<<<<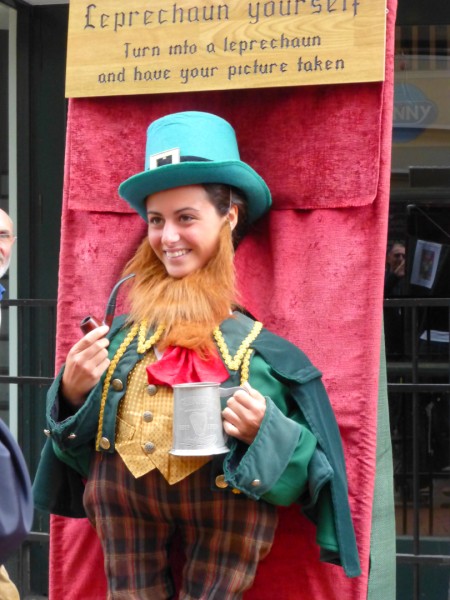 This gimmick was proving popular with tourists. There was no set charge. You were expected to give a donation. You take the photo with your own camera.
<<<<<<<<<<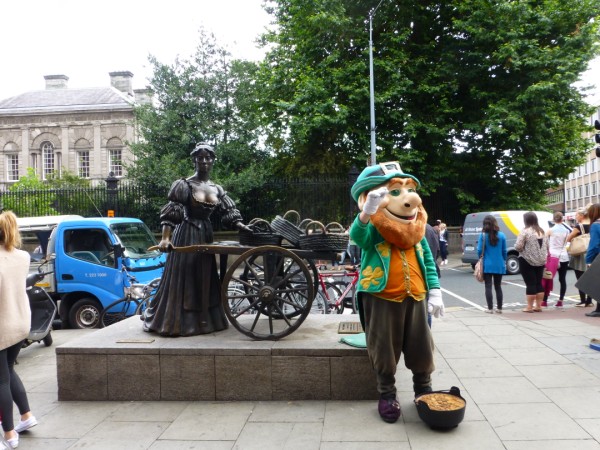 This leprechaun had a whole new take on the Irish myth. In his version of the story, you filled his pot of gold rather than the other way round.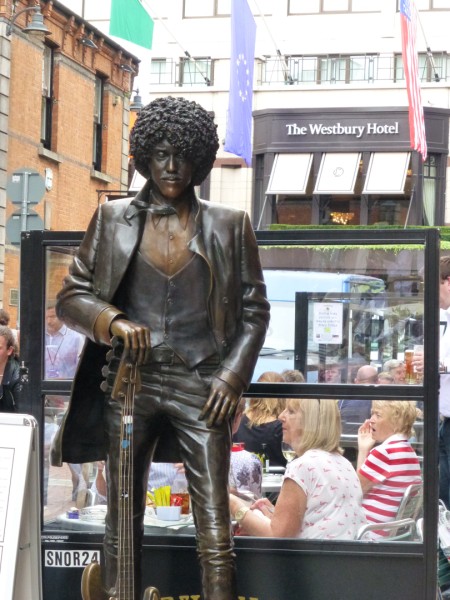 The statue of Phil Linnott was back in place. Below are two tableaux of human statues on Grafton Street. These never fail to amaze me.