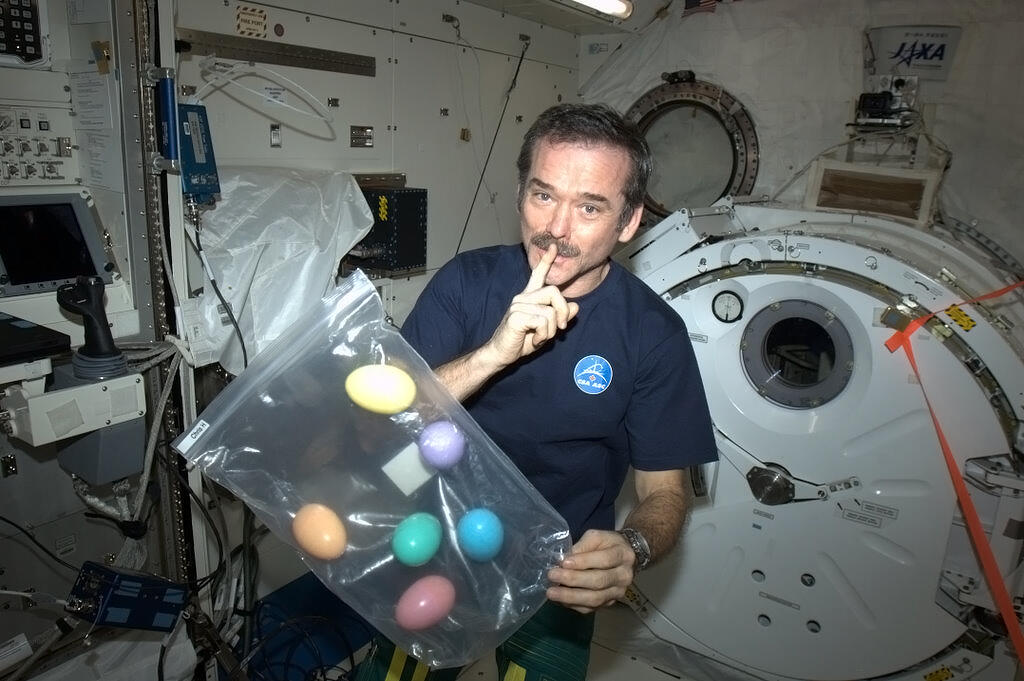 This is Chris Hadfield. He is currently tweeting from his space station. Yesterday he was letting his followers into a secret. He had bought Easter eggs for his crew.
Has he a Listowel connection?
Not that I know of but he has an Irish one. At Christmas he sent the first tweet as Gaeilge from space. His daughter is a student in TCD and he has a cúpla focal.
<<<<<<<
Pathé News footage from 1949 of the proclamation of the Irish Republic
http://www.britishpathe.com/video/irish-republic-proclaimed/query/McBride
<<<<<<
Athea Drama Group celebrates 21 years of acting in 2013, with a production of John B Keane's Many Young Men of Twenty. It was also their first production 21 years ago.They have lost Mary and Jimmy Dee and John Joe O Connor who have passed away.Theresa O Halloran is the only actor from the original cast among the 2013 cast.
The 2013 production is directed by Theresa O Halloran.
Cast, Annette O Donnell, Margaret Reidy, Tommy Denihan, Donal Woulfe, Oliver McGrath, Hannah Mai Collins, Tom Enright, Roger Ryan, Theresa O Halloran, Carol O Connor, Kevin O Keeffe, Tom O Keeffe, Jack Denihan, Lal Browne, Lorcan McAuliffe, Saoirse Redmond, Box Player Kieran Flavin,Set, Noel Ambrose and Martin Dalton. Backstage, Amina Parkes and Damien Ahern. Makeup Joan Griffin. Front of house, Sean Barrett, Mary Kelly, Francie Flavin and Dan Griffin. Lights/ Sound, Declan O Carroll.
Cast of 1992 Production, Director Oliver McGrath; Cast, Lillian O Carroll, Theresa Mullane, Mick Ahern, Donal de Barra, Con Fitzgerald, Betty Murphy, Raymond Enright, Jimmy Dee, Christina Brouder, Mike Sheahan, Theresa O Halloran, Pat Brosnan, Teddy Murphy, Joan Griffin, Patricia Quinn, J J O Connor and Box Player Francie Flavin.
Productions; Many Young Men of Twenty 1992, Sive, '93, Buds of Ballybunion '94, The Field '95, Nano '96, I Do Not Like Thee Dr. Fell '97, The Factory Girls '98, Big Maggie '99, The Year of the Hiker '2000, The Chastitute ''02, The Cripple of Innishmaan '03, Moll '06, The Country Boy '07, The Cobweb's Glory '08, The Curse of Josie Ward '09, Unforgiven '10, The Man From Clare '11,
Lovely Leitrim '12.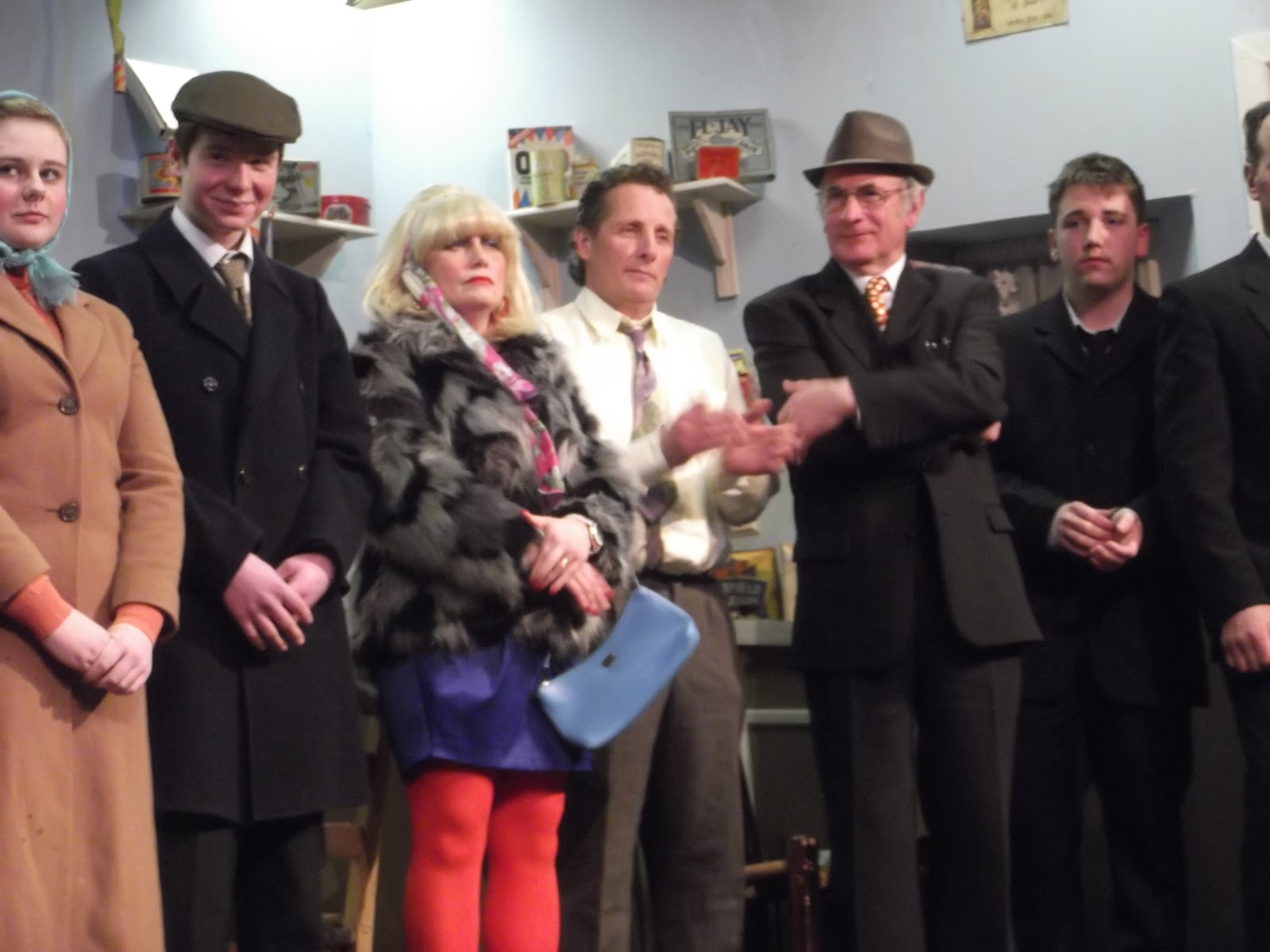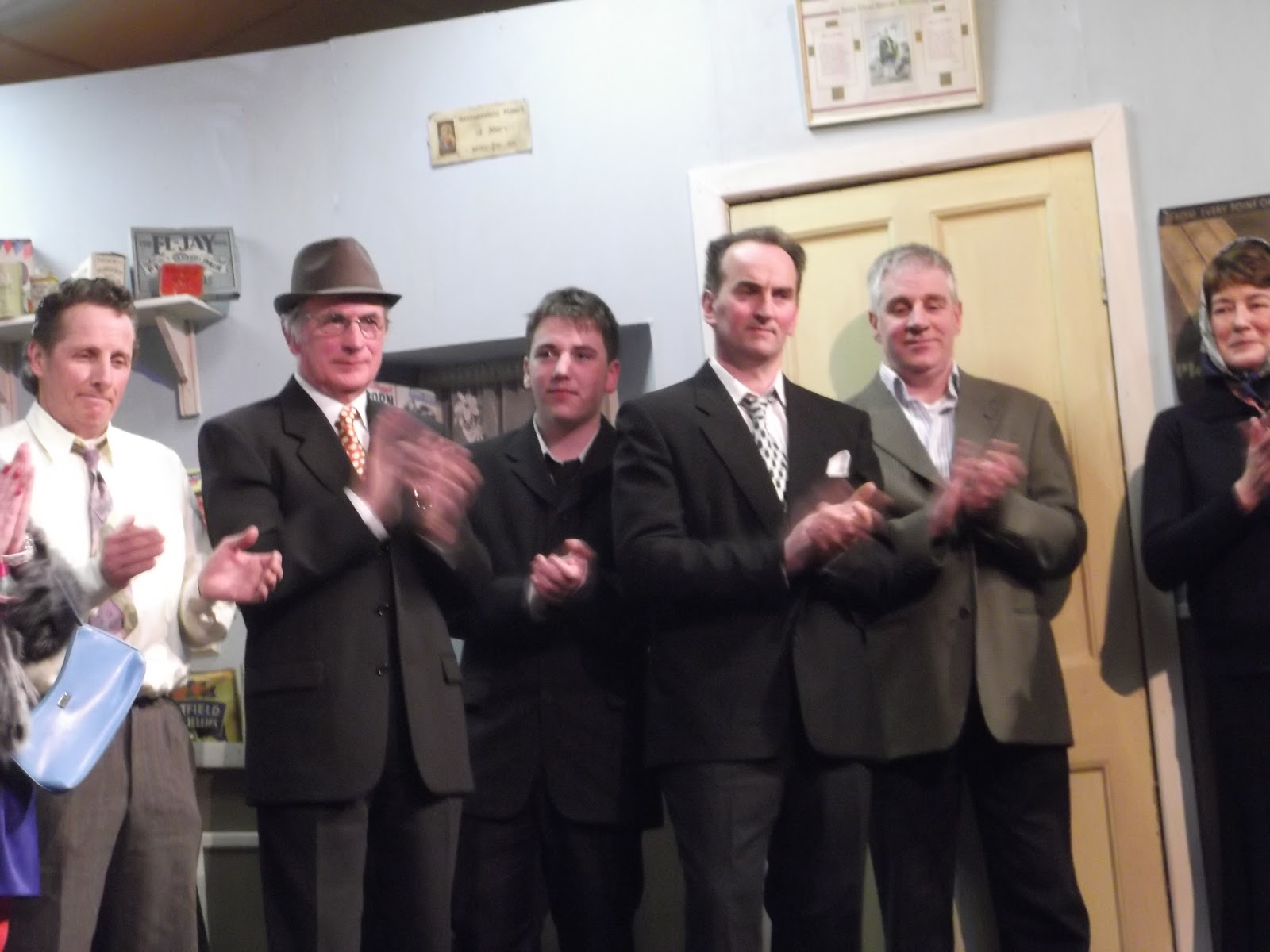 Jer sent me this news and a little video clip to illustrate it:
>>>>>>>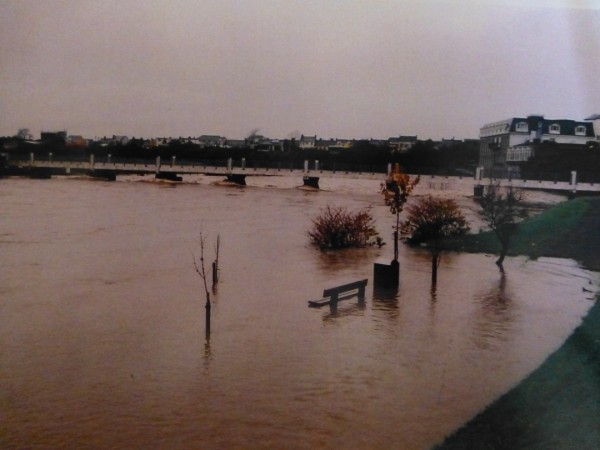 Big Flood
at the Racecourse Footbridge
This was
the big flood on November 19th 2009.
The height of this flood was approximately 4 metres and the width of the
bridge is 86 metres. One can safely
assume that 20,000 cubic metres of water were flowing under the bridge every
minute while the flood was at its peak.
Other big floods that brought havoc to North Kerry and West Limerick
over the years were, June 1926, November 1941, August 1946, December 1st
1973 and August 11th 1986, until the building of the Richard Griffith designed
Big Bridge in 1829 which has stood the test of time. Several of the previous bridges which were
built on that site were washed away by big floods.
Both the 1973 and 1986 floods were
both 7 metre floods and were it not for the River Drainage Scheme in the
1950's, North Kerry would have been devastated by them.
(photo and text by the late Tim Griffin )
<<<<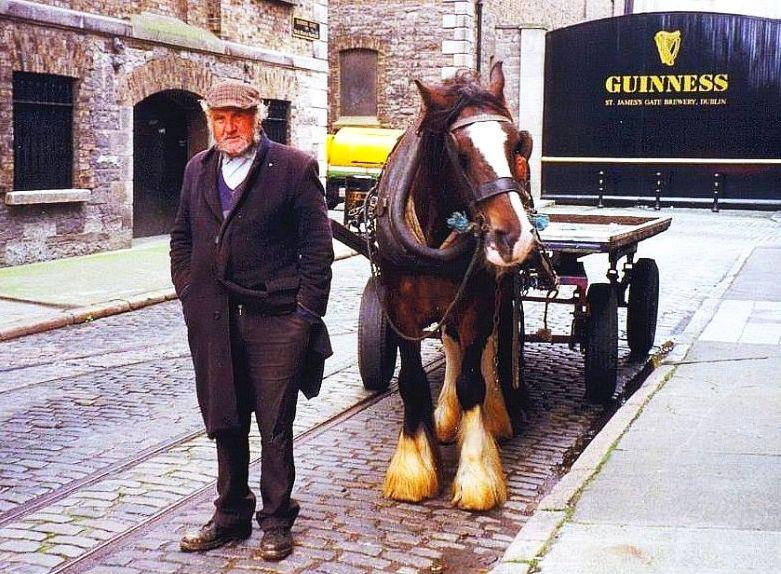 Lovely photo of a Dublin drayman and horse
>>>>>
I had an email from Paul Corridan concerning a Corridan who contacted him but does not belong on his family tree.
Terry Corridan lives in Greece.She knows very little about her family only that her father was from Listowel.
"Terry Corridan was one of six children born to Thomas Corridan and Annie Connolly in Dublin. Thomas along with his brother Seamus were reared in Convent St, Listowel. Both boys attended Listowel National School. Thomas (c.1920)went to Dublin and worked in the Civil Service. Seamus(c.1922) went to London and married a Listowel Lady. He came home in his latter years and lived back in Convent Street. The boys father they think may have been Patrick and he died when they were in infancy. Their mother was Eleanora or Nell Connor or O' Connor probably from Convent St also.
If anyone could shed a little more light on their family relatives they would be most grateful"
Drop me a line and I will pass it on.
<<<<<
Good news story from The Limerick Leader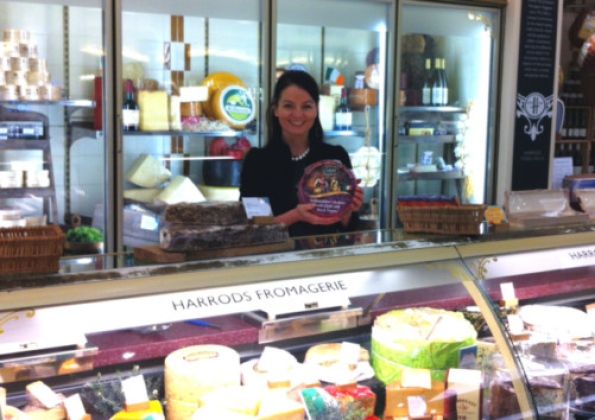 By Gerard Fitzgibbon
Published on 31/03/2013 12:00
FOR NEARLY 200 years, the Harrods department store in London has been a byword for luxury products at luxury prices. But last week, the Knightsbridge store's exclusive array of goods received an unlikely addition – cheese produced in a family-owned factory outside Newcastle West.
Cahill's Cheeses have become an increasingly popular treat for shoppers across Ireland, and now the award-winning produce has gained a highly sought after spot in the Harrods fromagerie counter.
Helen Cahill, who has spent the last few months criss-crossing the globe bringing her family's artisan cheese to new customers, said that getting their wares behind the counter in Harrods was fantastic.
"It was lovely. But it's back to reality this week, back in the white coat and wellingtons! It was a great experience, and our cheese was very well received. We won gold at the British Cheese Awards and gold in the Blas na hEireann awards in 2012. There is certainly a sense that if you're good enough for Harrods, you are doing something right".
Cahill's Cheese traces its roots back to the early 1980s when it was set up by Newcastle West dairy farmer, David Cahill, and his wife Marian.
Today, its speciality cheeses incorporate a host of unique flavours, such as porter, chilli and chives, and can be found in a number of Irish supermarkets.
In the past two years, the company's profile overseas has continued to grow and grow. In 2011, David Cahill received the unique honour of giving the keynote lecture at the Princess Grace Irish Library in Monaco, in the company of Prince Albert.
Last year, the company exported its produce to seventeen countries worldwide, and is continuing its push to reach even more new markets.
Earlier this year, Helen travelled to America to promote their cheeses, which are now sold in the Trader Joe's speciality grocery chain, which has outlets in California, New York, Massachusetts and a host of other states.
"It is very exciting for us when someone finds our cheese in their local cheese market or delicatessen in America and sends us a photograph. We're very proud of our product", Helen said.
"My brother Dan and I are constantly looking for fresh opportunities in new and existing markets.
"The reputation of Ireland's dairy produce is growing with each year", Helen added