All Changed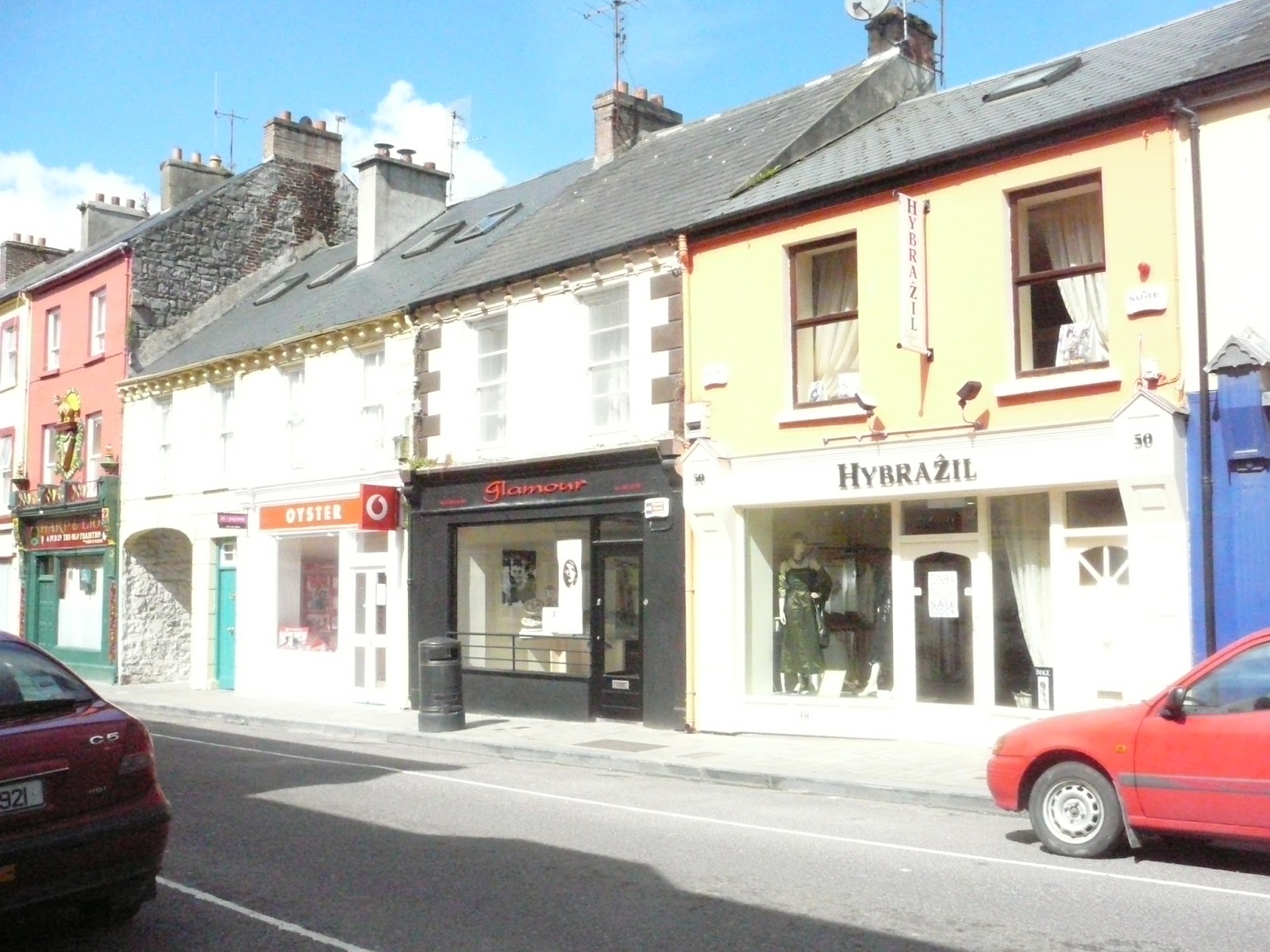 Upper Church Street, Listowel July 2007
<<<<<<<
Looking for Old Photos
Can you help, please?
Hi there,
I am in search of some old photos of a public house that used to reside at 35 William St, Listowel. The Pub was called mulvihills and i cannot find any evidence of it online.
The pub was sold in the 80's.
If you can shed any light on this bar will you tell me and I'll pass on the information.
<<<<<<<
A Dementia Poem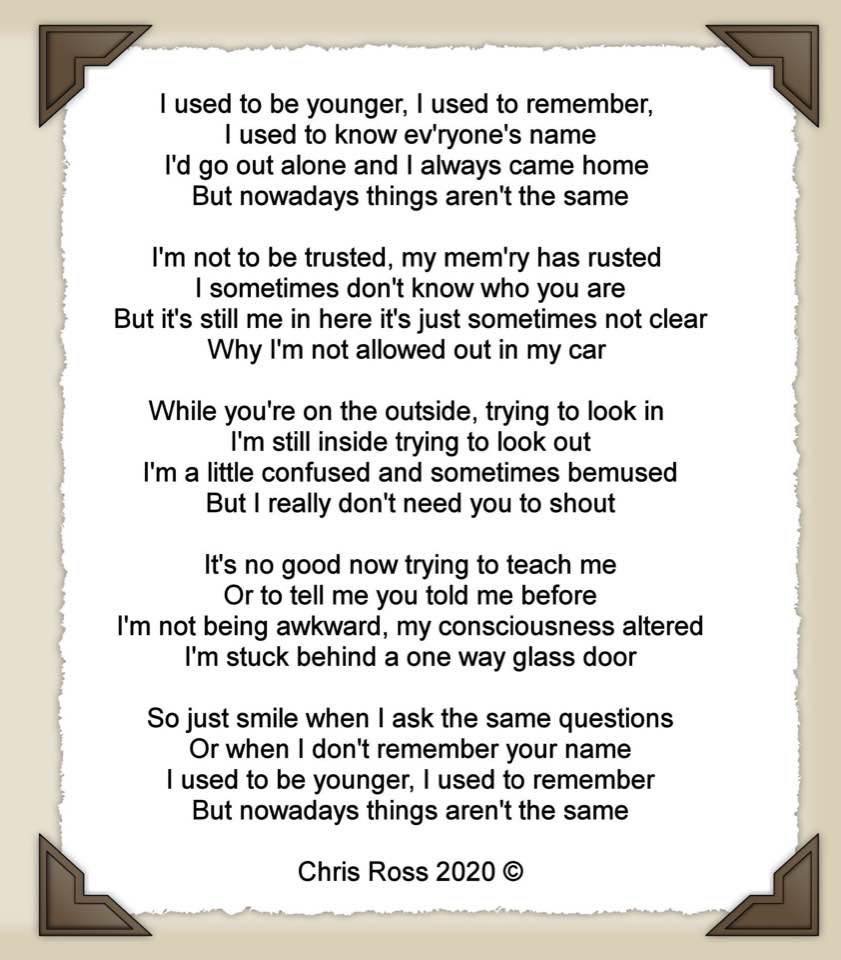 <<<<<<<<<
From the Schools' Folklore Collection
Fr Harnett
Long ago there lived in the Parish of Newtownsandes and old woman. One morning she went to her dairy for a pan of milk. When she was returning from the dairy she slipped with the pan of milk and fell. Just as she was falling the pan struck her in the side, and injured her, and the milk was spilled. When she went in home she had a very bad pain in her side, and she had to go to bed.
She spent three weeks in bed, but after the three weeks she was as bad as ever, and her side was greatly swollen. When she saw no improvement coming on her she sent for the doctor. But when the doctor saw her he said that he could find nothing wrong with her. At last she sent for one of the neighbours.
The neighbour was an old woman who was supposed to be with the good people. When the old woman looked at her she shook her head and said, "When you were coming in from your dairy that morning a woman from a fort asked you for a cup of milk. Now you did not hear her and she threw the cup at you, and it went in through your side. So it is not in the power of any doctor to cure you".
She spent about another week in bed. At that time she heard that there was a priest in Duagh named Father Harnett who used to cure a lot of sick people. Her friends took her to the priest soon after that. When the priest saw her he took a book from his pocket and he kept reading over her for about ten minutes. Then he told her to go home and that she would be better. The woman went home, and the pain was as bad as ever. The next day her side broke out and glass began coming out of it. The glass was coming out of it for about a week. After a week all the glass of a cup had come out of it. Then her side healed up as good as ever.
Joe Walsh
Told by
Mrs Mary Walsh, Leitrim East, Newtownsandes, 54 years
Collector- Joe Walsh. Informant- Mrs Mary Walsh, Age 54, Address, Leitrim East, Co. Kerry
<<<<<<<
The Lartigue Drama Group
I dont have a date for this happy gathering but at a guess it's the 1980s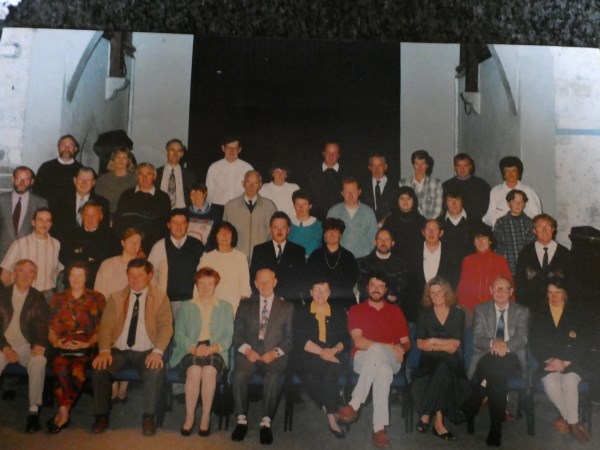 Mike Moriarty gave me the names.
FRONT ROW; Denis O'Mahony, Gertie O'Keefe, Sean Moriarty, Peggy Brick, Danny Hannon, Noreen O'Connell, Damian Stack, Joan Stack, Donie Finucane (R.I.P.), Mairead O'Carroll.
SECOND ROW; Martin Griffin, Jackie Carmody (R.I.P.), Miriam Carey (R.I.P.), P.J. Broderick, Helen Walsh, Maurice O'Sullivan, Louise O'Shea, Jack Joyce, Jackie McGillicuddy, Kay Ryan, Anthony McAuliffe.
THIRD ROW; Cathal FitzGerald, Jerome Murphy (R.I.P.), Batt O'Keefe, Ursula O'Connor, Michael O'Neill (R.I.P.), Anne FitzGerald, Louis O'Connell, Oonagh Harnett, Cliff Gore, Danny Moriarty.
BACK ROW; Mike Moriarty, Gillian Hilliard, Jed Chute, Paddy Walsh, Noreen O'Mahony, Pat Scully, Toddy Buckley (R.I.P.), Bernie Dalton, Johnny McElligott, Angela Hayes.