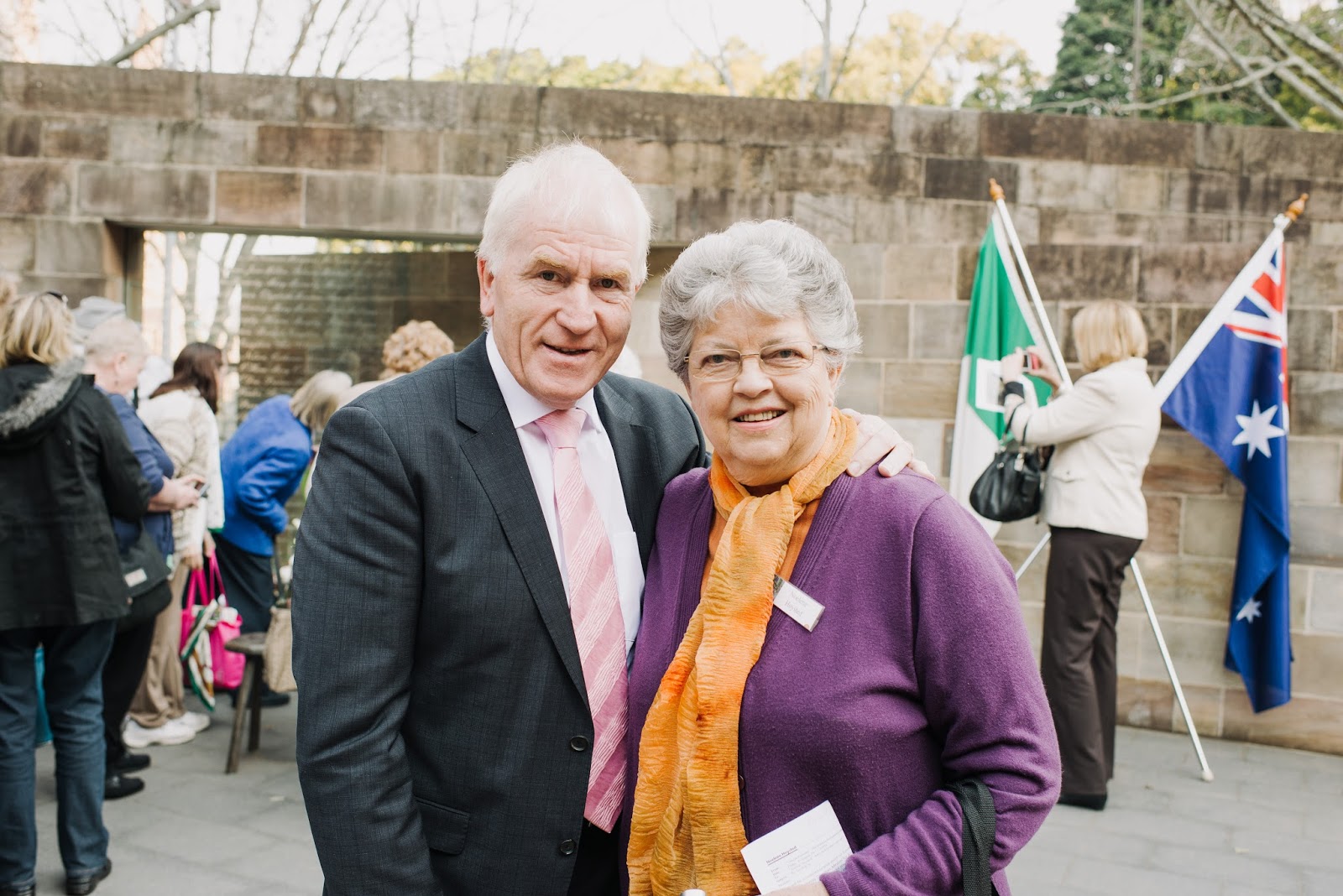 This is Noelene Hoysted with Jimmy Deenihan at the recent Famine commemoration in Sydney. Vincent Carmody provides us with the story of her Listowel connection.
My first introduction to the life and times of Elizabeth Scanlon came as the result of the visit of Noelene Hoysted and her husband to an exhibition of old Listowel memorabilia which I presented at Saint Patrick's Hall in the early 1990's. They were on an Irish tour from Sydney which included Listowel as this was the town that Noelene's great, great grandmother Elizabeth had been transported from in 1838. Noelene was the first of her family to retrace Elizabeth's journey back to our town. Following this visit Elizabeth's story was pierced together by Noelene (mainly) and myself.
Elizabeth Scanlon was born in Listowel in 1815. In 1837 she was not married and worked as a laundress in the employ of one James Sheehan, woolen and linen merchant of The Square. Her mother was dead; her father still living and Elizabeth was shown in official records as " the daughter of a very poor man with a family of seven motherless children, whose principal support was the laborious industry and exertions of his daughter, Elizabeth"
On an evening in late 1837, Elizabeth was in charge of the house in the the Sheehans absence. On their return they became suspicious of some goods missing and reported the matter to the police.
The police searched Scanlon's house, and in a box belonging to Elizabeth they located the missing goods, silk handkerchiefs, new blankets and calico She had the only key. She was subsequently arrested on a charge of larceny.
The Kerry Evening Post of Wednesday 24 January 1838 carried a short report from the Listowel Sessions in which Elizabeth Scanlon was sentenced to transportation for a period of seven years for the crime of robbing her master.
Elizabeth along with fifteen others who were before the bench were then removed to the County Goal in Tralee. While in custody a petition on her behalf was forwarded to The Marquis of Normandy, Lord Lieutenant General and General Governor of Ireland in Dublin Castle by Listowel residents, John Woulfe, G. Tanavale, Timothy O Sullivan, John O Sullivan, Martin Connor, Mr Mahony, Mr Monke, Mr Carter and others. This petition testified to her good character, but she was shown no clemency and was moved from Tralee gaol to Dublin gaol from which she was put aboard the ship "Margaret" in August 1838. It sailed from Dublin on the September 1st and arrived in Sydney on January 5th 1839. The trip was made without calling in at any port for fresh provisions. Along the way severe gales were encountered. Illness and scurvy were prevalent. Elizabeth was confined with pneumonia to the ship's 'hospital' for two and a half months and transferred to a Sydney hospital on arrival.
A glance at the ships indent reveal the following;
List of 169 female convicts by the ship "Margaret"
Master-Edward Canney.
Surgeon Supt.- George St. Moxey.
Sailed from Dublin on September 1st 1838 via Cape of Good Hope.
Arrived at Sydney on January 5th 1839.
Indent No 66.
Name- Elizabeth Scanlon.
Read or Write- reads only.
Religion- Roman Catholic.
Age- 24 Years.
Status- single.
Children- Nil.
Native Place- County Kerry.
Trade or Calling- Laundress.
Offence- Robbing her Master.
Tried where- January 1838.
Indent No.- No 66.
Sentence- 7 Years.
Former convictions- None.
Height- 5ft.1 1/4 inches.
Complexion- dark pale.
Hair colour- dark.
Eyes- chestnut.
Particular marks, scars or remarks,
The mark of a burn on left side of upper lip, three blue dots on back of right hand, and one on the back of left hand; scar on the back of same.
On recovering she was assigned to work for a family in the country, but she never regained full health. In 1841 she married Timothy Kinsella from County Kildare and they had five children, three boys and two girls, one of whom was Noelene Hoysted's great grand mother, Mary Ann Kinsella. Elizabeth, never strong from her period in gaol and illness aboard ship, died in 1850, aged only 35 years.
What a sad story indeed!
>>>>>>>>>>
A Sydney lady who keeps in constant touch with listowelconnection is Julie Evans. Julie's story will be featured in the forthcoming Tar Abhaile programme on TG4. But before that you can hear Julie being interviewed on Kerry Today on Radio Kerry on today Monday September 9 2013 at 10.00 a.m.
<<<<<<<<<<<
Look who was invited to the Ferraro Rocher bash?
Maybe Mike O'Donnell will share all the gossip with us.
<<<<<<<<<<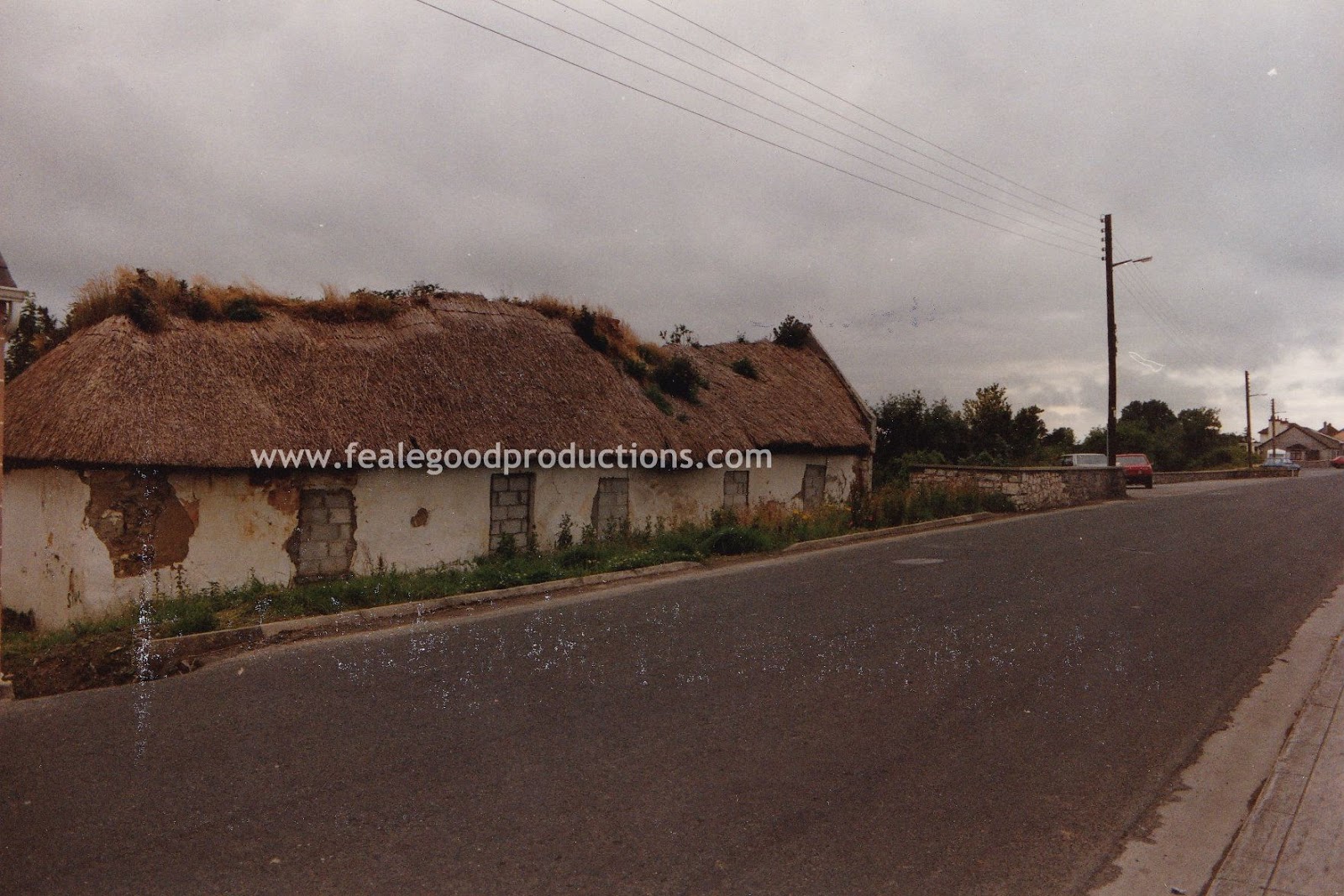 Denis O'Carroll took this photo of a thatched cottage at Convent Cross.
<<<<<<<<<<<
Cluck, cluck!
Do you remember the lovely fluffy chics I featured earlier this year? They are now teenagers and looking handsome.