What a motley crew?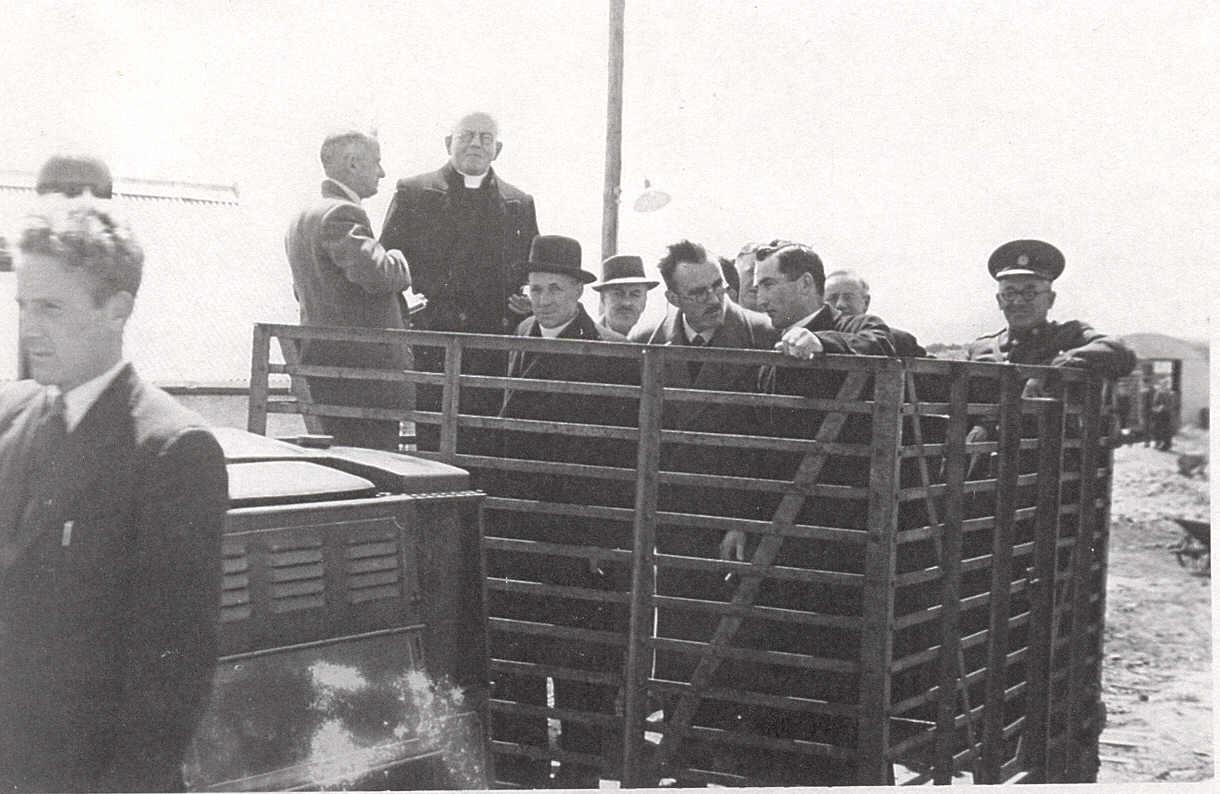 A group of priests, a bishop, County Council engineers, Garda
Superintendent and BnM staff on a visit to Mountdillon bog in Co. Longford in 1951.
>>>>>>
I received the following email from Karen Semken is Sydney
Hi there,
I'm involved with the irish orphan memorial in sydney. In relation to your questions i can advise the following:
A Margaret Stack arrived on the Thomas Arbuthnot but records have her from Innestymon, Clare. I have some information on this orphn by a descendant. She also had a sister Mary who came out in 1858 (but not part of the Earl Grey Scheme)
Mary Griffin arrived on the Thomas Arbuthnot – not the Tippoo.
Please check the database on our website for more info. http://www.irishfaminememorial.org
We are currently in the process of preparing a lot of 'stories' from descendents for upload to the site.
Regards, Karen
( I'm looking forward to reading the stories.)
>>>>>>>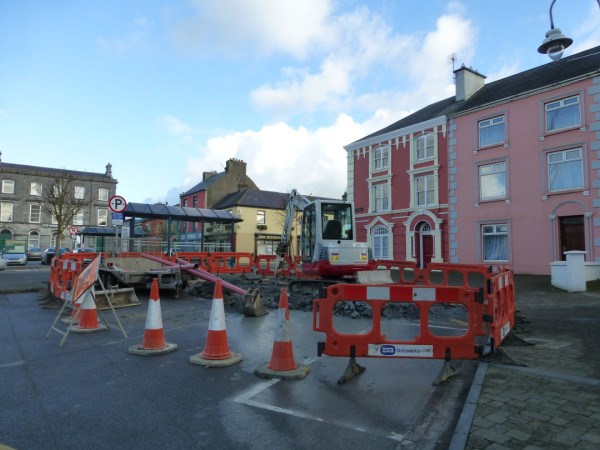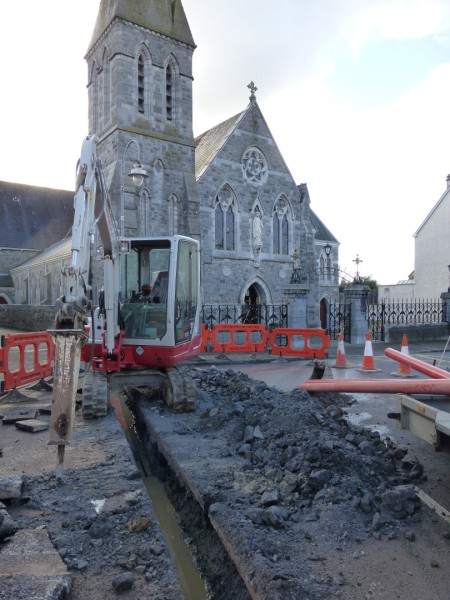 ESB Networks are digging up outside the church. I don't know what it's all about though.
Meanwhile here are a few developments inside the church.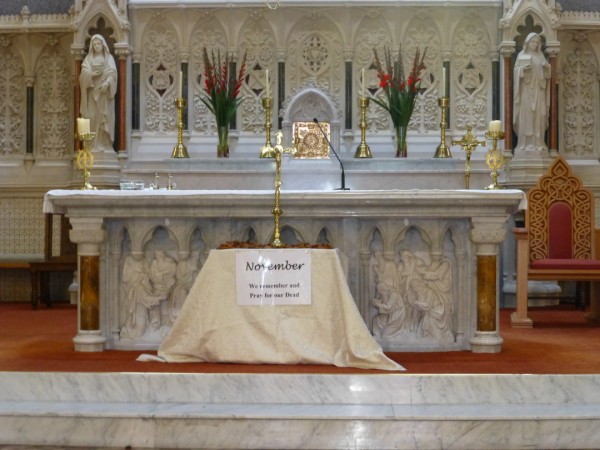 It's November, that time of year when we remember our departed loved ones.
The ramp to the altar tells us something about the ageing profile of our clergy.
>>>>>>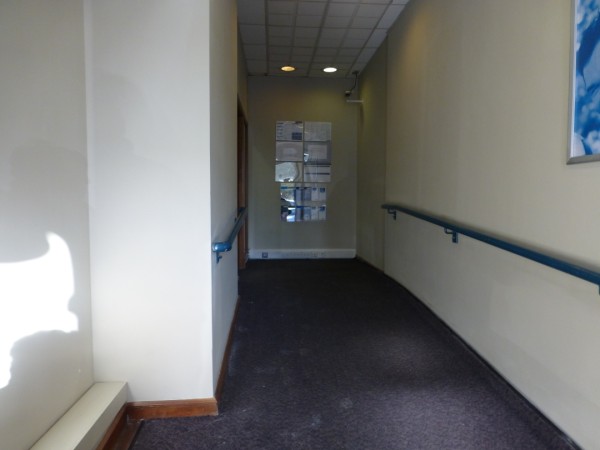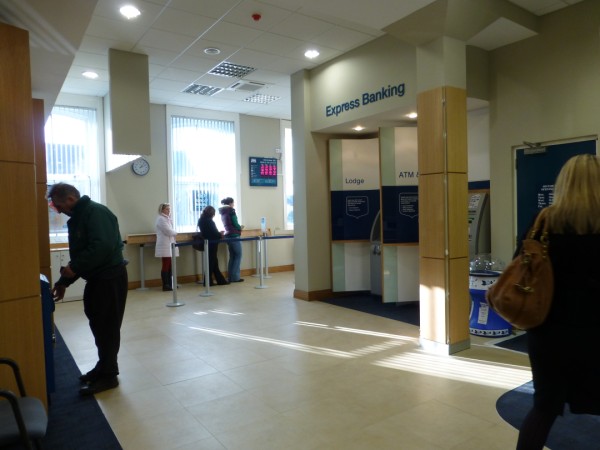 This is how Bank of Ireland, The Square, Listowel looks now. The queue by the windows is for the 2 remaining tellers. The Express banking booths are how we do business for ourselves now.
<<<<<
Jer took his video camera to Moyvane festival a few weeks ago. His clip includes Vintage Day, the craft fair and rehearsal for the play.
<<<<<<
On Tuesday last I was listening to Radio Kerry when I heard Mike Lynch's "Footprints"
I thought that the piece was so interesting that I asked him if he would send it to me in print form so that I could share it with you.
Here is the first extract.
Footprints for November 2012 (1)
1. The
Irish Land Question – The Kerry Peasantry
(Kerry Evening Post, 24 November 1880)
The Land
Question was the burning topic of the early 1880s, and in order to better
understand the issues involved, the London Standard newspaper sent a
special correspondent to Kerry to see the issues involved. As an introduction, the writer noted:
"The
peasantry of Kerry posses all the best physical characteristics of the Celtic
race. Tall, sinewy, and active, they
seem the class from which the pioneers of an advancing colony might be
selected. Their women are comely and of
good physique, and are used to all kinds of laborious field work. I know of no prettier sight than the children
of the national schools at play. These
schools are dotted all over the countryside, and you can see from three to four
hundred boys and girls, bare-footed and often bare-headed, with clear, healthy
faces and blue eyes, scampering about the hills in this inclement climate,
forming a picture that lives long in the memory."
He repeats
the well-known story of how turf was brought to school by the children, and
adds "One carries a piece of lighted peat, another trudges along, a turf under
each arm, and lastly comes the master, a sober, earnest-looking man, who will
tell you with pride how many of his pupils have taken places in the Civil
Service".
In relation
to the people themselves, "The peasants are, unfortunately, suspicious to a
proverb; they are averse to giving direct answers, but when asked a question
will reply by putting a hypothetical case, beginning with may be or it
might be. They are, finally,
much given to putting their condition in the worst possible light, if they
think to gain anything by it, and of displaying a certain aggressive demeanour,
if those with whom they converse express a contrary opinion".
The
correspondent notes that a gentleman long-time resident in Ireland had said to
him that "nothing is so difficult to ascertain in Ireland as the truth". This motto came back to his thoughts as he
interviewed a raggedly-dressed young man who gave him a long list of
grievances, and told how he was close to destitution and forced to work on Poor
Law Relief Schemes just to survive. The
correspondent's driver informed him that the same man had almost £200 in the
banks at Killarney!
While
journeying on to Cahirciveen from Sneem, the writer was forced to stop at a
forge for shelter during a storm. His
conversation with the smith (also a farmer) went as follows:
Writer: Mr
D Corkery, who owns this property, is a fair landlord, I believe?
Smith: May be he is, and may be he's not.
Writer: The soil doesn't seem very fertile
about this place?
Smith: Faith, a snipe couldn't shelter on the most
part of it.
Writer: What's your rent and valuation?
Smith: Me rint's five pounds and me
valuation's three pounds ten shillings.
It's a great dale too much rint we pay.
When the
correspondent put it to them that a small rent decrease would do little for
them, his driver said "These poor people, yer honour, could make a pound or two
go farther than you could make twenty".
<<<<<<
+++++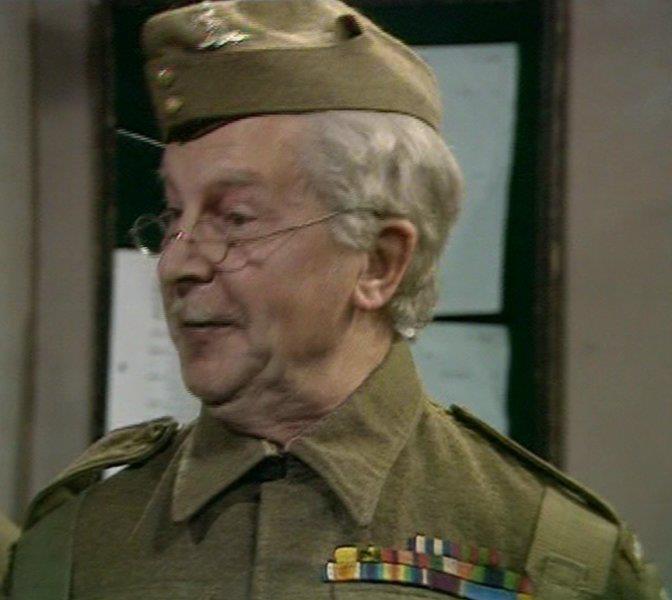 "Permission to speak ,sir?"
Don't panic; don't panic!
"When we was fighting the Fussy Wuzzies….."
RIP a great comic actor, Clive Dunn.


<<<<<


Local news from councillor Jimmy Moloney


Maintenance works in place on the N69 form Ballygologue Cross to Tim Kennelly Roundabout. A new storm drain is being put in place and footpaths are being replaced on both sides of the road. Minor diversions expected. Works expected to last 6 weeks.
AND
Route C has been chosen for the town bypass.
The bypass road will leave the Listowel Tralee road about a mile outside the town.
The new bridge across the river will be just at the town side of the dam, cross over behind Forge Rd and onto the old rail tracks. It will join up with John B Keane Rd at McKennas Yard. There may be slight alterations when they do environmental studies ect.


You can view the map on Jimmy's page