Today, as promised, Joanne Dillon's account of her recent trip to Ellis Island. She also shares with us her parents story in brief.
A Visit to
Ellis Island: Island of Tears, Island of Hope
by
Joanne Dillon
Brooklyn Heights, New York
At
Ellis Island in New York Harbor, the names of more than 700,000 immigrants to
the United States, representing almost every nationality on earth, are inscribed
on the Immigrant Wall of Honor. Among them are the names of my parents — James Dillon
from Dromerin and Theresa "Tess" Dillon from Gurtcreen.
Their
names have been there since the early 1990s, when they were inscribed as a
tribute to the sacrifices they made and the life they built together in
America.
My
father James "Jim" Dillon left Listowel in 1927 when he was just 20. My mother
Tess followed two years later in October 1929, when she was only 19. Despite
the same last name, they weren't yet married — just neighbors who lived down
the road from one another, outside of Listowel. Their marriage would come a few
years later in the Bronx, New York —their new home.
Throughout
his life, my father rarely spoke of his childhood, his journey to America, or
his early experiences in New York. My mother, however, was not at all reticent and
often shared stories of the old country with me.
She spoke always
of the sadness of leaving behind her parents, Johanna Lynch and Patrick Dillon,
her many brothers and sisters, and her childhood friend Kitty Connor. She
recounted the days of seasickness she suffered on the voyage across the
Atlantic on the S.S. America. And she talked often about the difficulty of
finding work in New York during those first years of the Great Depression.
But she
also told tales of happier times: of my grandmother Johanna singing while she
worked around the cottage in Gurtcreen; of her brothers Paddy, Jimmy and Willy,
who tickled her feet with feathers during the nightly family recitation of the
Rosary; of her father Patrick, who built many pieces of furniture in their
cottage; of going to the dances at Bedford Hall with her sisters; and of
herself sneaking out of school on warm summer days to pick berries on the banks
of the River Feale.
These
stories made Ireland seem magical to me. It was a life very different from mine
growing up in the Bronx in the 1950s and '60s. Would I ever know what my
parents' lives had really been like?
One part
of their experience — their arrivals in America — was recently brought vividly
to life at the Ellis Island Immigration Museum in New York Harbor. On a
blustery, cold January morning, I joined other members of the New York-based,
Irish-British Genealogy meetup.com group for a tour. Despite the frigid temperatures
and the brisk winds whipping the waters of the harbor, it was a trip worth
taking!
From the
baggage room where the immigrants had to leave their bundles, an enthusiastic
Park Ranger guided us up the marble staircase to the Main Hall. We were given a
detailed description of the processes all new arrivals experienced from the
time the immigration center first opened in 1892 until 1954, when it ceased
operations. Our guide explained the seven-second medical assessment that helped
give the Island its notoriety as the Island of Tears, Island of Hope, and he recounted
in great detail the legal documentation process.
Twelve
million immigrants — four million of them from Ireland — entered the United
States through Ellis Island during its 62 years as an immigration center. At
its peak, roughly 5,000 people a day passed through its Main Hall, in a process
that took about five hours.
Today, the
Ellis Island Immigration Museum honors all immigrants to America — the famous
and the not so famous. Its Immigrant Wall of Honor allows families to recognize
relatives who came to America in search of religious freedom, economic
opportunities, political freedom, or for other reasons.
Whether your
relatives passed through Ellis Island or entered the U.S.A. through another port,
if you are ever in New York City, take the ferry from Battery Park and visit the
Immigration Museum, where you can learn about this important part of both the
American and Irish experiences.
As for Jim
and Tess, after passing through U.S. Customs they made their respective ways to
the Bronx, where they married in 1934. There, they raised four daughters
(myself being the youngest). After working as a motorman for the New York City
subway system for 43 years, Jim retired in 1972. He passed away in 1983 at age
76. Tess retired from the Metropolitan Life Insurance Company in 1975. She died
in 1996 at age 86. Today, their names can be found on the Ellis Island
Immigrant Wall of Honor, Section 113.
For
information on the Immigrant Wall of Honor, visit the website of the Statue of
Liberty-Ellis Island Foundation, Inc. at www.wallofhonor.org/wall_of_honor.asp
Photos Attached:
On
the S.S. America. Tess Dillon and her older sister Mary are
pictured here with many other immigrants on their voyage to New York City, October
1929. Tess is in the fourth row from the bottom, behind and to the left of the
man with the hat. Mary is in the sixth
row, to the left of the beam and of the woman wearing the cloche hat.
Jim
Dillon.Jim as a young man before he left Ireland for America in the 1920s.
Joanne
Dillon.Jim and Tess' youngest daughter, at the Immigrant Wall of
Honor, January 2012.
Section
113, Immigrant Wall of Honor.
My father's name, James Dillon, is prominent in this photo; Tess' name
is much lower on the panel.
Ellis
Island Immigration Museum Today.
The main building where all immigrants began the process of becoming
Americans.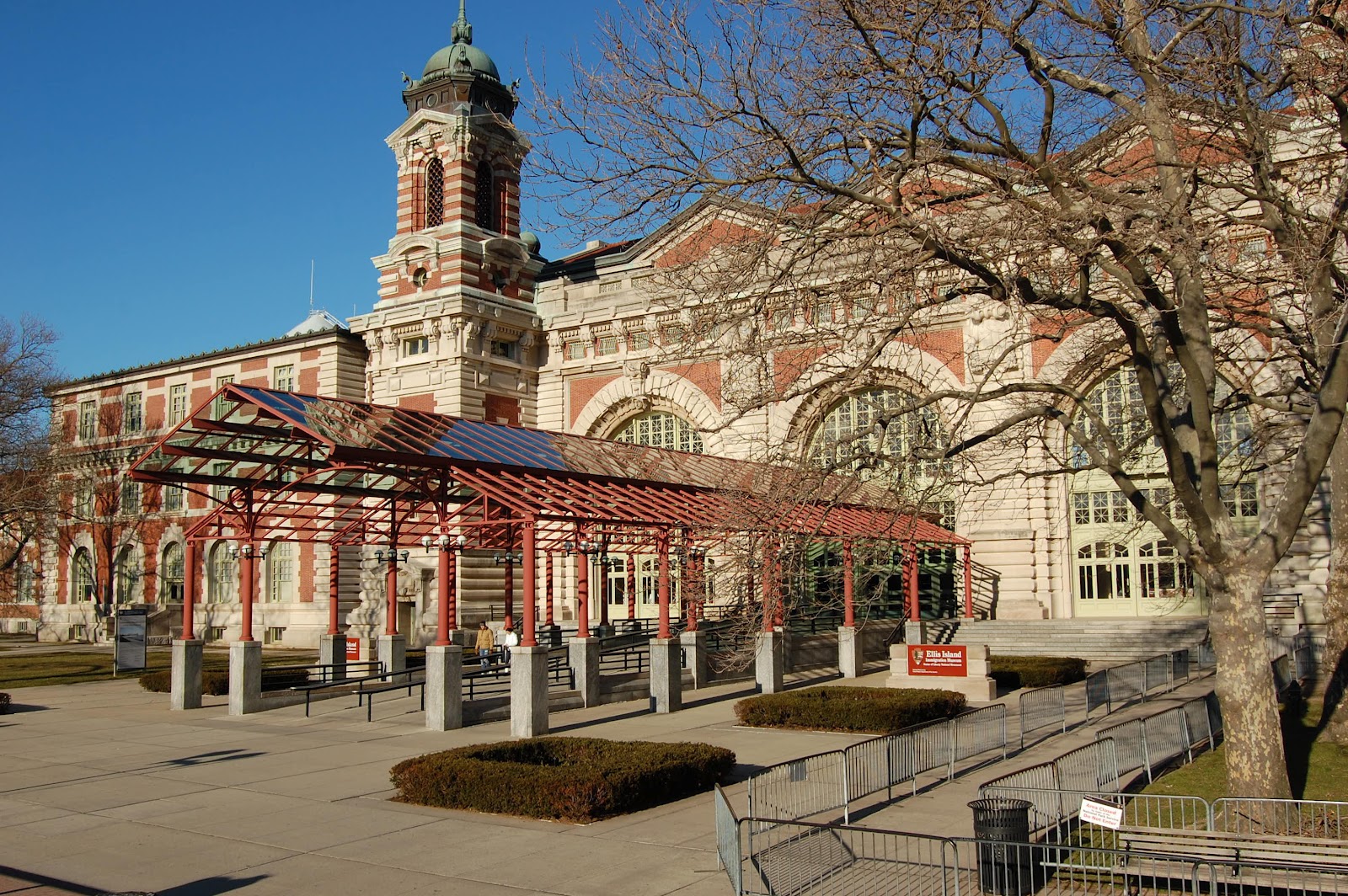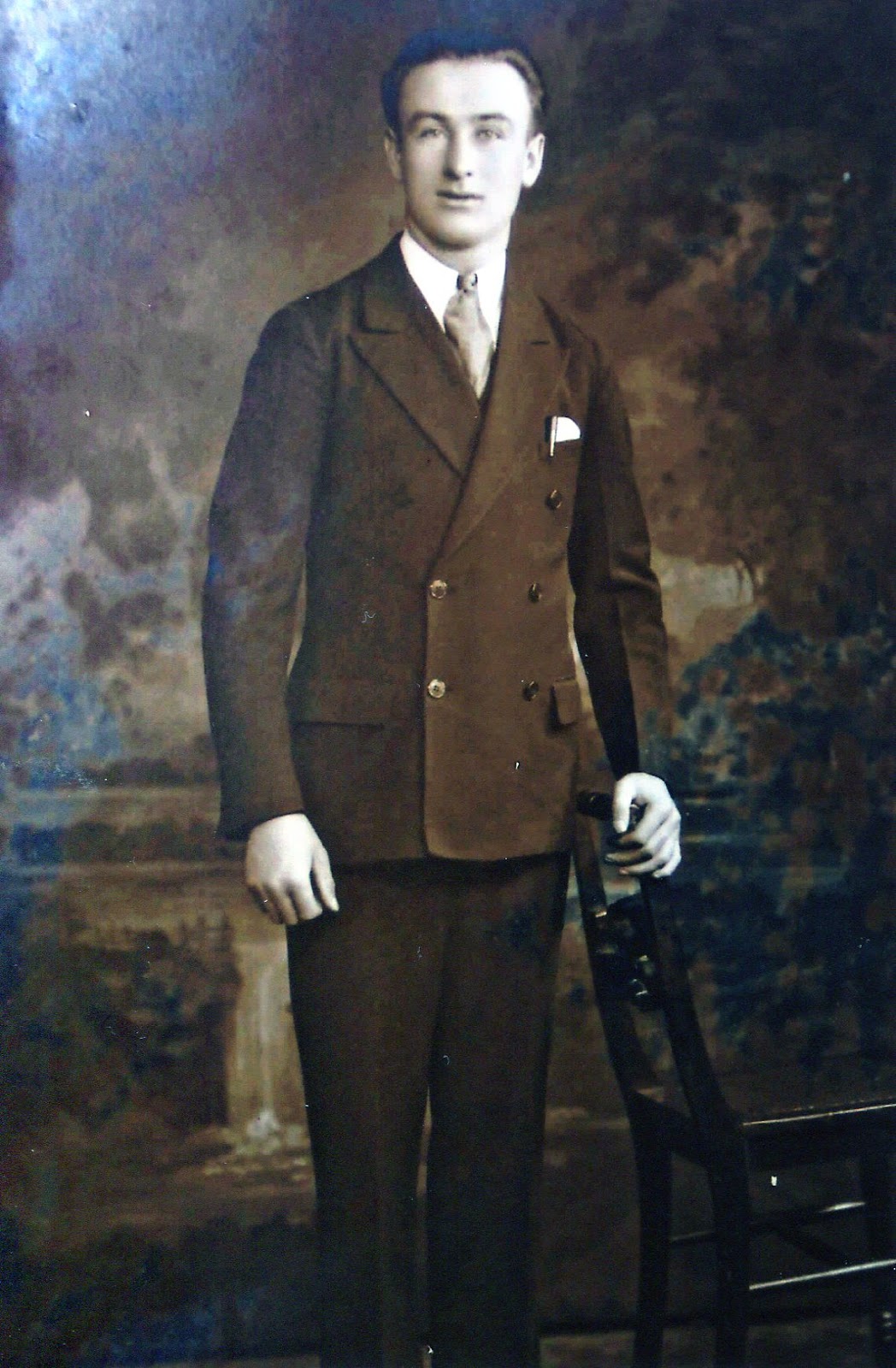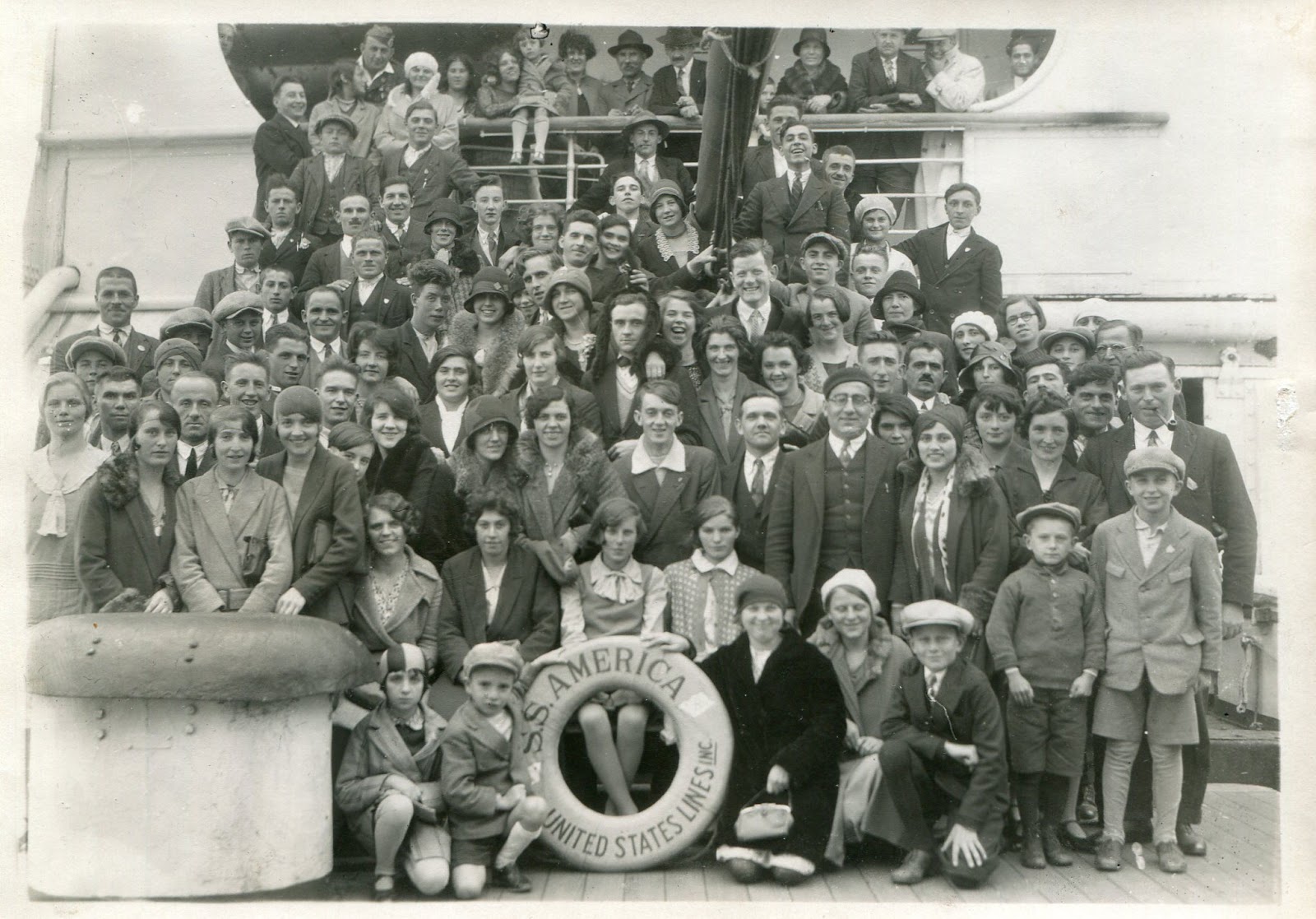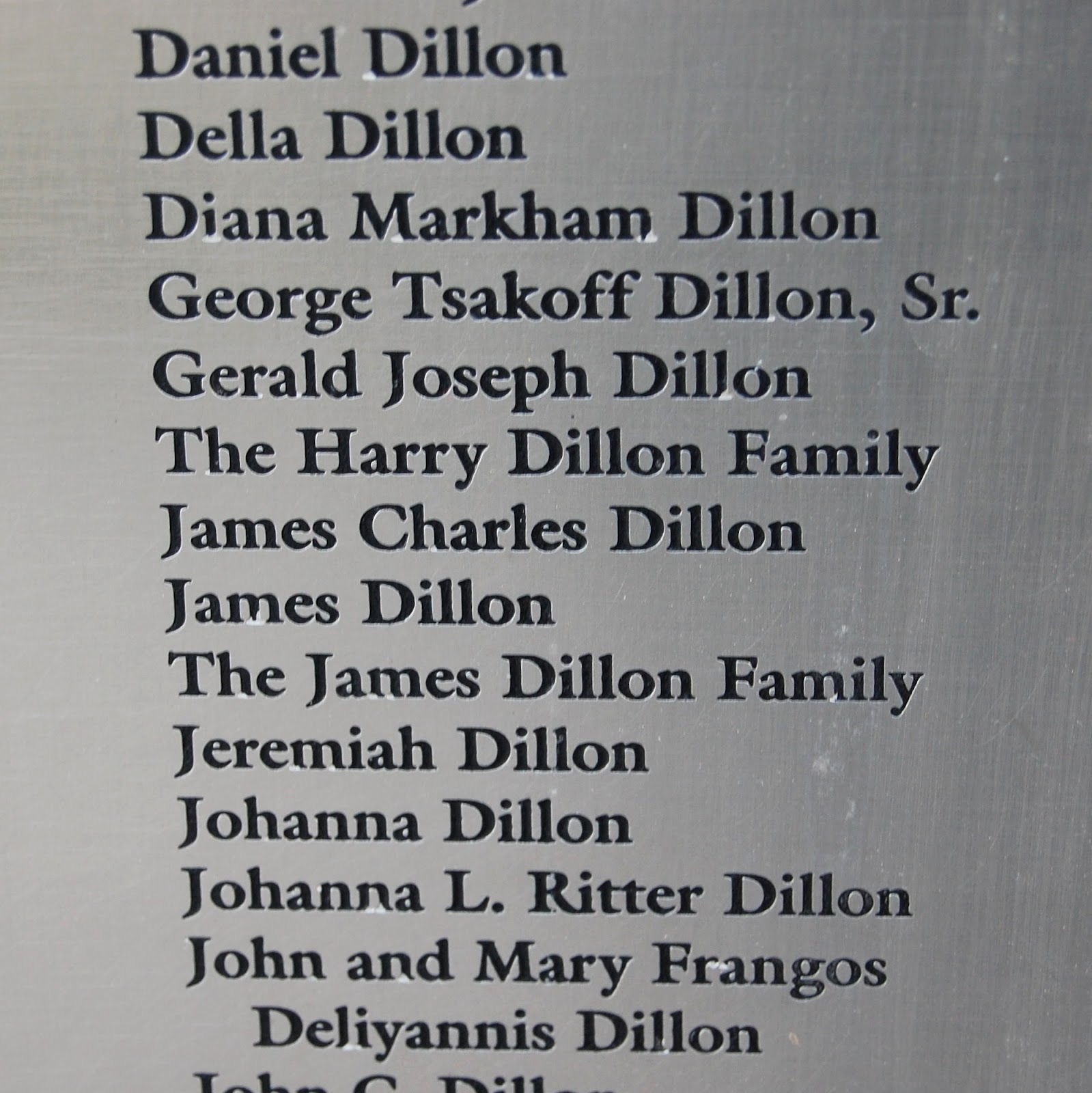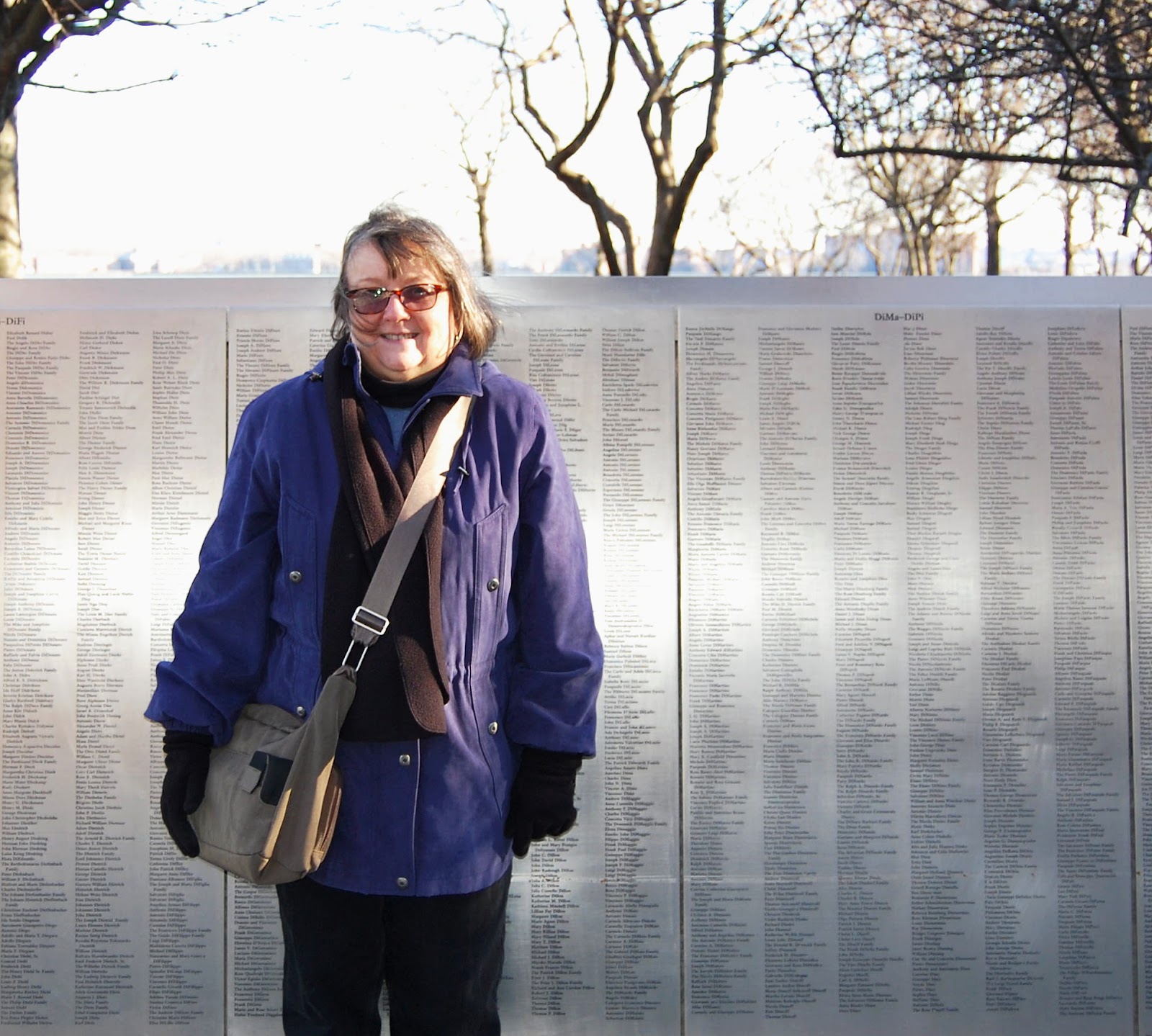 ———————————
I believe that you could write a social history of our town by documenting all the signs and notices. So here is an account of what is going on in town in late Feb. 2012 as told by posters in shop windows.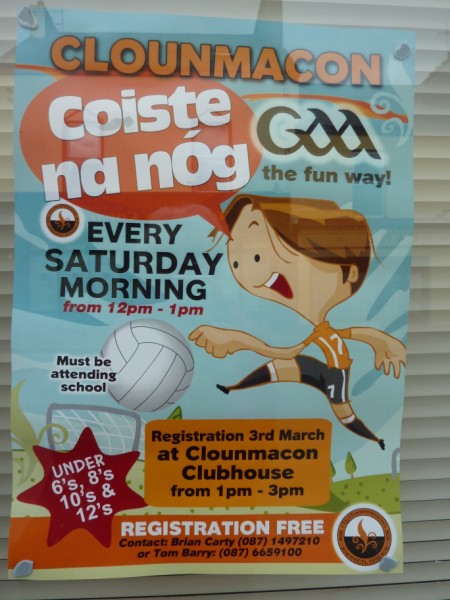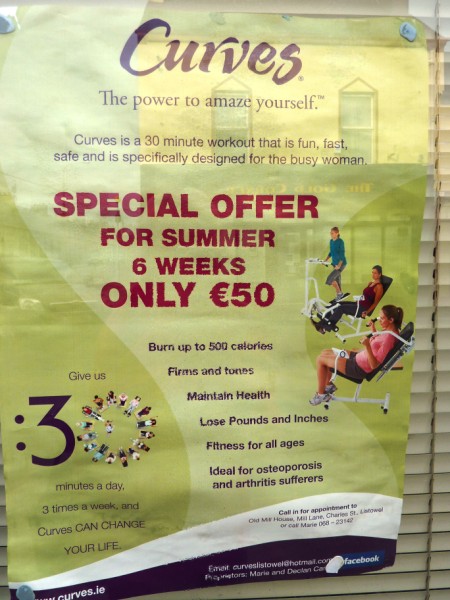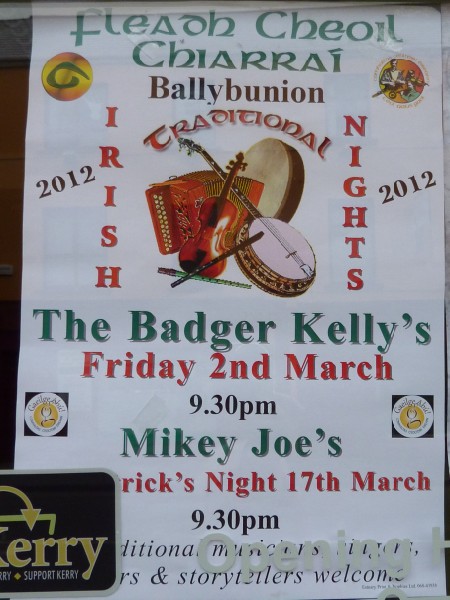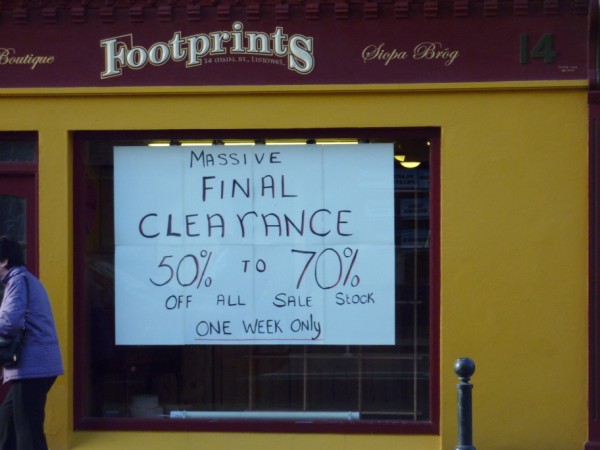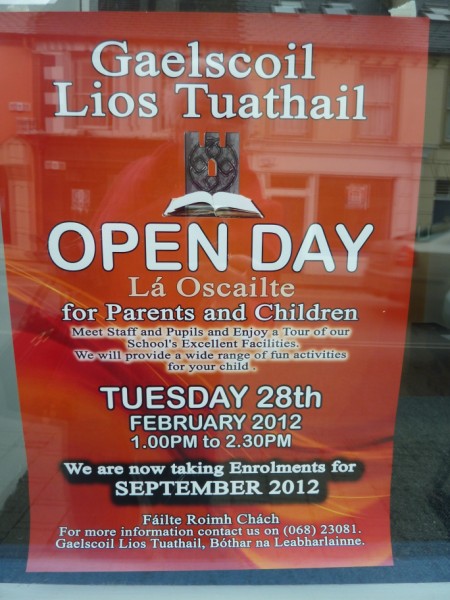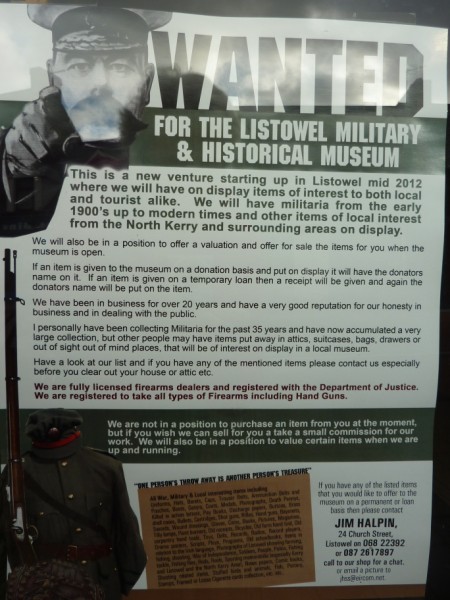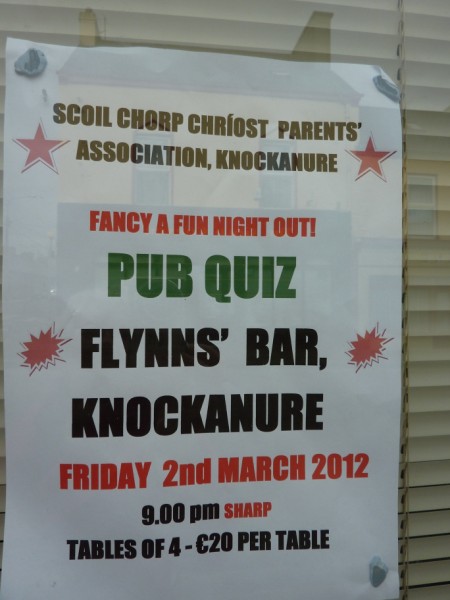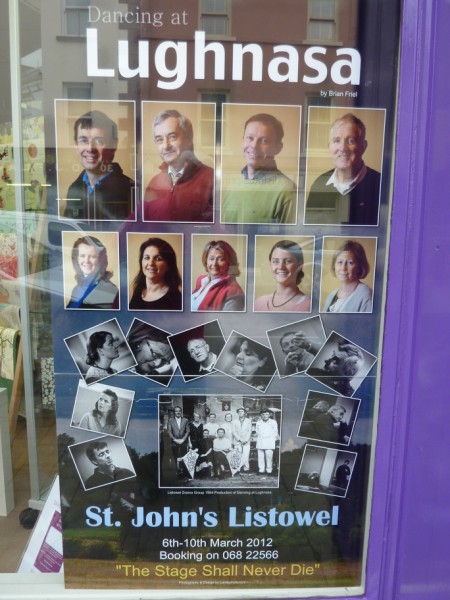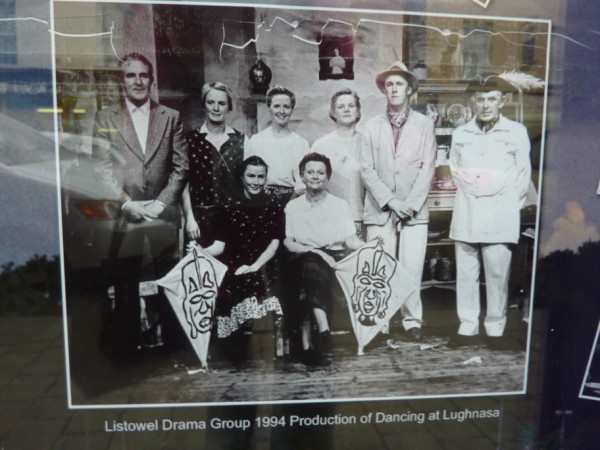 ——-
Very sad to read this;
The death has occurred of Finola LEANE of The Square, Listowel, Kerry
Reposing at Lystol Lodge Nursing Home, Listowel this Tuesday evening. Removal at 6.30pm to St. Mary's Church, Listowel arriving at 7pm. Requiem Mass tomorrow, Wednesday, at 11.30am. Burial afterwards in St. Michael's Cemetery, Listowel.

Date published: Tuesday, February 28, 2012

Date of death: Sunday, February 26, 2012