The Listowel Conference of The Society of St. Vincent de Paul was set up in 1937. I don't think any photographs exist from those early days. Below is a photo from 1969.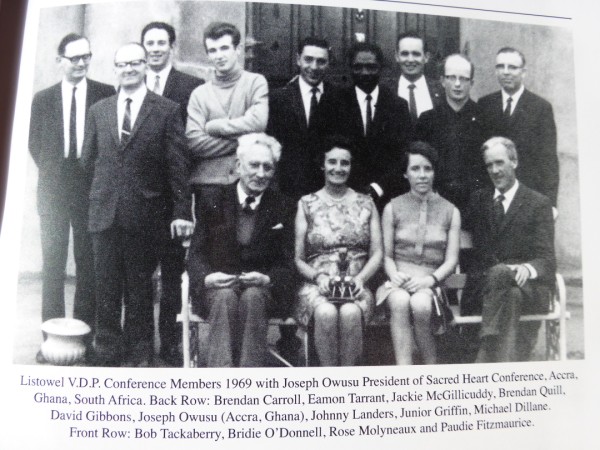 The local Vincent de Paul ociety is linked in people's minds with the Plaza. Here from Michael Dillane's book is the history of that building.
The Plaza was built in 1933 by Jackie Hannon for Trevor G. Chute at a cost of £650. It was mainly a cinema but was also used for dancing and badminton. In 1973 the local conference of the Society of St. Vincent de Paul purchased it. The purchase price was raised from Bingo, Whist Drives, Tops of the Town, a monthly draw, rental from the badminton club and theatre groups and from various other sources.
Bingo had previously been played for 6 years in Scoil Realta na Maidine. The 1970s was the heyday of Bingo and some patrons played in a different hall every night of the week. At its height Bingo in Listowel attracted between 600 and 700 players on a Sunday night and the Day Centre had to be used as well as The Plaza to accommodate the crowds. Fleets of buses lined the streets of town every week and many a great night was had at Listowel Bingo.
Over the years many famous names have topped the bill at The Plaza; Frank Patterson, Josef Locke, Carmel Quinn, The Chieftans, The Kerry Blues, The Artane Boys Band as well as local acts like The Bunny Dalton Band and The Listowel Singers have all "trod the boards" in the Plaza.
The name was changed to The Ozanam Centre in 1985. This was to honour Blessed Frederic Ozanam, founder of the Society of St. Vincent de Paul. Local people continue to call it The Plaza.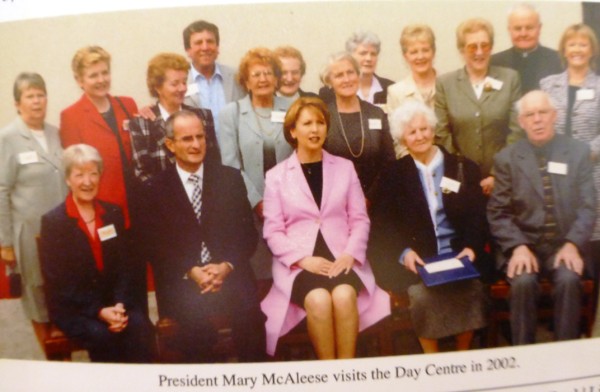 The Day Centre was added to The Plaza in 1975. It was purpose built as a centre where senior citizens could come together to partake of a main meal and where healthy meals could be prepared for delivery to other older people who were not in a position to visit the centre.
A small amount is now charged for the meals, which are also delivered to The Alzheimers Society and to The North Kerry Day Centre on certain days of the week.
A volunteer force of drivers helps to keep this show on the road.
The Society of St. Vincent de Paul is truly a band of local heroes who deserve our support and gratitude. Long may they continue to do their good work among us!
>>>>>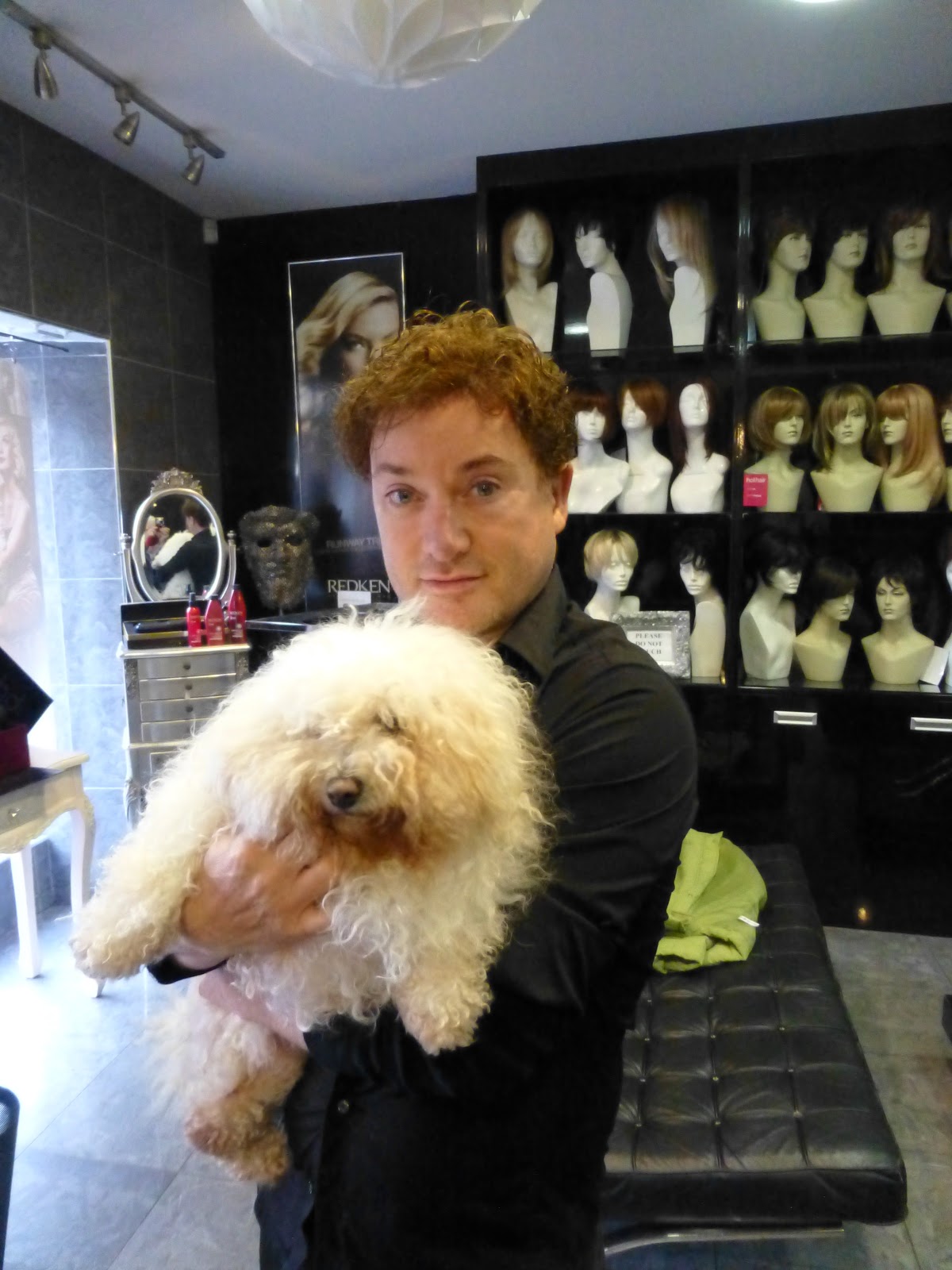 I took this photo in Changes on Friday. Danny had his adorable pooch, Tia in work with him.
<<<<<<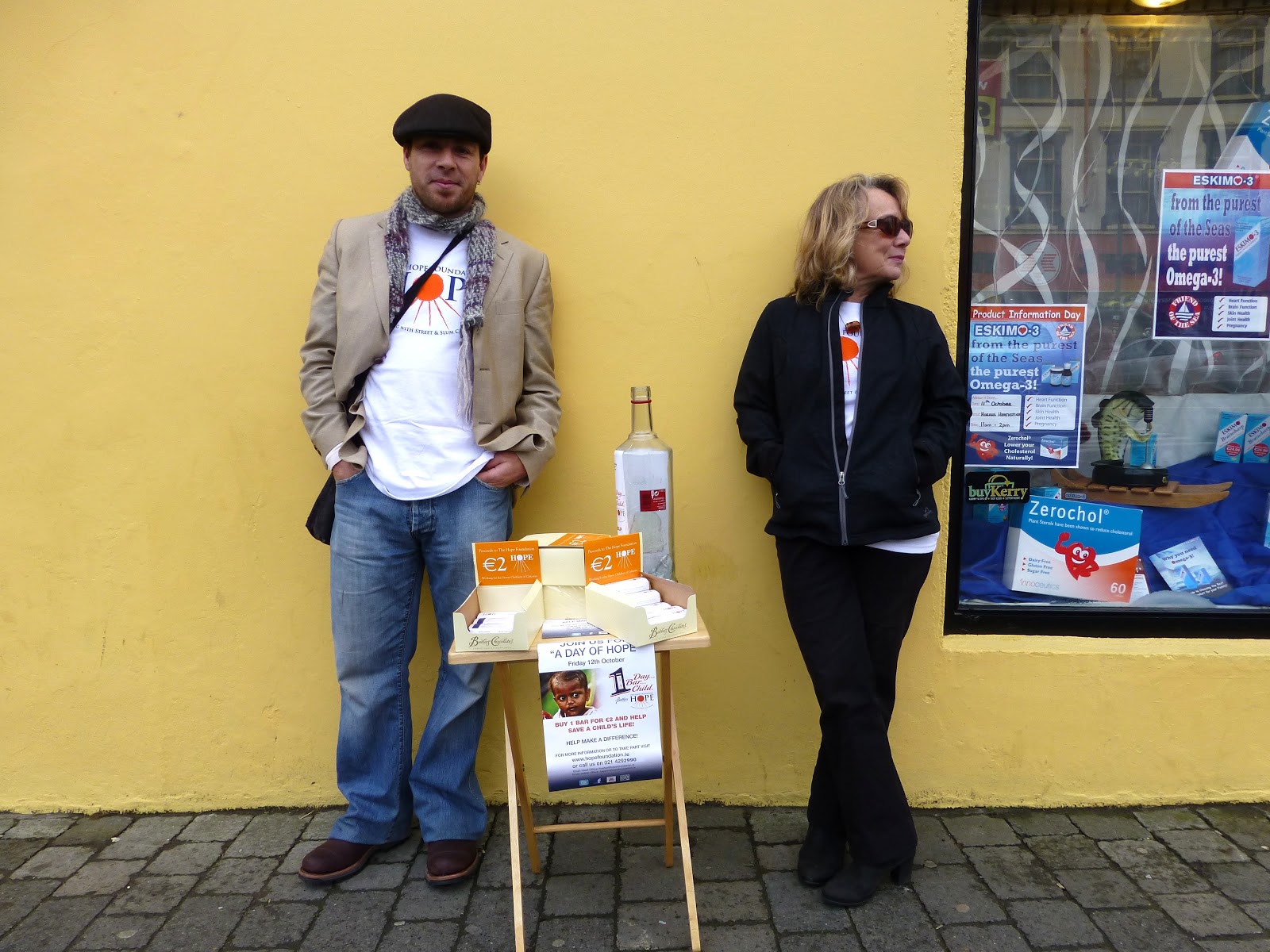 Also on Friday I bought a bar of delicious Butler's chocolate from Aidan O'Sullivan and companion who were selling them on the street in aid of Hope.
<<<<<<
http://www.tv3.ie/ireland_am.php?video=54423&locID=1.65.74
I hope that the above link is still live and will take you to yesterday's Ireland AM and our own Damien Stack playing a blinder in advertising Listowel and the Stack clan gathering. Well done, Damien!
>>>>>
So sad!
TRANSPLANT operation that saw former gaelic football star Joe Brolly donate a kidney to his friend has failed, a health trust has confirmed.
The organ that was transplanted into Belfast PR executive Shane Finnegan earlier this month stopped working and was removed in a London hospital on Friday.
Derry all-Ireland winner Brolly, 42, and Mr Finnegan, 40, know each other from coaching an under-10s team at St Brigid's gaelic club in Belfast.
The Belfast Health Trust, which manages both men's care, said the kidney had initially worked well before problems developed.
"We can confirm that Mr Brolly is recovering very well having donated his kidney on October 3rd," said a trust spokeswoman.
"However, sadly after initially functioning well, there were complications with the transplant and the kidney had to be removed on October 12th."
Two-time all-star Brolly was lauded for his altruism after the gesture.
Now a barrister and TV sports pundit, he had approached Mr Finnegan when he heard he needed a live donor.
Father of three Mr Finnegan, 40, has suffered from kidney problems for 20 years. This is the third transplant that has failed.
The trust said most kidneys from a living donor work successfully for years.
"This is a rare and unfortunate occurrence after kidney transplantation, and whilst both families are naturally devastated, they are hugely encouraged by the massive wave of goodwill and support from the community and the resultant increased public awareness of the critical importance of organ donation," the spokeswoman added.
"Mr Finnegan is confident that with the continued support of family and friends he will be home soon and able to resume a full family and work life.
"Both Shane and Joe are very keen to support the Trust's campaign for organ donation and when fit and ready have agreed to spearhead a drive to increase the number of donors. For both men and their families, this has been a life affirming experience."
– David Young