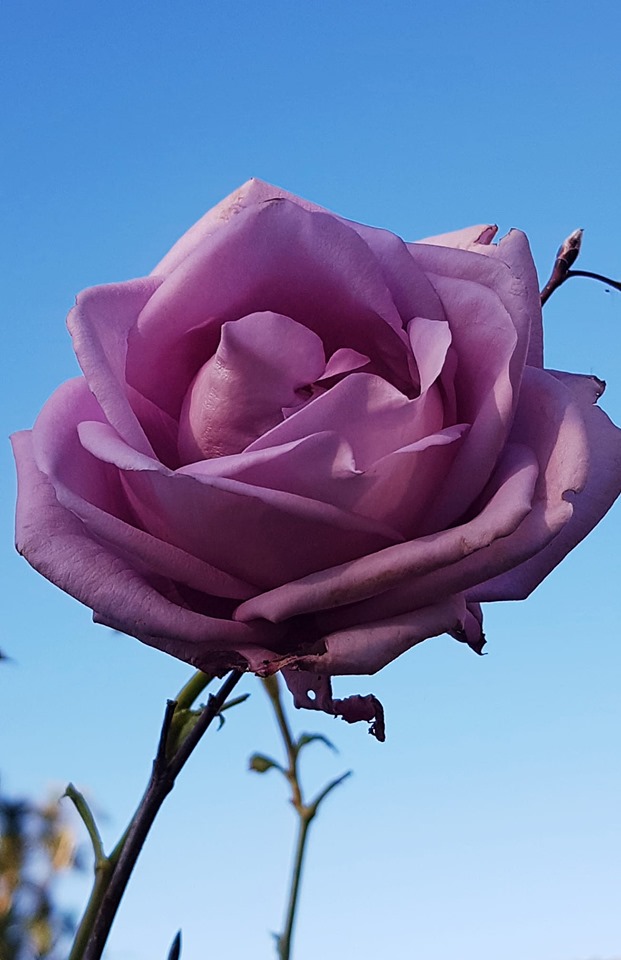 Photo: Ita Hannon
<<<<<<
Sticks and Stones
John B. Keane in The Limerick Leader
MOST of our English teachers warned us at one time or another of the folly arising from the use of a big word where a small one would do just as well, and a few weeks ago we dealt in-depth, with this aspect of communications as indeed we do and have done with all manner of subjects.
But be this as it may, there was nothing so deflating to an ignoramus or bostoon or a common thug as a barrage of well-timed, well-spaced, multi-syllabic tongue-twisters.
Backward and suspicious folk, unversed in the subtleties and sonorousness of sublime expression, have a healthy respect for the man who has words at will and will give him a wide berth for fear of invoking his wrath.
In fact, there are many sensible country people who would much prefer a lick of a naked fist.
The worst a belt of this nature can do is give you a black eye or a broken jaw, either of which can be cured easily and forgotten about altogether in the course of time.
Not so with a nicely mounted cluster of sharp, scintillating words.
These can leave scars and sores that will not heal for a genesis of generations.
Punishing
How many will disagree that an absurd soubriquet has twice the punishing powers of a comprehensive physical beating?
The old Gaelic chieftains had a greater fear of satire and ridicule than of sworn enemies out for a man's blood.
At least you could build castles against your enemies buy against the invective of a disgruntled bard. There was no defence whatsoever, and even if you cut off his head before he got started one of his brotherhood was sure to lambast you with a lacerating and lineage-defiling displode which was sure to be remembered unto the third and even the fourth generation.
Anything was preferable to the poet's curse or the wit's tag, and if 'twas the last fork of mate in the house itself, it was wiser to part with it rather than risk the wrath of a half-starving poetaster.
Worse still, of course, was to be fettered by a mouthful of words which the benighted victim would have no hope of understanding.
Bad as he is, than the devil one does not know, and what an ordeal to have to through the world like a dog with a canister tie to its tail.
There are others, of course, notably schoolboys, who have no fear whatsoever of the spoken word when delivered by a disgruntled teacher.
The longer the tirade, the less likelihood of physical punishment.
The maxim here was:
"Sticks and stones may break my bones
But words will never hurt me."
<<<<<<<<<
RTE Newsroom 1968


Photo from Rte Archives


<<<<<<
They're Building a Wall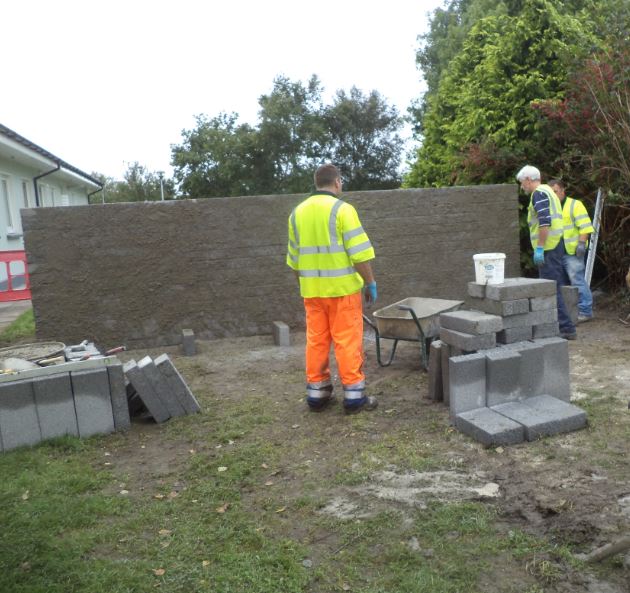 Where? Beside Áras an Phiarsaigh, Listowel
Why? I have no idea
<<<<<<<


Lyreacrompane 1970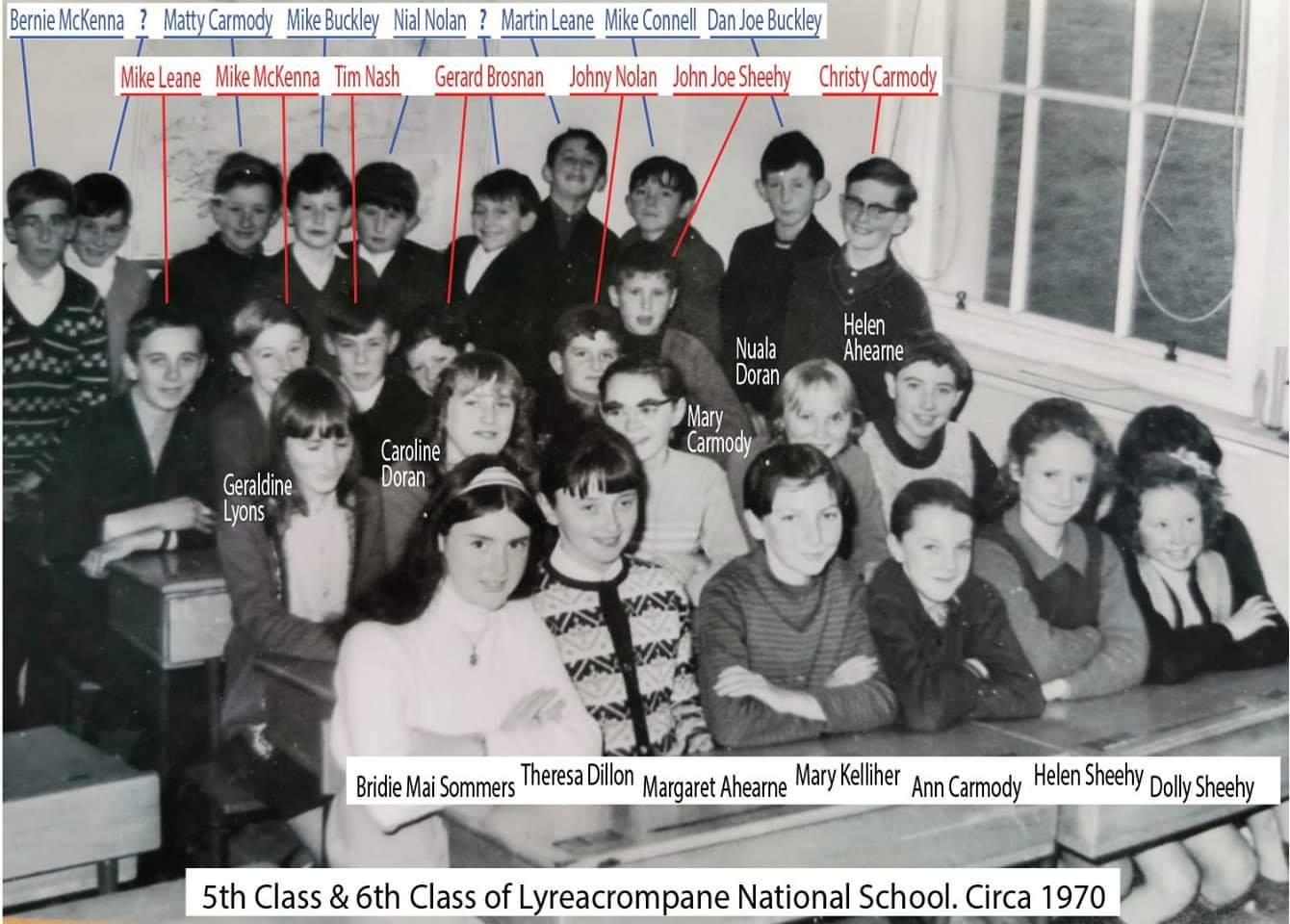 Photo from Facebook
<<<<<<<
Any Henrys or Brosnihans out there?
My name is Jan Allen and I live in Australia. I have been researching my ancestory. Your website has interested me as I know I have ancestors in your area.
My great-grandmother, Mary Henry, was born in Listowel in 1855 and I know that her parents' names were Michael Henry and Mary Brosnihan. I have found her baptismal date but have not been able to find her parents' marriage date or their birth dates. Ballygologue was referenced in her baptismal record.
I have been scanning through all the records I have access to but there seems to be some missing records – I have not been able to find any information about the Brosnihans or the Henrys. I am assuming that they lived in the County of Listowel as Mary was born there.
In 2010 my husband and I travelled through the Republic of Ireland but at that time, I had not done any research into my ancestry. Since my mother passed away in 2018, I have become very interested in her family history. The other side of her family (Foley) were born in Edenderry, Ireland.
You have indicated that you are interested in connecting with people related to the area, although my connection may be quite remote. My great grandparents were both born in Ireland, travelling to Australia, then marrying in Cooktown, Queensland.
Yours faithfully,
Jan Allen (formerly Matthews)