Nothing about War is Glorious
Yesterday, in the aftermath of Friday November 13th's atrocities in Paris, was a good day to remind ourselves of all that was has taken from North Kerry by war. The good people atListowel Military Tattoo organized a moving ceremony to commemorate all the local soldiers who had lost their lives in WW1 and also to remember all those who had lost their lives in any conflict. We remembered too the civilians who died because they were caught up in conflict.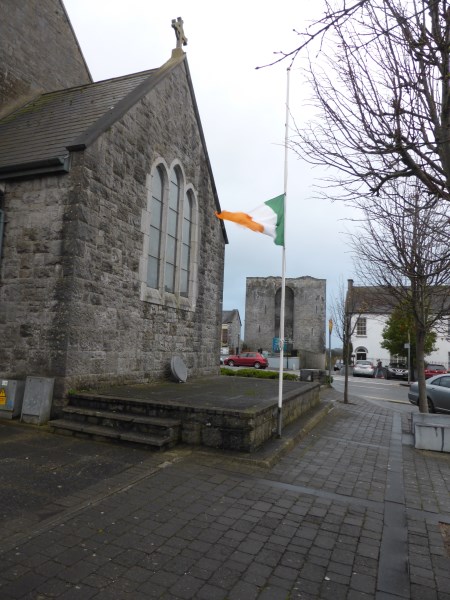 The flag at the memorial stone flew at half mast.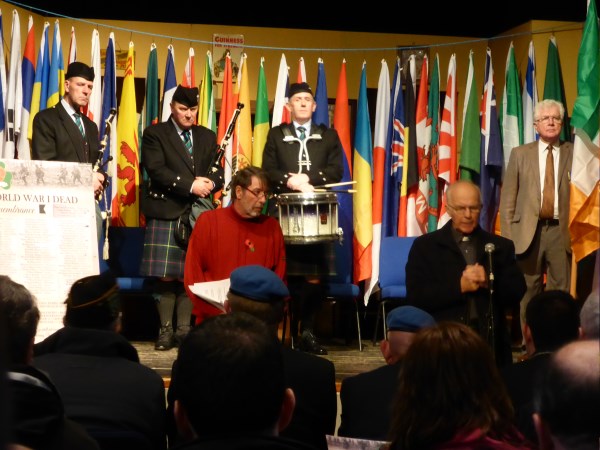 Inside St. John's the stage and auditorium were decorated with the flags of many nations. The ceremony was a non denominational religious one. We prayed and observed silence for all those idealistic people who had given their lives for a cause they believed in.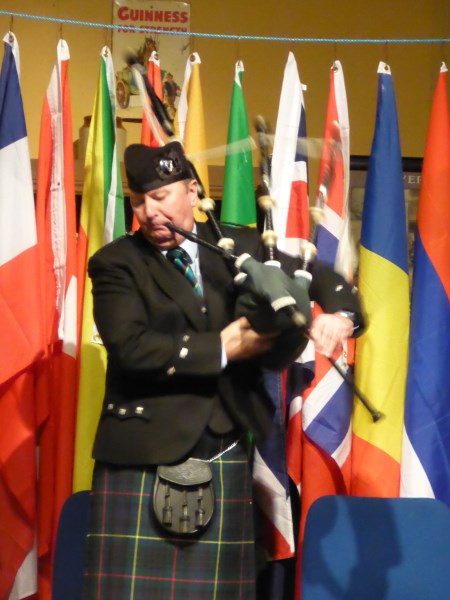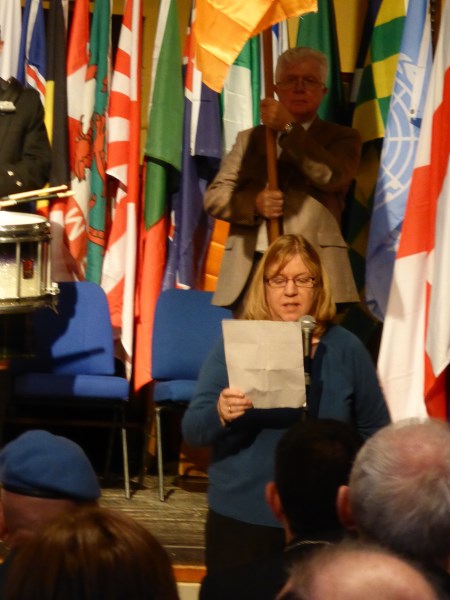 This young lady read the poem, In Flanders Fields, in memory of her ancestor who died in WW1 and whose remains were only recovered in 2002.
Then a procession of people read the names of people from their locality who had died. Some of the young people struggled with names like Gallipoli, Salonica, Ypres and The Somme.
These theatres of war were once household names.
The names of the dead were the familiar names of our neighbours and fellow townsfolk.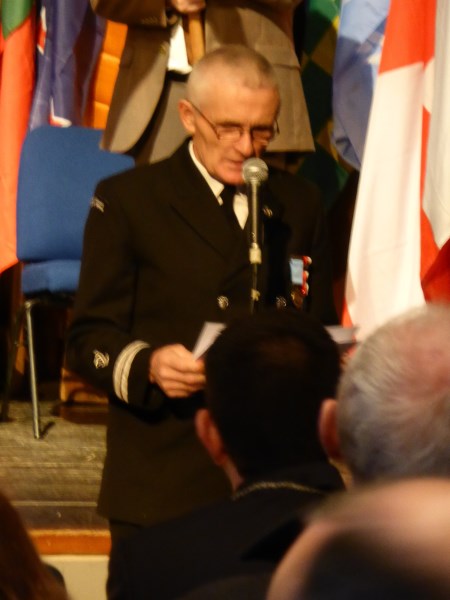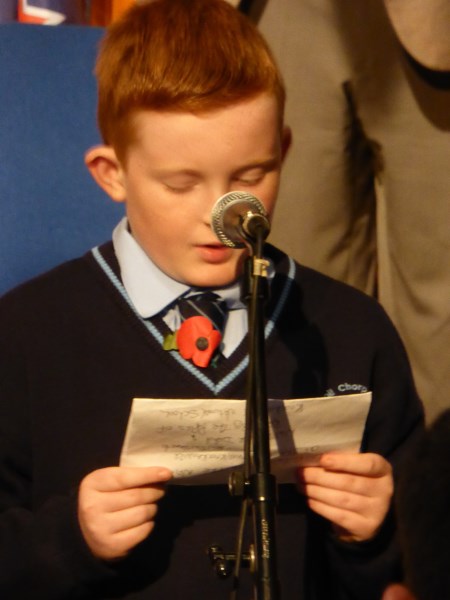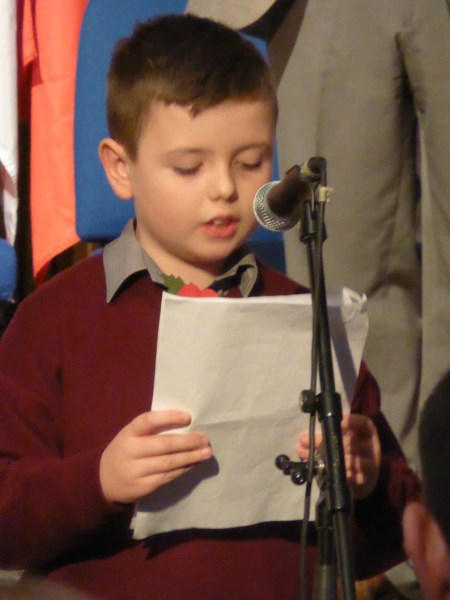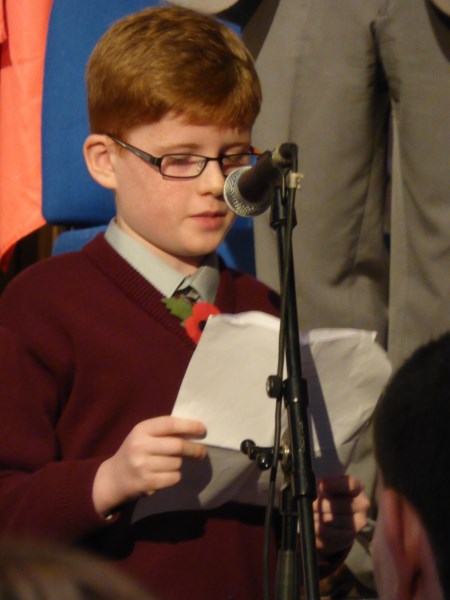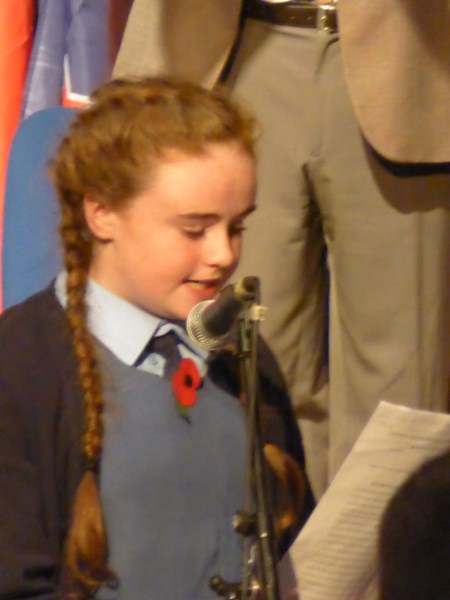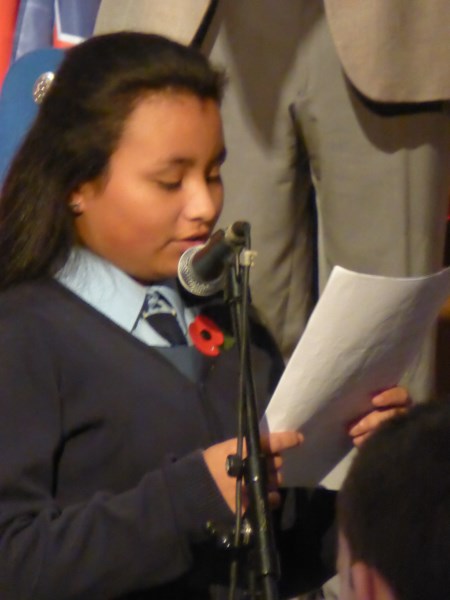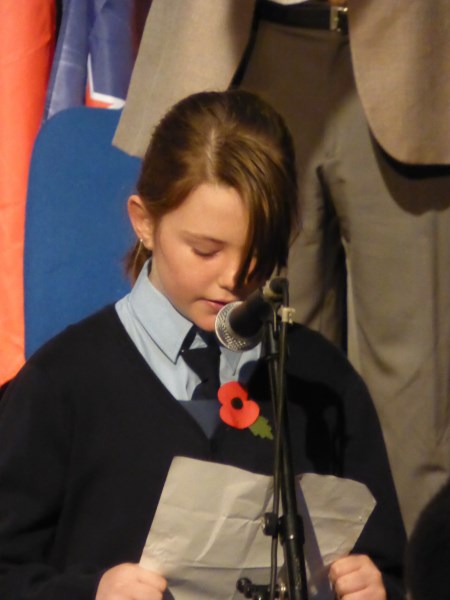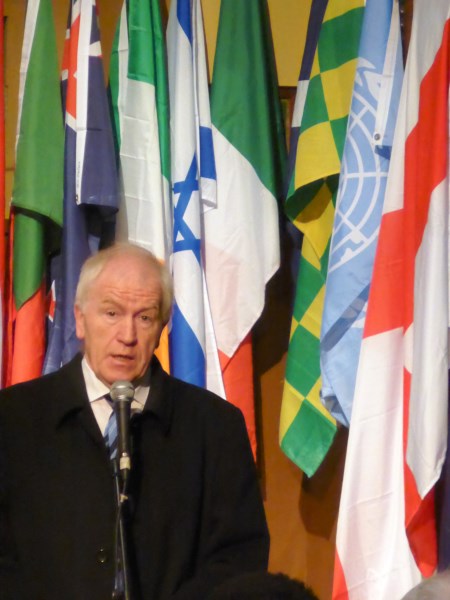 Jimmy Deenihan reminded us that war is not too far away in today's world.
<<<<<<<<<<<
Pride of Place 2015
We didn't win. Castlemartyr did. But there was a small consolation in an award which went Kerry's way.
It went to to Kerry Traveller Health and Community Development Project.
Listowel people take great pride in their own place. We don't need an award to tell the world that.
A huge vote of thanks is due toListowel Tidy Towns and everyone who put in such a massive effort to win us this accolade.
Beidh lá eile ag an bPaorach.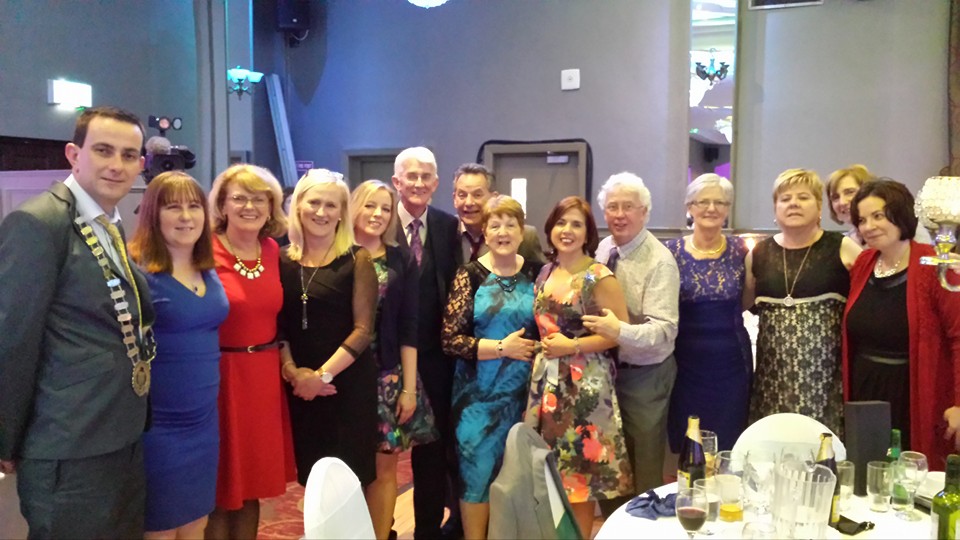 Photo from Listowel Tidy Towns shows the Listowel contingent at the awards ceremony in Ennis on Saturday.
<<<<<<<<<
Kerry Crusaders Big Day, Saturday November 14 2015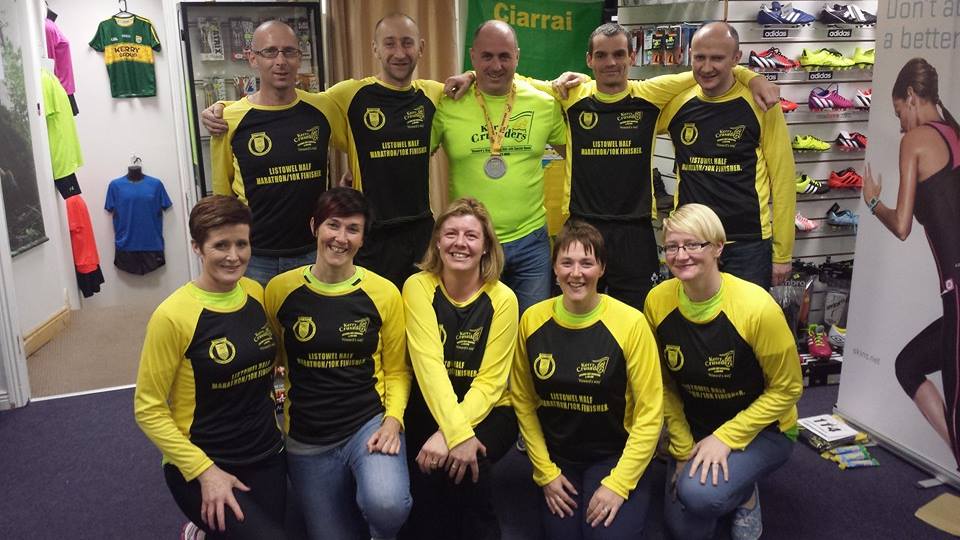 These are some of the dry Crusaders who were helping with the registration on Saturday. Months of hard work went into the organization of Kerry Crusaders first competitive run in Listowel. Despite the truly dreadful weather the event was a huge success.
You will find all the details and some more photos on their Facebook page (link above).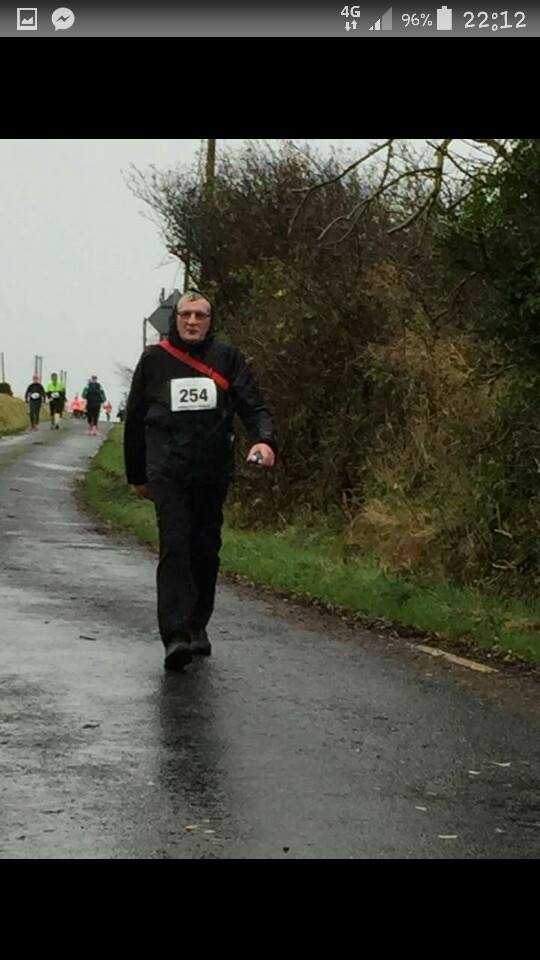 Vincent Carmody was one of the many participants in the 10k walk on Saturday.
<<<<<<<<
Another treasured photo from Paul Murphy
Bill Kearney at the mike.
<<<<<<<<
Listowel born U.S. Army veteran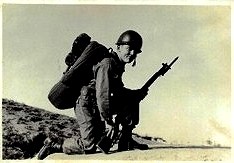 This is Jimmy O'Connor, who was born in Tannavalla, Listowel in 1935. Jimmy served in the US army . On his return home from Chicago he married Eileen from Greenville.
Jimmy's son, Brian sent me the photo.
<<<<<<<
The Field in St. John's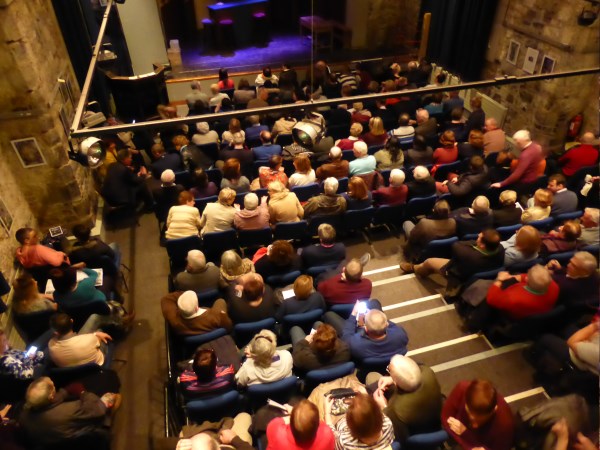 St. John's was full to the rafters every night last week. Such was the demand for tickets that they had to put on an extra performance of John B.'s powerful and disturbing play.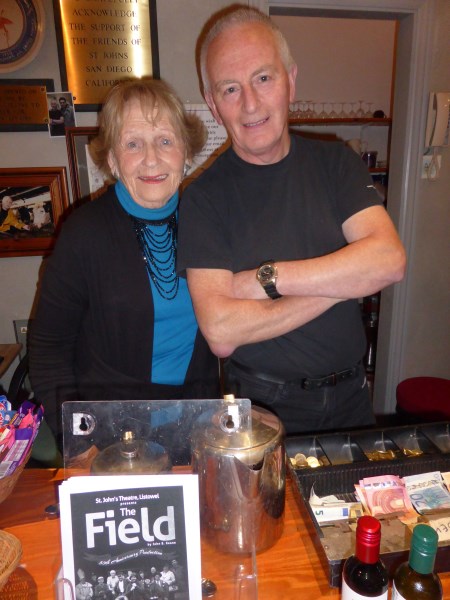 Nora Relihan and Joe Murphy serving refreshments at the interval, in St. John's on Thursday November 12 2015.