This is yours truly in Kanturk with Anthony Nash, the Cork hurling goalkeeper. I encountered this lovely young man on a trip to my hometown this summer. Here's hoping my real home has a bit better luck than my adopted one in Croke Park next week.
>>>>>>>>>>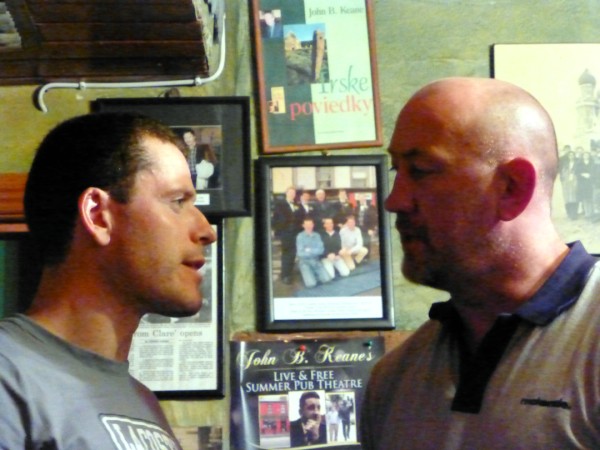 Trevor Brennan was in John. B's on the occasion of the twinning of his pub in Toulouse with John B.'s in Listowel. He had a chat on the night with Brendan Guiney, Listowel and former Kerry footballer.
<<<<<<<<<<
This is Anne Egan seeing the Finuge Freewheelers off on The Ring of Kerry Cycle, August 10 2013.
<<<<<<<<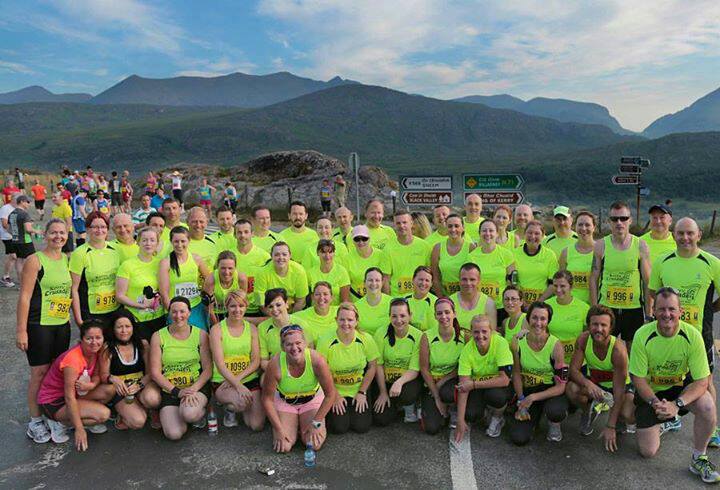 This photo of The Kerry Crusaders was taken in Killarney and I got it from their Facebook page. They do enormous good work, keeping fit and raising money for local charities.
<<<<<<<<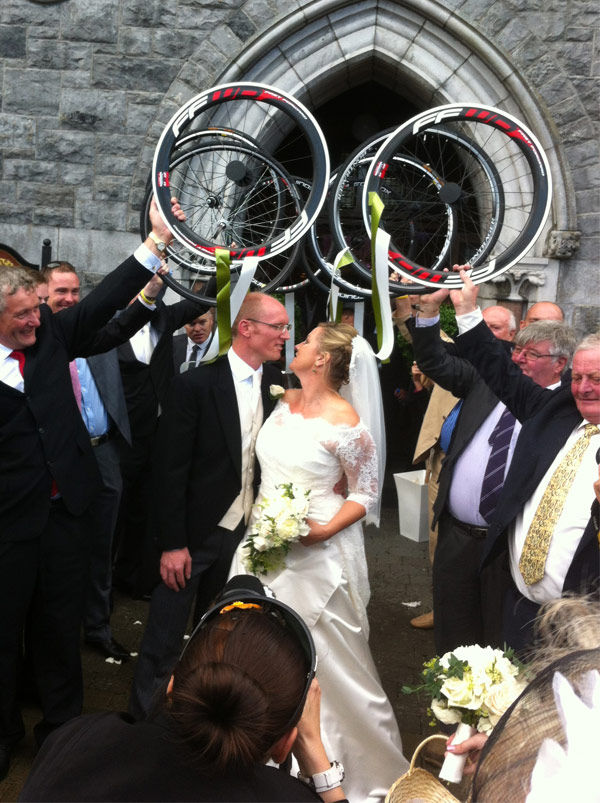 Local sportsman, Eugene Moriarty got married during summer 2013.
<<<<<<<<
R.I.P. Seamus Heaney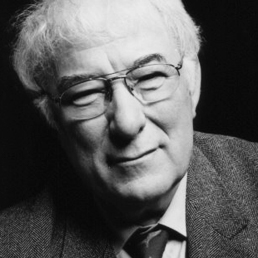 Warning:The following is a self indulgent piece for my former pupils. If you were not taught English by me you might want to opt out now.
I met a former pupil on the street and she reminded me that I was the teacher who introduced her to the poetry of Seamus Heaney. He is now her all time favourite poet.
It has been my great privilege to introduce hundreds of girls to the early work of Heaney. These poems found a resonance with adolescent girls who so recently had grappled with similar uncertainties to the young poet.
In Mid Term Break: a poem often named as "my favourite Heaney poem", the young poet comes back after a 6 week absence to a home he hardly recognizes. Nothing is as it should be, baby is laughing, mother is crying, father is totally broken and adult neighbours stand to greet the young. His younger brother's body is laid out in "the room". The young Heaney's shock, bewilderment and incomprehension are so well conveyed that we are all there with him.
The Early Purges always led to much discussion on animal welfare issues.
"I was six when I first saw kittens drown…"
I grew up on a farm as did many of my pupils. They knew about vermin and other pests but nowadays cats are "companion animals" and Jim Taggart's prodding them to drown in a bucket of water slung on the snout of the yard pump is a shocking image to today's softies. The poet's horror and grudging acceptance of the necessity for pest control on "well run farms" was much debated in Listowel classrooms.
Who has gone Blackberry Picking and known the triumph of hope over experience?
"Every year we hoped they'd last, knew they would not."
Pres. girls I taught always loved the poems where Heaney examined his relationship with his father. In Follower we see him as a child stumbling around in his father's wake as he expertly ploughs with a team of horses.
"I was a nuisance, tripping, falling, yapping always…."
Then we feel the pangs of his guilt when the roles are reversed and his father is the dependent one,
"It is he who keeps stumbling behind me and will not go away."
Seamus Heaney came from a large family. In Clearances he tells us how he treasured precious moments snatched on his own with his beloved mother.
"When all the others were away at mass
I was all hers as we peeled potatoes
…..
Never closer the whole rest of our lives.
Family pride and respect for family traditions is a theme explored in Digging. In school, above all other places, we are all conscious of the pressure to live up to standards set for us by our families. Parental expectations weigh heavily on some teenagers.
Seamus Heaney was the eldest of nine, a place in the family carrying huge pressures. The first born son usually inherits the farm and carries on the farming tradition of his fathers.
"By God the old man could handle a spade
Just like his old man.
My grandfather cut more turf in a day
Than any other man on Toner's bog.
…….
But I have no spade to follow men like that
Between my finger an my thumb
The squat pen rests
I'll dig with it."
Seamus Heaney broke many moulds. He has left us a massive legacy. May he rest in peace.