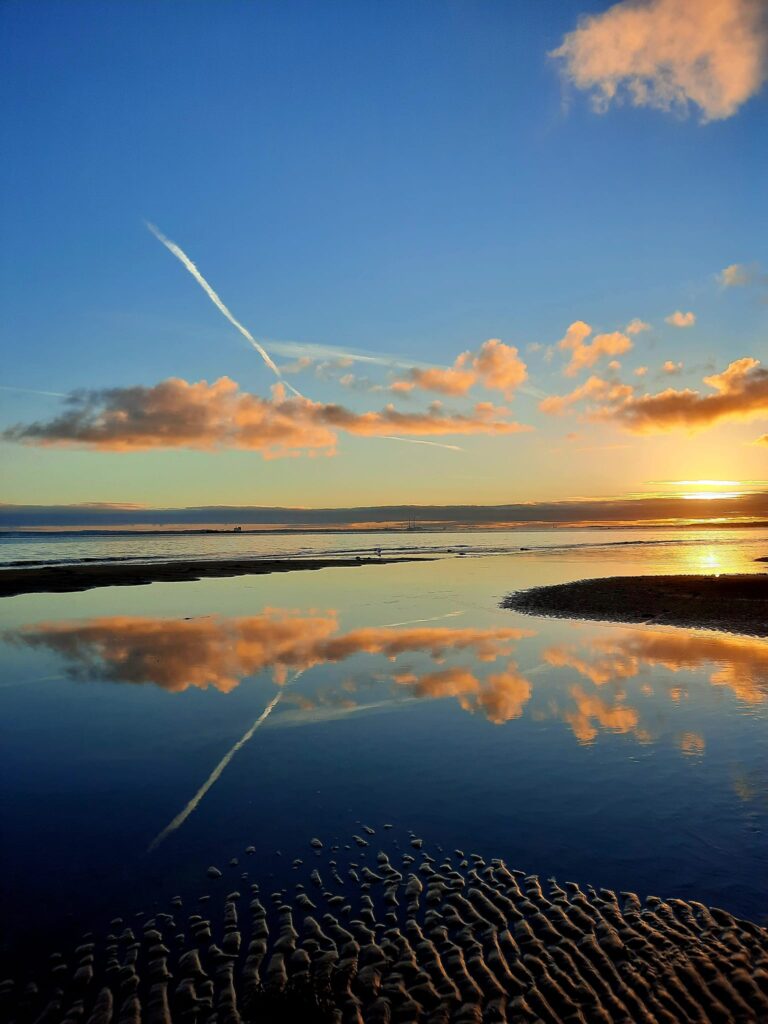 <<<<<<<
What an Achievement!
Story and photograph from Kerry's Eye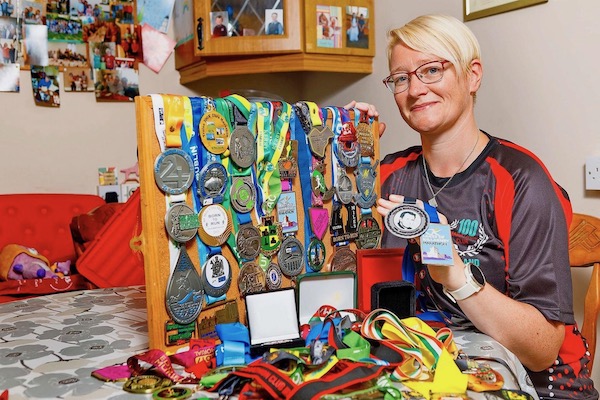 This is Mary Twomey with her haul of running medals. This year's London marathon will add to her over 100 races so far. Mary ran her 100th marathon in Tralee recently with her proud family an attendance.
<<<<<<<<<<
Jim Sheahan R.I.P.
Another good one gone.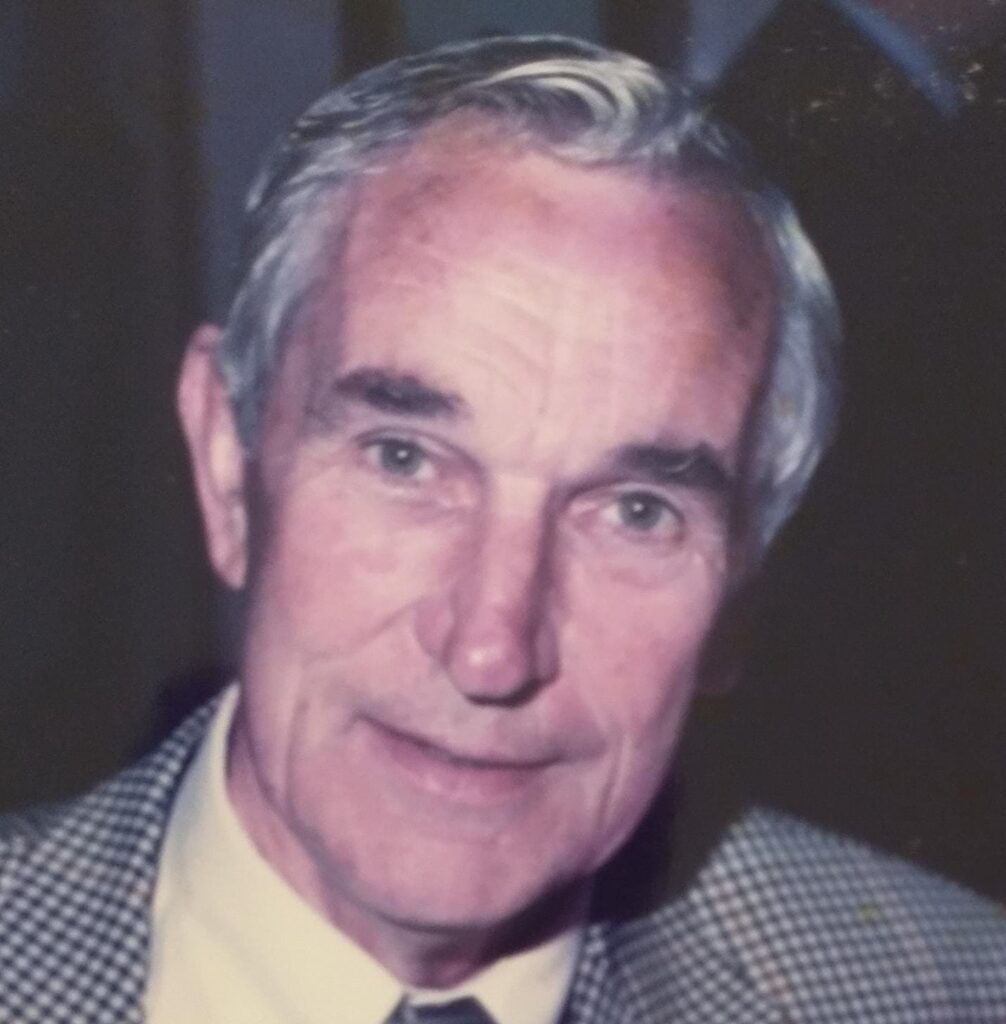 The symbols of Jim's life that were brought to the altar by his beloved grandchildren at his funeral mass on September 29th 2022 were a Kerry jersey, a tin whistle, a newspaper and a rosary beads. The cover photo on his funeral mass booklet was Jim in Croke Park. Gaelic games, music, keeping abreast of the news and helping where he could, and his faith, were, along with his family, the pillars of Jim Sheahan's 88 years on this earth.
I was surprised to hear that Jim wasn't by birth a Kerry man. He was born in Knocknagorna, Athea, Co. Limerick. He came to Kerry at age 12, when he transferred from the local national school to St. Michael's. He stayed with his aunt, Kate Dee and her husband, Jerry.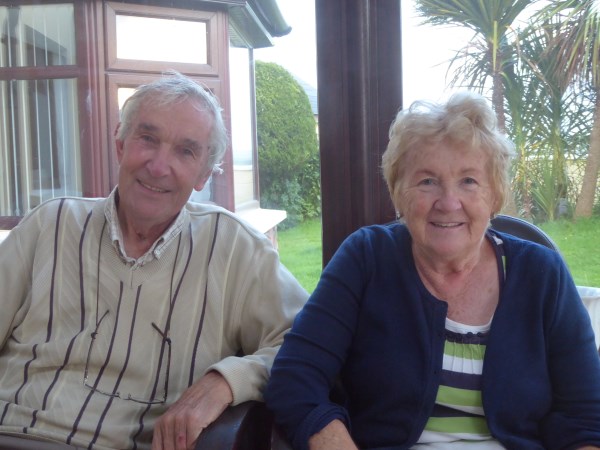 Jim was very happy in this house in Greenville, Listowel and it was in this holding that he lived up to the time of his death.
Jim was a hard worker. After school he went to work in Niall Stack's furniture business and afterwards in McKenna's. He also ran a small farm, milking up to 20 cows before he went to work in the morning. He worked too as a part time musician.
At McKenna's social in 1962, Jim won the door prize. Here is is being presented with a portable transistor radio by Mrs. McKenna. Mr. Jack McKenna is also in the photo.
A few years ago I visited Jim and Nora in their hospitable home and Jim told me about the good old days of the dancehalls.
In Listowel in the 1940s and 50s, nighttime entertainment consisted of card games, small local dances and, during Lent, dramas and variety shows.
Jim learned the tin whistle and the fiddle from music teacher, Tim O'Sullivan at a shilling a lesson.
He had a great ear for music. Recognising his pupil's talent, Tim suggested the saxaphone. Since he neither smoked nor drank Jim had plenty of lung capacity. He had found his preferred instrument. He was mostly self taught. He told me that the skills he had learned on the tin whistle transferred "easily" to the sax.
In one of those happy co incidences of timing, Jim Sheahan mastered the saxaphone at the very time the the big band was all the rage and Vincent Walshe was bringing a whole new style of dancehall entertainment to Listowel.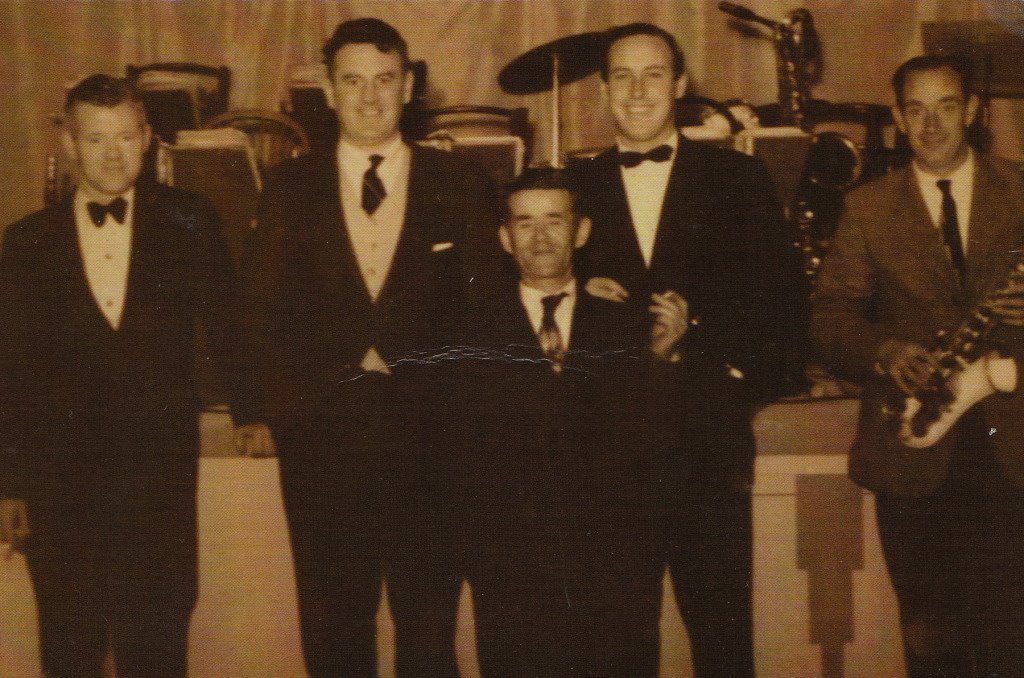 The Bunny Dalton Band in the Las Vegas ballroom, Listowel
Jim became a regular in the Las Vegas house band, led by Bunny Dalton. Jim told me that this band rivalled any big band in the land. He played with them for 5 or 6 years. Their signature tune was Glen Miller's In the Mood.
Bunny Dalton and his band played the Las Vegas on Wednesday and Sunday nights. Occasionally, Vincent Walshe took his band to an all night dance in one of the small local halls run by enterprising families near by. Jim told me that these dancehalls were usually situated beside the owner's house and the band members were always treated to a great meal after the dance.
Around this time Jim met and married the love of his life, Nora Broderick of Coolnaleen.
Of all the teams he followed over the years, far and away the best team was the team of Jim and Nora. They were happily married for 58 years.
When he retired from McKenna's, Jim joined Nora in running their guesthouse, Millstream House. They were cut out for this job. Nora is the best cook and baker and anyone who has sampled her hospitality will know that if you come as stranger, you will leave as a friend. Her repeat business is the stuff of legend.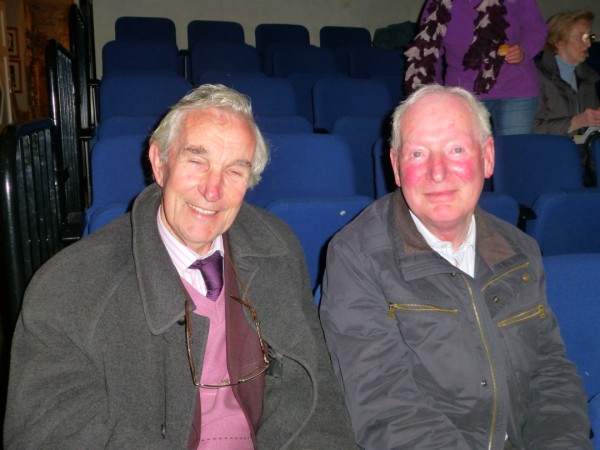 Jim with John Lynch at a function in St. John's
Jim was a born storyteller. He remembered that when he was a child, Paddy Drury, the wandering poet, used to come to his house and settle himself in an armchair for the night. Jim, himself, was a worthy successor to the seanchaithe of old and his family, as well as visitors to the house, loved to listen to him telling stories.
In Michael's funeral tribute, we heard of Jim, the much loved family man. He used to song to entertain passengers in the car in the days before car radios and Spotify. He took his four sons far and wide to attend matches. He would usually stand in his preferred spot behind the goal. He loved simple things, Kerry football, Limerick hurling. He volunteered with the local Saint Vincent de Paul Society. In this way he was carrying on the generosity and kindness that he had learned as a child. He often left his young family on Christmas Day to deliver a meal to a less well off neighbour. 
Jim's way was a quiet way, never making a fuss, never once raising his voice: the gentlest of gentlemen.
Jim was immensely proud of his very successful family and it was clear on the day of his funeral, Sept 29 2022, that they are immensely proud of him.
Life for Nora will never be the same again but Jim will watch over her and the lovely family they reared will be a consolation and support to her in the years to come.
Guím leaba i measc na naomh duit, a Jim. May you hear the music of the angels eternally.
<<<<<<<<
A Few More from Ladies Day 2022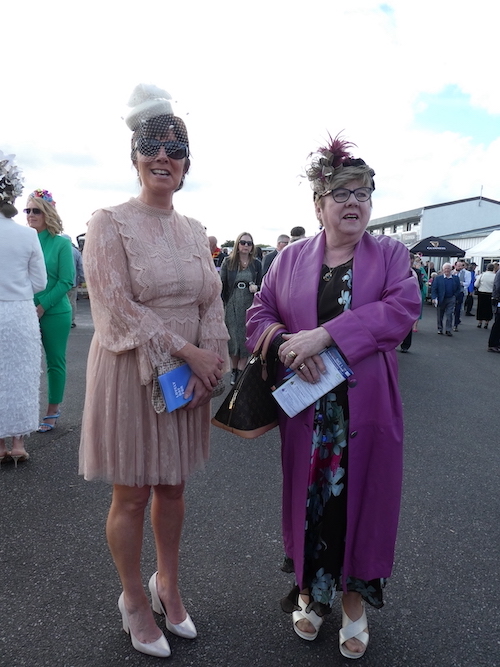 <<<<<<<<<<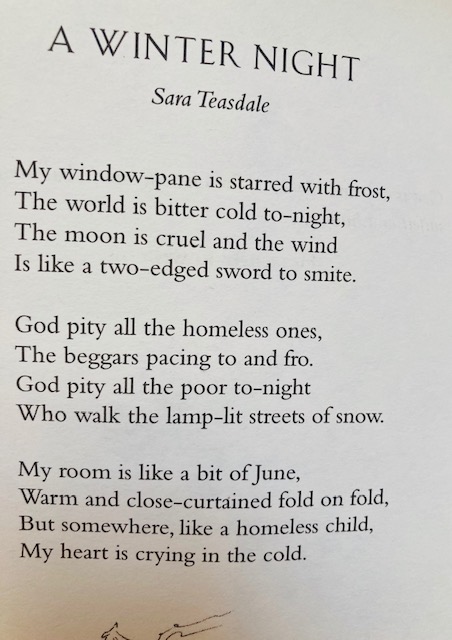 <<<<<<<<<<