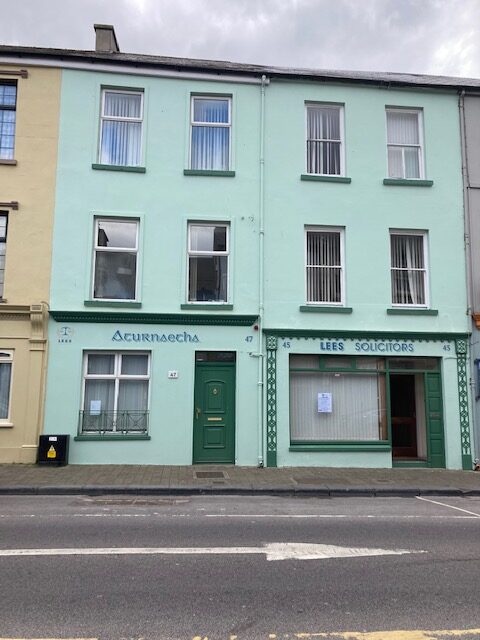 On Church Street Listowel in April 2023
<<<<<<<<<
Another Listowel Artist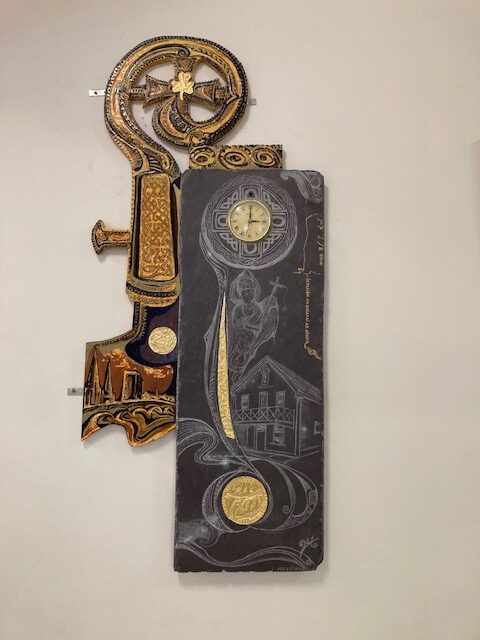 This unusual piece is in St. Patrick's Hall. It is the work of Micheál Kelliher.
<<<<<<<<<<
Coming to Listowel Writers Week 2023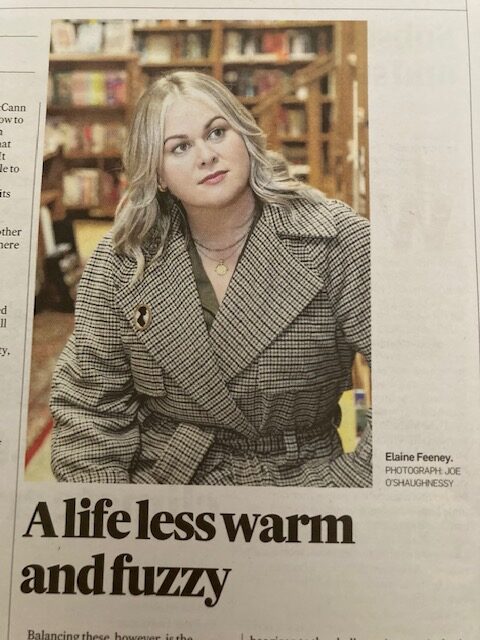 This is Elaine Feeney whose latest novel, How to be Build a Boat, is reviewed in all of last weekend's newspapers.
I haven't read it yet but it sounds like a fairly light summer read so I'm in.
I have only recently read Emilie Pine's Ruth and Pen. I loved Eleanor Oliphant too. If you are familiar with these, you will know that the protagonists are neurodiverse people. Sounds like Feeney's hero is too.
<<<<<<<<
In a Listowel Pub Window
I snapped these old artefacts as I passed Tankers recently.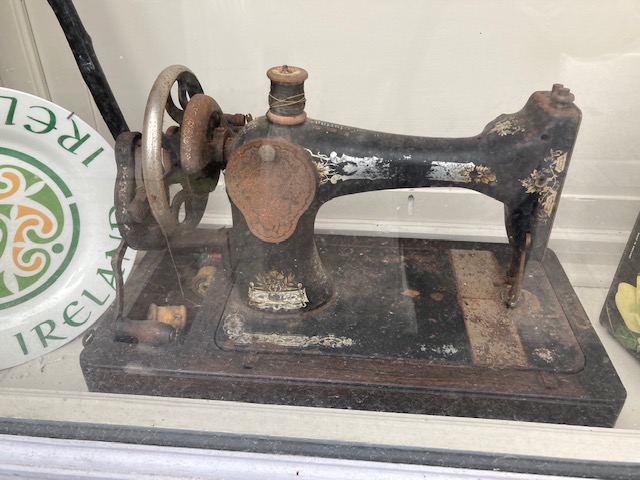 My mother had a sewing machine just like this. Back then sewing machines were either hand operated or treadle. The treadle ones were brilliant as they left both hands free to manoeuvre the material that was being sewn.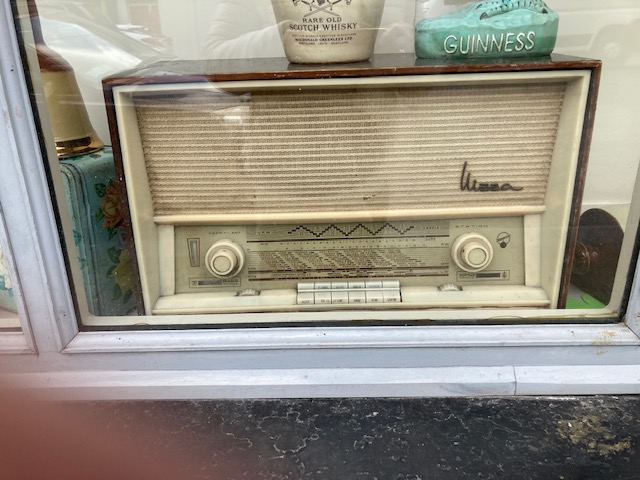 This old wireless was once a luxurious item.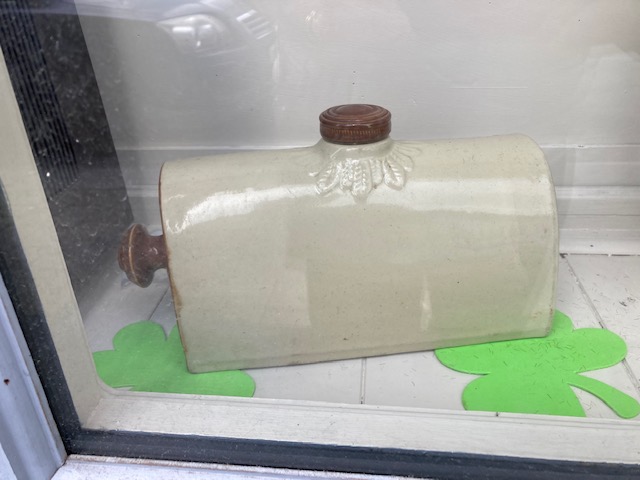 This item is a bit before my time. I think it is an early hot water jar used to warm the bed. I could be wrong in that though.
<<<<<<<<<<<
A Different Kind of Concert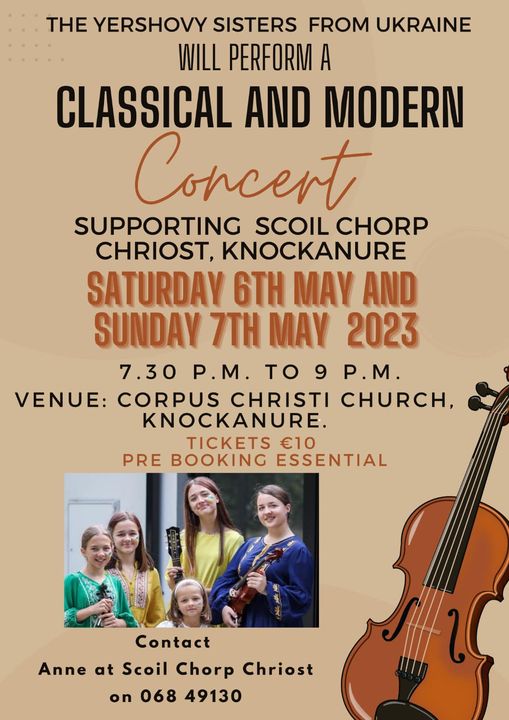 <<<<<<<<<
Crowley's Fest
Here is Raymond O'Sullivan's introduction to Bealtaine and Crowley's Fest:
Bealtaine approaches and we move into the light half of the year. Our Celtic ancestors originally divided the year in two, the dark half, and the new year, beginning at Samhain, and the light half at Bealtaine. Similarly, their days began in the darkness, at sunset. An 'airy' time of year when the 'little people' are moving house, from their winter to their summer lodgings, and also the time when music lovers move to the sunny south west for the annual Crowley's Fest in Kenmare.
The Cíarraí Theas crowd certainly know how to pick an appropriate and auspicious time and place to throw a party. On Sunday evening, to the sound of music, we'll SPRING into SUMMER as the golden sun sets in Inbhear Scéine. The exact time and place where, according to mythology, Parthalán led one of the first groups of pioneers to settle in Ireland.
"
Samhradh buí ó luí na gréine,
Thugamar féin an samhradh linn."
I may have strayed a little off the purpose of this post, but here it is, the list of the events for the weekend:-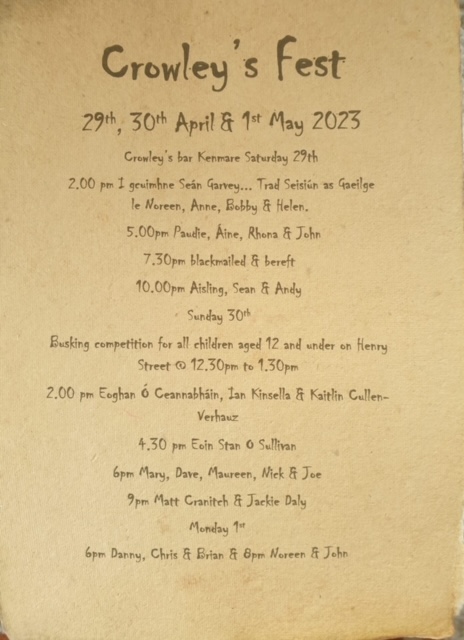 <<<<<<<<<<
A Ghost Story from Ballybunion
A story recorded by Sheila Sheahan as told by her mother aged 52 in 1937 or 38. The story is preserved in the Schools' Folklore Collection in the National Archives
About thirty years ago on Christmas night a man in Beale had to leave his own house and he had to take his candle in his hand to a neighbour's house, because he was hunted by ghosts who asked him to leave as there was to be a fight that night between the Wrens and the Shines who lived in the neighbourhood some year before.
As he and his sister were leaving, a man whom they knew to be dead of years offered to lead them and when they went out in the yard, he had to divide the crowd to allow them pass. The day before the place was covered with magpies and he did not know what was to happen.

The morning after this he was going fishing. The moon had risen. When he got up, he thought it was day. He went to the boathouse and waited under his canoe until it was bright. As he was about to lie under the canoe, the man who told him to leave his house the night before came to the canoe and peeped in. He told him that if they went fishing that morning, someone would be drowned.
When it was bright he and four other men went fishing. They were not far out when a great storm came and overturned the boat and two men were drowned.
<<<<<<<<<
A Fact
The term Honeymoon comes from the Babylonians. They declared mead, which is a honey flavoured wine, as the official wedding drink. The bride's parents were required to keep the groom supplied with mead for a month after the wedding….the honeymoon period.
<<<<<<<<