As you know I am following
the Gleasure letters avidly.
http://gleasureharberletters.blogspot.ie/
Recent letters have had a black border. This is because the family is in
mourning.
I remember from my own
childhood such letters and their envelopes coming. Everything around death
seemed to be black back then.
When my grandmother died in
our house in 1964 many of the old traditions were observed.
All of the pictures (these
were mostly family portraits anyway) were turned to face the wall. Mirrors were covered. Curtains were drawn.
A black crepe was put on the
henhouse door. My mother described this custom as "draping the hens".
The clock was stopped. The
family went into mourning. The radio fell silent. The women dressed only in
black and the men wore a black diamond (a piece of black material in a diamond
shape) sewn to the right sleeve of their jackets.
The family kept to
themselves. We did not go visiting or to any places of entertainment for a full
year after the death. If we, children, became too boisterous or noisy, we were
reminded that we were in mourning.
It was not uncommon for a
widow to dress only in black for the rest of her life.
>>>>>>>>>>
Some photos along the lines of the same theme.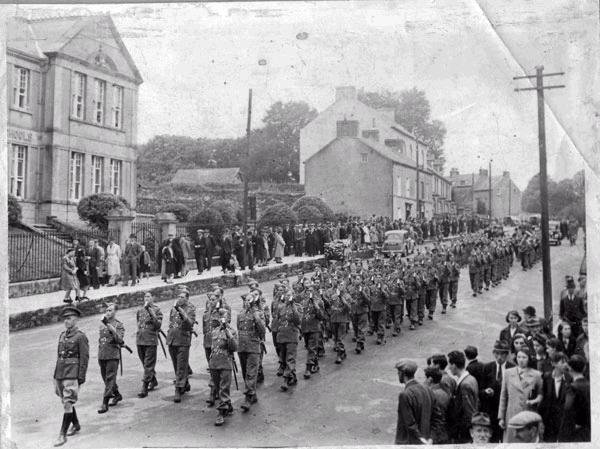 This is the funeral of Michael O'Flynn, a pilot from Fermoy who died during WW2.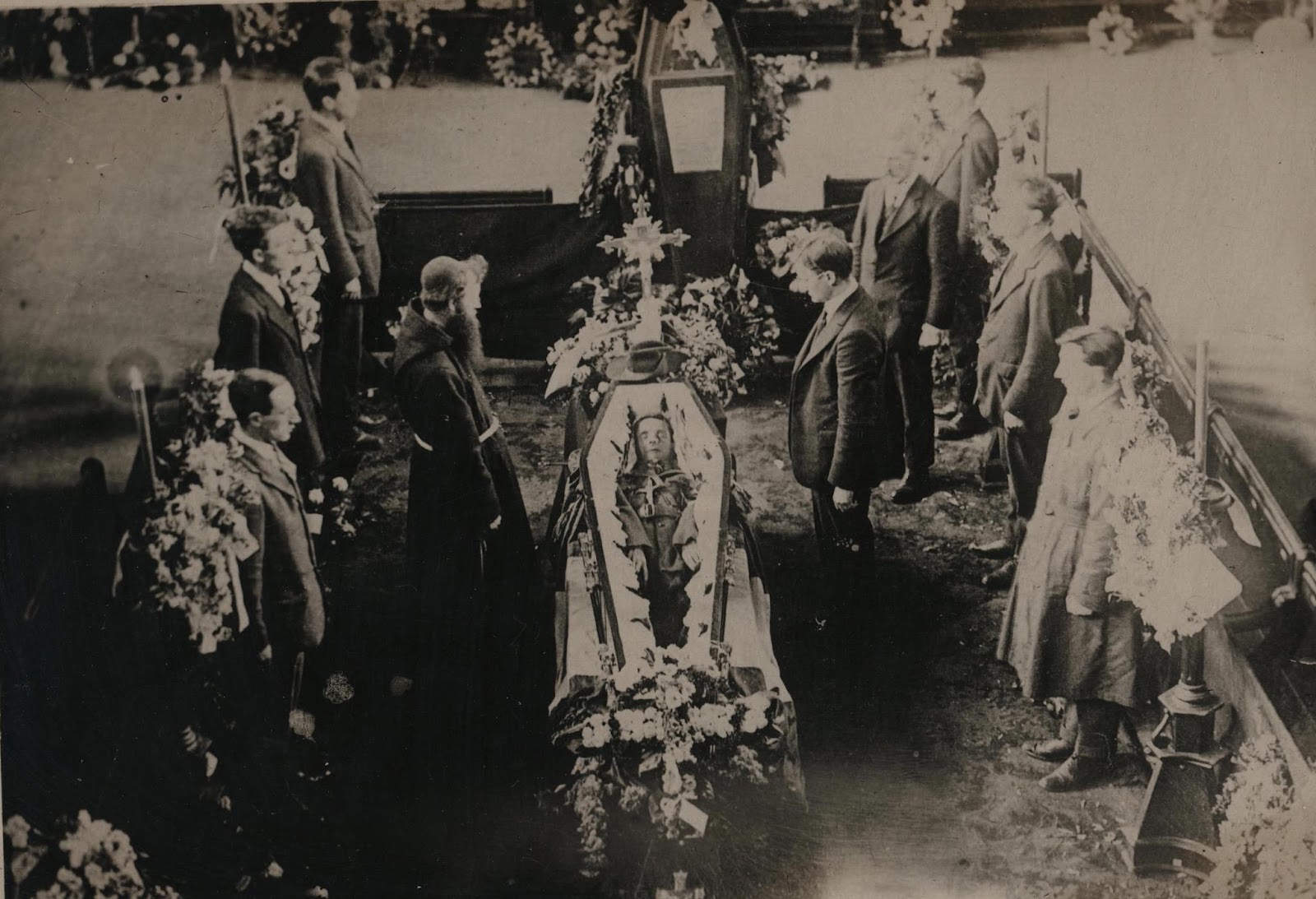 Terence McSwiney's lying in state 1920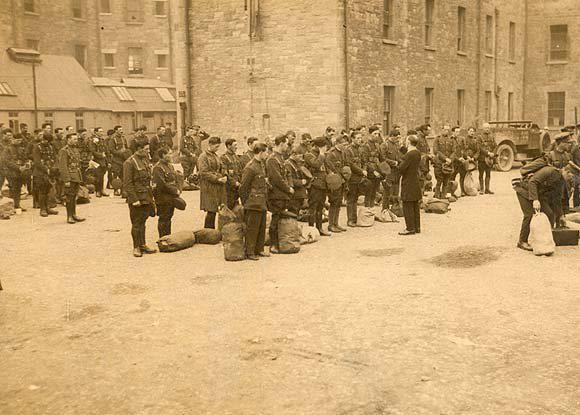 A priest in Fermoy gives absolution to the troops during the civil war.
Kevin Barry's memorial card
Families in Listowel still place a card on the door with the notice of death and details of funeral arrangements. It used to be a custom that all shops would close their doors while a funeral passed and the shopkeepers and customers would stand outside with heads bowed. This custom went out with the coming of multi nationals and the introduction of a one way traffic system, meaning funerals no longer go up Church St.
>>>>>>>
Remember this from yesterday?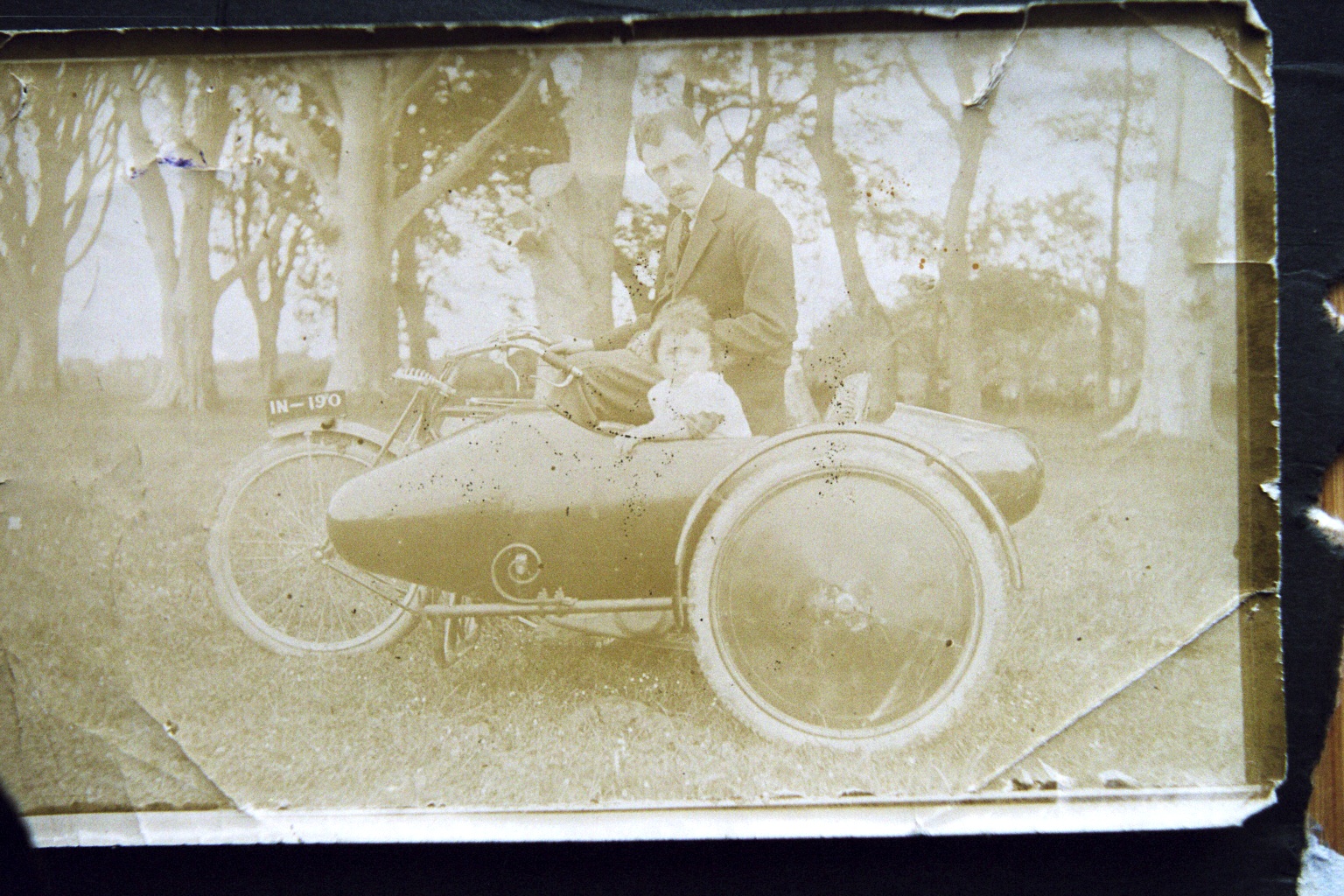 Jer's information was correct. Michael Lynch, County Archivist, provides us with this interesting account of the bike's provenance:
"I've had a look at our collection of RF.11 Registers of Registration and Licences for Road Vehicles, and have come up with some information on the motor cycle pictured below (Reg. No. IN 190).
Our collection doesn't go back to the original registration for this vehicle, but picks it up on duty paid on it in 1927.
The owner is listed as William S. Moore, Listowel. The vehicle is an AJS Cycle, (Engine No. 166660, manufactured in 1922). It is a 2 ¾ HP cycle, weighing 197 lbs.
There is a back reference to an earlier register, but this doesn't survive. There is also a forward reference, which leads us to a new owner in 1928:
Partick J Birthistle, Market Street, Listowel. Another forward reference sends us to a second entry under Birthistle's ownership, and gives another forward reference to a register which doesn't survive either. I'm afraid that after that the trail runs cold."
We don't know when the photo was taken so we do not know which of the owners this is.
For the real motorbike enthusiast, all the lowdown is here