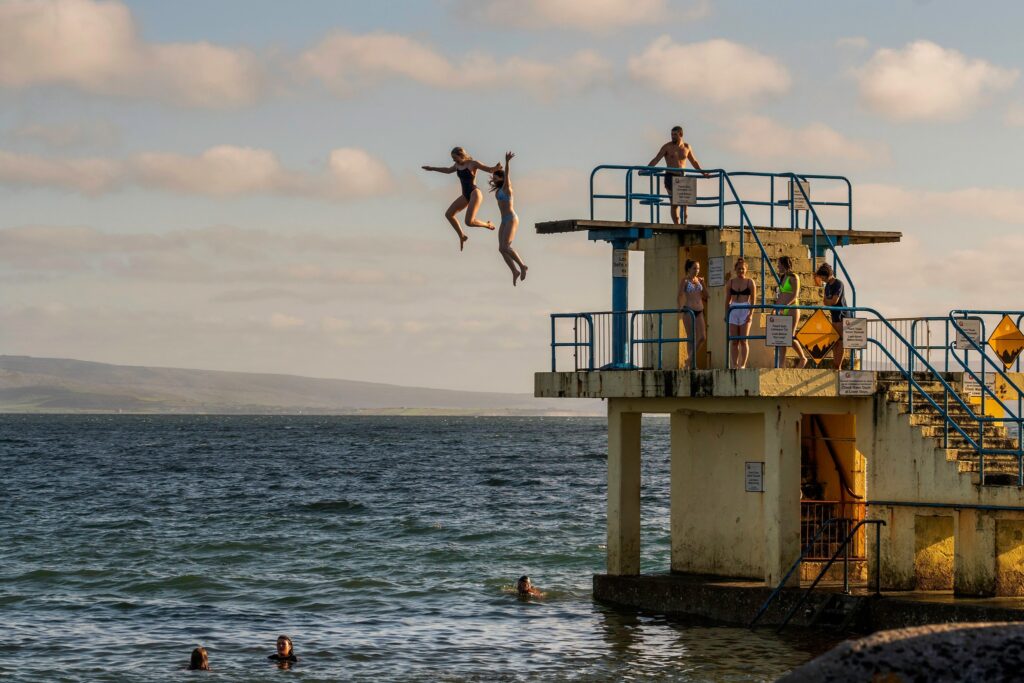 <<<<<<<<<<
Scaraveen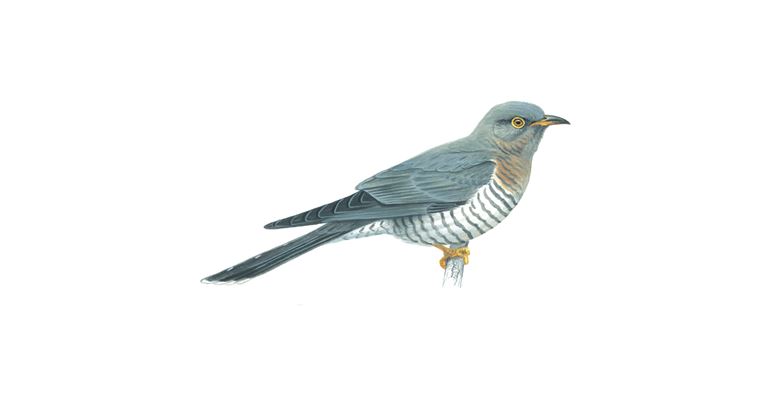 Scaraveen is a period of very changeable weather which occurs between mid April and mid May.
The name scaraveen comes from the Irish Garbh Shíon na gCuach, literally the rough weather of the cuckoos. Once upon a time newspapers used to print letters from people who claimed to have heard the first cuckoo of the year. The cuckoo is a migratory bird, coming back to Ireland in early spring. He is usually heard rather than seen and his distinctive call was interpreted as a welcome to finer weather.
The old people in Kerry did not pull out the summer clothes or go bathe in the sea during the days of Scaraveen. This bringing with him of bad weather is only one of the bad traits that make the cuckoo a bit of a pariah.
The cuckoo doesn't build her own nest but squats in someone's else's, turfs out the rightful inhabitants' eggs and lays her eggs. When the eggs hatch the poor unsuspecting parents feed the young cuckoos.
So, forget the cuckoo and listen to the other old saying, "Don't shed a clout 'til the may is out." The may in this case is the may bush or whitethorn, a much better indicator of the approach of a settled spell of fine weather.
<<<<<<<<<<
Easter in Tarbert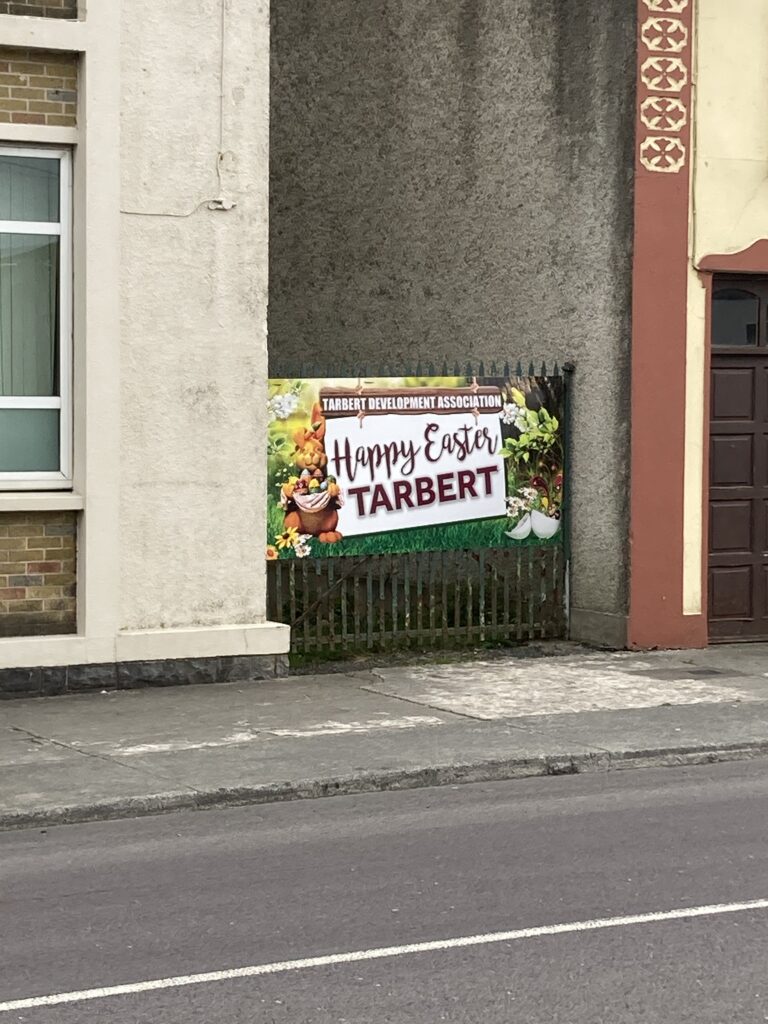 I hadn't been in Tarbert, or, indeed, anywhere else, for a while, so, when I saw that they were having a market at The Bridewell on Easter Saturday morning I decided to venture forth.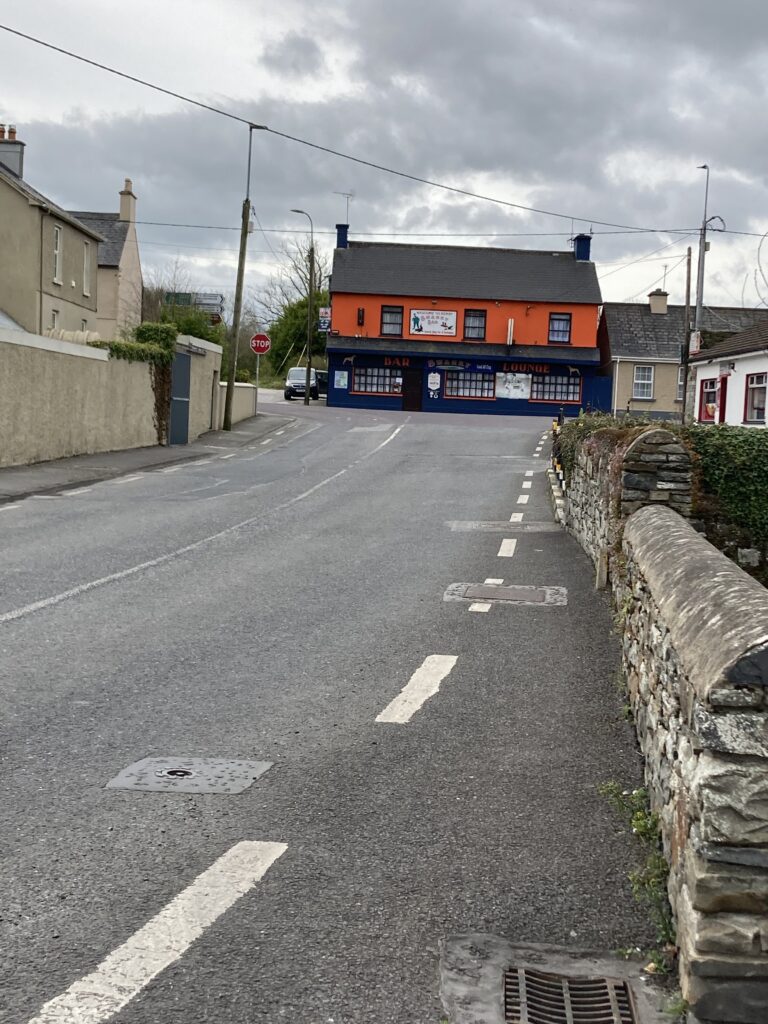 I didn't go by ferry but this is the sight that greets people coming to town by ferry.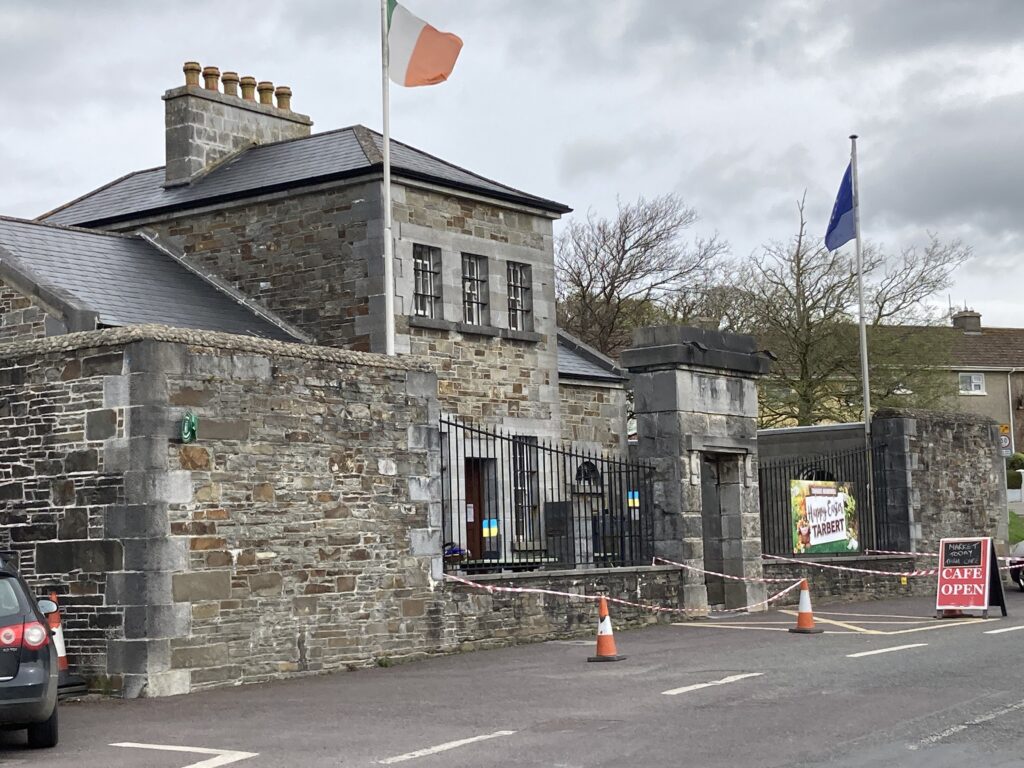 I like Tarbert Bridewell. It is a lovely visitor attraction. This morning the historical aspect was put aside and local crafters were on hand to sell their wares.
One of the lovely aspects of The Bridewell is its welcoming coffee shop. Many of the stall holders on Saturday were people who have their wares on sale in the coffee shop every day.
Take a tip from someone who knows these things. If you are in the market for a beautifully hand knit baby present, a tea cosy, a locally made card or picture you will find the best stuff at the best price here. Another feature of this little tea shop is a book case packed with pre loved books. These are free to take. They do ask but don't insist on a donation to Listowel hospice .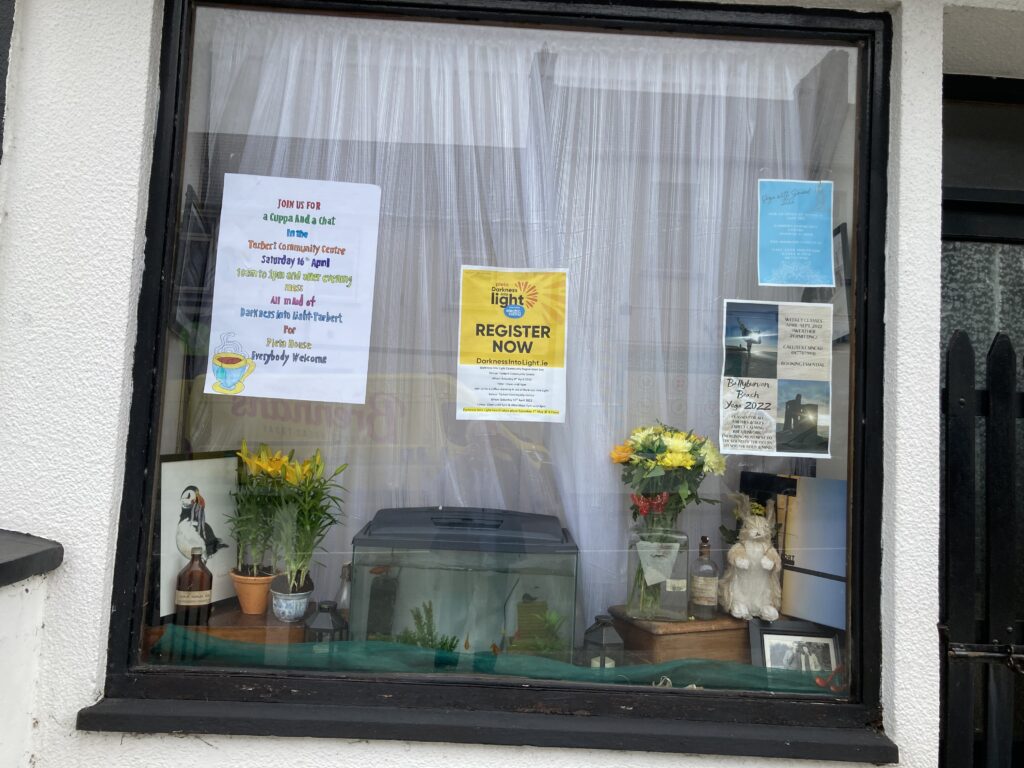 I took a stroll around the town. This window caught my eye.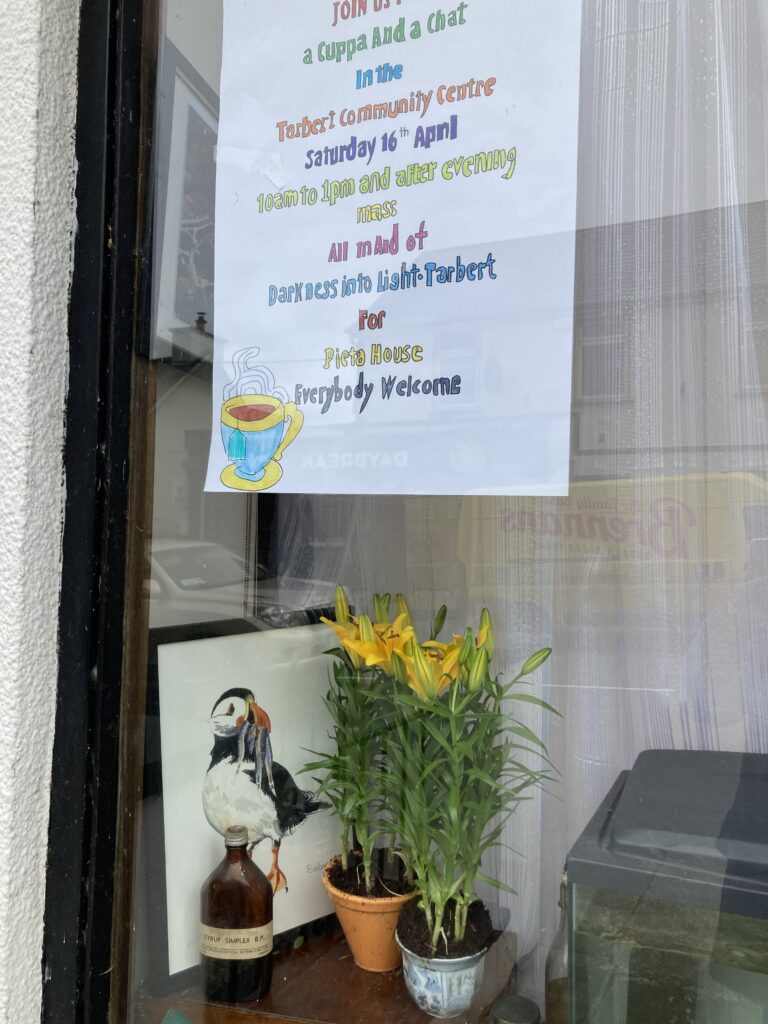 On the left was a picture of a puffin, an old medicine bottle and a few pot plants.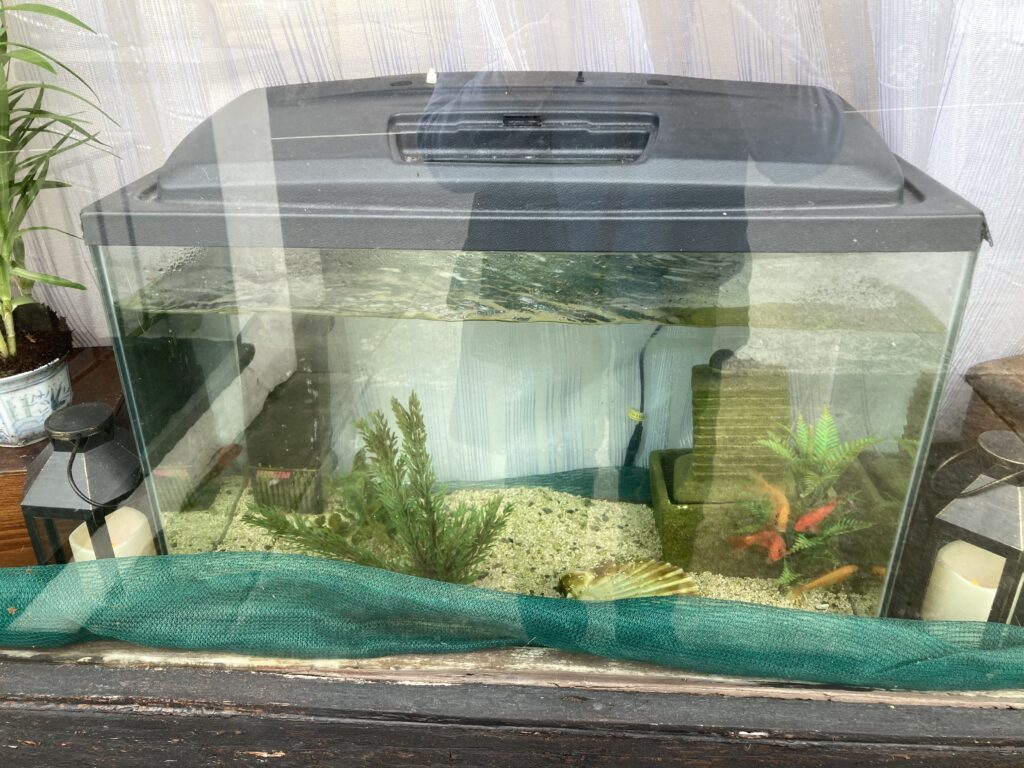 In the centre was a fish tank.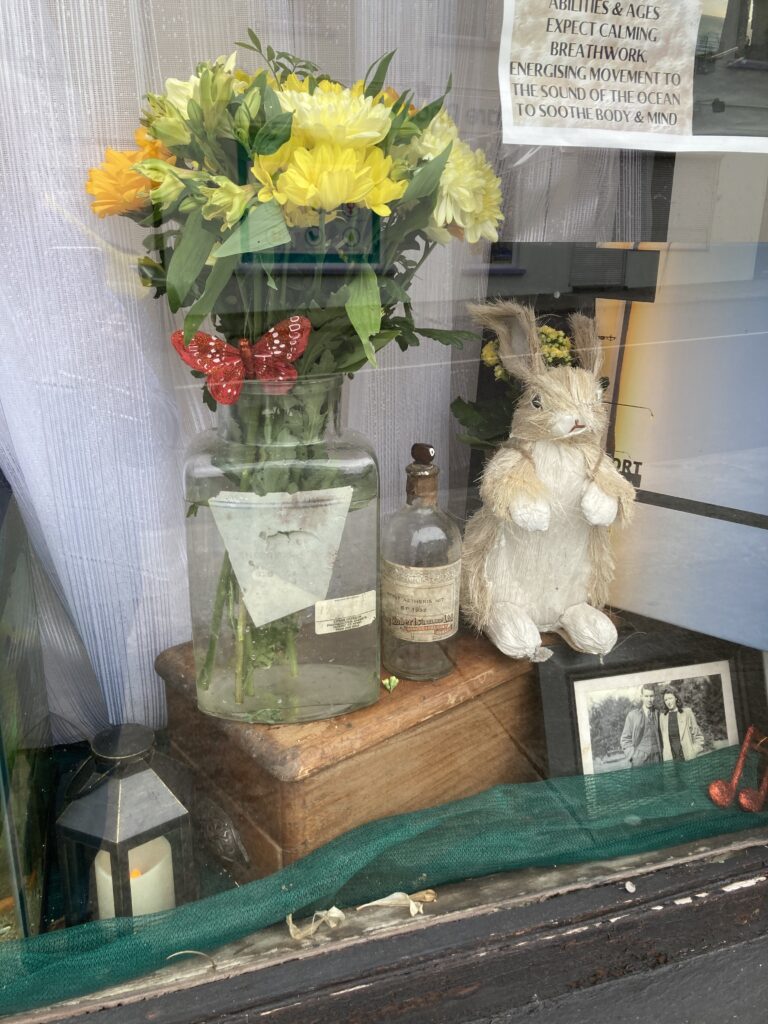 On the right was a display comprising a flower arrangement in an old sweet jar, another old bottle, a raffia rabbit and a lovely old photograph of an unidentified couple.
"Curioser and curioser, cried Alice"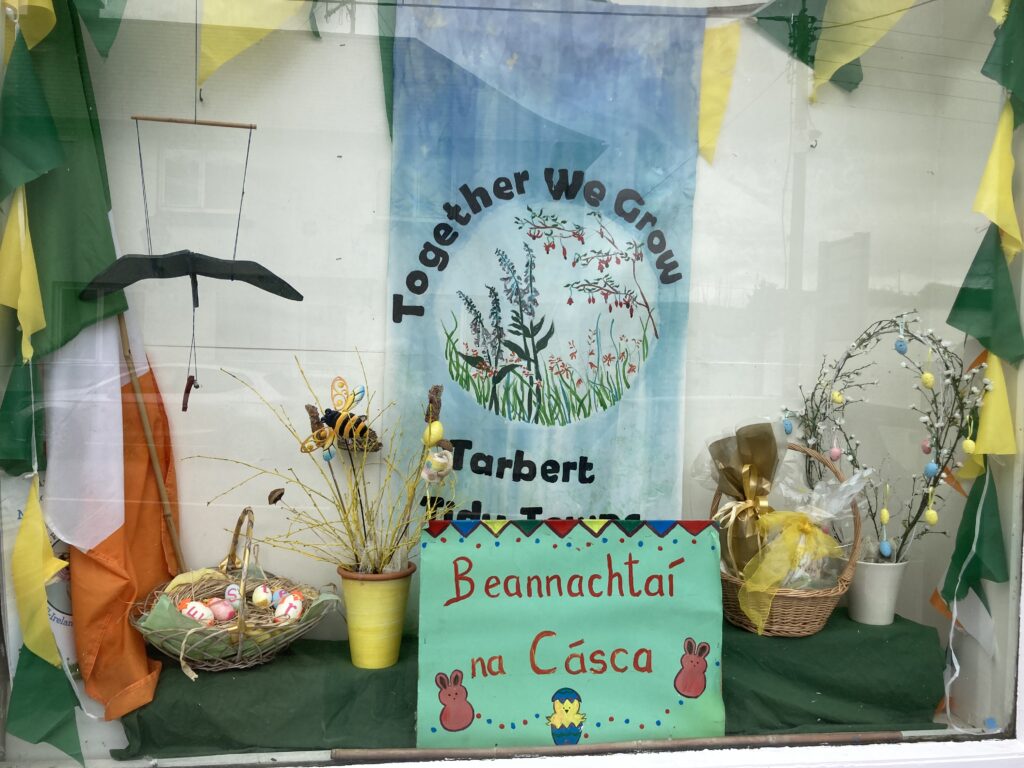 This window display at the other side of the street combined much of what an Irish Easter is, a blessing, lots of chocolate eggs, a wild flower garden and a nod to 1916 and republicanism.
<<<<<<<<<
New Car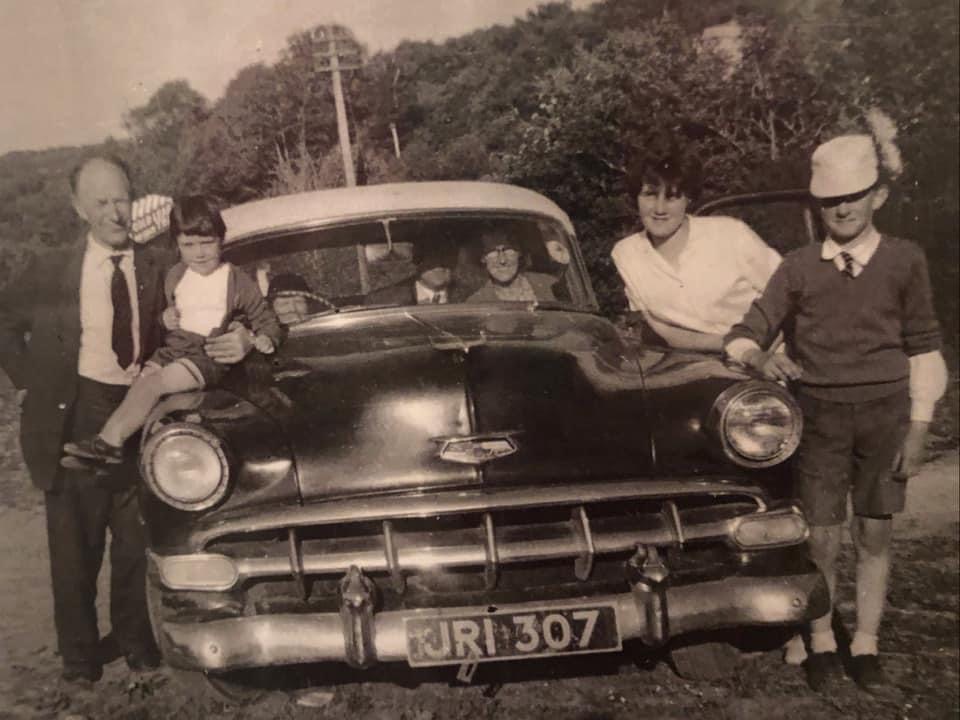 Sorry readers, I cant find the caption for this one. It was posted on Facebook. I remember that the man is from Church Street and he took his new car to show relatives in Tannavalla. Some of you will know him or remember seeing this photo on Facebook.
<<<<<<<<<