This wynnd by the sea was built at Ballybunion's first Hay and Tae festival. Brings back many happy memories to me.
This turf was saved in Athea.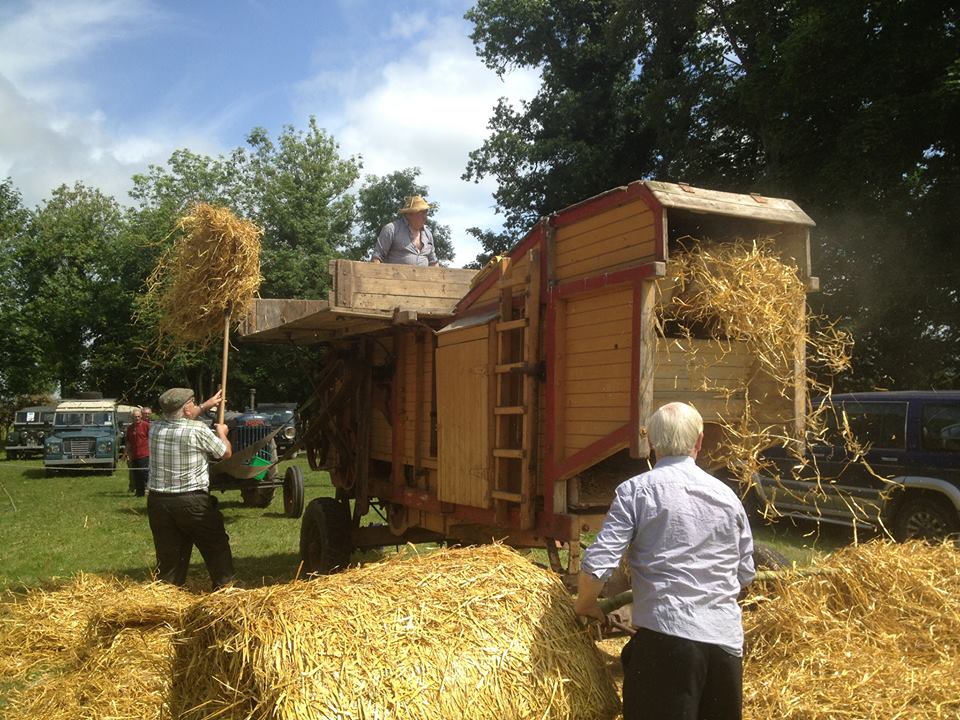 Ger Greaney took a photo of a re enactment of an old style threshing at Rathfredagh. Co. Limerick.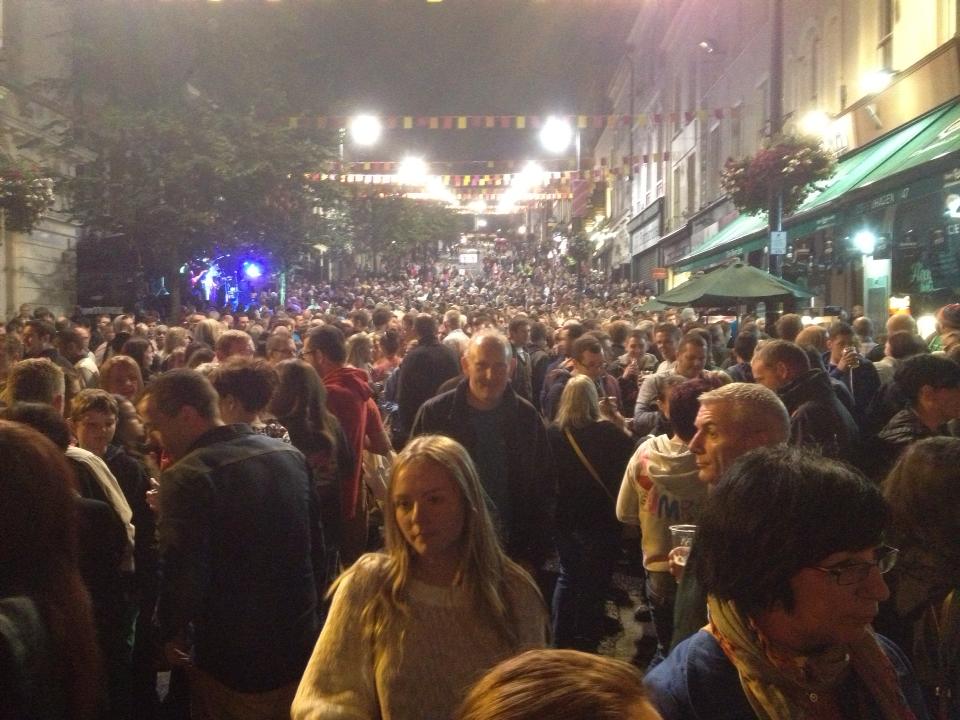 John Stack took this photo in Derry while he was there at Fleadh Cheoil na hEireann.
This one was taken in Killarney National Park in July 2013. This trap is not too unlike one I used to go mass in with my family when I was about 4.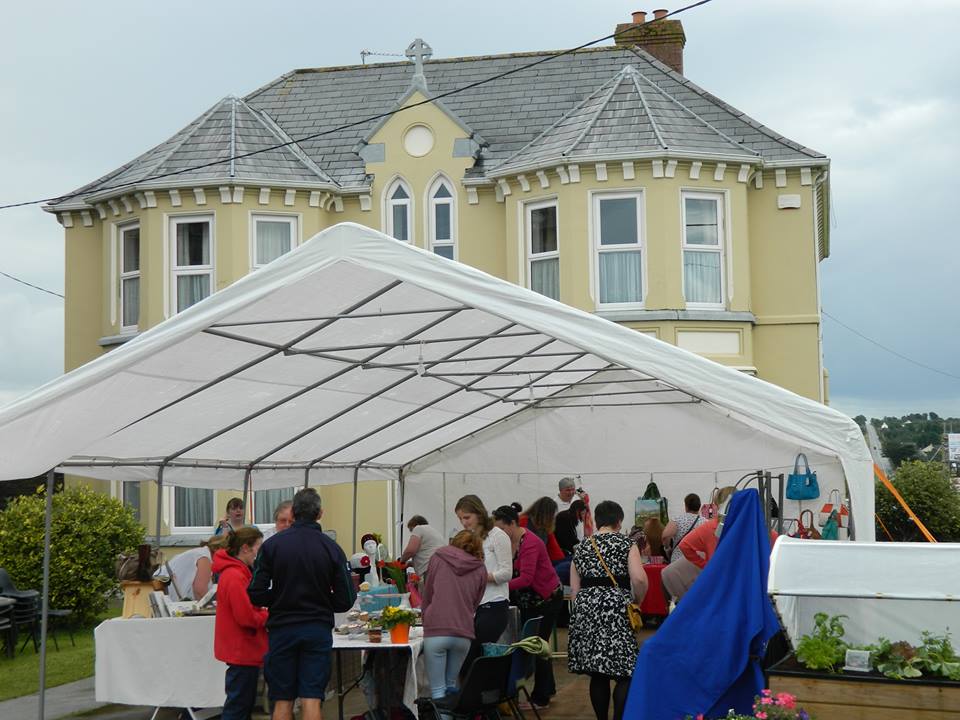 A marquee was erected in the church grounds in Duagh to house an outdoor market during their Gathering event.
<<<<<<<
This lady is Cathleen Dower. I will paste the interview with her from Irish Central here,
Background: Dower is the founder of Fitzgerald
School of Irish Dance in Central New Jersey.
Tell
us about your Irish heritage.
"I
am third generation Irish American, with my mother's family coming to New York
from Listowel, Co. Kerry and Mohill, Co. Leitrim. My father's side is from Co.
Galway. They eventually settled in New Jersey."
What
is your earliest memory of Irish dance?
"When
I was 12 I was able to see Riverdance at Radio City Music Hall with my mom and
grandmother. I was mesmerized by the performance and instantly fell in love
with Irish dancing. After my first few classes I was hooked and
subsequently left ballet, tap, and jazz to concentrate solely on Irish
stepdancing."
Why
do you think Irish dancing is increasing in popularity in the U.S.?
"I
believe it's due to shows such as Riverdance and Lord of the Dance. Before
these shows Irish dance was largely unheard of unless you were first generation
Irish American. Riverdance brought Irish stepdancing to the forefront, and with
it came an influx in interest.
"Many
of my contemporaries have gone on to teach Irish dance full time now, and many
modern dance schools are now adding an Irish dance class to their schedules
along with the standard ballet, tap, jazz and lyrical classes regularly
offered."
Do
you think there should be less emphasis on the costume and make-up in Irish
dance and more focus on the skill itself?
"This
is a good question because I feel strongly on this subject. I feel that
in competitive Irish dance the line between costumes, make-up and the skills of
a dancer has gotten blurred. I can understand the importance of stage make-up,
but it should not be about how many rhinestones you can fit onto one dress. The
dress does not make the dancer. Talent, passion and perseverance do."
What
is the hardest thing about learning to Irish dance?
"The
hardest part for me transitioning from contemporary dance to traditional Irish
step dancing was remembering to keep my knees straight and my arms by my side.
It truly takes incredible core strength and endurance to jump in the air
without the use of your arms."
Tell
us about your recent trip to Ireland.
"My
trip to Ireland was for my brother's wedding in Kenmare, Co. Kerry as well as
part family vacation. Meeting my Irish relatives and seeing the
birthplace of my great grandparents really meant a lot to me.
"My
love for Ireland and the culture has grown tenfold now because of this trip.
The trip and wedding experience far exceeded all of our expectations! A return
trip to Ireland in the near future is certainly part of my plans."
Anyone we know on this lady's family tree?
<<<<<<<
Jer. Kennelly recorded some lovely harp music in U.L. at a conferring in August 2013
http://www.youtube.com/watch?v=N9JiYs2hnO4&feature=youtu.be
<<<<<<<<<<
Malin to Mizen cycle passing though Listowel
Listowel RFC will be supporting the
Rugby Legends cycling from Mizen to Malin in 7 days and are encouraging you to
get involved too and raise awareness and vital funds for the registered charity
CROSS. The charity invests in laboratory equipment to drive transnational
research projects aimed at the prevention, understanding and treatment of
various forms of cancer.

The mission of the registered
charity CROSS is to support Cancer Research and improve patient care at the
Institute of Molecular Medicine, Trinity College and St. James Hospital . The
charity does this through supporting the education and training of high quality
medical and scientific students in their careers as young cancer researchers.
Cross Rugby Legends was set up to raise funds for this vital cause.

From midday until 2.00 pm on
Thursday 12th September 2013, a BBQ will be running at Christy's Well Bar in
The Square, Listowel, Co. Kerry. We will be essentially providing refreshments
for the 270 riders as well as anyone who would like to see these Legends of
World Rugby arriving in town. We would ask that North Kerry helps us give them
a warm Kerry welcome and hope to see you there.

In addition as part of this year's
Rugby Legends cycle an exciting evening is being organised in the I.N.E.C. on
Thursday 12th September 2013. Here you will have an opportunity to meet our
rugby legends including David Campese and Anton Oliver, Lions players, Irish
Stars and International legends from the Northern Hemisphere.

The evening will consist of supper,
a question and answer session from the legends and a chance to socialise
afterwards. Tickets are priced at € 35 and will be available online from the
INEC website www.inec.ie.

For further information go to www.crossrugbylegends.com.
<<<<<<<<<<
Seán McConnell R.I.P.
Seán McConnell, brother of Mickey McConnell, and former journalist with The Irish Times passed away unexpectedly last week. At his funeral one of his former colleagues in The Irish Times read a poem that Seán had written for his father and was also very apt in this new context.
When my father died
The professionals cried,
The undertaker and doctor.
Little more need be said
Of a man with a heart of gold
Locked in a tabernacle of arthritic bones
who could melt stones….with his words.
Who loved children and dogs.
Deep lakes and cotton covered bogs.
Ballads dropped from his lips
And a mercury brain generated
Quips worthy of the best.
For that he was.
The best.
<<<<<<<<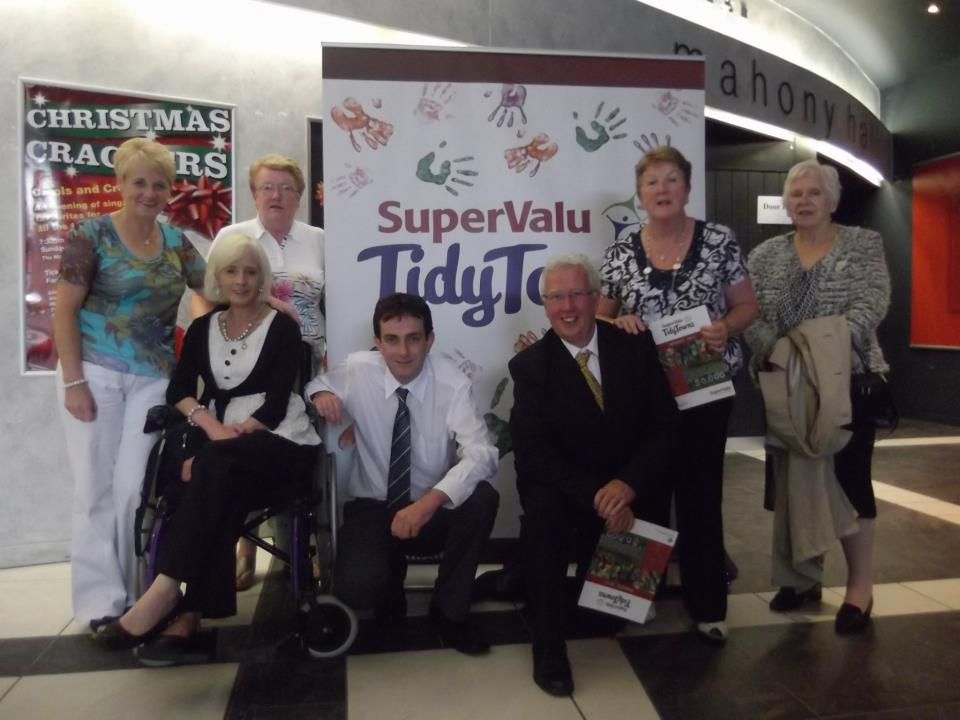 Heartiest congratulations to everyone who helped the Tidy Towns Committee secure yet another well deserved gold medal.