Above is part of the audience in The Community Centre for one of the children's events. The programme consisted of children's authors reading their work, craft and hat making workshops, a treasure hunt, cookarama, a historical guided walk through Listowel, Baby Boogie, A Mad Hatters Tea Party, writing workshops, a croquet demonstration and much more. The programme ended on Sunday with a mammoth Frozen sing along.
The National Children's Literary Festival at Listowel Writers Week gave all the young people who were there a few days to remember.
Here in photographs is a small taste of things;
When is a visit to the doctors' the highlight of your day? When it's the CBI book doctors at Writers' Week.
My granddaughter visited this "Doctor". She told her her reading symptoms, i.e. her favorite authors and what she had read. The doctor wrote her a prescription for books she would like based on the profile of her reading so far. Exit one happy 'patient".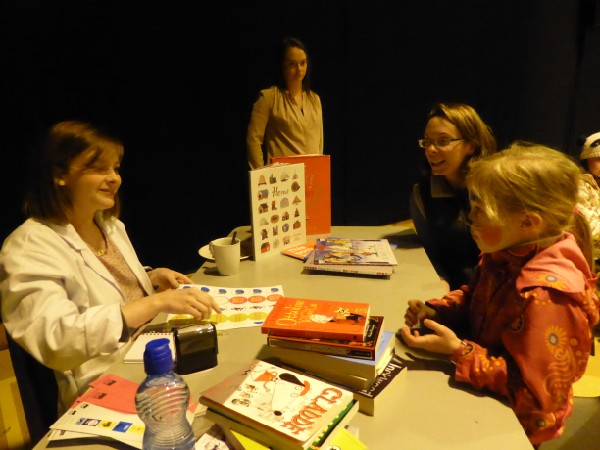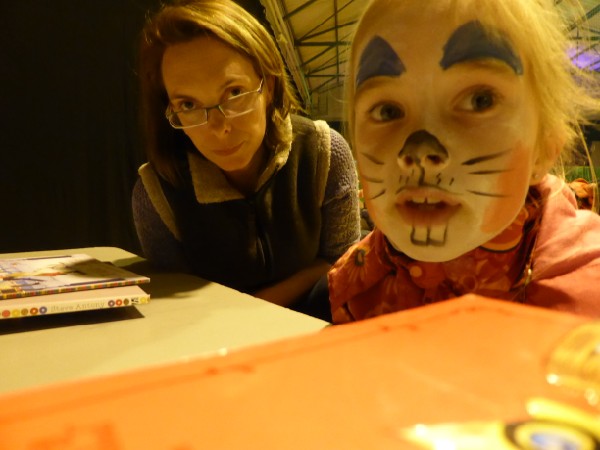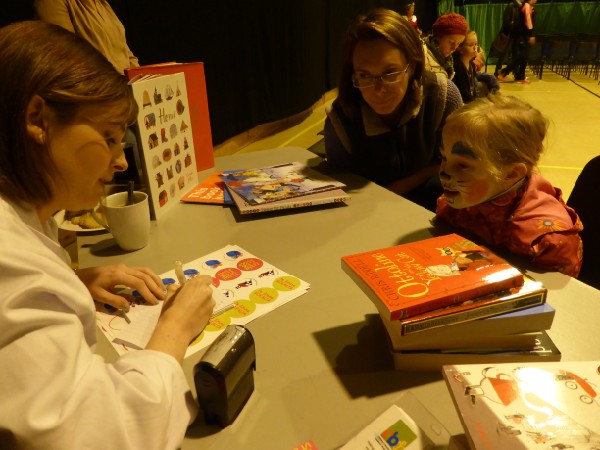 The same grandchild and her sister were booked in for Sunday's craft workshop.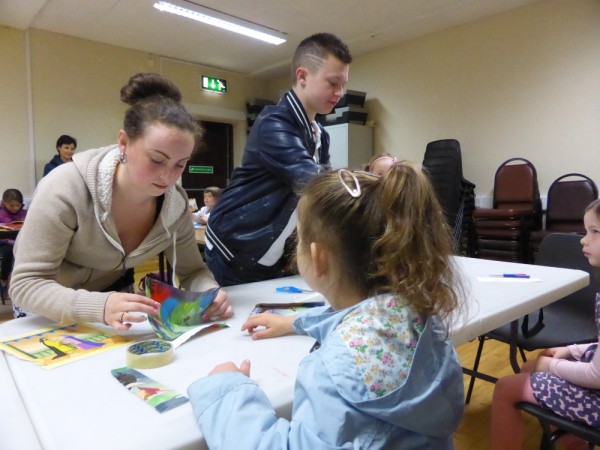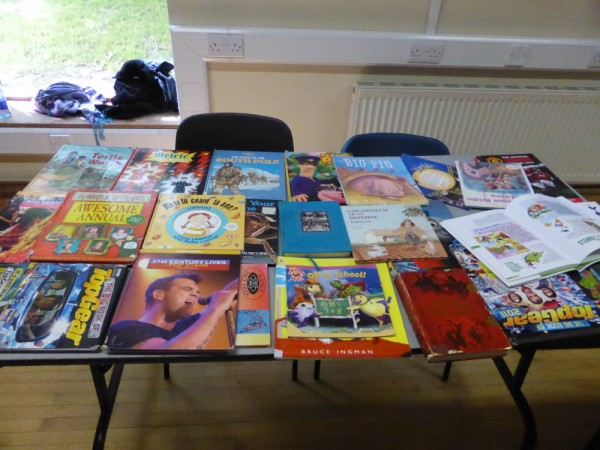 Róisín thought she had gone to heaven when she spotted the table set with old annuals. Her absolutely all time favourite reading material is graphic comic books.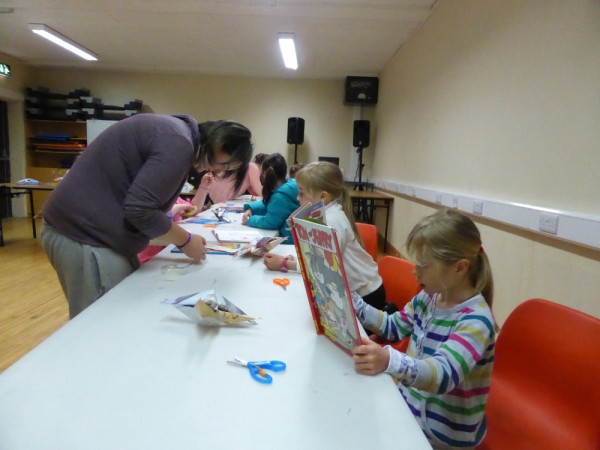 BUT this was not a reading event. The old annuals were for cutting and pasting and making into stars. You may as well have asked Róisín to cut up the family bible. She chose a comic she liked and had not read and sat down to read it.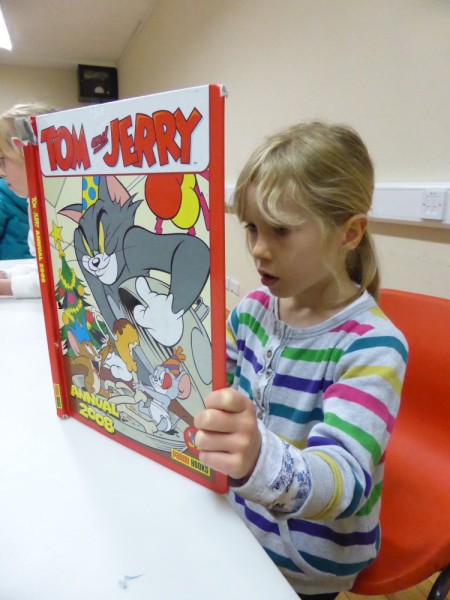 All around her children were happily making a star. Róisín was reading.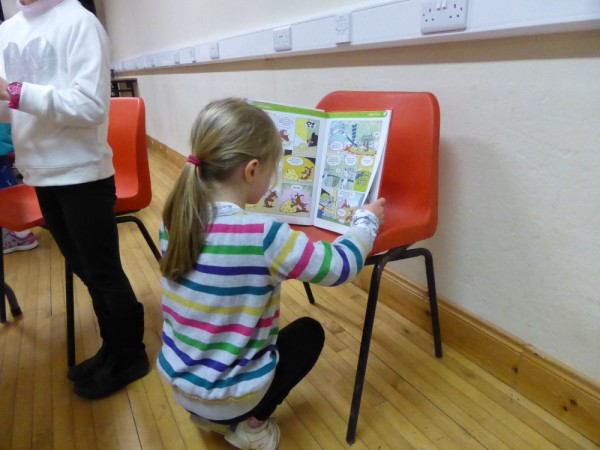 When her sister suggested that she would help her to make her star, Róisín moved out of her way and left her at it.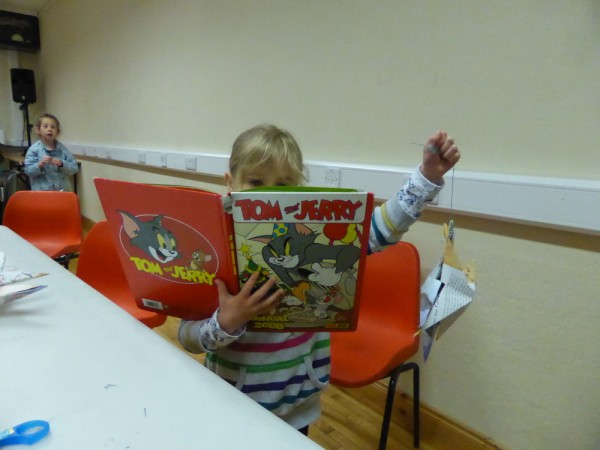 Star made and handed to her and Róisín is still reading.
She was happy enough to pose for the final picture with "her' star . Under her arm is tucked the annual which she has now been given as a present. Róisín's verdict on the craft workshop? Brilliant!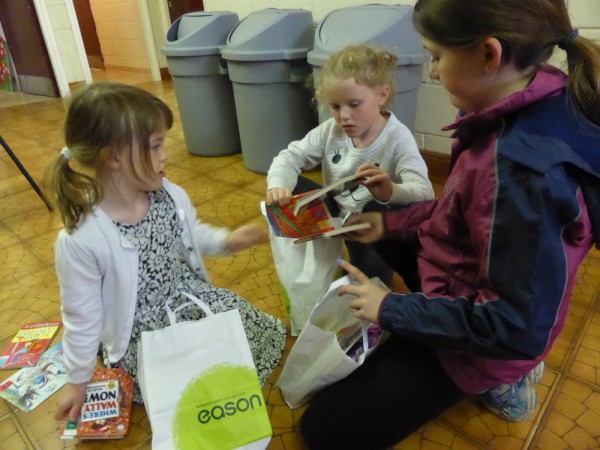 This event, along with all the workshops was sponsored by Easons. Here a few of the participants swap goodies.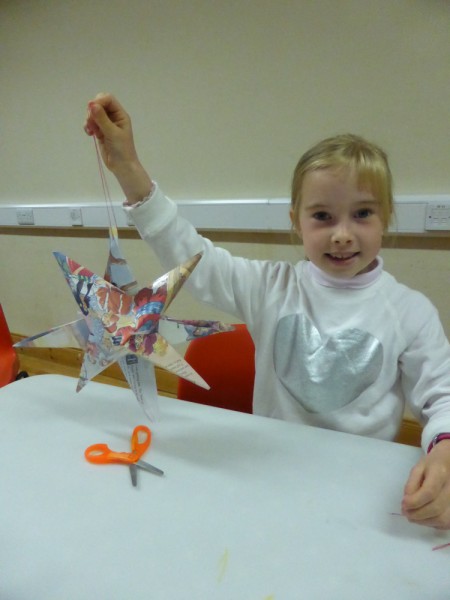 Aisling with her star.
<<<<<<<<<
Alice in Wonderland
This year to mark the 100th anniversary of that classic of English literature, Alice in Wonderland, there was an Alice theme running through the children's events.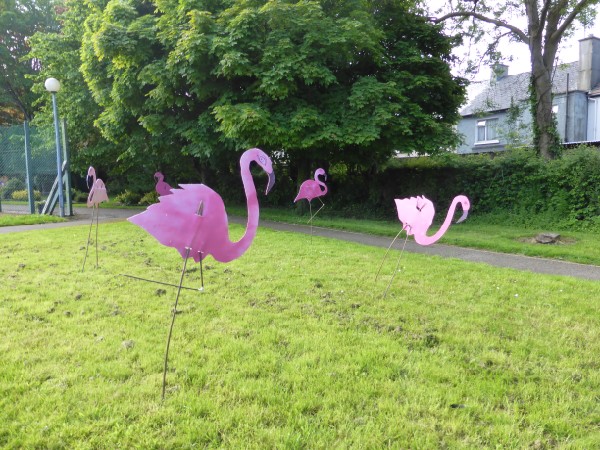 Xistance Youth Events made the flamingos. They also made giant cards, playing card bunting and other Alice themed stuff to decorate the park. They were also on hand to help with all of the children's programme.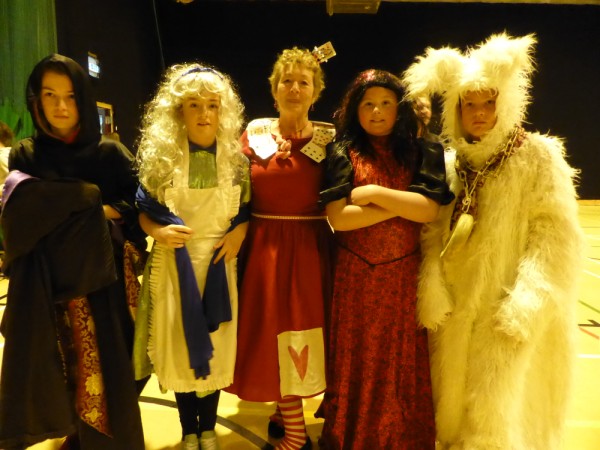 Liz Dunne with Xistance members in costume.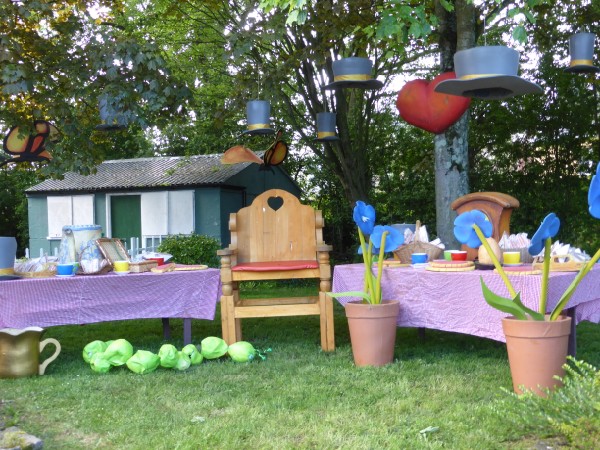 This installation by Buí Bolg proved very popular.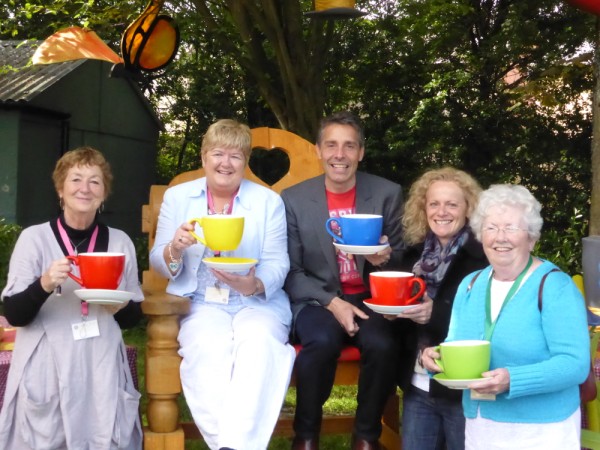 Liz Dunn, chairperson The National Children's Literary Festival, Maria Mc Grath, co ordinator of the children's events, Andy and Louis Cope and yours truly.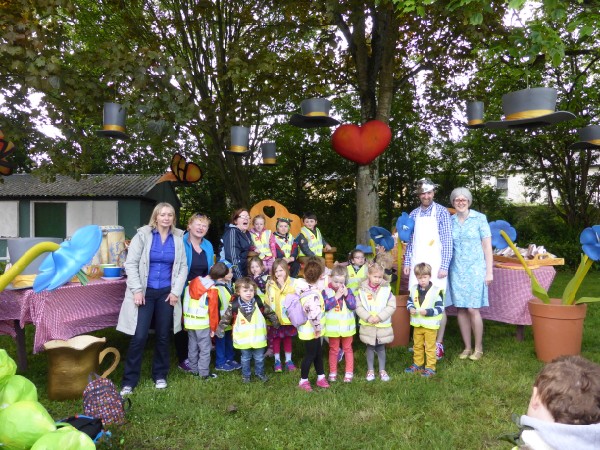 Author Sheena Dempsey with young people who attended her workshop.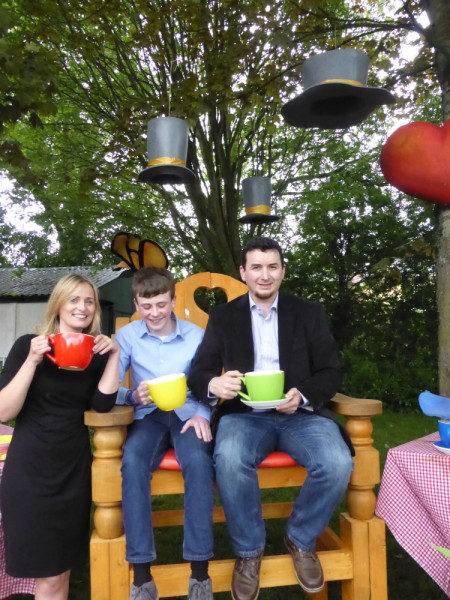 Elaine Kinsella, of Radio Kerry, David Rawle of Moonboy fame and Will Collins, scriptwriter, Song of the Sea, posed on the chair on their way from their Operation Education gig.
Author, Judi Curtin took a turn on the chair.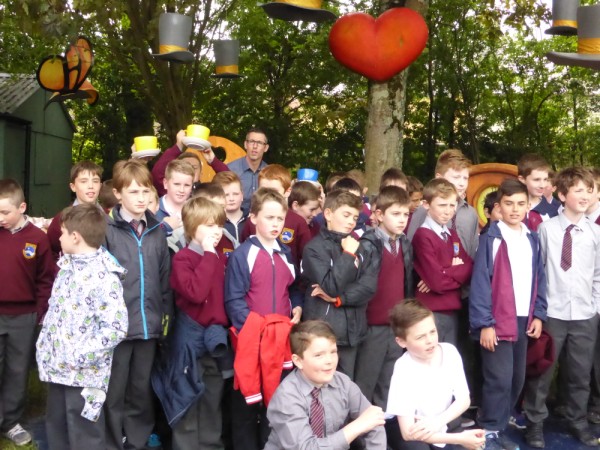 Boys from Scoil Realt na Maidine with Shane Hegarty , author of Darkmouth.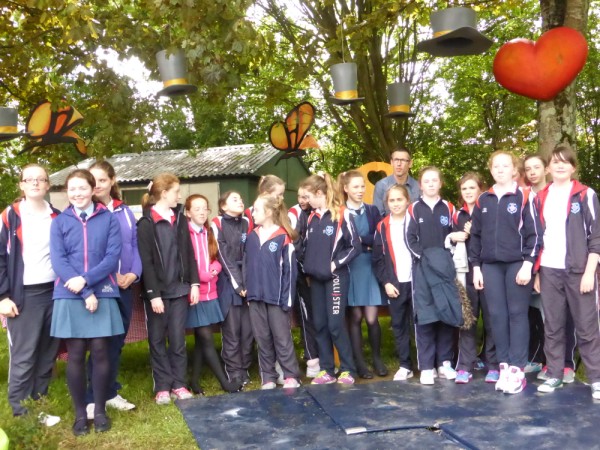 Shane also posed with the girls from Presentation Primary School.