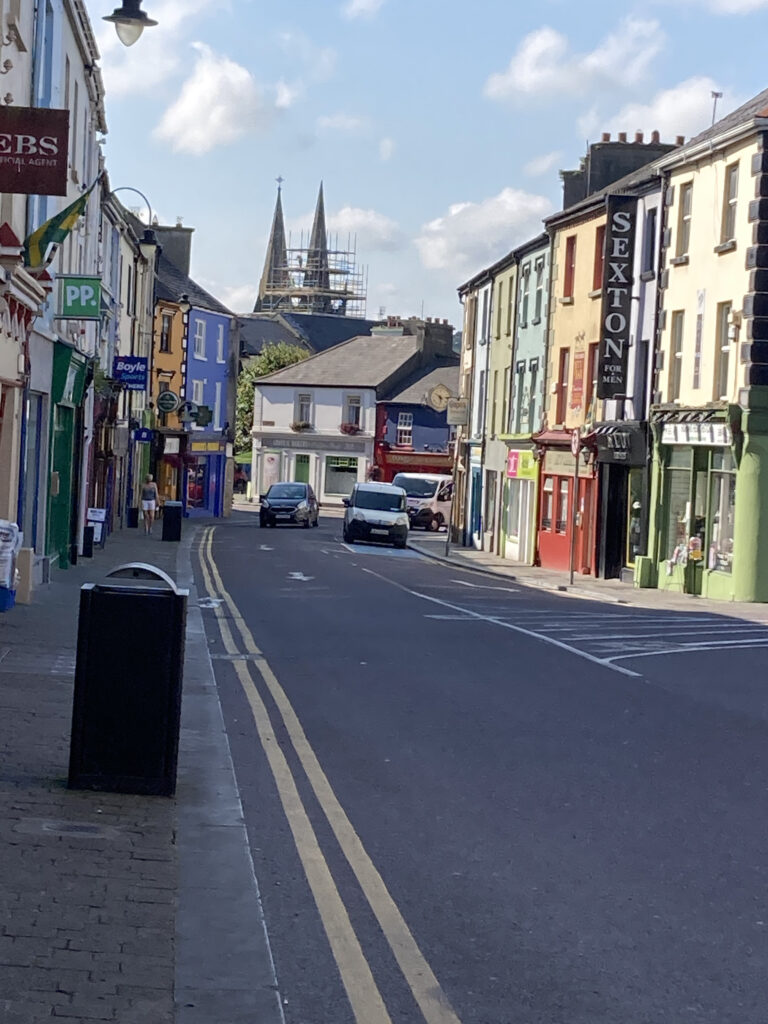 An image from summer 2021 with St. John's surrounded by scaffolding.
<<<<<<<<<<<
My Trip to Kildare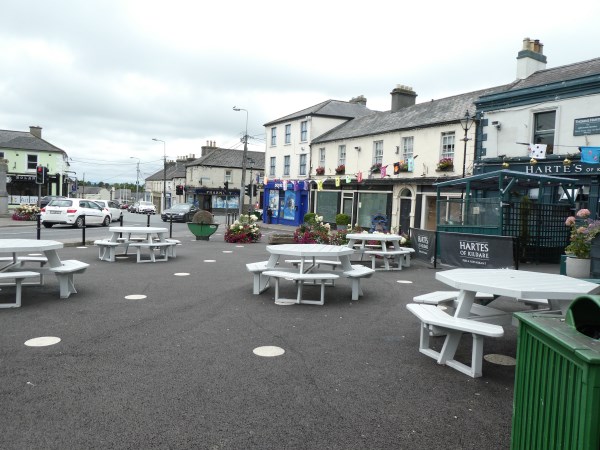 Kildare Town Square in August 2021. Lots of accommodation for outdoor dining in the spacious town centre area.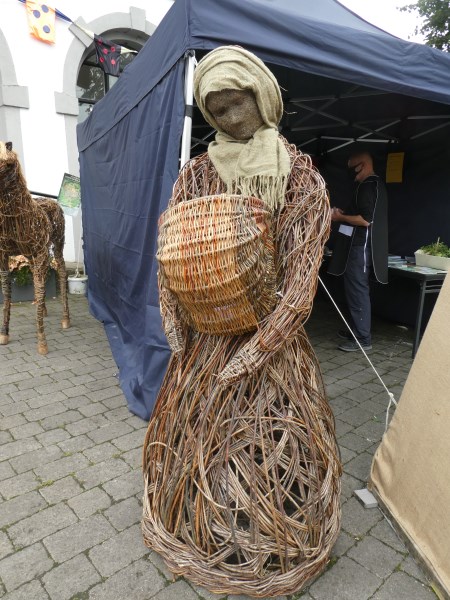 It was Heritage Week so reminders of Kildare's heritage were everywhere; St. Bridget, horses and horse racing. There were a few sheep too from the nearby Curragh.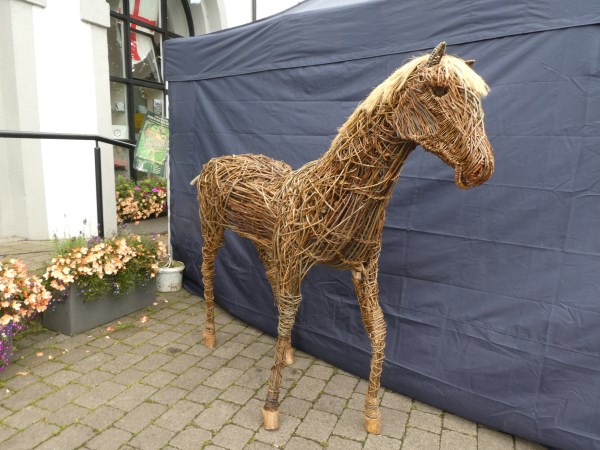 The bunting outside the turf accountants was jockeys' silks.
How appropriate.
<<<<<<<<<<<<<
A Wedding and some US Visitors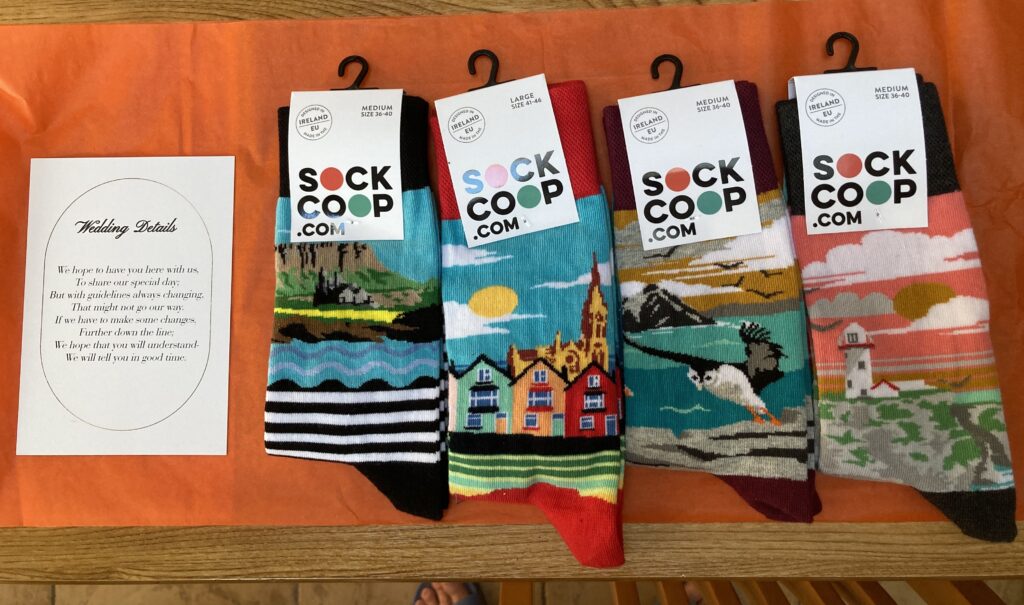 My niece got married. Covid made much of the planning a nightmare but it was all "alright on the night".
I was wondering what token to buy for the U.S. branch of the family who were travelling for the occasion. I wanted something small, light, useful and easy to pack but something also that says Ireland. What better than Listowel native Anna Guerin's Sock Coop's beautiful socks. I bought them online and they were delivered in 2 days.
They were a big hit!
<<<<<<<<<<<
I know this for a fact
In October 1963, 90 men who worked in Dunlops in Cork were suspended. They took time off without permission to watch a soccer match on TV.
The match that nearly cost them their jobs was England versus The Rest of the World. (Source The Irish Examiner)
>>>>>>>>>>>
A Casualty of Covid and Lack of Funds
(Story from Mark Holan's Irish American Blog)
Ireland's Great Hunger Museum in Connecticut, closed for over a year due to COVID-19, will not reopen, owner Quinnipiac University says. The museum is said to hold the world's largest collection of historic and contemporary Irish famine-related art works. The pandemic has further eroded the museum's poor financial footing, which surfaced in 2019.
"The university is in active conversations with potential partners with the goal of placing the collection on display at an organization that will increase access to national and international audiences," Associate Vice President for Public Relations John Morgan wrote in an early August statement.
The museum opened in 2012. The 175th anniversary of "Black '47", the worst year of the famine, is next year.
Ireland's Great Hunger Institute, founded and directed by history professor Christine Kinealy, remains open, as does the special collection of famine-related books, journals, and documents at the Arnold Bernhard Library on the Mount Carmel Campus, Morgan said.
I visited the library and museum in March 2013. I hope this impressive collection finds a good home.
<<<<<<<<<<<
Gresham Menu 1972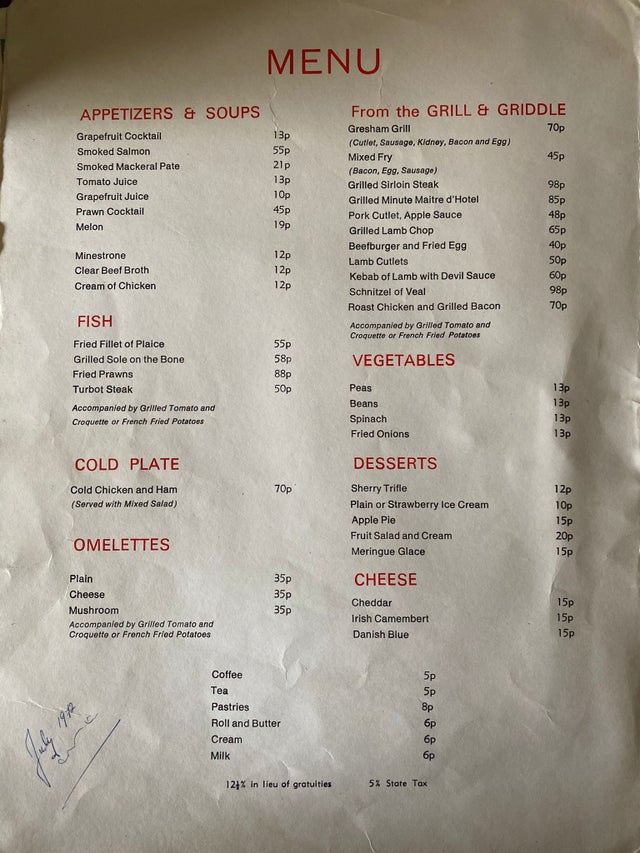 This old Gresham Menu has gone viral on Facebook. In 1972 eating in a restaurant was a big treat, not an everyday thing. I don't know why I believed that it was horrendously expensive!
<<<<<<<<<<<