More from Athea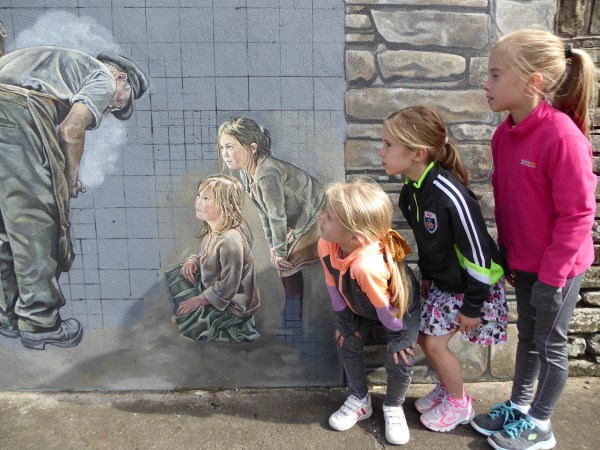 My three girls posed for me looking at the blacksmith at work.
Nicky A. Leonard posted the following recently on Facebook.
The Blacksmith's Epitaph
"My Sledge and Hammer lie in rust
My Bellows too have lost their gust
My fires extinct, my Forge decayed
And in the dust my Rasp is laid
My coal is spent, my irons gone
My nails are driven, my work is done."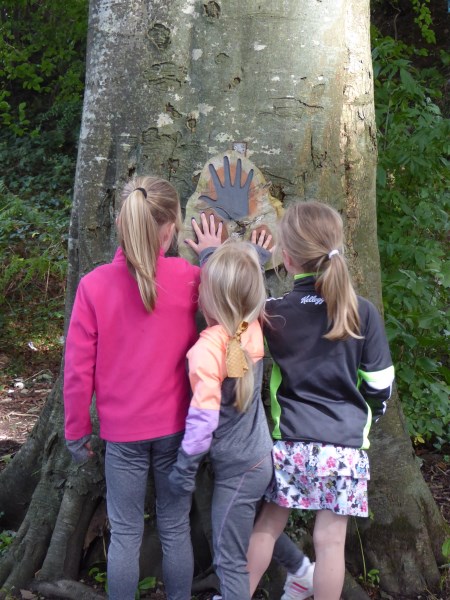 We went to Cnoc na Sí, left all our worries with Cróga at the worry tree and remembered again the story of the giant and his unfortunate mother.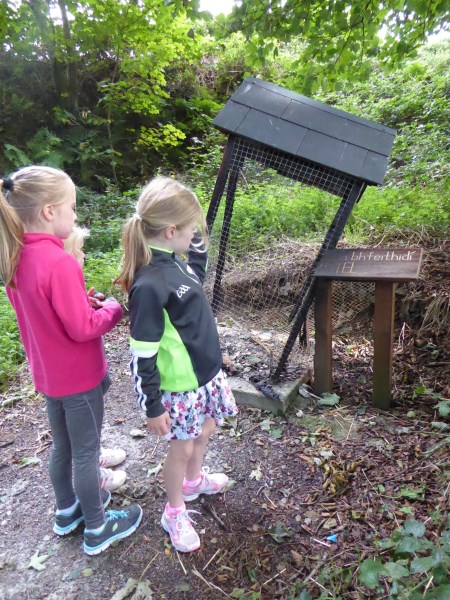 Sad to see that even in this lovely place, vandals have done their worst and destroyed the bug hotel.
"The recent vandalism in the fairy mountain, down by the hall, is to be
deplored. Athea Tidy Town's committee have worked extremely hard over
the past few years to make Athea a better place in which to live for
all, including children who take a great interest in the fairy
mountain. That some mindless young people see fit to undo the good
work is beyond comprehension. Apparently the culprits are known to the
committee who do not want to bring the Gardaí into it at this stage .
If not, it is time for their parents to take action and ensure their
offspring have an appreciation of the damage they are doing to the
whole community. If this is not nipped in the bud who knows where it
will stop. It has to be noted, however, that the people who carry out
this type of vandalism are a small minority and the vast majority of
our youngsters are very well behaved and a credit to their teachers
and parents. Maybe they should bring their influence to bear on those
who, by their anti-social behaviour are giving them all a bad name."


Domhnall de Barra :Athea Notes;
It was feeding time for Athea's family of ducks.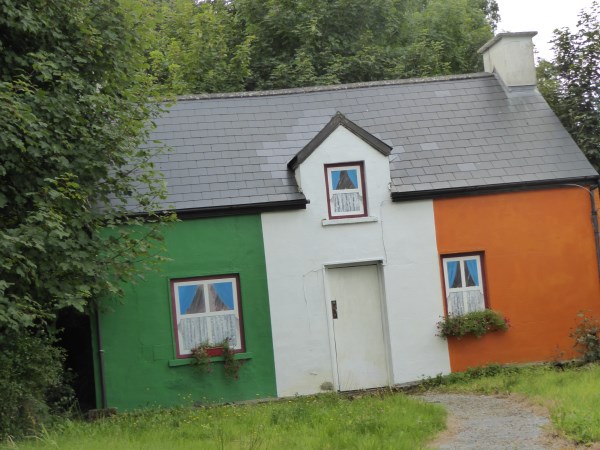 This uninhabited house was decorated for the Euros and left thus for the Olympics.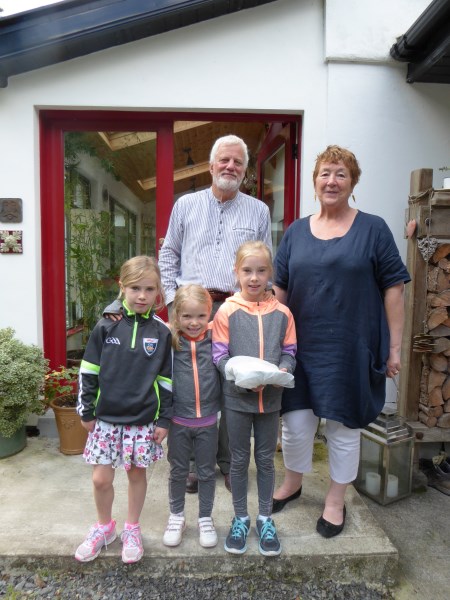 We finished off our day with a visit to the very warm and welcoming home of my friends, Jim and Liz Dunn. Here the work of the artist, the craftsman, the engineer or the baker is appreciated. Stories are valued and everyone, including children, is encouraged to learn and explore. We are so blessed in our locality that the fickle finger of Fate pointed these lovely talented and generous people in our direction.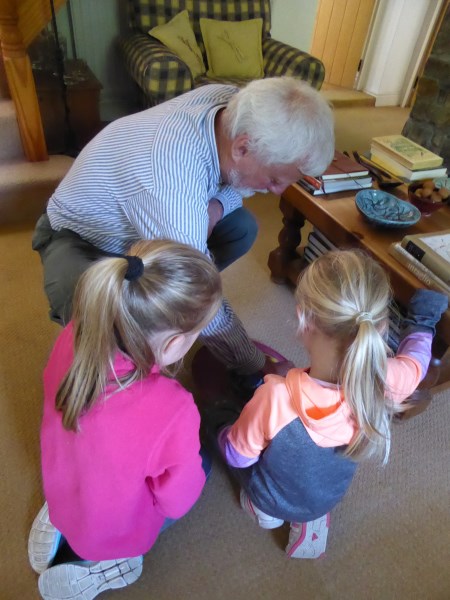 Jim got down on the floor with the girls to introduce them to an old clockwork toy, a treasured marvel of engineering, a huge novelty to a generation raised with technology.
<<<<<<<<

Thank You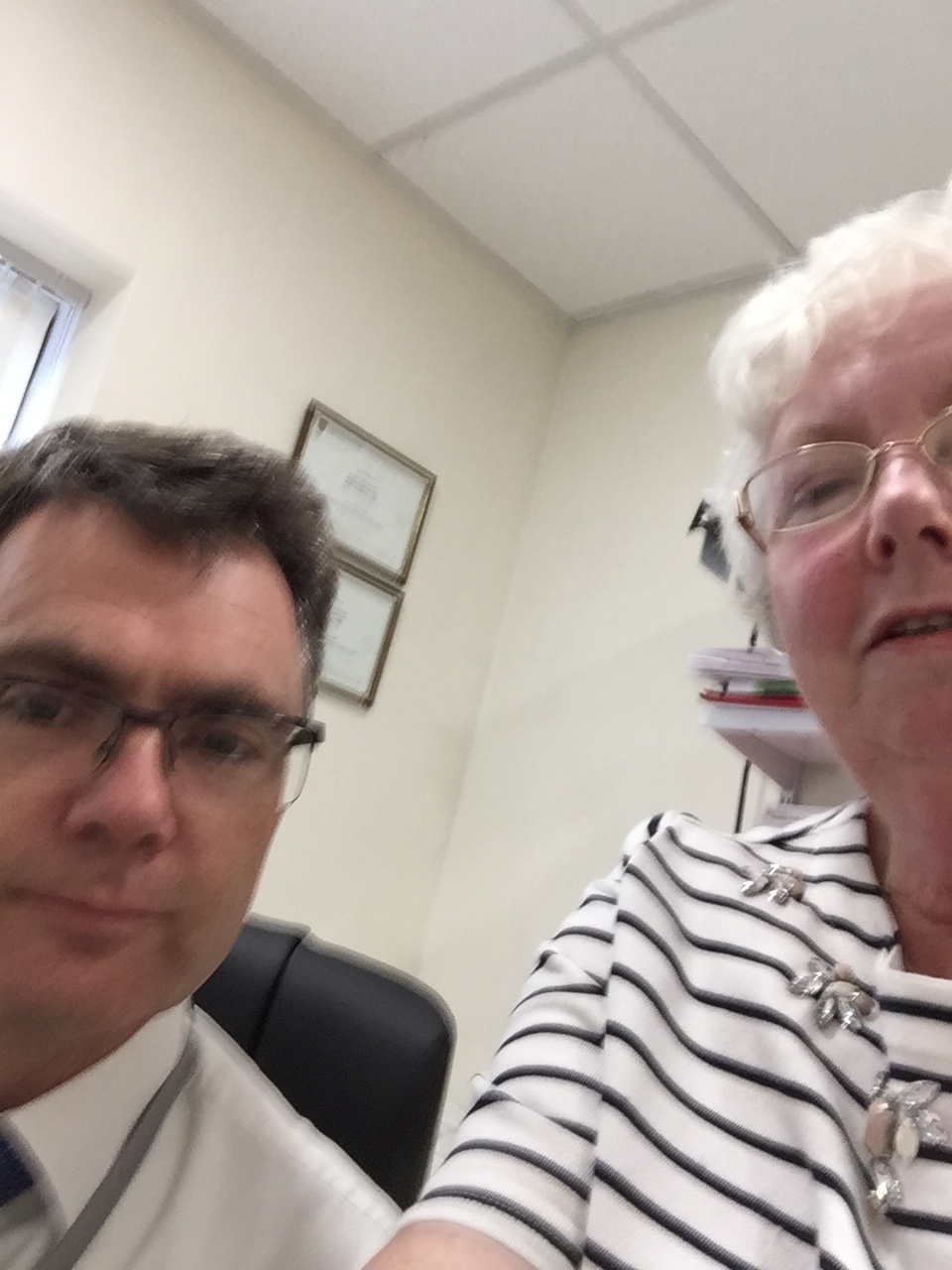 Last week I returned to Cork for my final check up. This is to say thank you to all the people who showed so much concern for me and a special thank you to the doctor who treated me and saw me back to full health.
Because he is not allowed to advertise I can't publish his name but I took a selfie.
<<<<<<<<
A Hidden Corner of Castleisland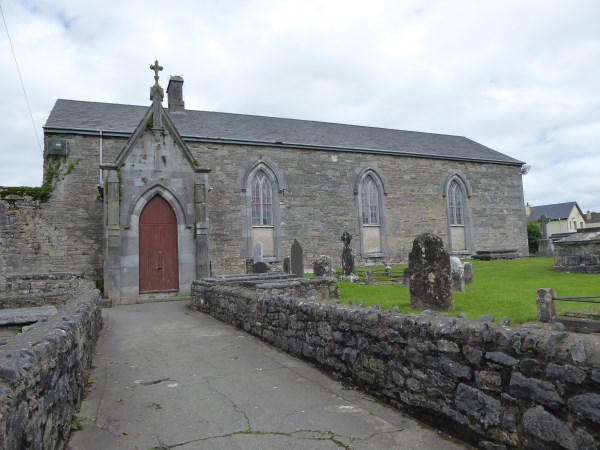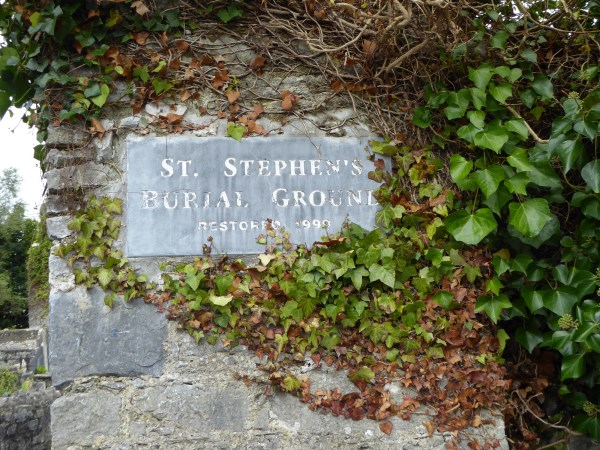 I happened upon this disused church last week in Castleisland. It is located behind the main street in a lane that is used as a pedestrian short cut by local people.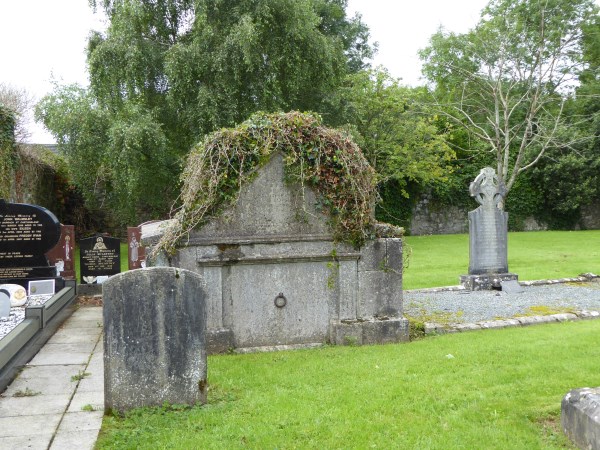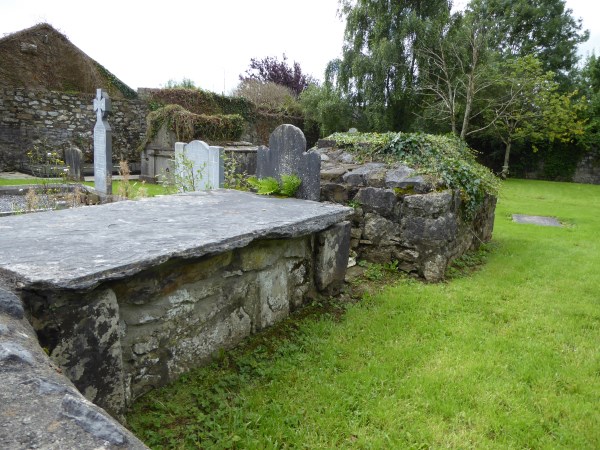 The graves were a mixture of tombs and regular graves and dated back centuries.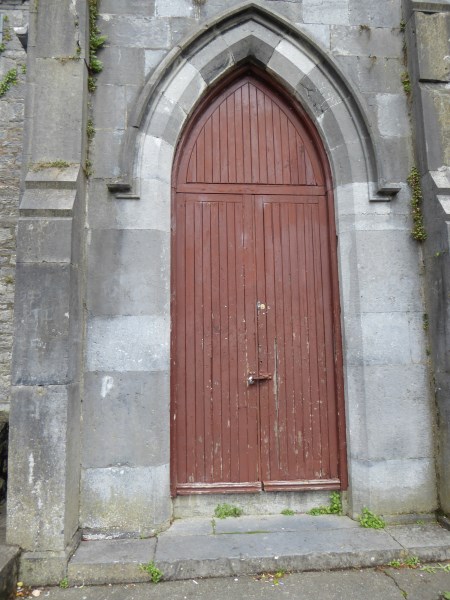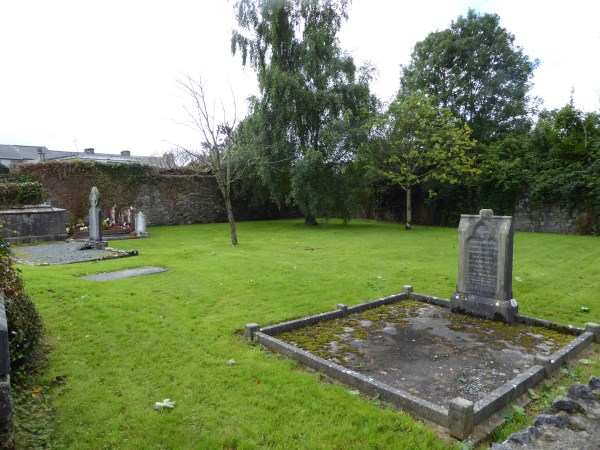 It seems that records of some of the burial places are not recorded or else they had a lawn cemetery before these became popular elsewhere.
A trawl the internet found this following interesting post about the oldest tomb:
An East Kerry Pastor
By T.M. Donovan
For about the past thirty years there
was an historical puzzle to be solved with regard to one of the oldest tombs in
the ancient graveyard of St. Stephen's in Castleisland. Even learned priests
could not solve the riddle of the tomb. This ancient tomb belongs to Mr.
Richard E. Shanahan, of Castleisland, the present-day representative of the
once powerful Shanahan clan of East Kerry. Above the entrance to this tomb,
over the sculptured head of an angel guarding it, there is a Latin inscription
with, apparently on a casual glance, the date, 1067 – a date that takes us back
to Gaelic Ireland before the Norman Conquest. It is this very-far-back date
that caused all the trouble to our antiquarians; for it was hardly credible to
think that this old tomb held itself above ground for eight and a half
centuries! But there it was at a casual glance – 1067.
The Problem Solved
It was the late Rev. Thomas Heffernan
who, will visiting his brother, Mr. Michael Heffernan, N.T., Castleisland, that
first solved this mystery of the Shanahan tomb. Father Heffernan and a
Castleisland friend thoroughly cleaned off the fungoid growths on the slab
bearing the Latin inscription and found the following —
"Ecce Nunc in Pulvere Dormiant
Job 7.21″
"Behold now I sleep in Dust."
Darby Shanahan of Knockahip and
Glounsharoon and his brother Edmond of Castleisland the present owner's father,
must have been grand-nephews of the first recorded Parish Priest of
Castleisland since the Elizabethan proscription of the Catholic Church in
Munster. The Diocesan Records do not even contain the name of this
mid-eighteenth-century pastor of East Kerry. Fr. Maurice Fitzgerald, who was
appointed Parish Priest in 1781, is the first recorded P.P. of Castle-island,
after a long blank in these records.
So for East Kerrymen this discovery of
the burial place of their oldest Parish Priest is unusually interesting and
instructive.
When I was writing the chapters on the
past parish priests of Castleisland in my "History of East Kerry," I
had only the mural records in the Parish Church to rely on; and these parish
records only carried us back to the days of that grand old Sagart of the
Diocese of Kerry, Fr. Maurice Fitzgerald, who became pastor in 1781. I did not
know of Darby Shanahan who, early 200 years ago, preceded Father Maurice as
Parish priest. As Fr. Maurice Fitzgerald presided over the parish for the long
period of 49 years, and as he was ordained in 1774, we may assume that Father
Darby Shanahan was in charge of his then extensive parish for 20 or 30 years,
which would carry us back to near the middle of [missing]
[missing] was given to Edmond Shanahan.
As Archdeacon O'Leary was called "Father Darby" by his parishioners,
we see that in our list of Castleisland parish priests we have now two Father
Darbys.
This Edmond Shanahan, a near relatives
of Fr. Darby Shanahan's, must have been a bachelor; for when dying he left
annuities to all the Shanahan families of East Kerry, or least to five of them
– to the Shanahans of Castleisland, Shanavalla, Knockahip, Kilcusnin and
Crocknareagha.
The Thatched Chapel
Very probably it was this Father Darby
Shanahan who built the "Thatched Chapel" in Castleisland – the first
since old St. Stephen's Church was confiscated by Queen Elizabeth's. Undertakers towards the end of the sixteenth
century. Before this thatched chapel made its appearance, the hunted priests of
the Penal Days said Mass in the "Glounanaffrins" or Mass Rocks of
East Kerry at Gortglass, Foyle ..hilip, and Gloun [missing]
[missing] worshipping in a splendid
Parish Church with its massive arches of marble, its pillars of polished
granite, its beautiful stainglass windows, its magnificent high altar, and its
tower and spire point to heaven; while the remnant of the descendents of these
alien lords less than a score, are worship-ping without ostentation in a
decaying building.
Father Darby's Tomb
The old tomb of Fr. Darby Shanahan's,
although not built, as we have seen, in the 11thcentury, is one of
the oldest tombs in the St. Stephen's graveyard. Close beside this old tomb the
remains of the late Rev. John Donovan, S.J.M.A., the defender of the Gospel of
St. John against the attacks of our modern pagan rationalists, lies buried in
his grandmother's grave. This grand-mother of the learned Jesuit Father, Mary
Shanahan, was a neice of Fr; Darby Shanahan. Had Father Donovan known that his
remains would lie so near his 18thcentury kinsman, it would please him to think of his burial
so near the tomb of [missing] Parish Priest [missing]
[missing] in the [missing] nearly worn
[missing] which then became a perfect figure 1. The O became a naught and the B
a 6; so at one glance one had the date 1067. The 21 was so worn down that it
looked like quota-tion marks.
Father Heffernan opened the Bible at
Job. Chapter , and in verse 21 he found the translation of the Lation quotation
on the tomb – ". . . now I shall sleep in the dust, and thou shall seek me
in the morning, but I shall not be."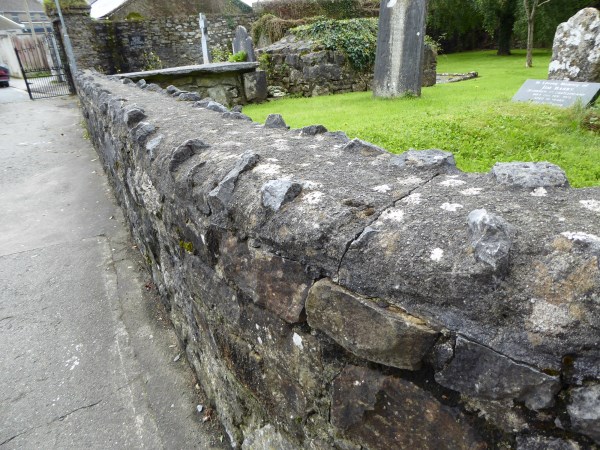 This wall around the burial ground, was constructed in a way which discourages idlers and sitters on walls.