Photo taken in Beale, Co. Kerry by Ita Hannon
<<<<<<<
John B. Keane on Corporal Punishment

(from the Limerick Leader archives)
"Sticks and stones may break my bones
But words will never hurt me."
(According to John B. scholars always preferred a scolding to a beating)
However, I remember a singular exception to this.
Many years ago in Listowel, there was a secondary teacher by the name of Paddy Breen was reputed to be one of the best English scholars in Kerry.
Once, after an argument with an inspector, he was asked by the school's president to render an account of what happened.
"All that happened," said Paddy, "was that I bade the fellow beat an ignominious retreat to the native valleys of his own obscurity."
There was in Paddy Breen's heyday a pupil attending each morning unfailingly late.
Always he would come up with a different excuse.
It so happened that one morning, Paddy was taking the first class of the day.
Our friend, as was his want, arrived a half-hour later.
"Well," said Paddy, "what excuse have you to offer this time?"
"My mother's watch, sir, she stopped," was the invented answer.
All the other clocks and watches in the house had long since been rendered inoperable due to a variety of misfortunes.
"You, sir," said Paddy Breen "are the misbegotten metamorphosis of a miscalculating microchonometer."
One young friend took the jibe poorly and did not attend class the following day nor indeed for many a day afterwards.
Eventually, Paddy received a solicitor's letter asking him if he would be good enough to repeat the damaging statement in court.
Paddy replied that he would be agreeable and sent the solicitor an exact copy of what he said.
No more was heard of the matter but had he used smaller and more easily understood words there would have been no misunderstanding whatsoever.
Alas, there would have been no colour either, and the class would have been a drabber, duller place.
<<<<<<


Floods in 1890
<<<<<<<<<
Wartime Rationing
One of the unexpected things that was rationed during World War 2 was golf balls.
Balls which were remoulded by the Dunlop company were supplied in small numbers to Ballybunion and other clubs.
The first captain of Ballybunion Golf Club was Canon R. Adderley of Listowel. Mrs. Rosalie Shortis Venn was the first lady captain.
<<<<<<<<
A Minute of Your Time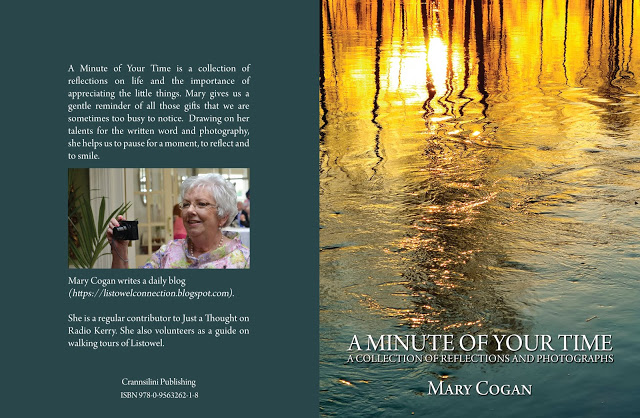 I will be telling you more about the launch of my book in the coming weeks but in the meantime let me tell you about an exciting signing event in Philip's Bookshop in Mallow.
It's on November 2 starting at 2.00p.m. Philip's Bookshop is celebrating its 30th birthday and they are planning a big party.
John Spillane will be the singing MC. Darina Allen and Alice Taylor will be among those signing. And, in keeping with their policy of encouraging local authors, I will be there . If you are near Mallow be sure to put the date in your diary. It promises to be a great day. I might be in need of a friend as I try to hold my own in such exalted company.