Rainbow over Ballybunion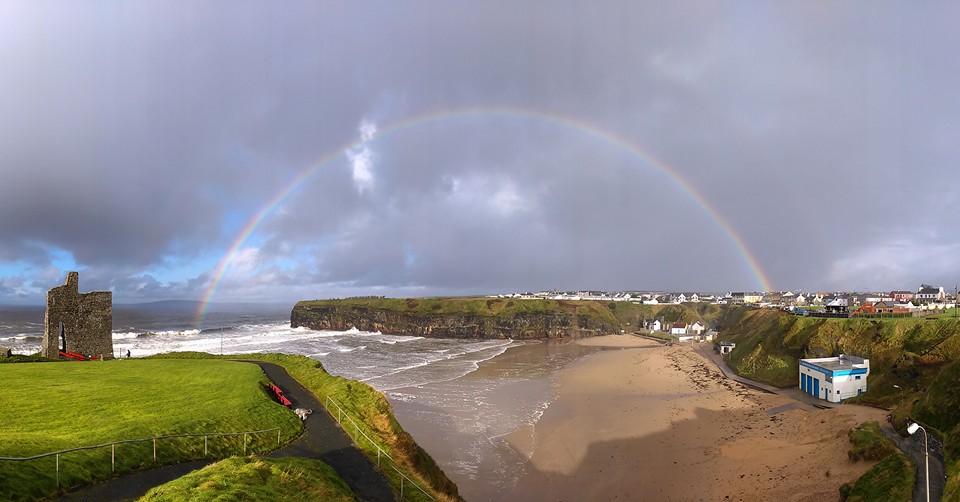 Photo: Jason O'Doherty
<<<<<<<<


State Commemorative event to remember Roger Casement, Banna April 21 2016


Everyone who was in Banna on Thursday agrees that it was a great day, a day to be proud to be Irish. I was immensely proud of our army and army reserve, our National Folk theatre , our Kerry County Council who organized everything so well and I was especially proud of our president.
Thousands of us gathered on "the lonely Banna Strand" to remember the complex character that was Sir Roger Casement and his doomed mission to arm the rebels of 1916.
I went to Banna on the free shuttle bus from Tralee.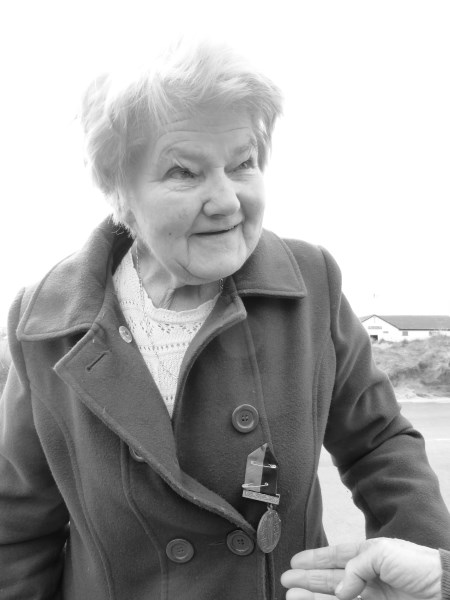 I met this lovely lady wearing her Cumann na mBan medal.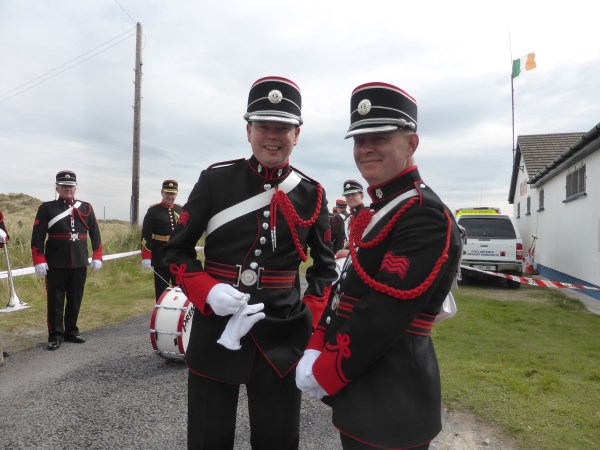 The band was having a minute of down time before their performance.
Emergency services were out in force.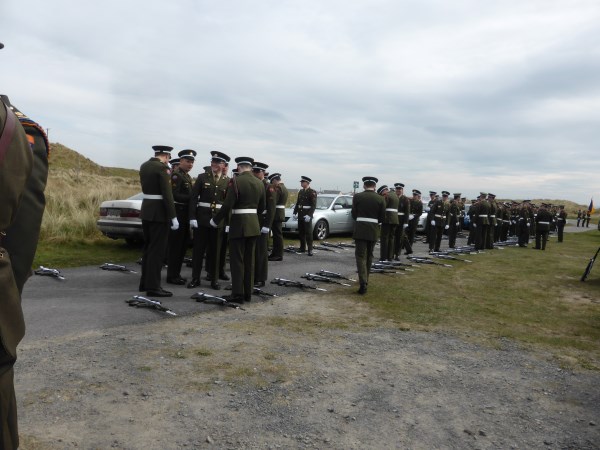 The army were beautifully turned out. Here I caught them in the moments before their big performance.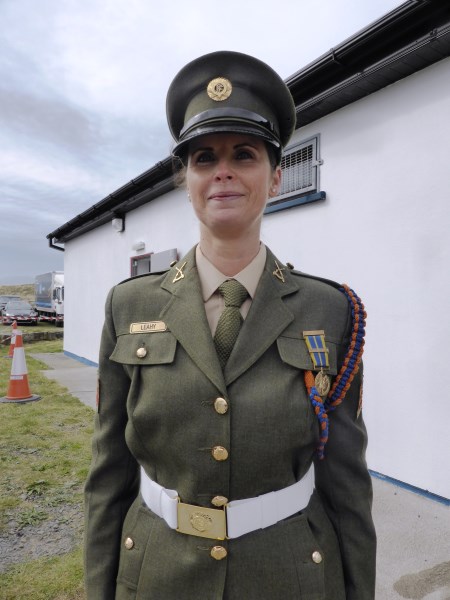 And doing Listowel proud was army reservist, Sergeant Aisling Griffin.
<<<<<<<<<<
Old Listowel Map
Damien Stack showed me this old map one day in town. In the days before the drone these panoramic photos were taken from high buildings or maybe even from a plane.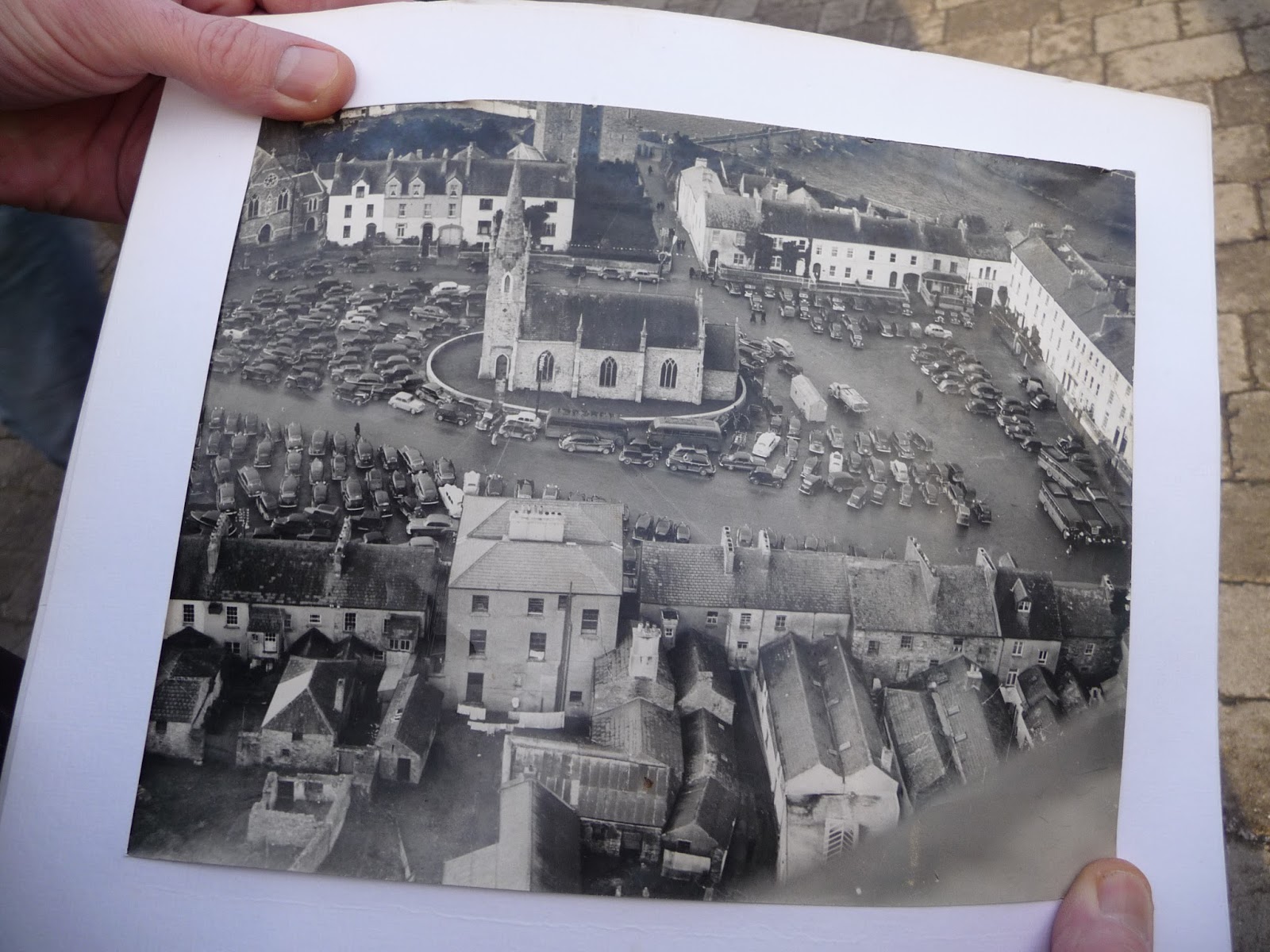 <<<<<
Austin Stack's Funeral Comprehensively Covered in The Kerryman
Kerryman, Saturday, 04
May, 1929; Page: 5
IMPRESSIVE FUNERAL SCENES. HUGE
KERRY ATTENDANCE.
The remains of Mr. Austin Stack
were removed last evening from the Mater Misericordiae Hospital to St.
Joseph's Church, Berkeley St. There was a remarkably large assembly of friends
and sympathisers, who lined Rd. and Eccles St., and the deepest sorrow was
manifested in the sad ceremony.
The remains were borne from the
hospital to the church door by relays of Sinn Fein ex-T.D.'s and other members
of the organisation, and were received at the church by Rev. J. O'Callaghan,
C.C.
The priests present were:—Very Rev.
Canon Breen, P.P., Castlegregory; Rev. R. P. O'Reilly, C.C, Tuosisi, Co. Kerry;
Rev. G. Cleary, 0,F.M., and Rev. J. O'Mahony, C.C, Booterstown.
A guard of honour of members of
Oglaigh na h-Eireann was present at the church door.
The chief mourners were:—Mrs. Stack
(widow), Nicholas Stack (brother), Mrs. Nicholas Stack and Mrs Louis Cassidy
(sisters-in-law), Liam and Austin Stack (nephews), Nanette and Marie Stack
(nieces), Mrs. Long, Mr. and Mrs. William O'Neill, Mr. and Mrs. James O'Neill
the Misses Mary, Martha and Gertrude O'Neill, Tallaght (cousins), J. O'Dolan.,
Belcoo; Miss Margt. O'Dolan, do.; the Misses Stack, Listowel; Miss May
Quillinan, do.; Mrs Cassidy, Monesk; Dr. A. Cassidy, Ballyjamesduff; Miss
Harkins, London; M. Cassidy, Dowra; Dr. and Mrs. C. Martin, Dublin; T. P.
Reynolds, Portarlington; M. Cassidy, Ballyshannon; J. Reynolds, Dublin; Mr. and
Mrs. J. J. Galvin, Listowel; Mr. and Mrs. Darcy, Dublin; Mr. and Mrs. Lynch,
Omagh; Mrs. Doherty, Dublin; Mrs. Mullen, Omagh; Mrs. Dunne, Dublin; Kathleen,
Eveleen, Moya, Lily, Joe and Maurice Dunne, do.; Mr. and Mrs. Burleigh, do.;
Dr. and Mrs. Lynch, Omagh; P. J. Cassidy, Co. C; J. J. Cassidy, Mr. ann Mrs. J.
Byrne, Dublin. The following were amongst those who represented the Republican
organisations:—Sean O Ceallaigh ("Sceilg"), Pres. of Sinn Fein; Maurice Toomey,
Count Plunkett , M. Price, Brian O h-Uiginn , Maire Nic Shuibhne, Proinnsias
O'Riain , Sean O'Mahoney, Mrs. Cathal Brugha , Eithne Ni Chumhaill; Liam Mac Giolla
Mhuire; Domhnall O Donnchadha, Cathal O'Murchadha , Eamon Enright, L. Raul Dr.
Kathleen Lynn, Brian O Maoilliosa, Gobnait Ni Bhruadair , T. J. M'Elligott
("Pro-Patria"), Listowel; P. J. Cahill , Tralee; 'P. Murney, Newry; Seoirse O
Pluingcead , Jos. Clarke , Sean Goulding, J. Mitchel, Blathnaid Ni Chartaigh ,
Padraig MacAndrew, Eibhlin Ni Thobraide , Maedh Ni Fhaolann, P. Whelan, Fiona
Ni Pluingceid , Eamon Mac Giolla Mhuire, Nora O'Seaghdha, Sighle Ni Bhoinn, M
Nunan, M. Kelly, Bob Slane, P. O'Shea , B. Kelly, Newry; D. O'Brien, Nenagh;
Miss M Elroy, Miss Scully , the Misses Laidhin, T. Power, Seamus O'Neill, P.
O'Donoghue, G. Gilmore, Sean RusseII, Seamus_McArdle , Mr. Cole, Mairin
O'Moore.
Others present were: Messrs. P S
Doyle, T.D.; E Mullins ex-T.D.;D. O Briain , sec , Gaelic League; R. Stokes, P
O'Brien, M. J. Spillane (Co. Kerry); E. J. Toomey, J. Fogarty, W. Dove, J.
Burke, solr. ; T Galvin, Prof. A. Clery, Prof. Hackett, P O Maille, J. J.
Walsh, A. McCabe, D. O'Callaghan , Con Collins , Maurice Collins, V. Doyle ,
Co. Surveyor, Kerry; Sean O'Mahony, Daithi Ceannt , D. Fawsitt, B.L.; S.
Mac Cathmaoil, Town Clerk , Bray; Joe Berley, Liam Pedler, Gilbert Ward, the
Misses Daly, Limerick; T McMahon Miss N . Daly, Kerry; J. D. O'Connell, solr.,
Tralee; Mr. and Mrs. P. J. Kenneally, do.; Tim Hurley, Charlie Nolan, P.
J. Murphy, solr.; P. Cabill , ex-T.D.; D. Brown, solr.; Miss K. M . Breen,
Vice-Chairman , Kerry Co. Council; W. O'Connor, Dr. and Mrs. J. Comer, Joe
Griffin, Phil Ryan, Miss Somers, D.I.D.A.; J. J. O'Cavanagh, Greg Ashe, Donall
O'Connor, Mr. and Mrs. J. Cabell, Dublin, and Mrs. Slattery, Tralee; Di.
Fitzmaurice, Castleconnell.
Mass will be celebrated at 10
o'clock this morning, and the remains will be removed to Glasnevin for
interment at 2 p.m.
MESSAGES OF SYMPATHY.
The messages of sympathy received
by Mrs. Stack included:—Daly family, Knockane; P. Power and family, Tralee ;
Father O'Reilly, Kilgarvan ; Canon Breen , Castlegregory; Kate Breen,
vice-chairman, Kerry Co.C; Domhnall O Dalaigh, Liostuathail; Padraig O
Ceallachain, Liostuathail; Judge Mc-Elligott, Limerick; P. Hogan and family,
Tralee; MacElligott (Pro Patria), Listowel; W. Mullins , Tralee; John and
Bessie Galvin, Listowel; O'Donnell, Brosnan, O'Connor, Duhig, Kennedy, Bohan
and O'Shea , Castlegregory; — Shanahan, Valentia; S Ruttle, Adare; Dan and
Kathleen Flavin, Listowel ; O'Riordon family , Caherciveen ; T. and Mrs.
Griffin, Caherciveen; E. and Nora Dore, Limerick; J. and Kathleen MacCarthy,
Dunboyne; Seamas Mac Guill, Dundalk; Mrs. M. O'Callaghan, Limerick.
Madge and Maura Kidney, Tralee; T.
O'Shea, solr. , Killarney; B. and M. Gleeson Killarney; M. P. Culivet,
Limerick; Frances, and Con Casey , Tralee; P. C. O'Mahoney and Kathleen,.
Killarney; Mr. and Mrs: Lynn, Tralee; Annie and Terence Liston, do.; Father
Behan, Killorglin; Stokes and Slattery, do.; J. MortelI, Tralee; Teresa
O'Brien, Tralee; Rita Lucey, Tralee.
Mossy and May Sheehan, Tralee;
Gearoid MacAuliffe, Newcastlewest; J D. O'Connell, solr., Tralee; W. Mangan, Caherciveen",
Rev. Joe Breen, C.C..; Kenmare; Mr and Mrs. Joe Harrington, Tralee. Hannah
O'Connor, Tralee; P. O'Sullivan, Caherciveen; R. J. Woulfe, Abbeyfeale; P .
Fahy, T.D.. P O'Sullivan, .solr., Limerick; Dr. and Mrs. Quinlan, Tralee;
Muinntir Ui Dhalaigh , Luimneach; Mr and Mrs. Maurice MacCarthy, Tralee; Mary
Anne O'Donnell, Annascaul.; Liam Healy, Ardnacrusha; Annie Leahy and family,
Listowel; M. Giffin, do.; Mrs. Barrett and family , Tralee; The Enright family,
Tralee; J. K. Fyfe, Rathkeale; Tom
Fitzgerald ,Tarbert; Mrs. Brady, Tralee ; Supple family, Ballyheigue; R . C.
and Miss Barton, Annamoe; Ciss and Katie Green, Fenit; Wm. and Kit O'Doherty ,
Tralee; Kirwan , Limerick ; P. Kenneally, Tralee; The Misses Stack,
Listowel; P. O'Brien, Tralee; P. Rosney, solr., Caherciveen.
Mrs Slattery, Tralee; P.
Murphy Brosna; Walsh, Ballyheigue; J. Mc-Carthy and family, Tralee; Lena
Kavanagh Shoreditch,London.
Mary C. Kearney, Limerick; Denis
Bunyan and family, Tralee; Bridie O'Connor, Tralee; Killarney Cumann Sinn Fein
, J. Sugrue, Listowel; Ashe, Devane , Dingle; Miss Noirin O'Reilly, Waterville,
T. Golden , Caherciveen; Fitzmaurice, Castleconnell; Jack Collins, Currane .
Messages of sympathy were received
at Sinn Fein H.Q. from:—M. Mac-Grath , Ballina; Peadar Murney, Newry; Mary
Brady, sec , Cavan S.F. Executive; Sean Glynn, Williamstown; Tipperary I.R.A.
Memorial Committee; J Babington, Carrick-on-Suir; Dan Hanley, Pres., New Ross
Sinn Fein; E. T. Keane "Kilkenny People."
James Connolly Workers' Club, 41
Parnell Sq. , Dublin; Cait Ui Ceallachain, Limerick; Miss Mary B, Dowling,
Drogheda; D. O'Connor, chairman, Portlaoighise F.F. Cumann.
SYMPATHETIC TRIBUTES. The National
Executive of Fianna Fail, on the motion of Mr. de Valera, seconded by Mrs .
Pearse , recorded their deep regret at the death of Mr. Austin Stack, tendered
sincere sympathy to Mrs . Stack, and adjourned as a, mark of respect.
Resolutions of sympathy with relatives of Mr. Stack were also passed by
Limerick City Cumann na nGaedheal and Wexford Corporation. Donnchadh O'Briain,
Secretary, Gaelic League , has arranged for a Mass to be celebrated in St.
Joseph's, Berkeley St., on Sunday next at 8 a.m. Thursday. Impressive scenes
were witnessed in Dublin yesterday when the remains of the dead patriot, Austin
Stack, were laid to rest in Glasnevin Cemetery. The body lay in St. Joseph's
Church, Berkeley Road, overnight, and at 10 a.m. Requiem Mass for the eternal
repose of his soul was celebrated at 10 a.m. The Rev. J. O'Callaghan, C.C, was
celebrant of the Mass, assisted by Very Rev. John Canon Breen, S.T.L., P.P.,
Castlegregory; and Rev. R. F. O'Reilly, CC., Tuosist , County Kerry. A large
congregation was present in the Church, including representatives, of the
Standing Committee of Sinn Fein, Fianna Fail Deputies and Kerry sympathisers
who had made the long journey to Dublin to be present at the obsequies.
Mrs. A. Stack (widow), Mr. Nicholas
Stack ((brother), Mrs. Nicholas Stack and Mrs. Louis Cassidy (sisters-in-law),
Liam and Austin (nephews), Nanette and Marie Stack (nieces) and other near
relatives and friends occupied seats in front of the Altar.
<<<<<<<
Fundraiser for CF at The Well on April 15 2016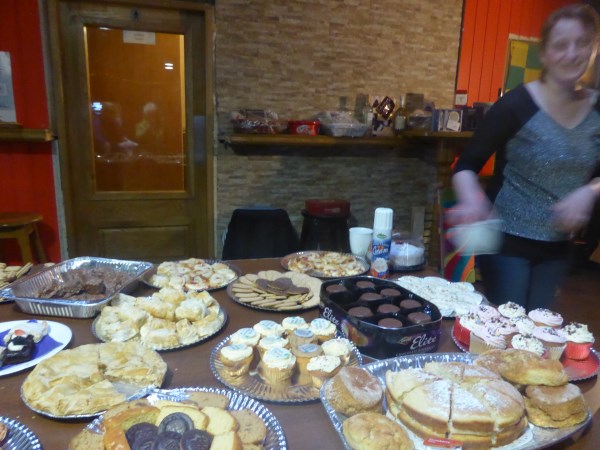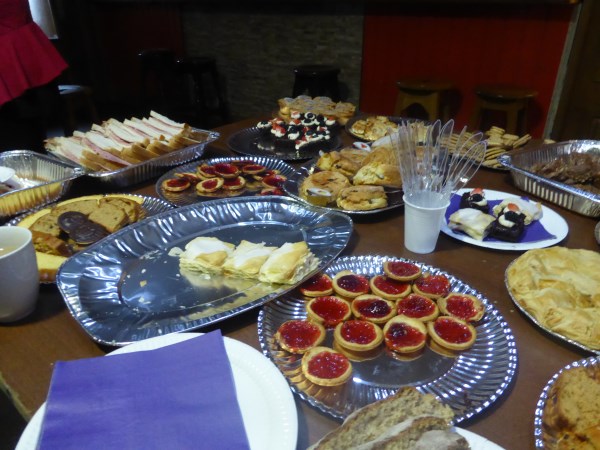 Well done to the hardworking volunteers