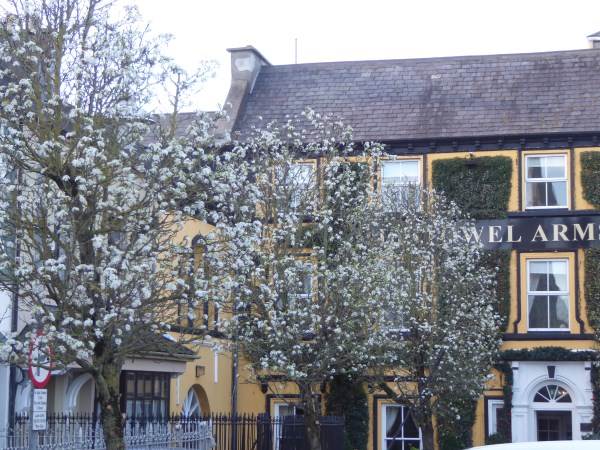 Won't be long now.
<<<<<<<<<<<
Child of Prague Statue
This icon has generated more than its fair share of interest since I shared it on Listowel Connection.
I have no idea why we have a little statue in St. Mary's. It's on a high shelf so I'd say the head will survive.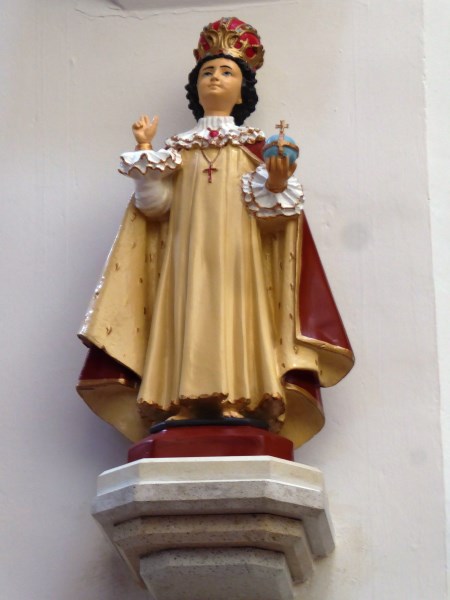 Infant of Prague story ……Wikipedia
The exact origin of the Infant Jesus statue is not known, but historical sources point to a 19‑inch (48 cm) sculpture of the Holy Child with a bird in his right hand currently located in the Cistercian monastery of Santa María de la Valbonna in Asturias, Spain, which was carved around the year 1340. Many other Infant Jesus sculptures were also carved by famous masters throughout Europe in the Middle Ages. Often found in early medieval work, the significance of the bird symbolizes either a soul or the Holy Spirit. The sculptures of the Holy Child were dressed in imperial regalia reflecting the aristocratic fashion of that period.[7]
One legend says that a monk in a desolated monastery somewhere between Córdoba and Seville had a vision of a little boy, telling him to pray. The monk had spent several hours praying and then he made a figure of the child.[8]
The House of Habsburg began ruling the Kingdom of Bohemia in 1526; the kingdom developed close ties with Spain. The statue first appeared in 1556, when María Maximiliana Manriquez de Lara y Mendoza brought the image to Bohemia upon her marriage to Czech nobleman Vratislav of Pernstyn.[9] An old legend in the Lobkowicz family reports that María's mother, Doña Isabella, had been given the statue by Teresa of Ávila herself.[10] María received the family heirloom as a wedding present. In 1587, she gave it to her daughter, Polyxena of Lobkowicz as a wedding present.
In 1628, Princess Polyxena von Lobkowicz donated the statue to the impoverished Discalced Carmelite friars (White Friars).[9] Upon presenting it, the Princess Polyxena is reported to have said: "Venerable Fathers, I bring you my dearest possession. Honour this image and you shall never be poor."[11]
The statue was placed in the oratory of the monastery of Our Lady of Victory, Prague, where special devotions to Jesus were offered before it twice a day. The Carmelite novices professed their vow of poverty in the presence of the Divine Infant.[8] Upon hearing of the Carmelites' devotions and needs, the Emperor Ferdinand II of the House of Habsburg sent along 2,000 florins and a monthly stipend for their support…..
during an apostolic visit to the Czech Republic in September 2009, visited the Church of Our Lady Victorious in Prague and donated a golden crown with eight shells with numerous pearls and garnets, which is at present worn by the statue.[31] Since that year, the 1924 "cushion crown" of the image is now permanently kept in the Carmelite museum on display behind the church while the garnet crown donated by Benedict is the one that is permanently worn by the statue.
Several costly embroidered vestments have been donated by benefactors. Among those donated are those from Empress Maria Theresa and Emperor Ferdinand I of Austria, which are preserved to this day. A notable garment in the collection is an ermine cloak placed on the statue the first Sunday after Easter, which is the anniversary day of the coronation of the statue by the Archbishop of Prague Ernst Adalbert von Harrach on 4 April 1655.[11] In 1713 the clothing began to be changed according to the liturgical norms. Other valuable garments worn by the image are vestments studded with various gemstones, embroidered with gold, and silk fabrics as well as handmade lace customised purposely for the statue.
Green – Ordinary Time
Purple – Lent, Candlemas and Advent
Red or gold – Christmas and Easter
Royal blue – Immaculate Conception / Feast of Assumption.
The image ordinarily follows the liturgical colors[16] used by Catholic priests, as a representation of its priesthood.
<<<<<<<<<<
Display in Eason Listowel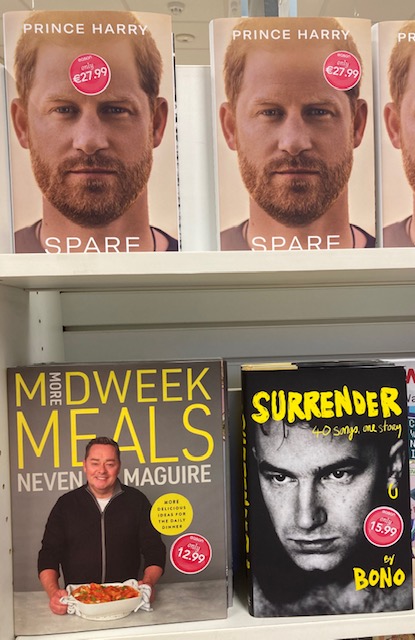 Three men and their books…give me Neven any day!
<<<<<<<<<<<<
Clinton in Ballybunion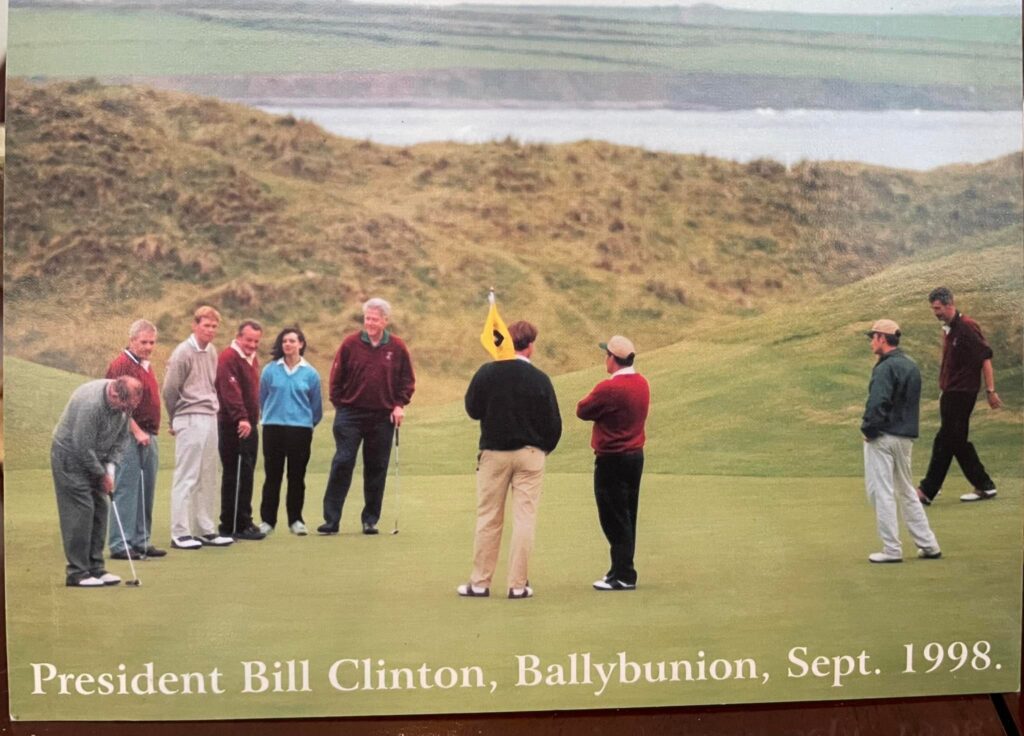 <<<<<<<<<<<
An Cailín Ciúin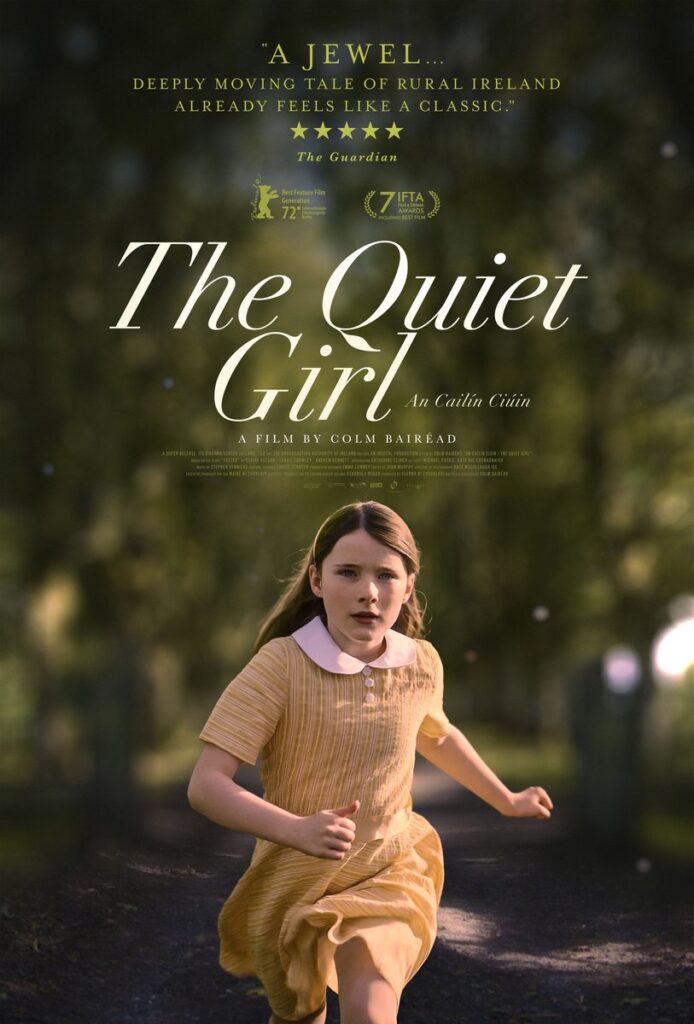 Having missed it earlier, I finally got to see the movie of Claire Keegan's Foster. It was shown in St. John's in a new co laboration with the Film Club while we are without a cinema proper in Listowel.
"What happened?" was the question asked of Cáit at the end of the film.
What happened was so deep and layered that it took me the guts of a week to process it all.
An Cailín Ciúin is not an Irish language film or even an English language one. The story is told in universal symbols that transcend language.
Water, water from a well in particular, is a symbol of renewal, of purity and of cleansing. Then there is bathing and a constant sweeping and washing in the cow house.
Food is important, fresh food and milk …the milk of human kindness.
Clothes are very much a symbol of who we are, a statement. It did not escape me that Eibhlín wore a trousers, unusual in a woman of that era.
This is story about love, about secrets, about death and grieving, about community, about family and particularly about parenting. It is about running away and running towards. it is ultimately a story about the redemptive power of love.
I loved the film. It should win an Oscar.
<<<<<<<<<<<
Oh Sweet Irony!
I photographed this letter in one of last weekend's newspapers.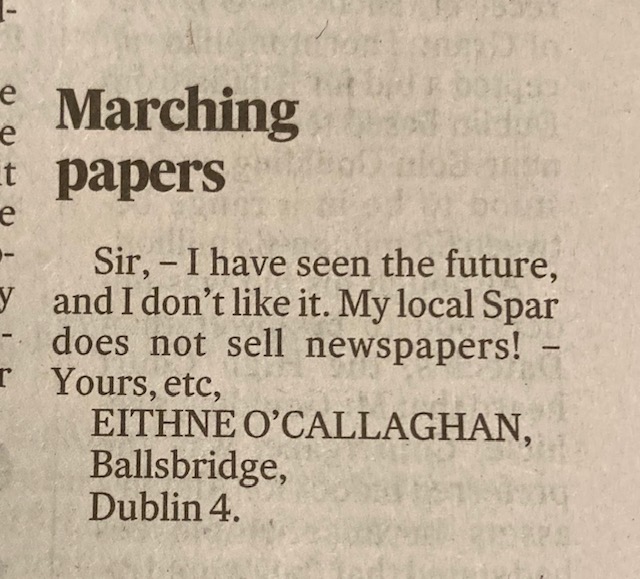 <<<<<<<<<<<<<<