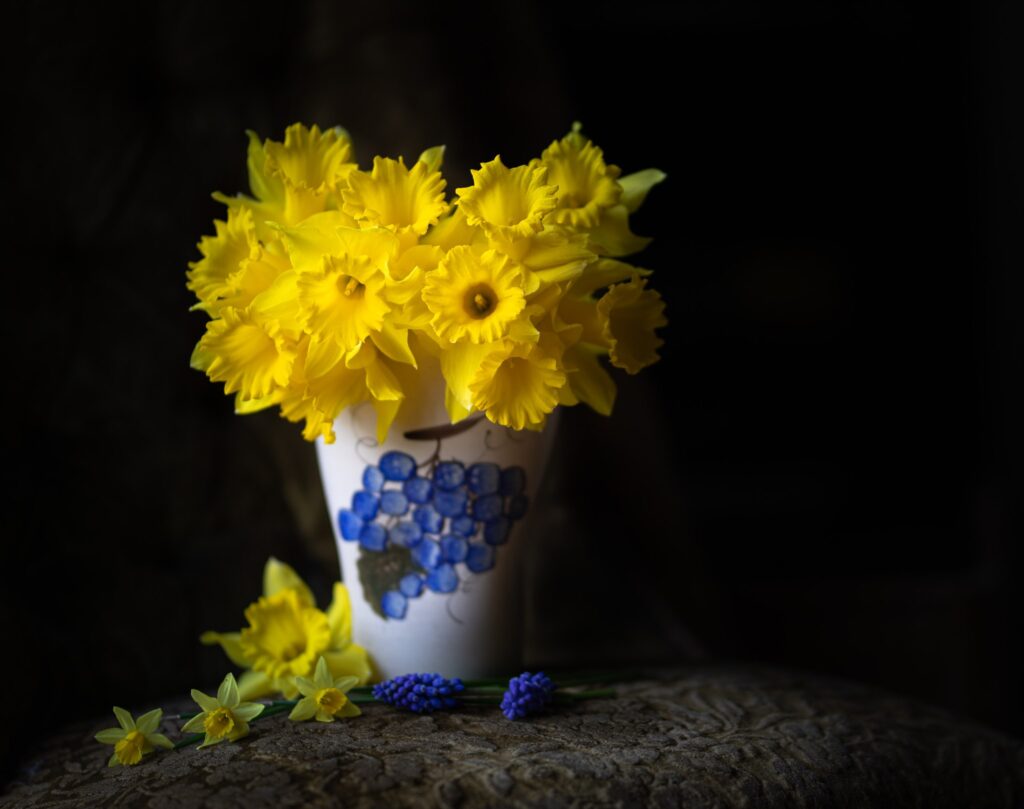 <<<<<<<<<<<<
Aprons, a Short History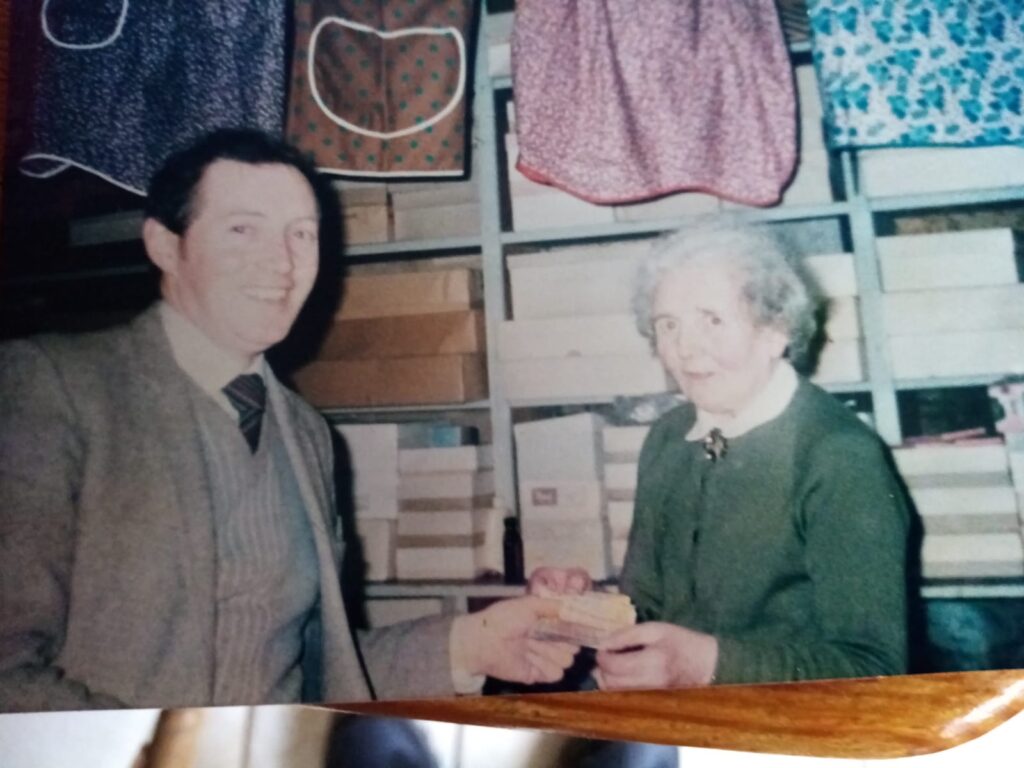 I am revisiting Cyril Kelly's charming picture of his late mother, May Naylor in her Church Street shop.
The display in the background is a line of aprons of the type many women wore in the 1950s and 60s.
Aprons are now a thing of the past. Here, from the internet, I'm posting a history of aprons.
"I don't think most children today know what an apron is. The principle use of Mom's or Grandma's apron was to protect the dress underneath because she only had a few. It was also because it was easier to wash aprons than dresses and aprons used less material.
Along with that, it served as a potholder for removing hot pans from the oven. It was wonderful for drying children's tears, and on occasion was even used for cleaning out dirty ears. From the henhouse, the apron was used for carrying eggs, fussy chicks, and sometimes half-hatched eggs to be finished in the range.
When visitors came, those aprons were ideal hiding places for shy kids. And when the weather was cold, she wrapped it around her arms. Those big old aprons wiped many a perspiring brow, bent over the hot stove. Turf and kindling wood were brought into the kitchen in that apron. From the garden, it carried all sorts of vegetables. After the peas had been shelled, it carried out the hulls. In autumn, the apron was used to bring in apples. When unexpected visitors drove up the road, it was surprising how much furniture that old apron could dust in a matter of seconds.
It will be a long time before someone invents something that will replace that 'old-time apron' that served so many purposes.
REMEMBER: Mom's and Grandma's used to set hot baked apple pies on the window sill to cool. Her granddaughters set theirs on the window sill to thaw. They would go crazy now trying to figure out how many germs were on that apron.
I don't think I ever caught anything from an apron – but love."
(Source Facebook page…A Slice of Life)
<<<<<<<<<<<
Ship Ahoy!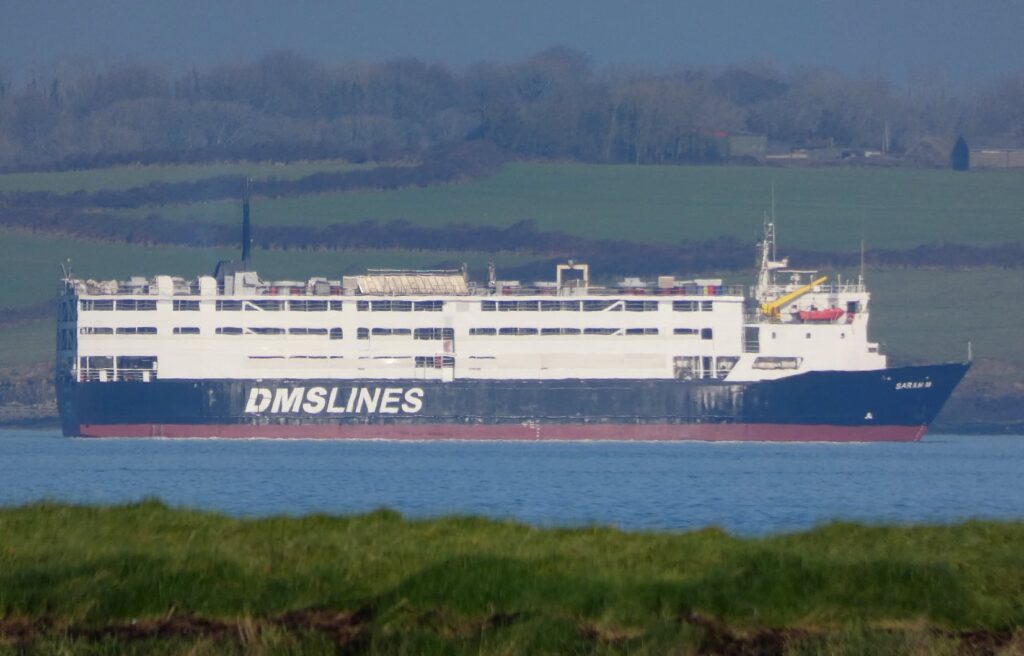 Photo and caption by Ita Hannon
Sarah M anchored off Scattery. A livestock carrier from Turkey.
<<<<<<<<<<<
Whiskey Jars
Last week I included some of Dan Hartnett's collection of whiskey jars. Then I'm strolling on William Street and there in Behan's window is another display of these fascinating containers. They must have been a nightmare to wash out . The opening is very small. All in all they seem to me to be badly designed with no spout for pouring or handles for lifting.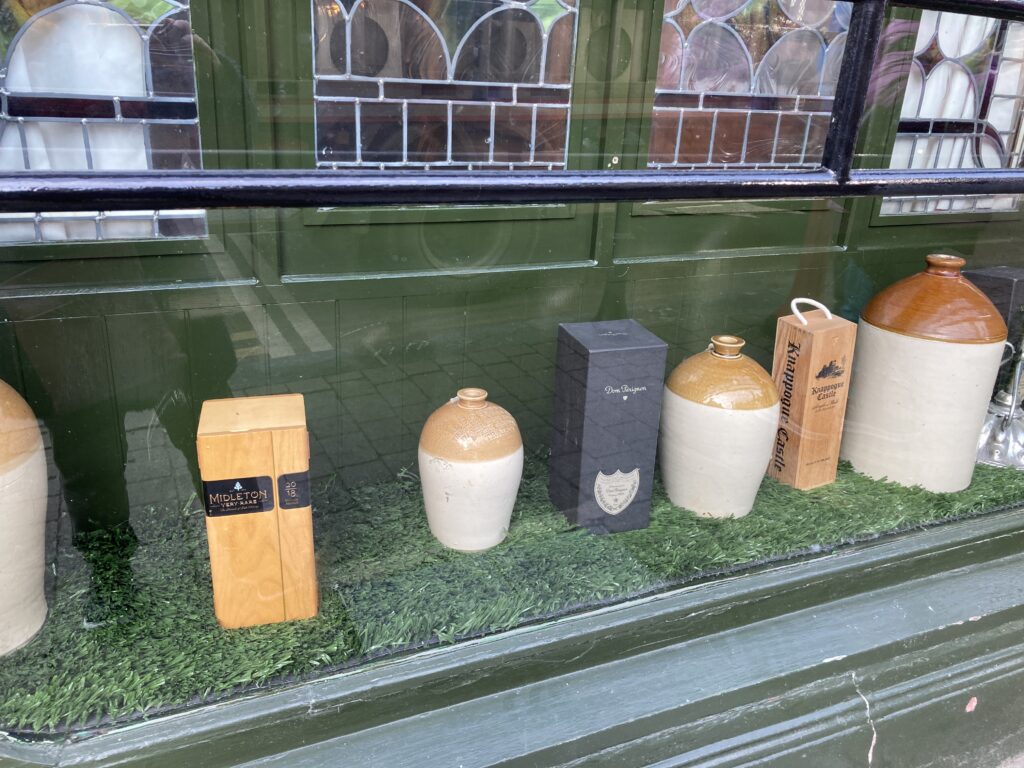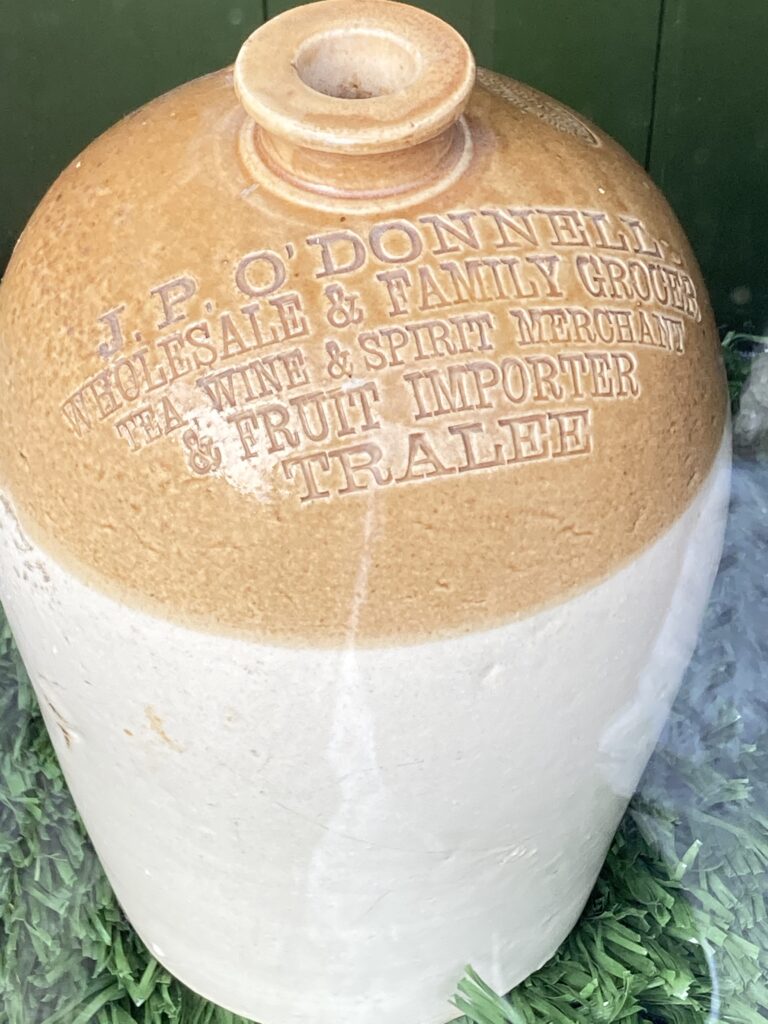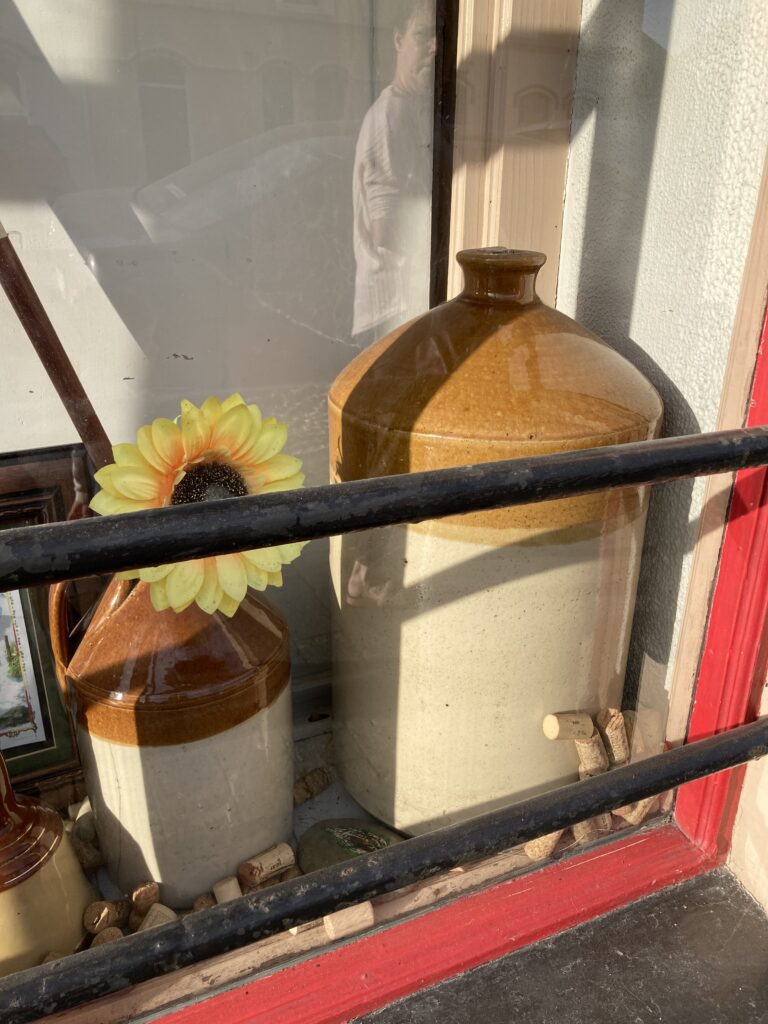 <<<<<<<<<
Listowel Youth Club
Dave O'Sullivan delved into the papers and came up with a few stories about Listowel's Youth Club.
<<<<<<<<<<<
Thanks
Patricia Jones and her husband and family historian, David, are very grateful to everyone who took an interest in their search for information on Patricia's Listowel Connection. David is busy exploring the lines suggested by you, Kay and Eily. He is now back on track after a little wander into Moran rather than Horan territory.
The joys of genealogy!
<<<<<<<<<<<<<