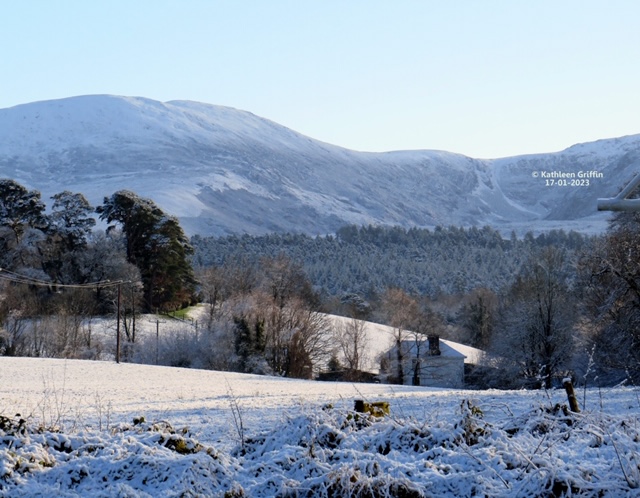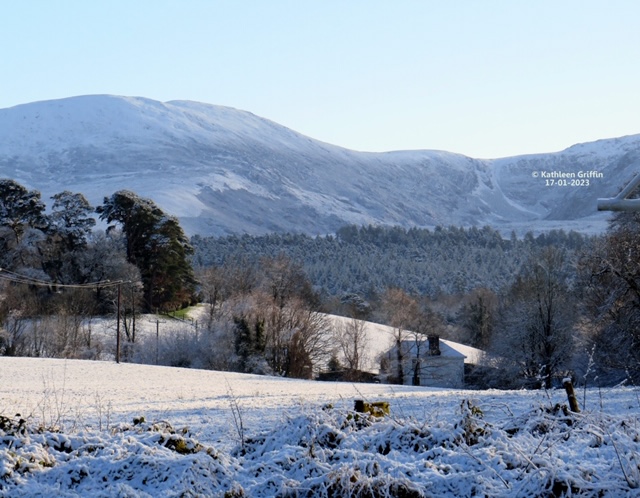 <<<<<<<<<<<<<
That 1947 All Ireland Final
Yesterday I shared with you Kathleen Reynolds' great uncle's first hand account of a spectator at that match.
Here is an extract from Kathy's email;
The game was attended by 34,500 including my father's uncle, Mike Fitzmaurice, who had left Moybella South, Lisselton around 1910 for Waterbury, Connecticut.
Notes (Irish Independent & Wikipedia)
The Artane Boys' Band also travelled to New York to play before the match.
Michael O'Hehir broadcast a radio commentary from New York. O'Hehir noticed that broadcasting delays would bring the radio link down five minutes before the final had ended. He later recalled his plea:'"If there's anybody along the way there listening in, just give us five minutes more, and I kept begging for five minutes more" The link stayed open.
Kerry — D O'Keeffe; D Lyne (capt), J Keohane, P Brosnan; J Lyne, W Casey, E Walsh; E Dowling, E O'Connor; E O'Sullivan, D Kavanagh, B Garvey; F O'Keeffe, T O'Connor, O Kennedy.
Subs: W O'Donnell for Dowling, M Finucane for Walsh, T Brosnan for O'Donnell, G Teehan for Kennedy
Score 2-11 to 2-7
……………………………………
There was a North Kerry man on the team.
The last surviving member of that Kerry team, Ballydonoghue man , Mick Finucane passed away in 2016;
Here is a fine tribute to Mick by his friend, Brendan Hegarty, published in 2016 at the time of his death.
Brendan Hegarty 2016
Tribute to Mick Finucane
To not have engaged with Mick is to not have lived and anyone he touched is the better for it. Non-drinker and non-smoker but socialiser extraordinaire. I was having a chat of an evening with him and one of the nuggets I picked up was that from 16 years of age, his weight never budged from 12 stone. Now I don't know a lot about boxing but he could pack some punch and they say he was also gifted of a sturdy lowish centre of gravity, canvassing a good few laddos in his day, though never raised a hand outside the ring nor never had the bad word.
A few of his comrades in London would have recalled in later years how he brightened up many a dark day in hard times and his role as a public relations man was no accident as he was the type that nobody could refuse. He even had Tony O'Reilly arranging taxis for him from the airport on arrival. I'd often say that North Kerry were talkers and South Kerry more grafters, so John Murphy chose wisely with Mick as his front man and boy could he tell yarns of those rather interesting times.
I also recall a fella disputing an umpiring decision Mick once made, well about 40 years ago to be more precise, he told Mick "he'd hit him only he was an old man" and to which those in the know might have commented that it was a wise decision, a lucky escape if there was ever one for the would be assailant and he didn't even have to run away. As a friend of his my own father, Jackie got fierce mileage out of this one as Mick used affectionately refer to him as "Auld Hegarty". I could tell hundreds of more good wans from Lisselton Cross and Urlee. The one thing that always puzzles me is how the Barra Road didn't throw up more silverware, even in later years there was so many football houses, individual families where you have a handful of top class footballers, maybe soccer was part of it but I recall evenings that you'd have maybe 30 or 40 lads chasing a football. Finucane's yard was littered with balls and you'd see Mick and the boys taking a kick in between chores, soloing in from milking the cows or a carefully gauged point between a telegraph pole and a shed, between feeding calves.
The stories he would tell himself would be the basis of many a subsequent literary work and I myself penned "What they think of Mick Finucane in Donegal'. It was after that chat with him that I went to the local and my smile had em asking what it was all about. When I told em I had just been chatting to the oldest holder of an AI medal they started on their mobiles, checking out the story, etc, doubting Thomses! Anyway we storied 'till the not so small hours after that as a few more congregated and we regaled his life and times.
By the way the '47 final was played in The Polo Grounds because Croker was a building site. He would say after that an admirer commented that "she couldn't understand a word he said but she loved the sound of his voice" so everything about him inspired of scope, more of scope that contradiction.
So all we can say is thanks for the music Mick, RIP.
<<<<<<<<<<<<<
People I met in Town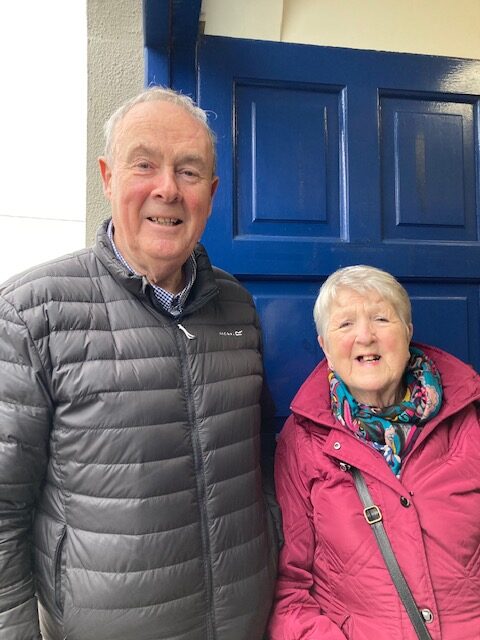 I met Paud Pelican and Mary Hanlon at Listowel Credit Union
<<<<<<<<<
A School in Mourning
I visited Scoil Réalta na Maidine to photograph their beautiful piece of Paddy Fitzgibbon's artwork.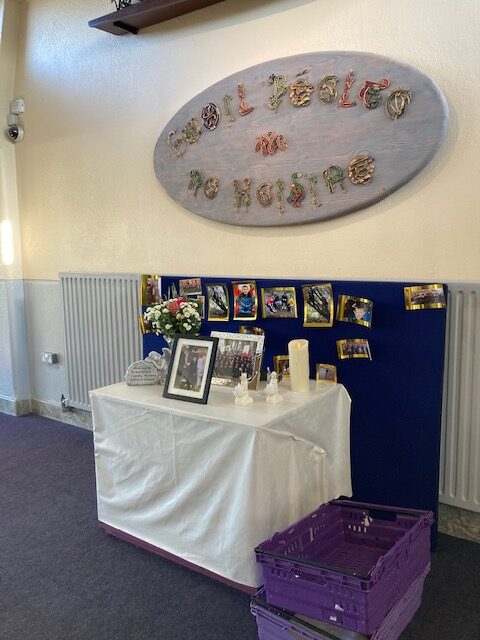 I was jolted back to harsh reality by the lovely shrine underneath.
On the week that Paddy Fitzgibbon passed away, the boy's school lost someone dear, a beloved member of the school community, pupil,
Pádraig Beasley.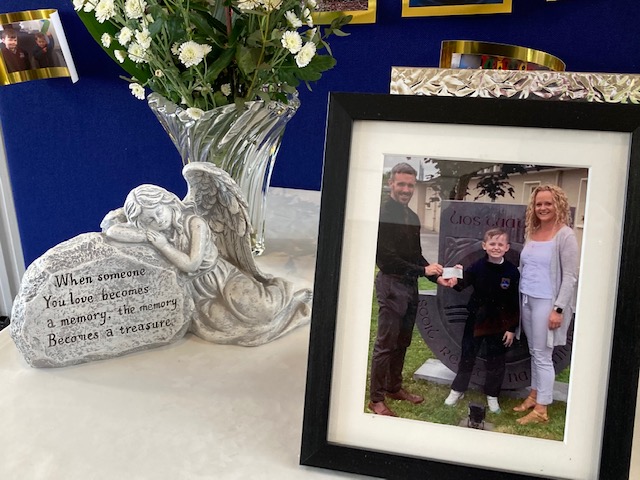 Padraig's family have strong links with the school. His mother, Maeve is a teacher there and his grandfather, Cathal is a past principal.
Padraig passed away on Jan 6 2023. Go dtuga Dia suaimhneas síoraí dó.
<<<<<<<<<<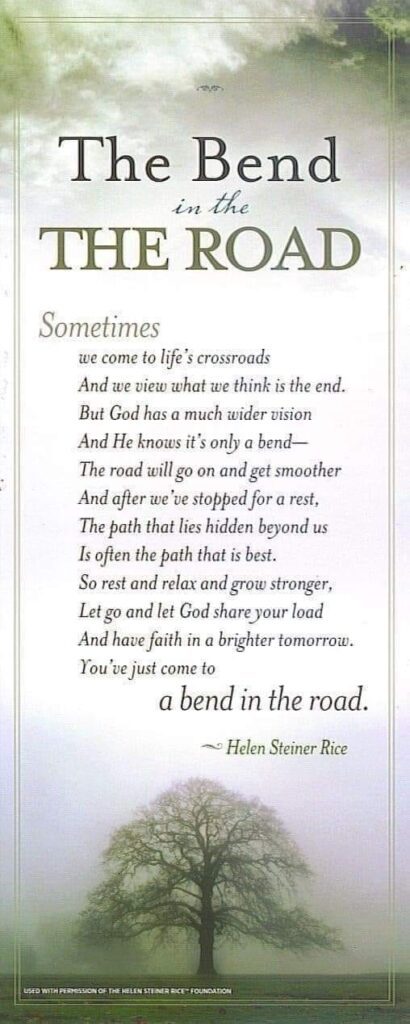 <<<<<<<<<<