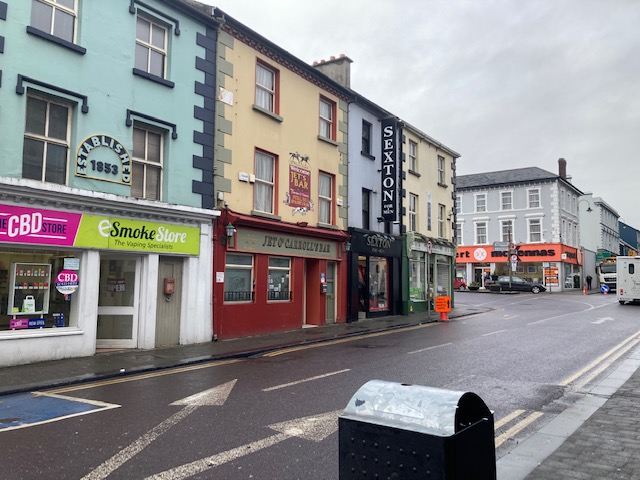 <<<<<<<<
Celtic Art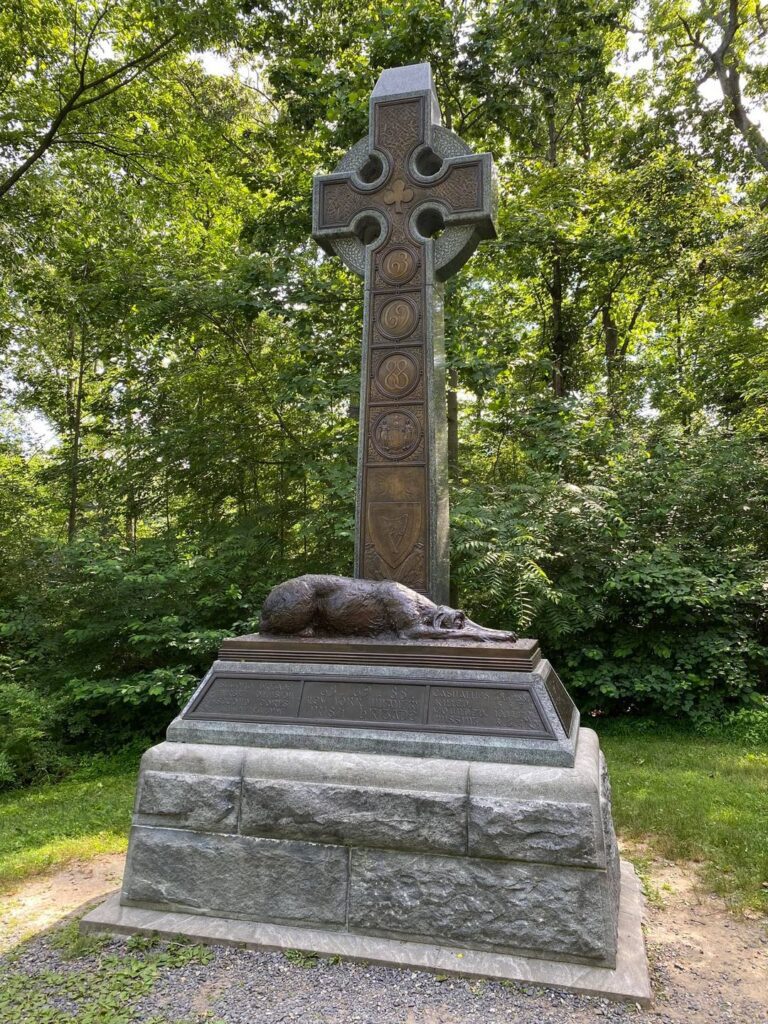 GETTYSBURG — Irish Brigade Monument
Located inside the Rose Woods, the monument to the Irish Brigade was dedicated in 1888. Fighting in and around The Wheatfield on July 2, 1863, this famed fighting unit under the command of Colonel Patrick Kelly consisted of the 63rd, 69th, and 88th New York Infantry Regiments, along with the 28th Massachusetts and 116th Pennsylvania. The monument features a Celtic cross and a life sized Irish wolfhound.
(Source; Civil Warscapes online)
<<<<<
Connections
What connects, Trinity College, UCD, Eamon de Valera, a Forest in Israel, Jewish community in Ireland, The Vatican, Liverpool Cathedral, John F. Kennedy, Bryan MacMahon, Listowel Race Company, Listowel Emmetts, The Brazen Head and No. 24 The Square, Listowel?
All of these are part of the story of Michael O'Connor, Illuminator and Celtic artist.
The latest name to be added to this list is Blindboy Boatclub.
The story comes to you courtesy of the research work of Dave O'Sullivan and Stephen Rynne.
We all know here of the great research done for us over the years by Dave O'Sullivan. He is truly a brilliant researcher. He discovered in his deep dive through the old newspapers that one of the unusual commissions Michael O'Connor got was to design a pattern for a carpet for the VIP lounge at Shannon Airport. This was in 1955.
The carpet was a luxurious Irish made woollen work of art and graced the lounge until the 1980s.
It was a condition of travel from the US to Europe that a plane had to stop off in Shannon. Over the years many a plane stopped in Shannon and many is the VIP passenger who disembarked and visited the lounge. Popes, rockstars, world rulers all stood on the carpet designed by Michael O'Connor of Listowel.
I conveyed Dave's find to Stephen and he remembered a Blindboy podcast. In one of his usual meandering monologues Blindboy recounts this tale. His father worked in Shannon Airport. In the 1980s the VIP lounge was being refurbished and the gorgeous carpet was being thrown in a skip. Blindboy's dad seized the opportunity to bag a piece of history. He asked for and got the carpet, brought it home and cut it to fit his family living room. This delighted Blindboy who loved to tell anyone who would listen that the Pope or Bob Dylan or whoever had been in his living room.
The carpet eventually wore out. The last piece was placed in the boot of Blindboy's mother's car as a mat for her Jack Russell.
Truth stranger than fiction.
<<<<<<<<<
Wooden Art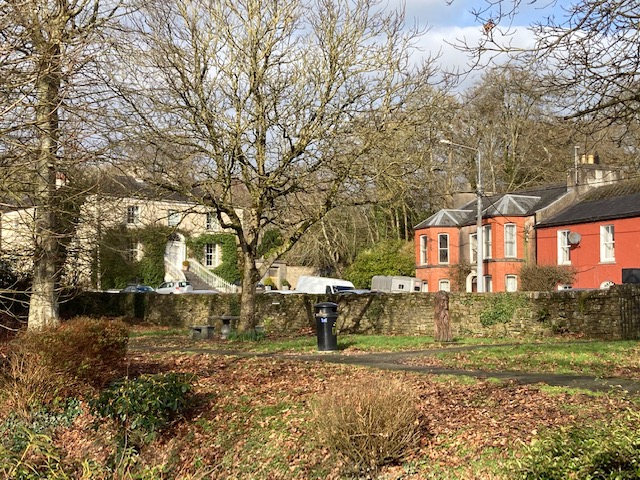 There is a lovely little riverside park in O'Brien Street Kanturk. In it there are a few lovely wooden sculptures by Fear na Coille.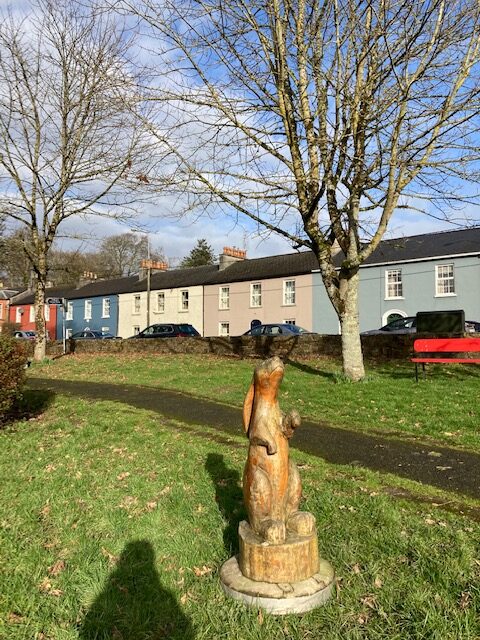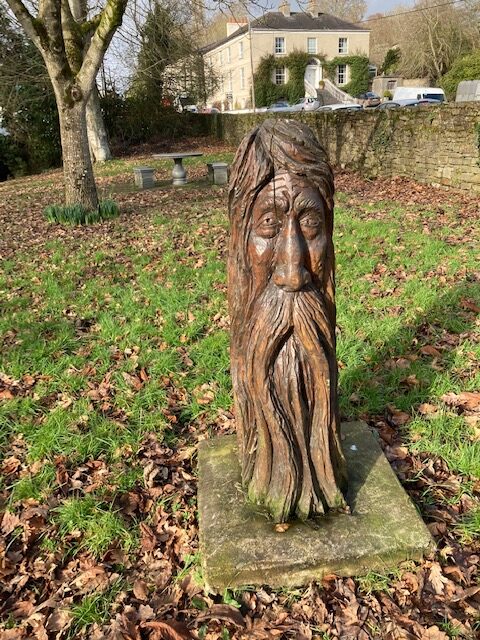 <<<<<<<<<
In Kerry Writers' Museum Now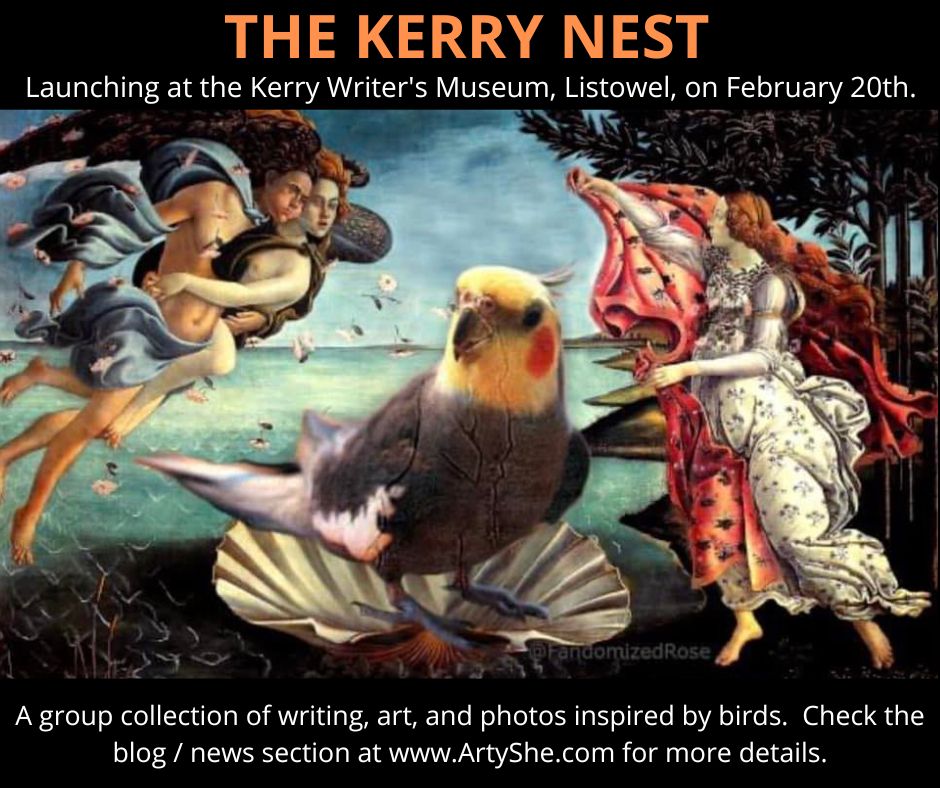 An exhibition entitled 'The Kerry Nest' opened in Kerry Writers Museum this Monday February 20th. Curated by local writer and artist Kathryn Crowley, the exhibition is inspired by ecology and features poetry, prose, photography and art. All are welcome to attend and the exhibition will run for two weeks.
(N.B. be sure to ring the museum before you visit as the exhibition is only available to view when the room it is in is not booked by a group. I was disappointed yesterday)
<<<<<<<<<<<
More Changes to Listowel Traffic flow from Tomorrow
NOTICE from Kerry County Council
Due to works at Clieveragh Junction in Listowel, William Street is currently reduced to one lane and will only allow inbound traffic from Wednesday 22nd February 2023 until 6th March 2023. Diversions in place. Kerry County Council appreciates your patience.
<<<<<<<<<<<<
Listowel in The National Library
Jim Ryan sent us this link to the National Library website. Lots of Listowel stuff here.
<<<<<<<<<<<<<