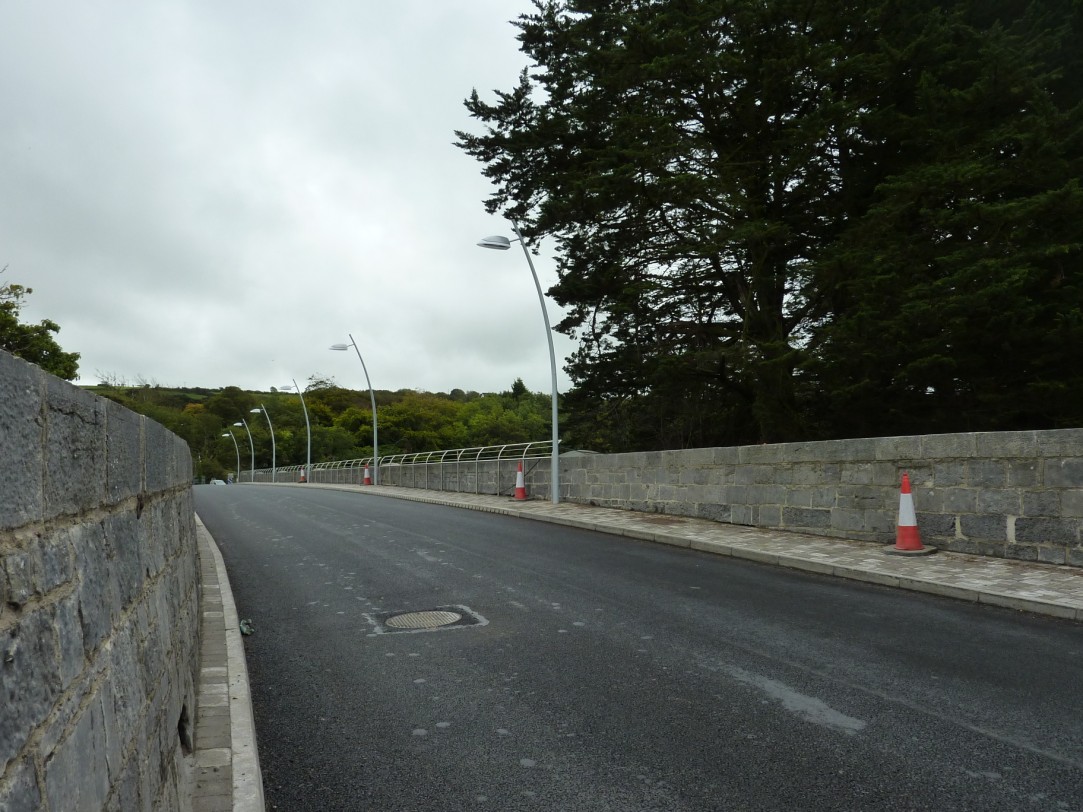 This is the Big Bridge in Listowel on the day the refurbrishment was completed. Unfortunately since then it is in the dark. Our lovely new lights do not shed any light. We are all hoping for a swift resolution to the problem.
Now back to the metaphorically dark days in Lyre in 1881 as I continue Kay O'Leary's account of more poor unfortunate tenants;
On Monday 16th. September 1881 Lucy Anne Thompson evicted Michael Moloney of Carrigcannon and his eight children from their home. At one time Michael Moloney's farm had been a swamp situated in the centre of a long bog about two miles from the road. He had reclaimed sixty acres of it and made it into a comfortable farm, drawing on his back limestone to improve it. The government valuation on the farm was £8 5s. The rent was £23 3s and Ms. Thompson had asked him for £16 more. When he did not submit to this unjust demand, he and his children were thrown out of their home. Neighbours gave Michael Moloney and his children shelter. Michael Moloney was a widower.
Michael Moloney was unprotected by the Land Act, as he was only a caretaker since April1880. 

He had not succeeded in getting his crops off the land before been evicted but the local Land League took up his case. They appointed a day on which people of the surrounding district would get the opportunity to demonstrate their adherence to the principles of the League, by coming out to take Moloney's crops from the farm.
From 10am two thousand men and women came bringing with them reaping hooks and heavy farm carts. After four hours work all the crops on the farm including 3 acres of oats, 1 acre of rye, 2 acres of potatoes, 2 acres of rushes and 20 ton of hay had been taken from the evicted farm and stored at his brother's. Refreshments consisting of six half barrels of Guinness Stout with plenty bread and butter were provided. In the morning when the people began to assemble at Moloney's farm the bailiff who had been staying in the house guarded by six policemen left for Listowel with four R.I.C. officers.


John Ahern and Mrs. Michael Ahern held a joint farm and Pat Ahern and Michael Ahern held a lease to a joint farm since March 1859. The four families were evicted. Under Lady Locke they paid a yearly rent of £13 10s the Government Valuation was £16. Under John Hurly the rent was increased to £38 and Ms. Thompson had demanded a further £10.
Having been evicted the families were allowed in as caretakers. Mary Ahern and her eight children were receiving 15s a week from Mr. O'Sullivan, Relieving Officer. A report was made to the Listowel Board of Guardians, by a neighbour, that she had cattle grazing. This was found to be untrue and her weekly relief was continued.