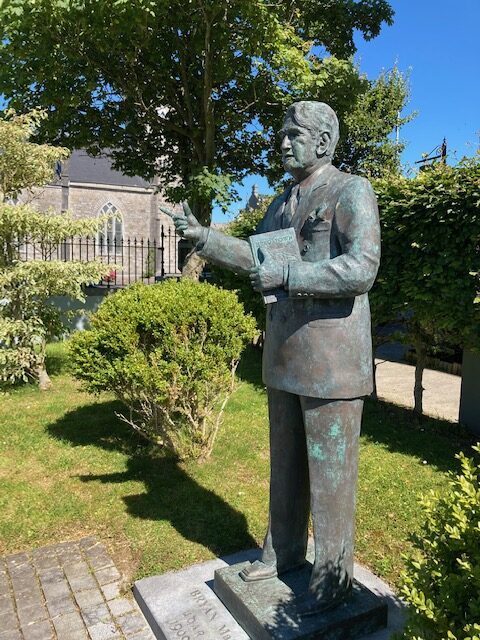 <<<<<<<<<<<<<
Master at Work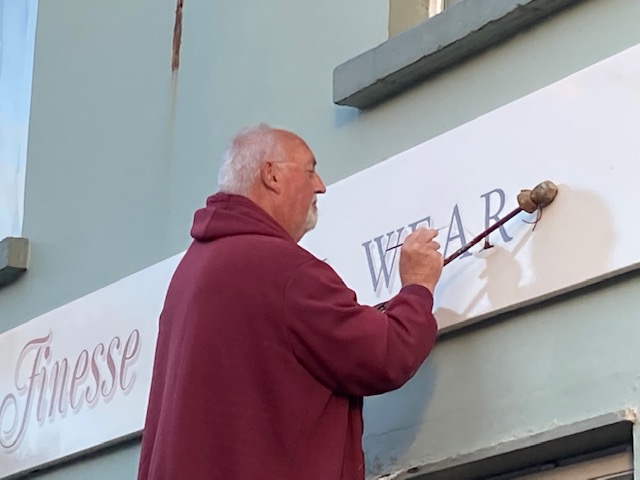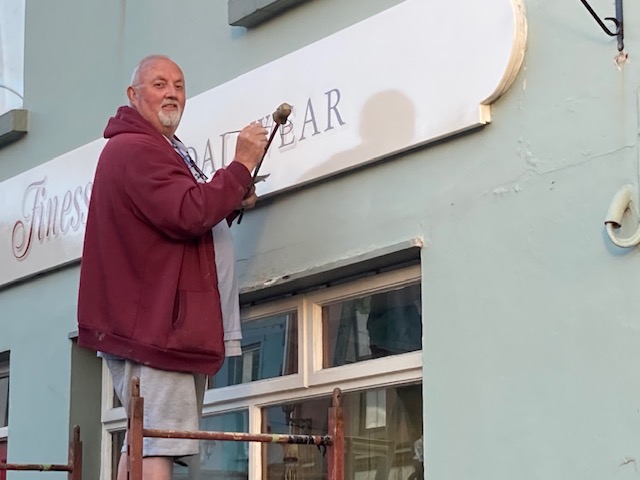 Martin Chute is, sign by sign, leaving his mark on Listowel. His work is an invaluable asset to our heritage town. I snapped him painting Finesse Bridalwear sign. Note he is writing in the traditional way with maul stick and brush.
<<<<<<<<<
Sam Maguire in Town
There was a huge crowd in town to see the cup. I was amused to see the event described as a homecoming.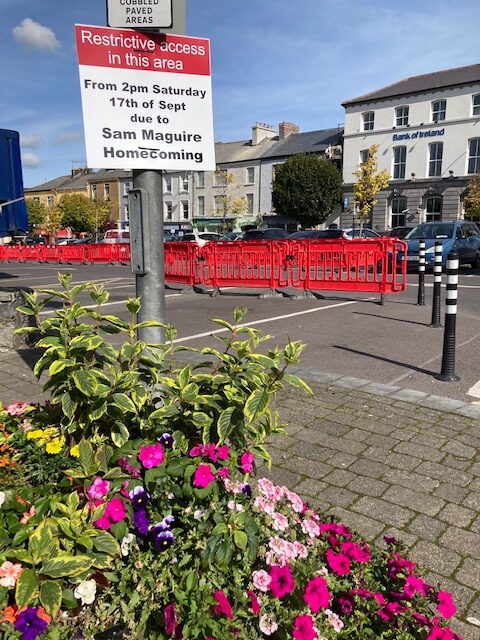 I wasn't in The Square. I took the following photos on Upper Church Street.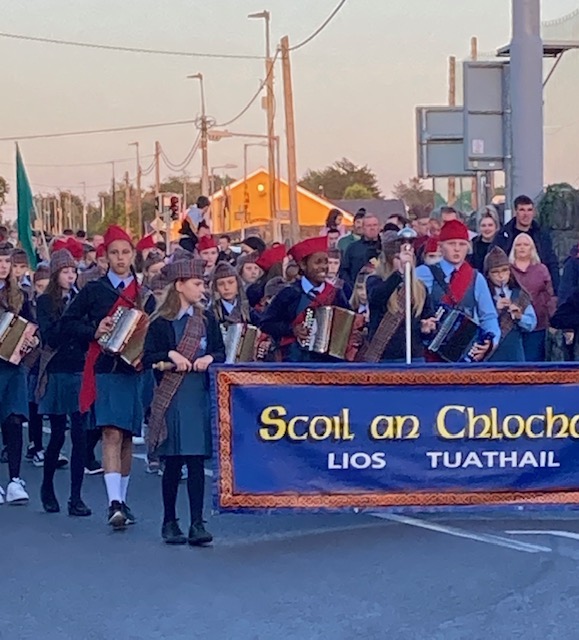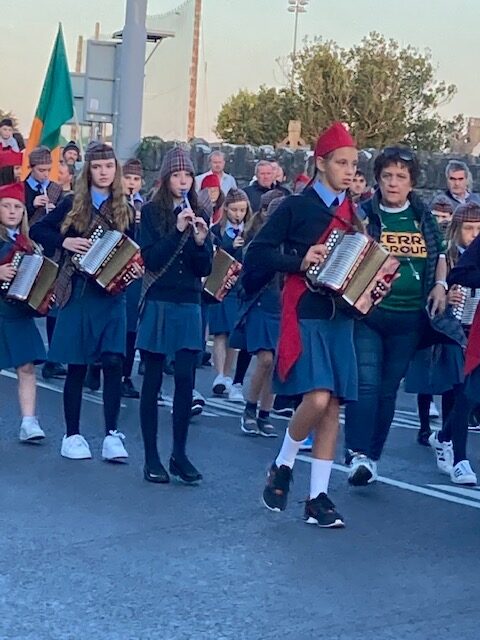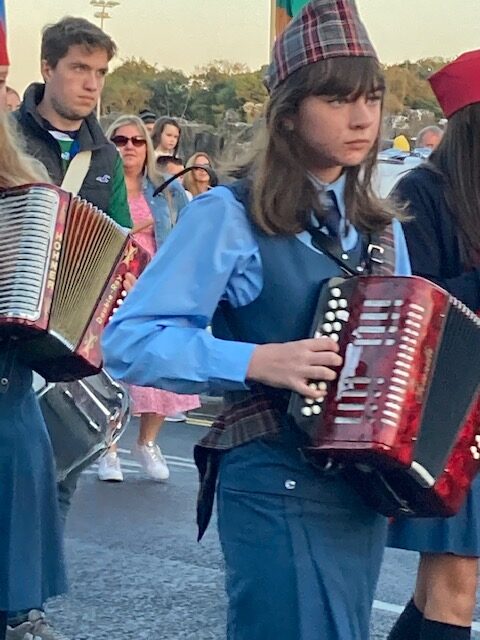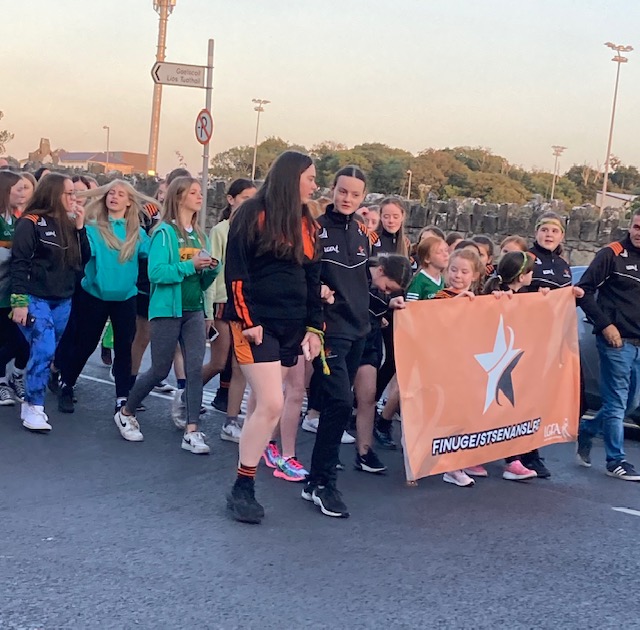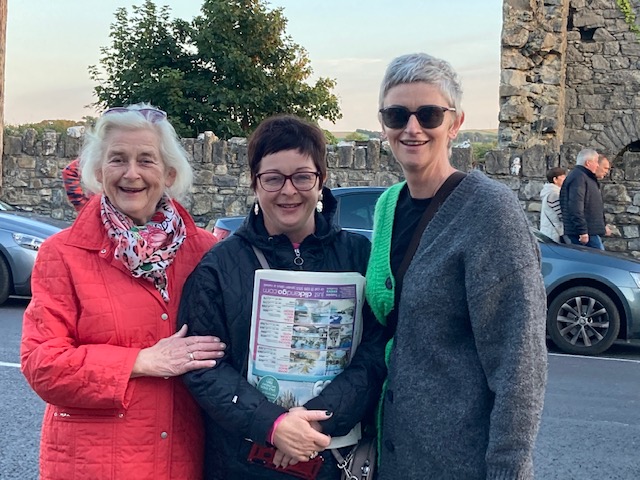 <<<<<<<<
Tom Coffey R.I.P. Playwright and Teacher
A lady was one day Googling her ancestors and she came upon the above headline in Listowel Connection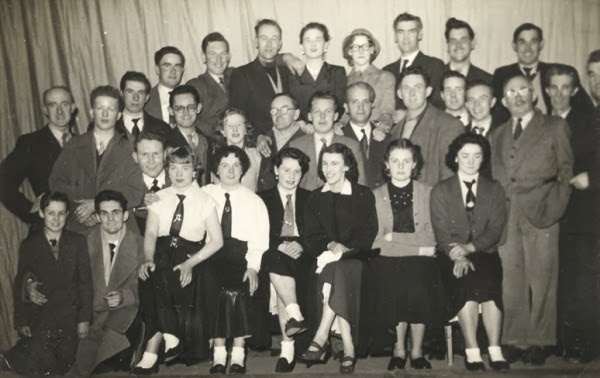 Tom, pictured at the back right between Mick Relihan and Pat Mc Elligott is remembered. I asked Marie Shaw if she remembered him and this is what she wrote:
"I can't claim to know him personally Mary, I didn't even remember his first name until you mentioned it, but I did take a commercial course with him at the Tech. What I remember vividly is his "Movie Star" good looks. There wasn't a teenager in the town of Listowel at the time who wasn't madly in love with him. Makes me smile just thinking of him. He was probably teaching at the Tech for two years. I left Ireland in 1958 and I would guess that he was in Listowel in 1956 and 1957."

(I hope his family Google him and find out this forgotten corner of Tom's life)
The lady who was doing the Googling was Tom's granddaughter and she wrote
Hi there,
I found your posts about Tom Coffey—he was my grandfather. (I'm his son, Brian's daughter.) I found the photo and sent it to my dad and grandmother. Thank you so much for posting about him; we all miss him very much, and it's lovely to read about the other lives he touched. (I saw you hoped his family found the article, so I wanted to mention that, yes, we did.)
Thanks again,
Katie Coffey
The backstory: Junior Griffin gave me the photo and he told me that Mr. Coffey taught him Irish in the Tech. now Coláiste na Ríochta. Here is what Junior wrote in 2014
Having a look at this week's Kerryman I see an obituary on page 20 for the late Tom Coffey, very sorry to read about his recent death. You will see him in the back row of your recent photo.
They write about his time In Kerry but no mention of the time he spent here in Listowel. Now I started work in McKenna's in Sept. 1953 and as time went by struck up a friendship with 2 work colleagues, Willie Barrett and Pat Somers. Indeed, Pat who lived in Billerough, just before the Six Crosses, used to call for me in the morning and give me a bar up on his bicycle, a fine strong lad he was.
It must have been the following year that we decided to do an Irish evening class in the old tech and our teacher was none other than Tom Coffey. Irish dancing was another one of his subjects and those ladies in the front of your photo were also involved.
The Kerryman obituary mentions his first play called Luiochan, Irish for Ambush, and it seems it won an Oireachtas award.
In actual fact, it was a group of us that put on that play first. We did it in Moyvane, Ballybunion and Listowel, hence our presence in that photo. He decided to enter it for the Limerick Drama festival and we were highly commended by the judge, who happened to be a brother of Gay Byrne but we did not receive a prize due to the fact that we were the only Irish play taking part that year and we were not in competition with anyone.
I honestly believe he was here in Listowel for 2 years, maybe the school terms of 1954 and 55. The obituary says he was in Dingle in 1955 so, if correct that could be starting the school term of '55.
I did learn a good bit of Irish dancing from him but I most certainly did learn that I had 2 left feet.
He was a lovely man, I never met him after he left Listowel.
May he Rest in Peace
<<<<<<<<<<
More Sustainable Fashion
This great event on the Saturday of Race Week was a first for Listowel Tidy Towns and is greatly admired by other festivals.
Wardrobes and attics are raided and charity and vintage shops scoured in an effort to win the coveted title of best dressed lady in sustainable wear.
The competition was judged by international model, Sydney Sargent and Elaine Doyle of An Taisce. It's great to see so many local people supporting this great initiative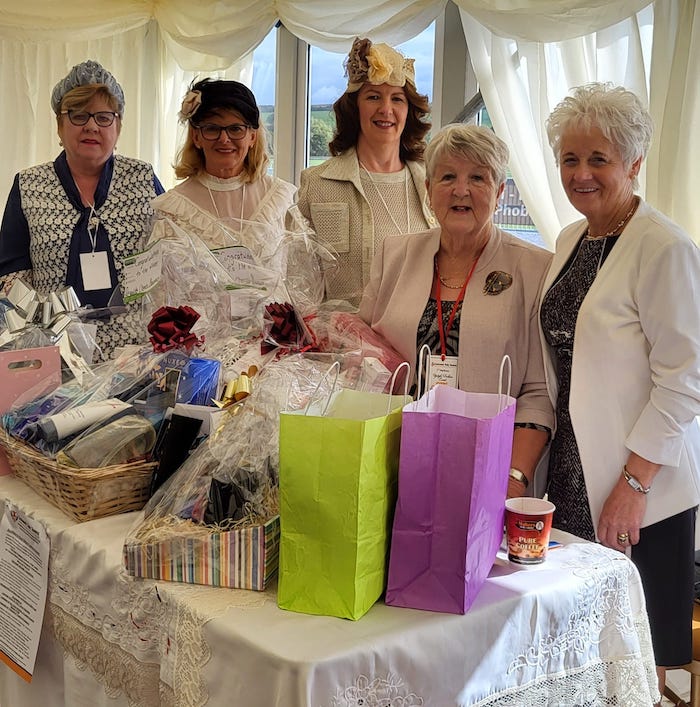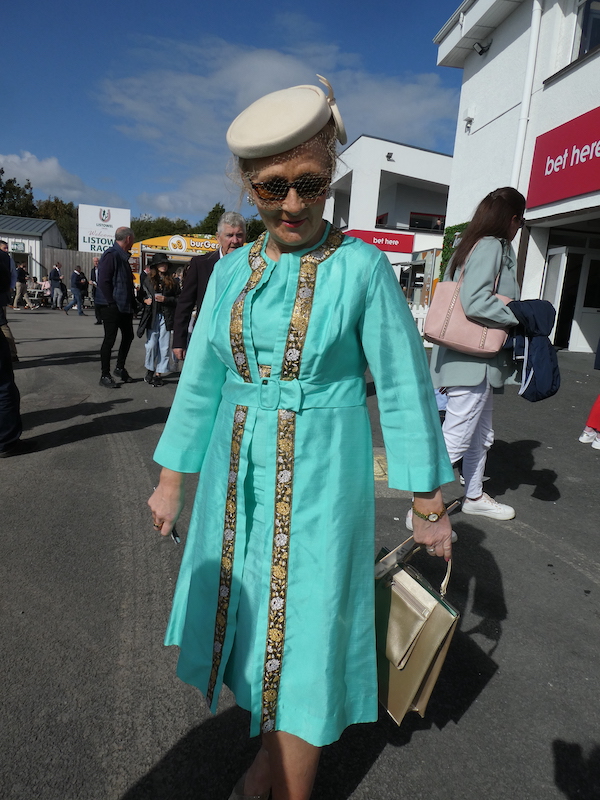 I have known Anne Leneghan since she was knee-high to a grasshopper. She is a great supporter of Listowel Races. Her outfit started life as a maxi dress and coat. Her bag she sourced in the charity shop and the hat was given to her as a present, all old and pre loved.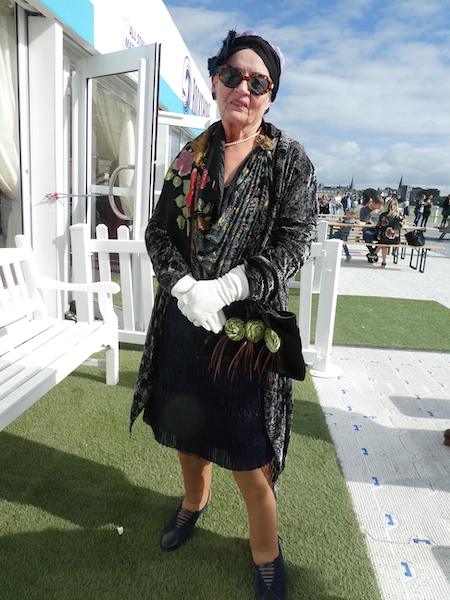 Lovely local lady, Nell Reidy, like myself, loves Listowel Vincent de Paul shop. She sourced her complete ensemble there over the years.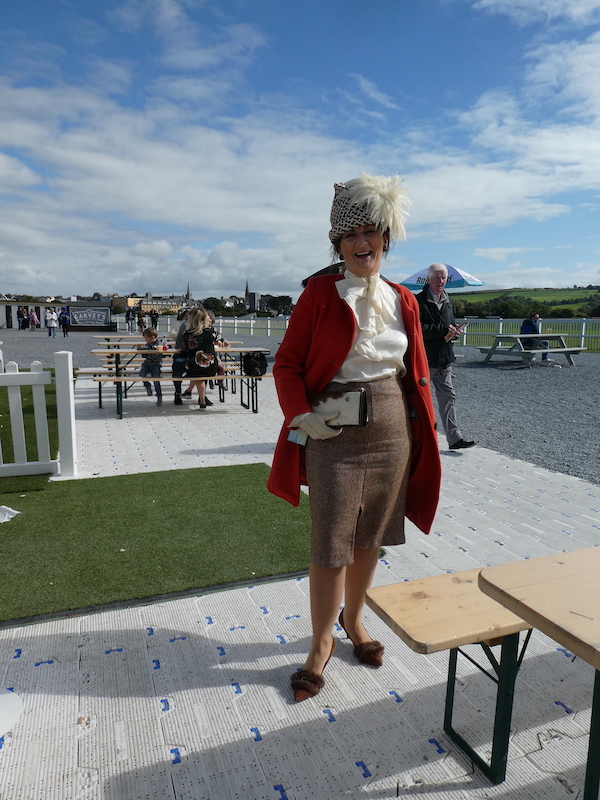 Maria Stack comes from a family who are both crafty, talented and dedicated to style, Maria always makes great effort in support of this event. Her beautiful tweed skirt she adapted from an A line one. It is one of many beautiful classic pieces she inherited from her aunt. Her coat was her mother's but she had to reduce it a few sizes. She made her hat herself from material she bought from a man who was going out of the millinery business. Maria told us that she spent her spare time during Covid working on her sewing, crafting and hat making. It helped her de stress from her hectic job as a nurse in an acute respiratory ward.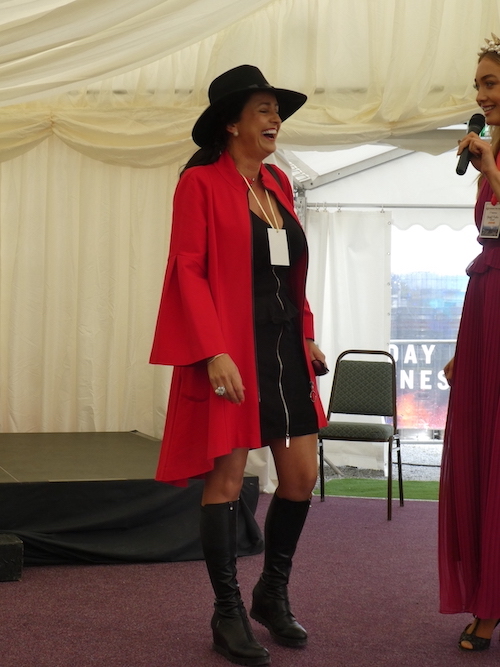 Another local finalist was Deirdre Kissane. She found her classic red and black ensemble in her wardrobe. Deirdre looks after her clothes and buys pieces that will last.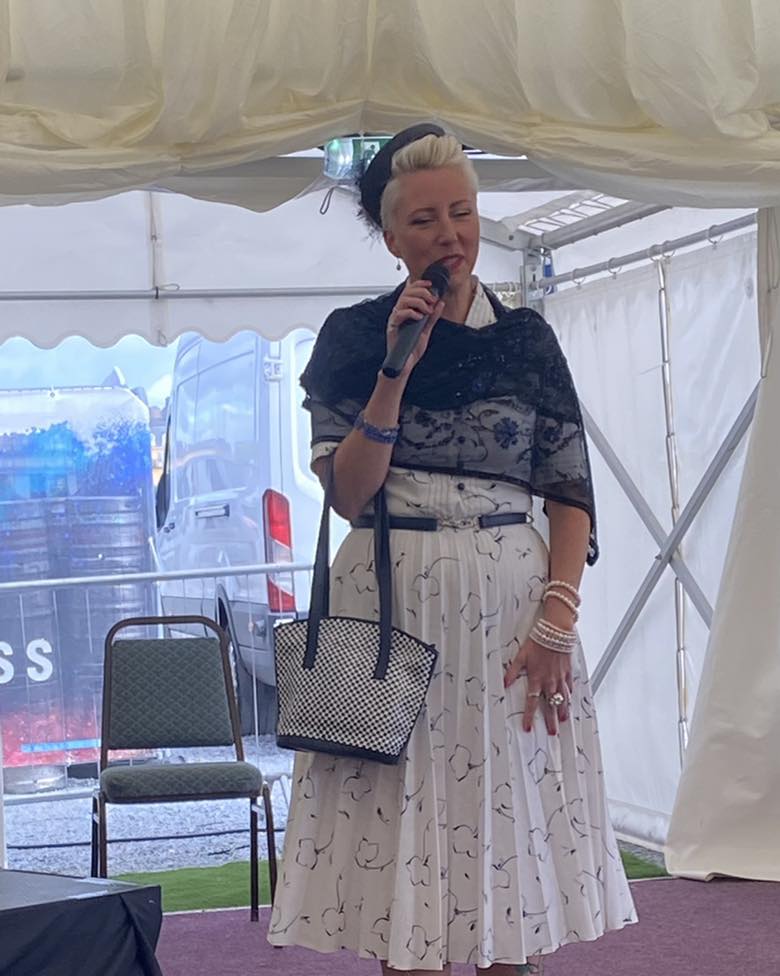 When your mother is the very stylish Marian Relihan, then all you have to do to look this good is raid her wardrobe.
(more tomorrow)
<<<<<<<<<<
Just a Thought
If you missed me on Radio Kerry last week, and you would like to hear my reflections, here is the link
<<<<<<<<<