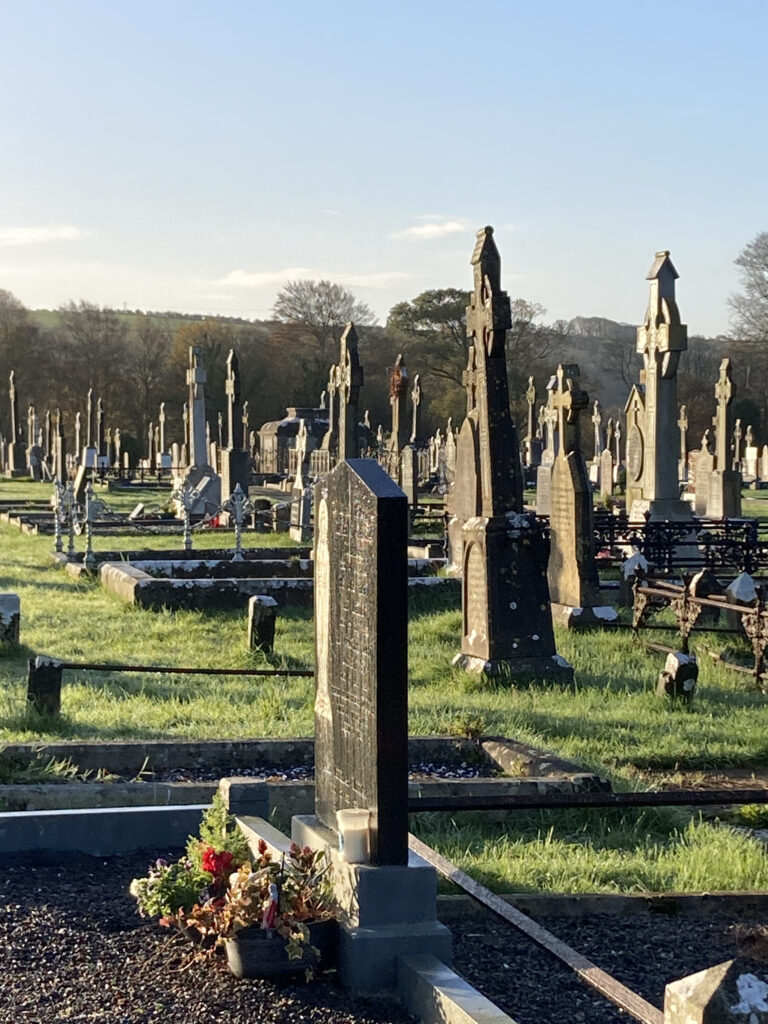 <<<<<<<<<<<<
Church Street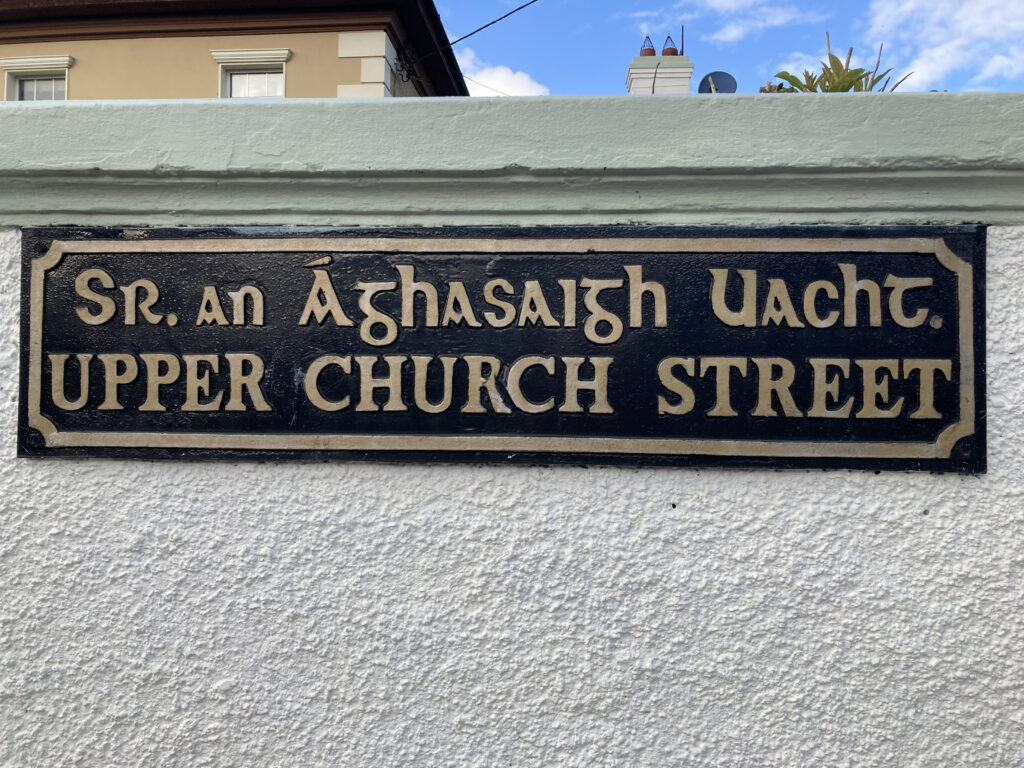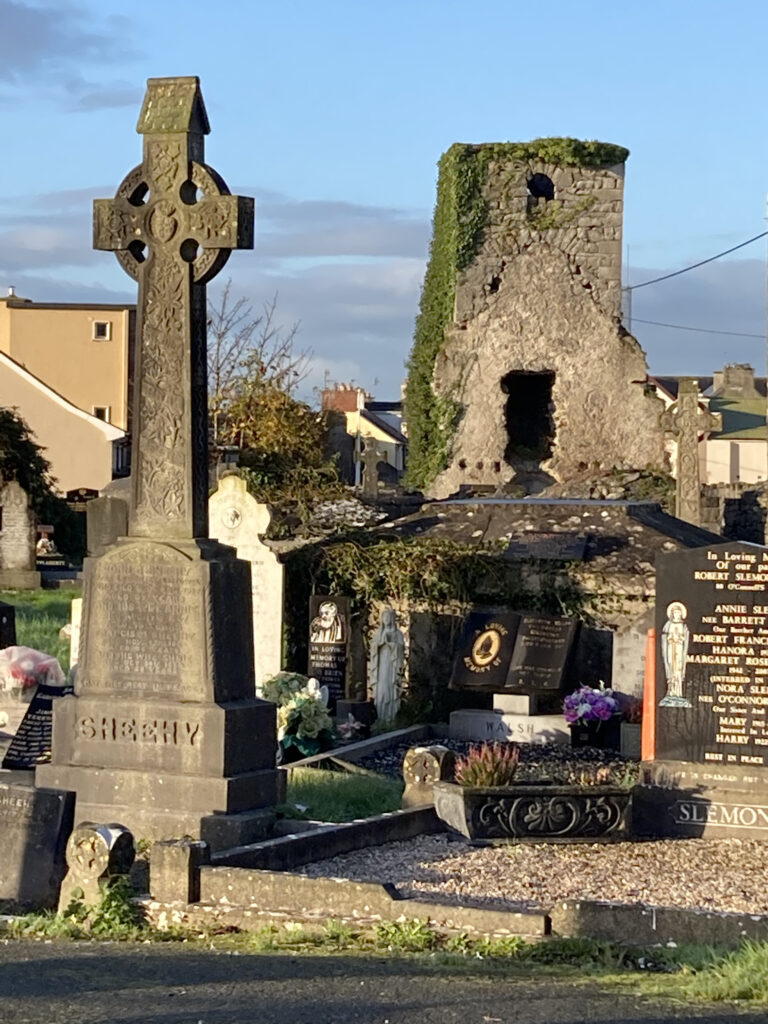 Church Street gets its name from the church which once stood at the top of the street. All that remains of that church now is the bell tower pictured above. The church itself was demolished and the stones used to build the new church in The Square.
<<<<<<<<<<<
A Christmas Window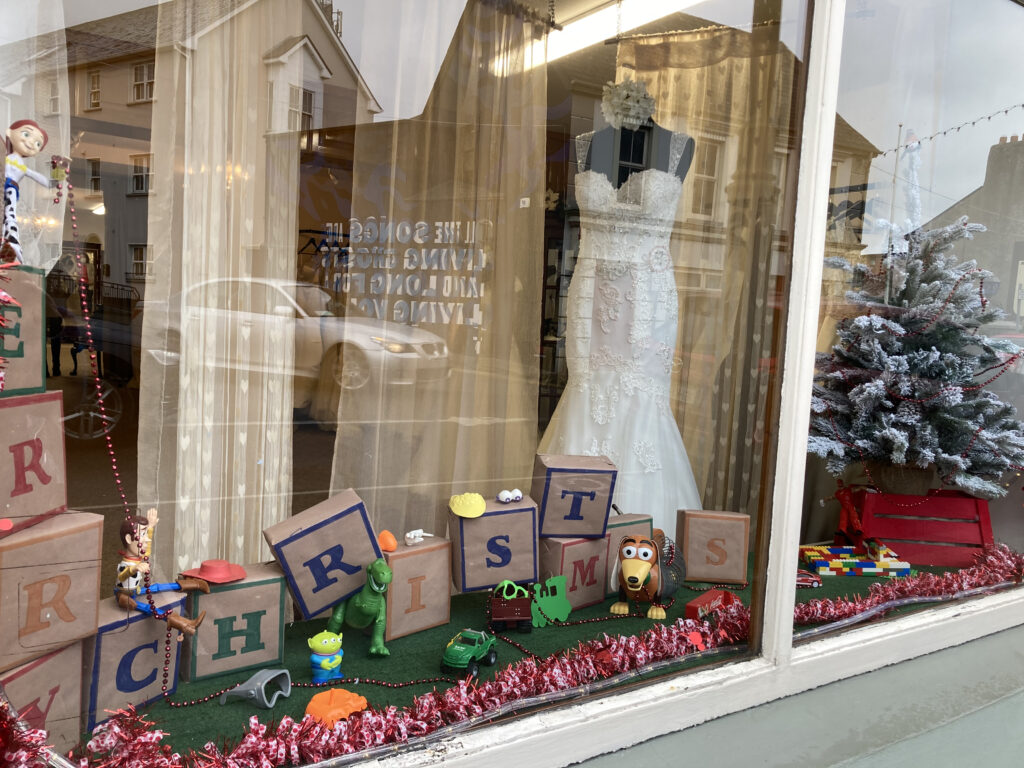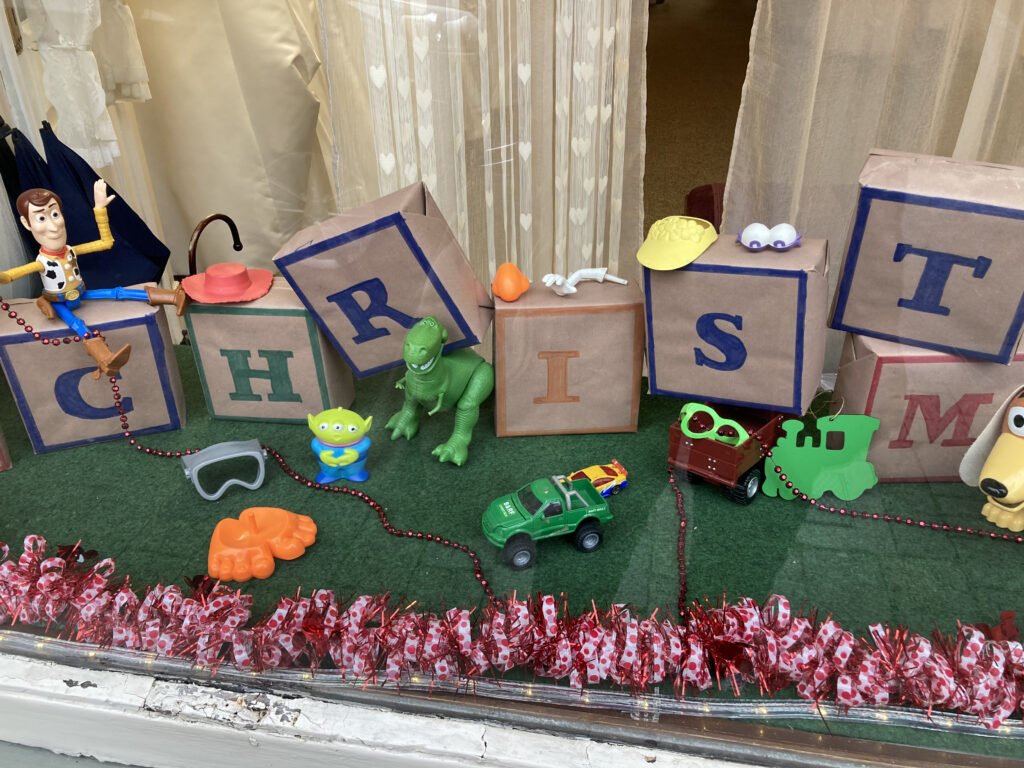 My photographs do a great injustice to Listowel's lovely Christmas window displays. This one is Finesse, who always have a perfect interpretation of whatever theme is set.
<<<<<<<<<<<<
An Irish Santa Claus
Unlike the most famous inhabitant of the North Pole, this Santa is probably a man you have never heard of. Mattie Lennon in this essay is doing his bit to right that wrong.
The Irish Santa Claus
by Mattie Lennon
Seamus Maguire was born in Thurles in 1950: the only child of James and Eileen Maguire. He completed his education in 1969 and subsequently worked as a Bus driver, Prison Officer and Social Worker in Tipperary and Cork.
In 1979, The International Year Of The Child, he founded Youth-In-Need. It was meant to be a one off project to help three young people for six months. Seamus went on to pioneer many projects to help young and old at home and abroad. Over the years he was the recipient of many prestigious awards and commendations.
He headed an organisation which operated a soup-run in London.
While he and his volunteers were distributing soup, sandwiches and blankets to the Irish homeless, Seamus felt that the marginalized exiles needed more. In December 1979 when Jingle Bells was blaring from loudspeakers in cities around the world and Ireland was coming to terms with the buzz brought about by the cub-Celtic Tiger, Seamus was busy. The unsung hero from Tipperary was approaching the homeless in the English capital offering them the chance to " go home for Christmas".
Those who availed of his offer were taken to a hostel and given accommodation. Proper food for a few days and fresh clothes meant that many who had abandoned all hope of a homecoming would be able to meet their loved ones looking "fairly respectable".
Amid all the hardship, Seamus and his crew experienced the odd humorous incident.
A volunteer worker from County Donegal, John Cassidy, told the following story to me; "In early 1992 we arrived in Hammersmith with a forty- foot lorry loaded with food and blankets for the homeless centres. As we were unloading on a road that was restricted to vehicles under three tons a policeman insisted we move or he would have us arrested and the lorry impounded.
After a few moments of heated discussion Seamus produced a document bearing the seal of both the Irish and British Governments and warned the policeman that it would cause a diplomatic incident if he continued harassing us. The policeman reached for the document that Seamus was holding, hesitated, looked at Seamus and said; "you have four hours to unload and get the truck out of here".
Thankfully the policeman did not insist on checking the paper that Seamus was holding; it was a customs clearance certificate."
I penned the following ballad about Seamus Maguire; it was put to music by John Hoban
SEAMUS MAGUIRE By Mattie Lennon
The soup-runs of well meaning people
Could not heal the souls or hurt pride
Of the Irish in alien doorways
With no one but God on their side.
Through decades of drink and misfortune
Returning was out of the frame;
The streets and the hills of their homeland
Were but specks on an ocean of shame.
Despondency fed by resentment
Ran loose like an unbroken colt,
'Til a hero, unsung, from Tipp'rary
Gave the conscience of Ireland a jolt.
"We'll bring some of them home for next Christmas,
Who haven't seen loved ones for years.
All we need is the will and the courage"
He blasted at pessimist ears.
Chorus;
Dreams dreamt, under cardboard in Camden,
Of a whin-bush, round tower or turf fire
Were realised beyond expectation;
We were brought home by Seamus Maguire.
The captains of business he badgered
While his care-workers beavered away,
Collecting the cash and resources,
And then came the memorable day
When the "rescue coach" left Dublin's quayside
In December of seventy nine,
Taking fifty glad hearts to the country
With their loved ones once more to entwine.
For the next twenty years every Christmas
Maguire and his team would ensure
That the birth of the Saviour was special
For those He called "Bless'ed"; the poor.
And many a parent died happy
Resigned to their ultimate fate
With the son or the daughter they cherished
United before 'twas too late.
Chorus
The date on a gravestone in Thurles
Proclaims ninety-nine as the year
That God gave to Seamus Maguire
The reward for his mission down here.
And his name in more permanent fashion
Is forever inscribed in that tome;
The hearts of our destitute exiles
Who once had no hope of going home.
Chorus.
(c) Mattie Lennon 2004
For a man who was so good to so many it is very sad that in the end, he died alone. It is equally sad that nobody saw fit to keep Youth-in-Need going after his death.
John Cassidy, who was one of his stalwart volunteers said, " . . . I feel his commitment to the less well off should be acknowledged in some meaningful way. To the homeless Irish on the streets of London Seamus Maguire was known as the 'Irish Santa Claus'. "
<<<<<<<<<<<
And the Wittiest 2021 Christmas T shirt….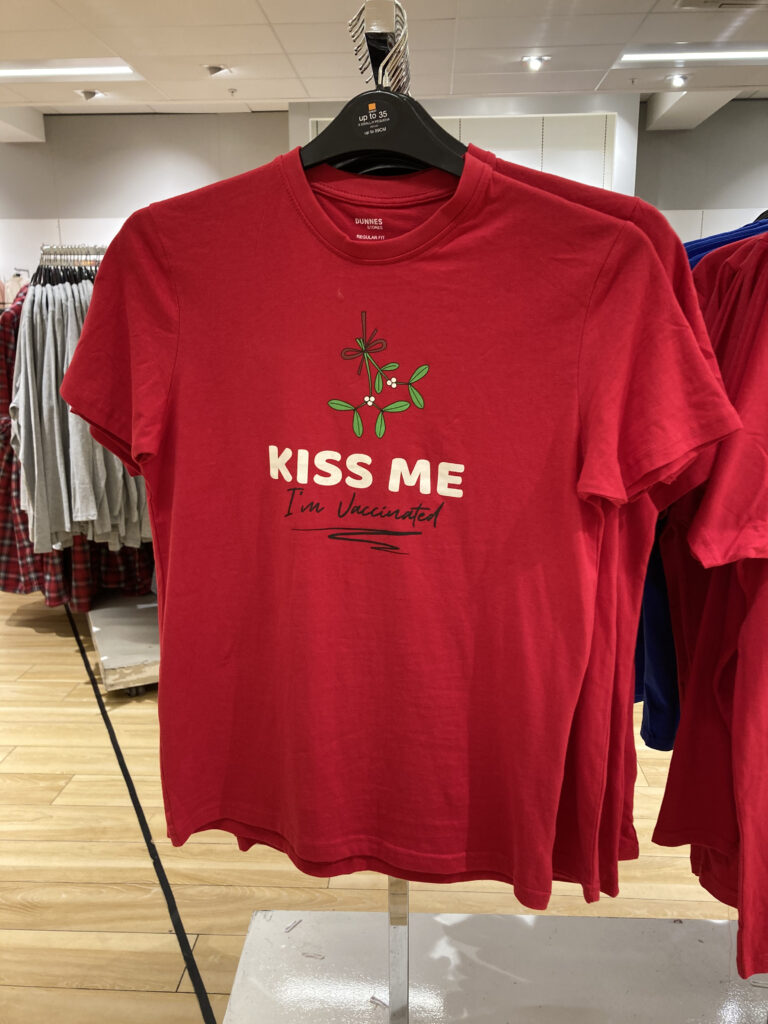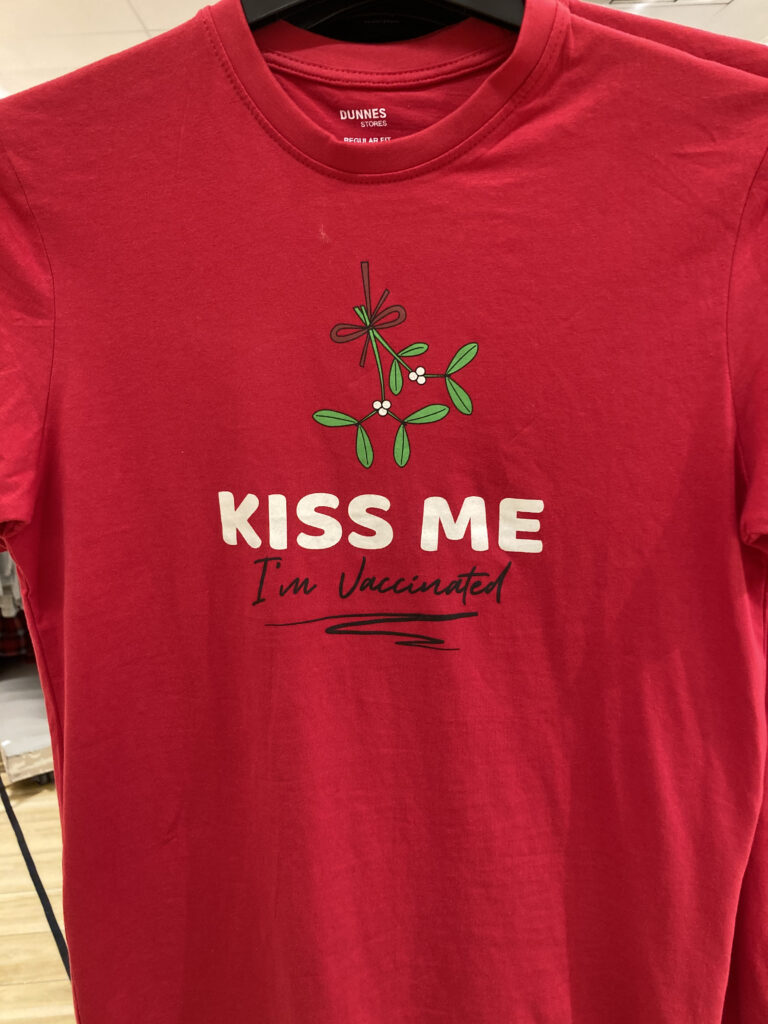 Dunnes Stores.
<<<<<<<<<<<<<<<