Gymnasts in The Square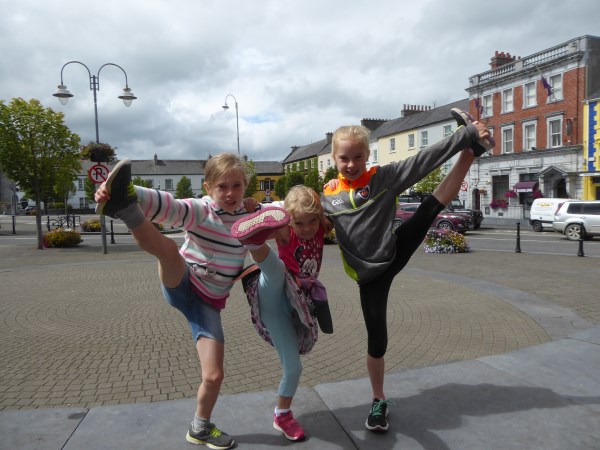 <<<<<<<<<
Athea Mural Update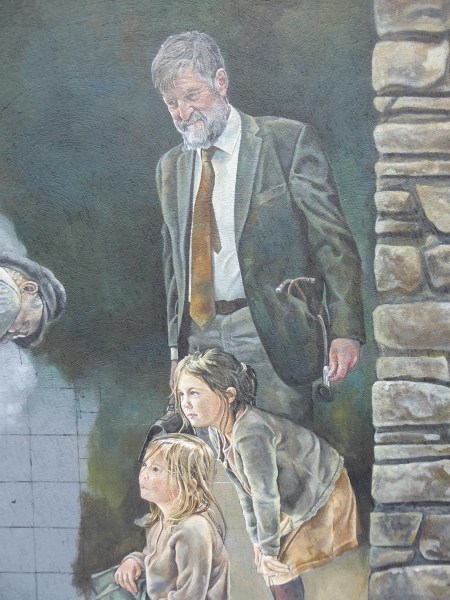 Do you remember I told you that the figure that the artist, Jim Dunn had added to his mural was a well known local man. The stethoscope protruding from his pocket now gives the game away, it's Athea's very popular G.P.
<<<<<<<
Blasket Donkeys
Chris Grayson took these interesting photos of Blasket Island Donkeys.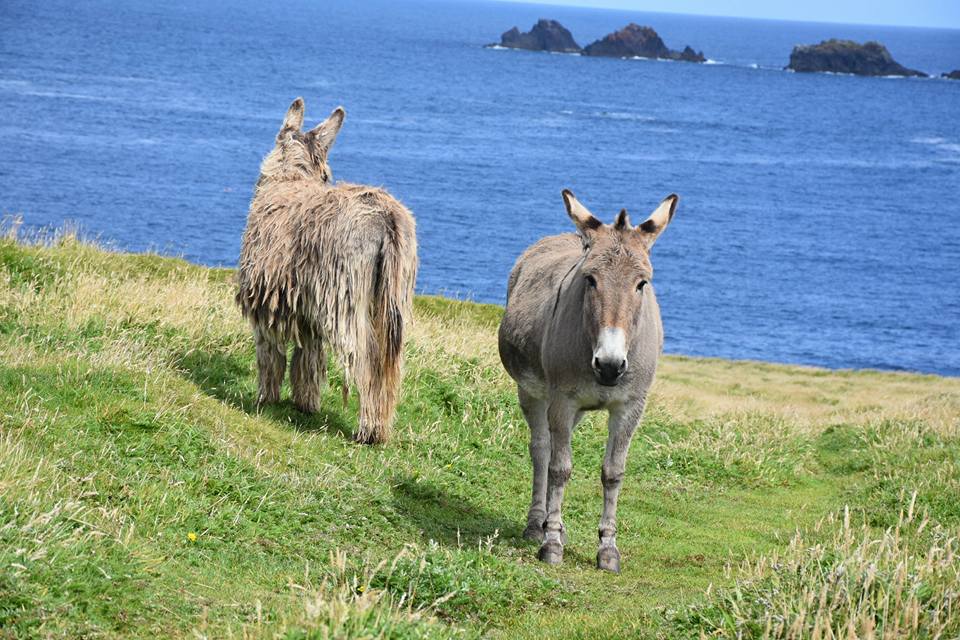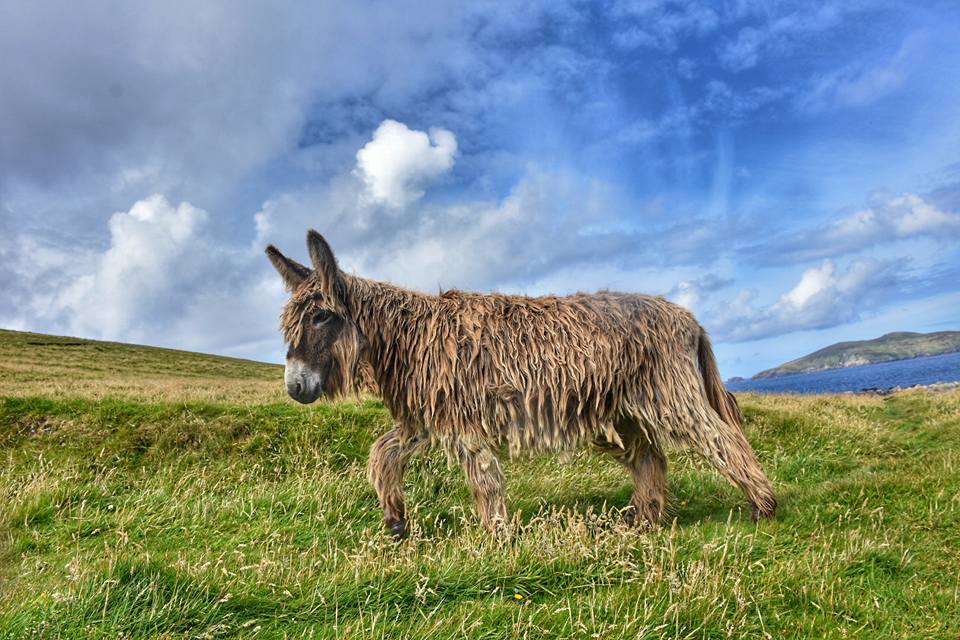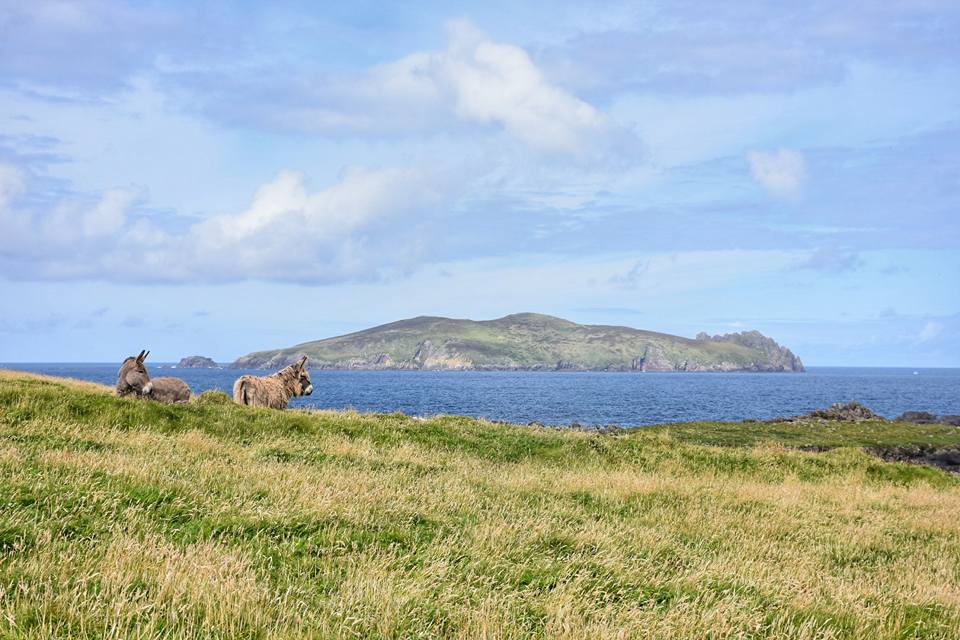 The very hairy one looks like a different breed. Or is he just very old and no longer losing his winter coat?
I read somewhere that the island people used to only keep female donkeys. If they had both sexes the males would get frisky and might fall off the cliffs and into the sea so they had to bring the mares to the mainland for the mating pourposes.
<<<<<<<
Snapped in Listowel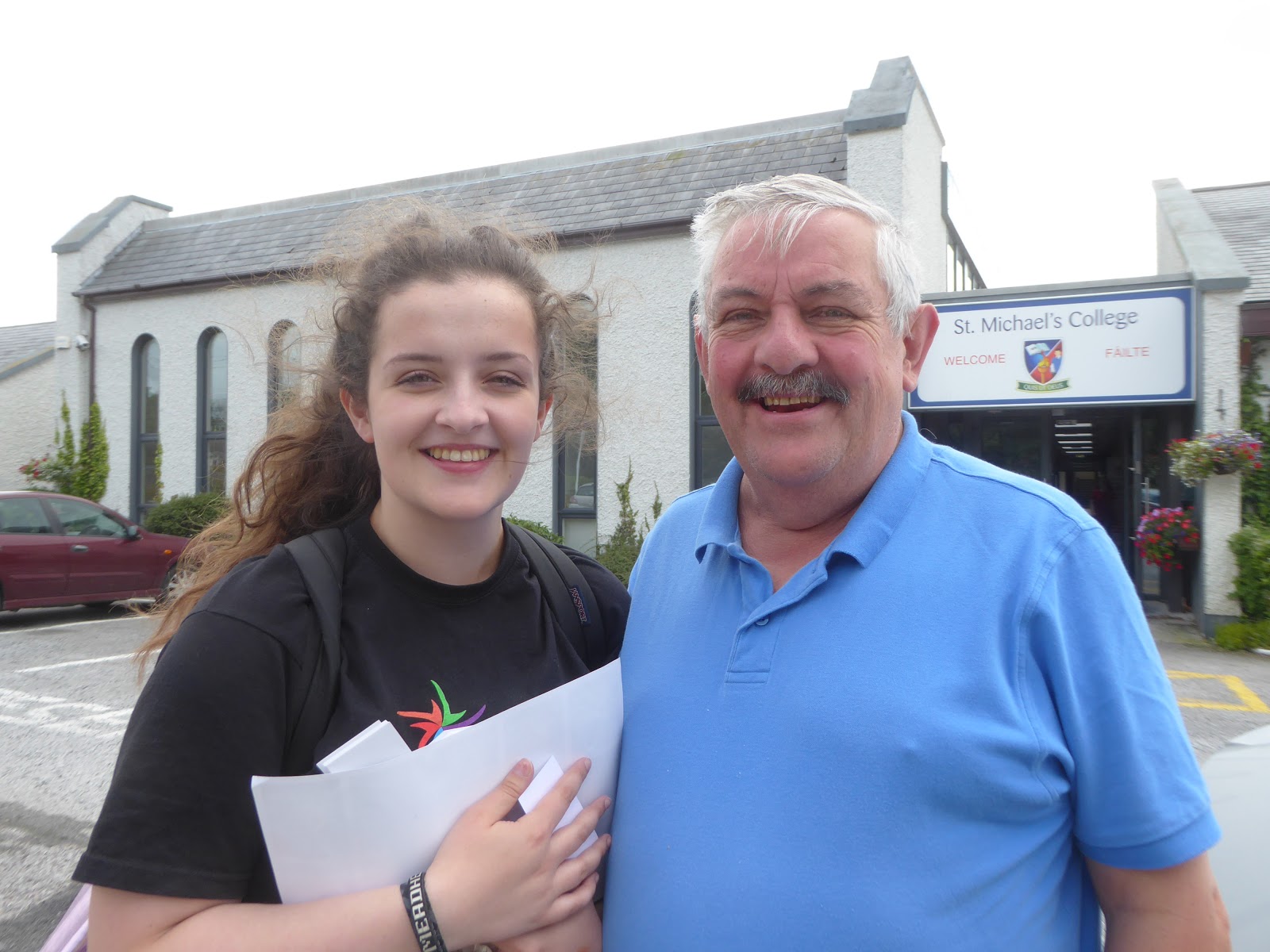 I ran into Tralee people, Seán Lyons and his lovely daughter. Maeve, recently.
<<<<<<
Update on the Convent
Whenever I'm in the vicinity, I take the opportunity to document the slow decline into ruin of Presentation Convent, Listowel.
I took these photos on August 1 2017. They speak for themselves.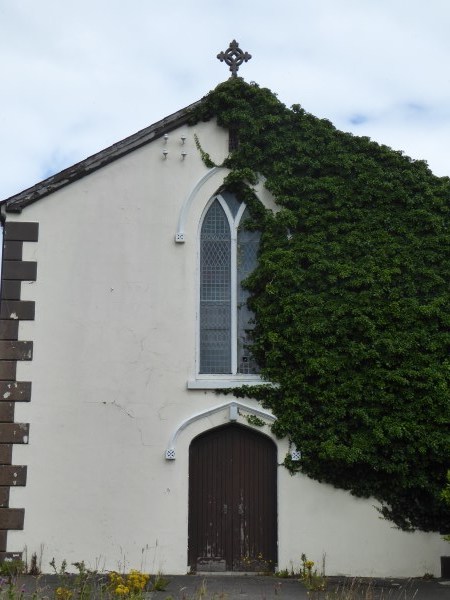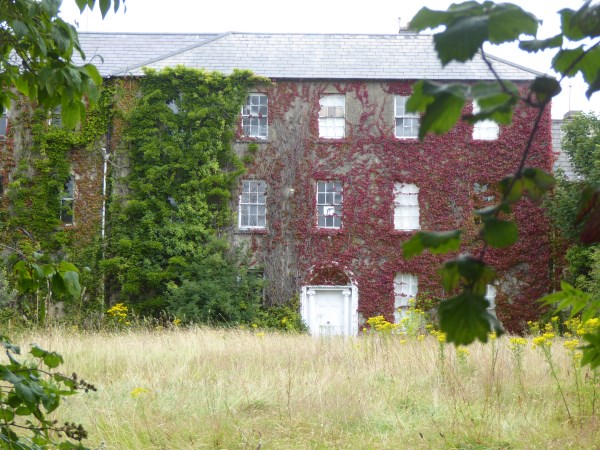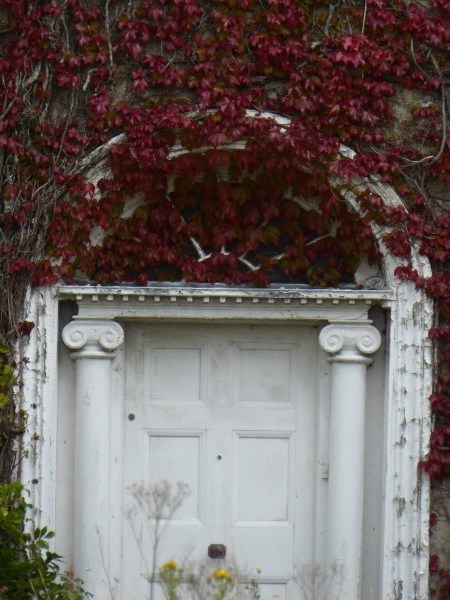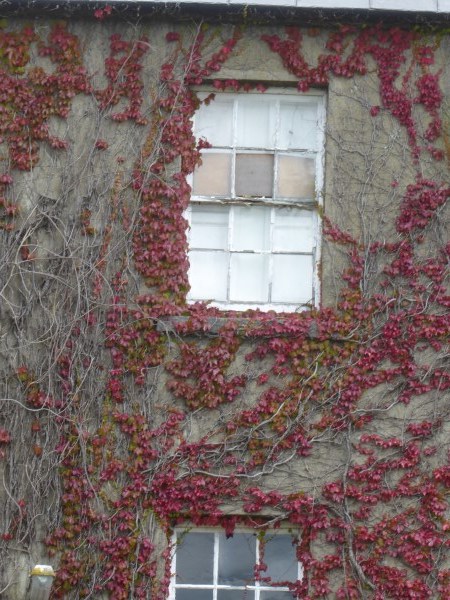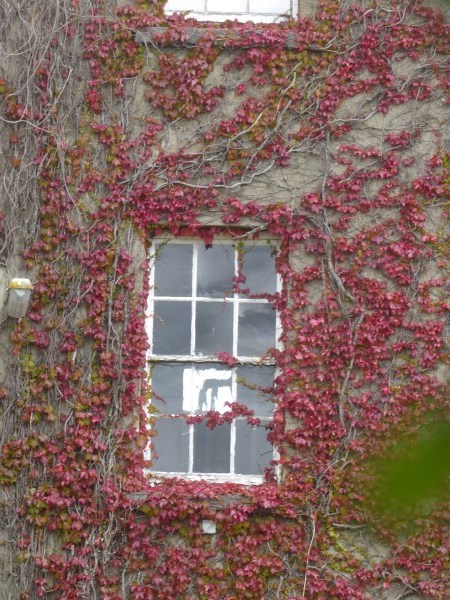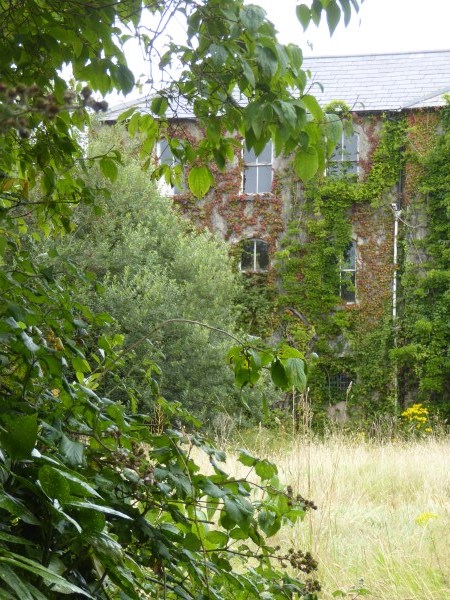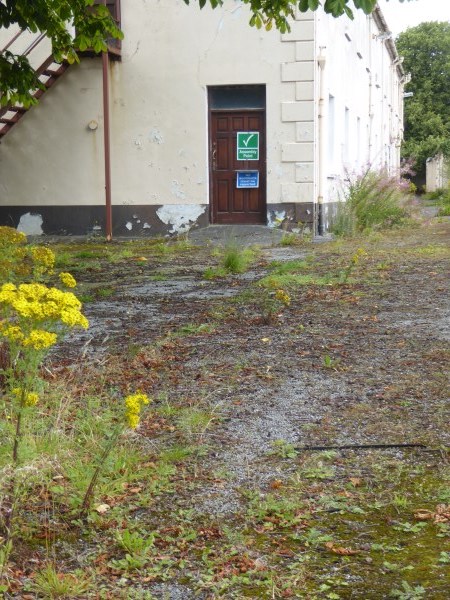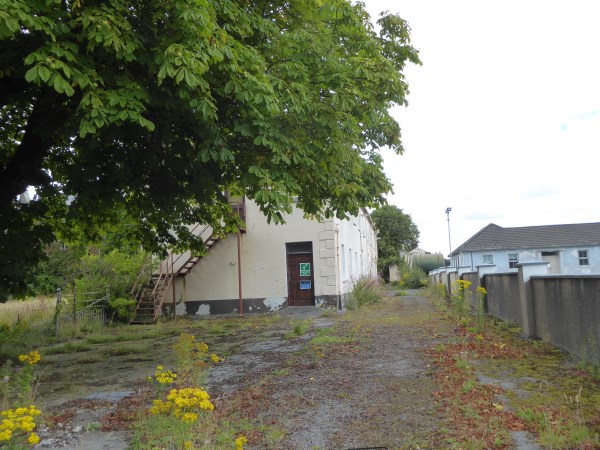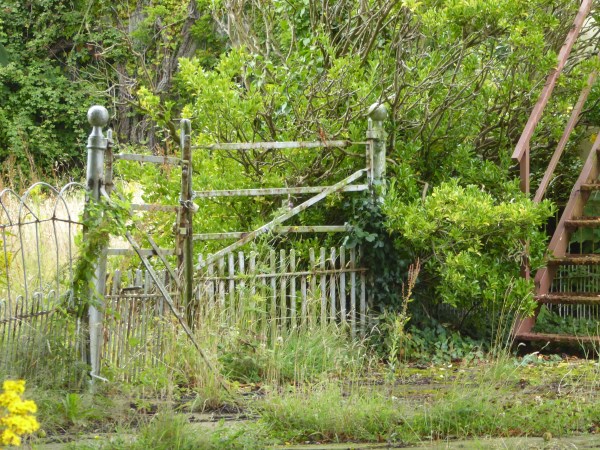 <<<<<<


Kissane Clan Gathering


You've seen the photos, now help them celebrate family.
The planned gathering will open with a gala banquet on Friday evening August 18 2017.
Tickets (€50) are available at Listowel Arms Hotel reception. All Kissane of Kilcox descendants won't want to miss this one. Anyone with an interest in this family is welcome to the banquet.
On Saturday August 19th, proceedings move to The Thatch in Lisselton for the launch of "Descendants of John the Elder", a hard back book including over 90 photographs. This promises to be a great night of family history and reminiscence. The launch will be followed by a night of music and craic with family, friends and neighbours.
A highlight of the weekend will be the Walk and Talk with Eily Walsh. I'm reproducing here Eily's guidelines for those Kissanes planning to attend the walk. This is one for the descendants.
On Saturday Afternoon
19th at 3.p.m. and, again on Sunday Morning 20th August at 12.30 p.m. The Thatch will also be the
Gathering Point for the "Walk and Talk" to be held in Kilcox throughout the
weekend. (Weather permitting) We expect tickets for these walks to sell very
quickly. There are only 25 places MAX for each walk. Your name will be held on a Booking list and
your ticket may be collected at the Thatch Bar a half hour before the walk
starts. The Thatch will be the Gathering Point for the Walk, and we will drive
in convoy to the two adjoining Kilcox Farms (Scralom Entrance) where the "Walk
and Talk" will start. There will be ample parking for up to 20 cars. Tickets
are 10 euro each. The walk is very easy and will last approx. 75 minutes.
Suitable footwear or flat shoes are advisable. Please bring a jacket as you
will be on exposed ground – whether the
sun shines or not. The walk itself is flat and easy, and suitable for all ages
with only a slight incline at the end. There are wonderful panoramic views so be
sure and bring the camera!
Sunday August 20th will see the gathered Kissane clan in Coolahan's of Tarbert at 2.30p.m. for an afternoon of music and "sheer joy".
Family gathered for the gathering weekend will be anxious to visit the Kissane tombs in Killeheny. The two tombs will be marked with an identifying marker for the weekend. Ballybunion church will also be open to visitors.
<<<<<<<


We are Family


The Kissane family of Kilcox in North Kerry has spread far and wide. There are branches of the family in the U.S. and Australia and representatives of all of this scattered clan are coming home to Kerry this weekend for this great celebration of family.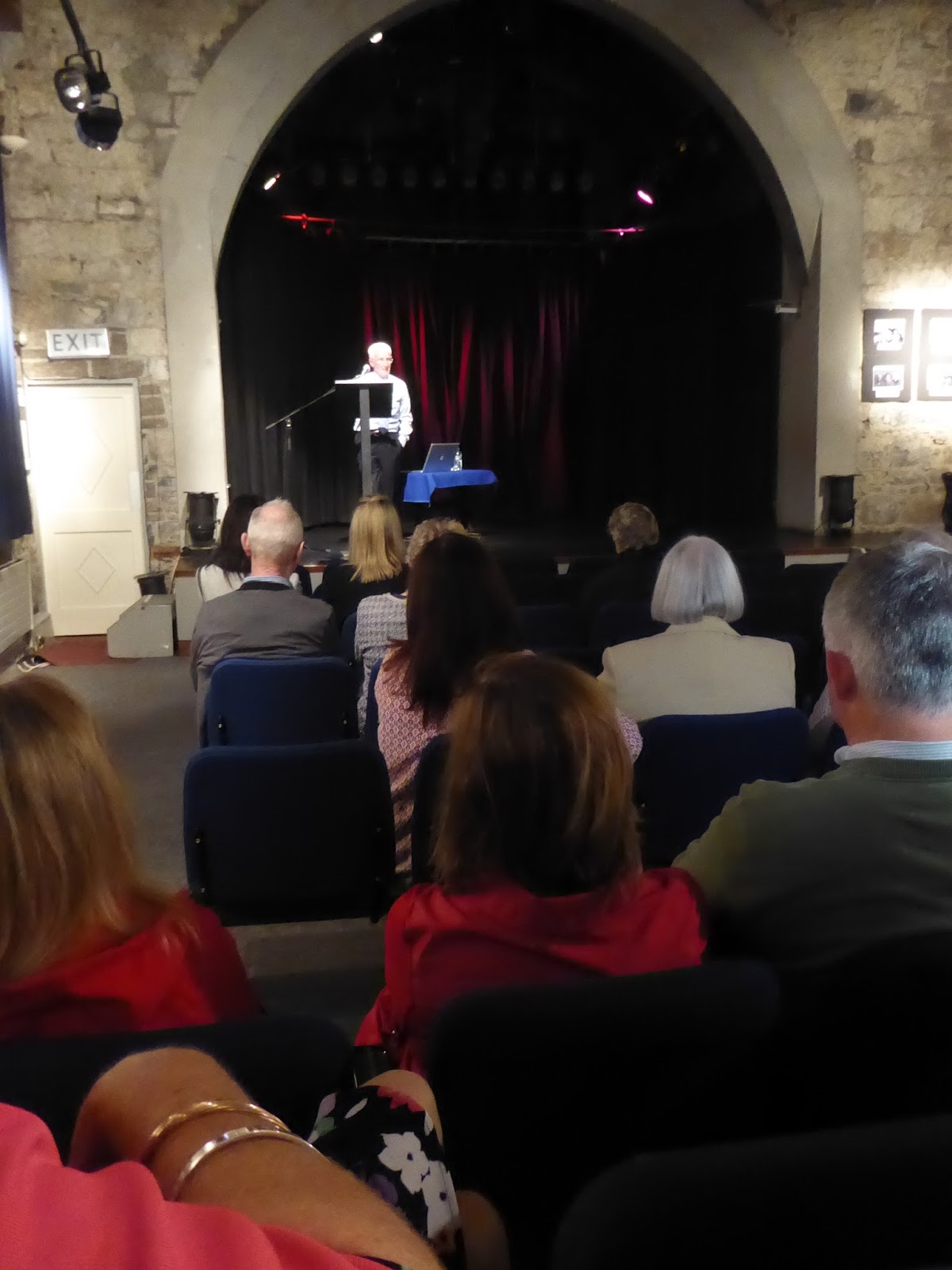 I was privileged to be in St. John's on Saturday Aug 11 2017 as the exhibition of family photographs to accompany the Kissane Gathering was launched by Eamon OMurchú. Eamon is justly proud of his Kissane ancestors. As a photographer, he knows the importance of family photographs and their role in family history. If you are in Listowel, call in to St. John's to see this important collection of Kissane family history and memorabilia.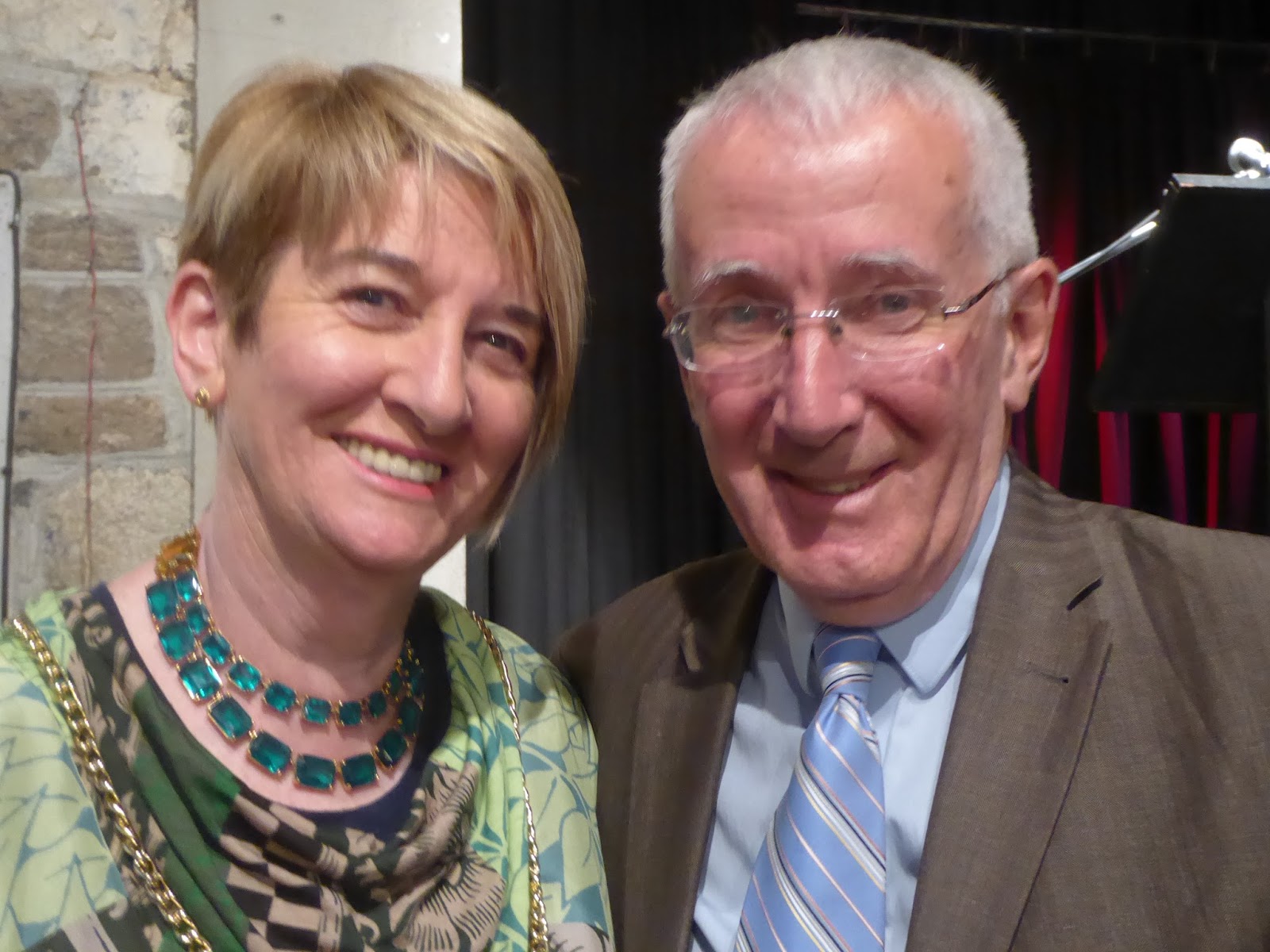 The collection was curated by Eily Walsh (here on left of Eamon ÓMurchú). Eily has invested hours and hours of time and effort into collecting the photographs and researching the family history. This weekend gathering and book are all due to her tireless work.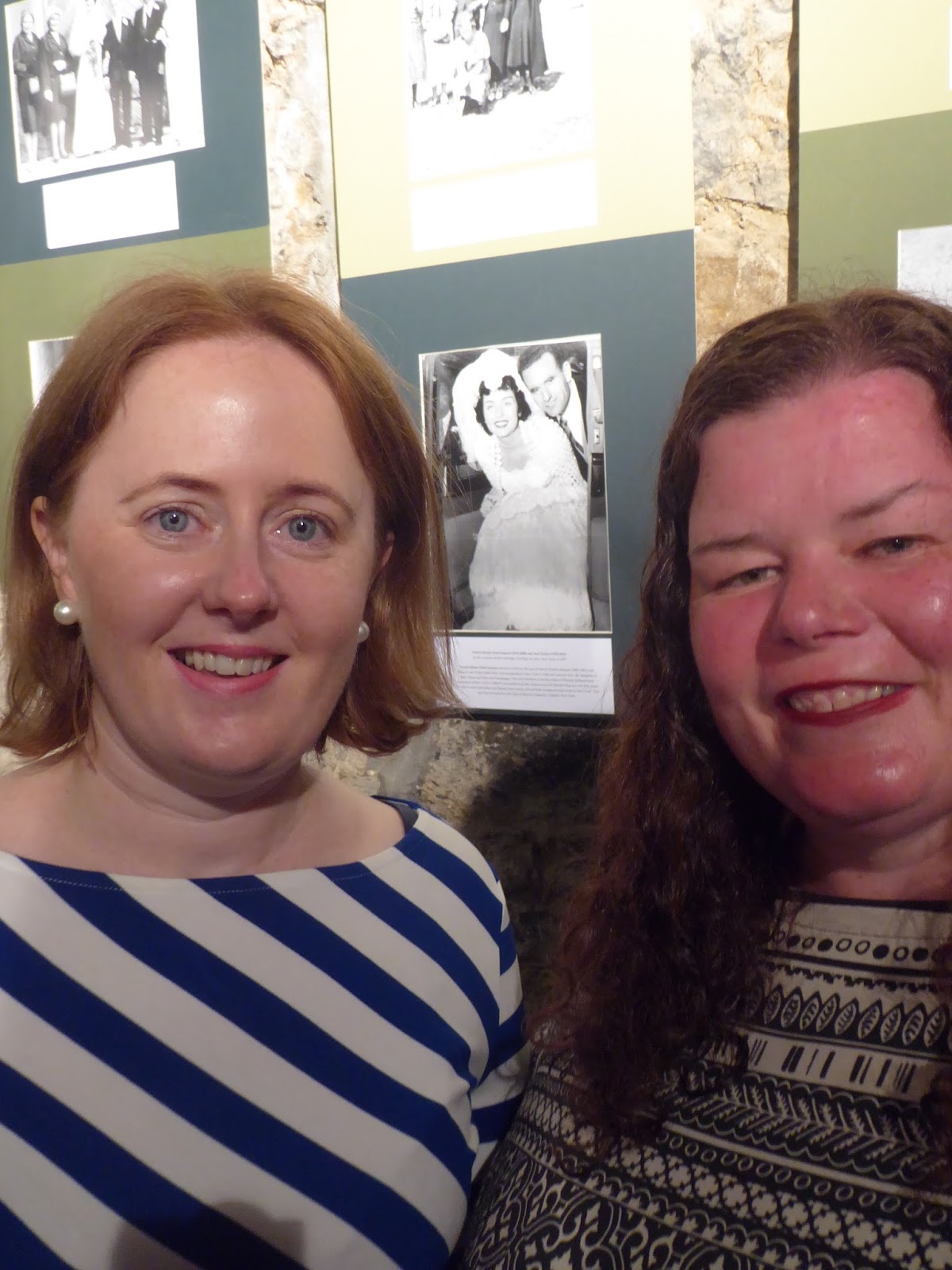 Keelin Kissane of Kerry and Dublin with Barbara Kissane of New York. The ladies are standing in front of a photograph of Barbara's parents on their wedding day.
Barbara's dad, Pats Kissane, was the first president of the New York Kerryman's Association. Keelin is the current chairperson of the Dublin Kerryman's Association.
<<<<<<<<


Our Very Own Disney Princess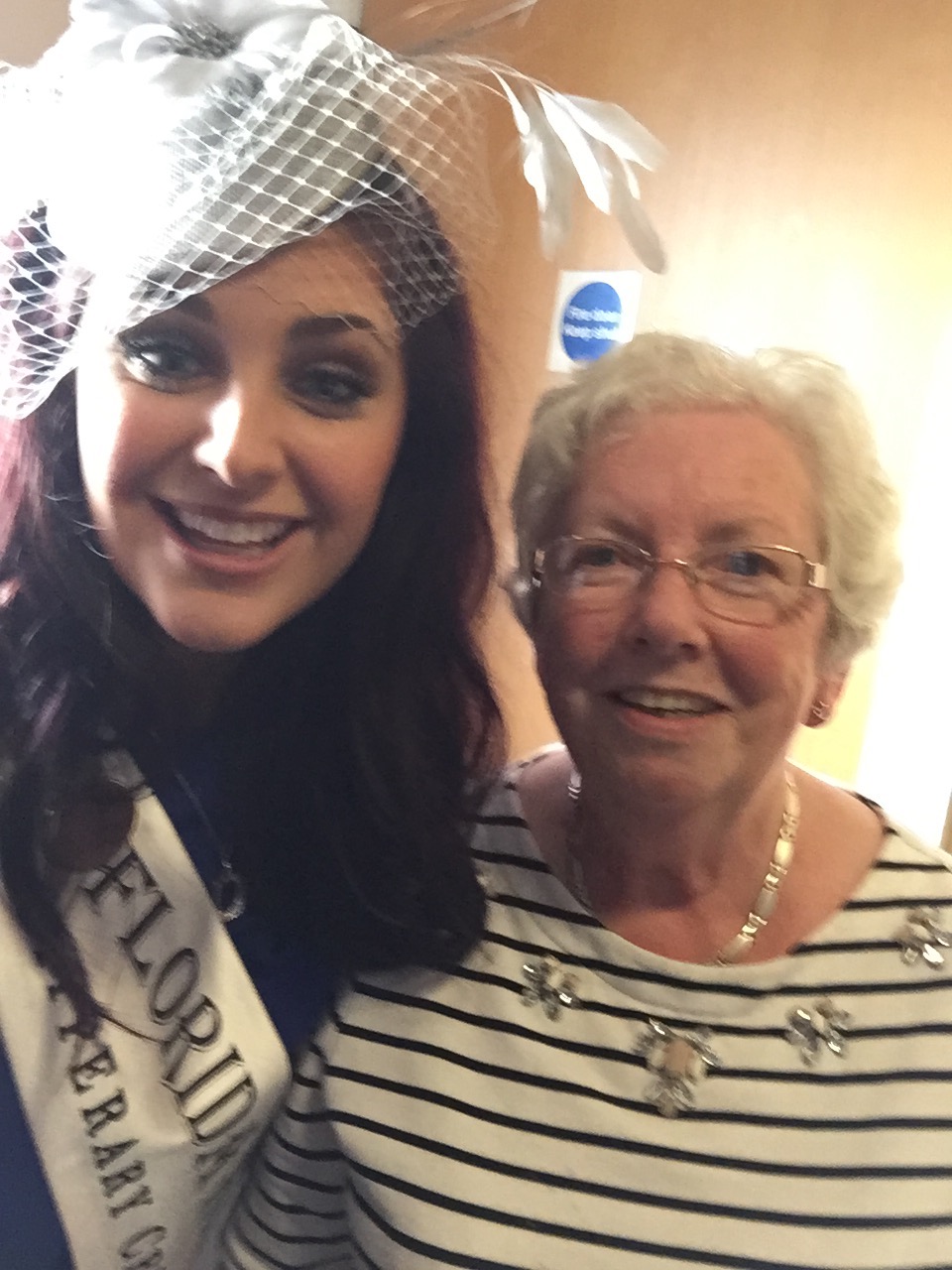 I met this lovely Rose in The Kingdom Greyhound Stadium last night. She is Elizabeth Marine, the Florida Rose.
She is mighty proud of her Listowel connection. She feels that her presence here is in honour of her grandfather, Tom O'Donoghue of Tannavalla who left Listowel for Pittsburg with a heart full of hope and a head full of dreams. He made a success of his life in the land of the brave and the home of the free. He never forgot his Kerry roots and he steeped his family in Irish traditions and Irish culture. He loved Irish music, song and dance and above all he was passionate about Gaelic football. He, himself was a handy footballer with the Six Crosses team.
Elizabeth, his granddaughter, is a singer and dancer. I don't know about the Gaelic football. Her cousins look after that tradition. She is in Tralee with her mother and her sister. Her dad had to stay behind in Florida to look after her severely disabled brother.
If you run into The Roses this week, be sure to single out the Florida Rose. Tell her you are from Listowel and she will be delighted to meet you.