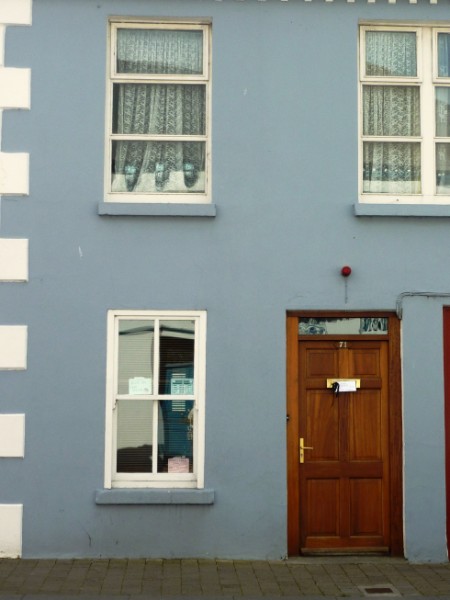 So sad!
Listowel came to a halt on Saturday for the funeral mass of Sinéad Halkett who died before her time at age 33. The outpouring of support and love for the Halkett family on Saturday may have brought them some small crumb of comfort at this awful time. Words are totally inadequate. My only prayer for them is that, in time, it will not hurt as much as it does today.
>>>>>>>>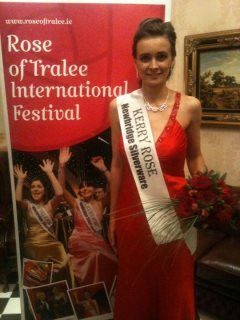 Now to news of another of my past pupils. The lovely Annmarie Hayes of this parish has been chosen to represent Kerry in The Rose Of Tralee competition. She is a beautiful girl who embodies all the characteristics which are sought in this competition. I hope she wins.
>>>>>
Remember my post last week about Con Houlihan and The Wild Colonial Boy?
My friend, Julie, enjoyed the post and she filled me in on the Australian version of the ballad and the story behind it:
"The Wild Colonial Boy"is a traditionalIrish–Australianballad of
which there are many different versions, the most prominent being the Irish and
Australian versions. The original version was aboutJack Donahue, an Irish
rebel who became a convict, then a bushranger, who was eventually shot down by
police. This version was outlawed as seditious so the name changed. The Irish
version is about a young emigrant, named Jack Duggan, who left the town ofCastlemaine, County Kerry, Ireland,
for Australia in the 19th century. According to the song, he spent his time
there 'robbing from the rich to feed the poor'. In the song, the protagonist is
fatally wounded in an ambush when his heart is pierced by the bullet of
Fitzroy.
The Australian version is quite
different. It is about a boy named Jack Doolan, born in Castlemaine. The poem
then continues to tell of his exploits without mentioning his moving to
Australia, which implies that theCastlemainein question is that inVictoria, a state of Australia.
The Oxford Companion to Australian Literature reports the following
about the poem/song.
'The Wild Colonial Boy'
One of Australia's best-knownfolk-songs, tells the story of anIrish-born bushranger, named Jack Doolan, who terrorises the squatters, holds up the Beechworth
mail coach in the 1860s, robs Judge MacEvoy, and is eventually killed when
surrounded by three troopers, Kelly, Davis and FitzRoy, to whom he refuses to
surrender. Several versions of 'The Wild Colonial Boy', which is often sung to
the Irish tune 'The Wearing of the Green', e.g. by Ned Kelly at Glenrowan, have
survived: in some of them MacEvoy is called Macaboy, and Jack Doolan is
variously Jim or John Dowling/Duggan/Dublin/Dolan/Davis. That the hero of the
song always has the initials 'JD' has led many folklorists, e.g. John Meredith
in The Wild Colonial Boy (1982), to argue that the Wild Colonial Boy was
a fictitious character and that the song is an 1860s variant of the 'Bold Jack
Donahoe' (see Donohoe, John) cycle of songs and ballads, which, as a result of
oral transmission, acquired a new set of characters and events. The argument is
strengthened by a chorus beginning 'Come along, my hearties, we'll roam the
mountains high,/ Together we will plunder, together we will die', which is
common to versions of both ballads, and by the fact that the songs are
traditionally linked in Irish folk-music. John Manifold, however, in Who
Wrote the Ballads? (1964), speculates that there was a bushranger of the
1860s named Jack Doolan and that his experiences were celebrated by taking over
the existing Bold Jack Donahoe songs. Further investigation has established a
Judge Macaboy and families of Dowlings, Doolans, etc. in the Beechworth
district in the 1860s, but as yet no bushranger named Doolan has emerged. Whatever
the origins of the song, 'The Wild Colonial Boy' is well known overseas and is
sung by John Wayne in the film The Quiet Man. In Australia, its
popularity is such that 'wild colonial boys' became a phrase describing the
bushrangers in general, as in Frank Clune's book Wild Colonial Boys,
and, indeed, any Australian sharing their bravado and daring.
Australian lyrics
THE WILD COLONIAL BOY –Anonymous
'Tis of a wild
Colonial Boy, Jack Doolan was his name,
Of poor but honest
parents he was born in Castlemaine.
He was his father's
only hope, his mother's pride and joy,
And dearly did his
parents love the wild Colonial Boy.
Chorus
Come, all my
hearties, we'll roam the mountains high,
Together we will
plunder, together we will die.
We'll wander over valleys,
and gallop over plains,
And we'll scorn to
live in slavery, bound down with iron chains.
He was scarcely
sixteen years of age when he left his father's home,
And through
Australia's sunny clime a bushranger did roam.
He robbed those
wealthy squatters, their stock he did destroy,
And a terror to
Australia was the wild Colonial Boy.




In sixty-one this
daring youth commenced his wild career,
With a heart that
knew no danger, no foeman did he fear.
He stuck up the
Beechworth mail-coach, and robbed Judge MacEvoy,
Who trembled, and
gave up his gold to the wild Colonial Boy.
He bade the judge
"Good morning", and told him to beware,
That he'd never rob a
hearty chap that acted on the square,
And never to rob a
mother of her son and only joy,
Or else you might
turn outlaw, like the wild Colonial Boy.
One day as he was
riding the mountain-side along,
A-listening to the
little birds, their pleasant laughing song,
Three mounted
troopers rode along – Kelly, Davis and FitzRoy –
They thought that
they would capture him, the wild Colonial Boy.
"Surrender now,
Jack Doolan, you see there's three to one.
Surrender now, Jack
Doolan, you're a daring highwayman."
He drew a pistol from
his belt, and shook the little toy,
"I'll fight, but
not surrender," said the wild Colonial Boy.
He fired at Trooper
Kelly and brought him to the ground,
And in return from
Davis received a mortal wound.
All shattered through
the jaws he lay still firing at FitzRoy,
And that's the way
they captured him – the wild Colonial Boy.
Irish lyrics
The lyrics are as follows:
There was a wild
colonial boy,

Jack Duggan was his
name

He was born and raised
in Ireland,

in a place called
Castlemaine

He was his father's
only son,

his mother's pride and
joy

And dearly did his
parents love

the wild colonial boy

At the early age of
sixteen years,

he left his native
home

And to Australia's
sunny shore,

he was inclined to
roam

He robbed the rich, he
helped the poor,

he shot James MacEvoy

A terror to Australia
was

the wild colonial boy

One morning on the
prairie,

as Jack he rode along

A-listening to the
mocking bird,

a-singing a cheerful
song

Up stepped a band of
troopers:

Kelly, Davis and
Fitzroy

They all set out to
capture him,

the wild colonial boy

Surrender now, Jack
Duggan,

for you see we're three
to one

Surrender in the
Queen's high name,

you are a plundering
son

Jack drew two pistols
from his belt,

he proudly waved them
high

I'll fight, but not
surrender,

said the wild colonial
boy

He fired a shot at
Kelly,

which brought him to
the ground

And turning round to
Davis,

he received a fatal
wound

A bullet pierced his
proud young heart,

from the pistol of
Fitzroy

And that was how they
captured him,

the wild colonial boy.
>>>>>>>>
It appears that we are still sending some wild boys to Australia. Misbehaviour by Irish immigrants in Perth has led the GAA there to issue the following letter to its members.
Hello fellow Finbarrians
The following message is
not only for your perusal, but also one which you can pass on to all your
fellow Irish friends here in Perth.
The WA police are
extremely unhappy and appalled by the antisocial behaviour which is taking
place all too often on the streets and in the pubs across Perth and its
suburbs, especially in the Northbridge area [above]. Even Rental Agencies are
not as willing to rent properties to Irish people here in Perth, as they are
getting destroyed during parties, and being left in terrible conditions once
vacated.
We have been advised,
that over the next few weeks, the Perth Police will be, at random going around
to all of the GAA Clubs and talking to club
members, advising them of same. They want to get the message across to all
Irish in Perth that what has been going on is just not acceptable, and if it
continues there will be consequences.
Police will be adopting a
Zero tolerance policy for any antisocial behaviour. If individuals
don't abide by the law, and take heed of move on notices, their visas WILL firstly be investigated, before court action, meaning that
deportation would be the final conclusion. This is the last thing anyone of us
or our fellow Irish counterparts here in Perth want.
This a very serious
matter, and I hope that you and your friends will now be aware of the
consequences should occurrences with the Police occur. Not something we are
encouraging that is for sure.
Please spread the work to
your fellow Irish, as this is affecting all of our reputations here not only
the people who are causing the trouble.
Many Thanks for reading
the above.
Regards
Linda H
President
St.
Finbarrs GFC
>>>>>
What a pity that a small few are spoiling it for so many.