This is the KnitWits crew in Scribes on Saturday last. We knit there every Saturday from 11.00 to 1.00 and we welcome new members. Call in for a chat or just to see what we are at.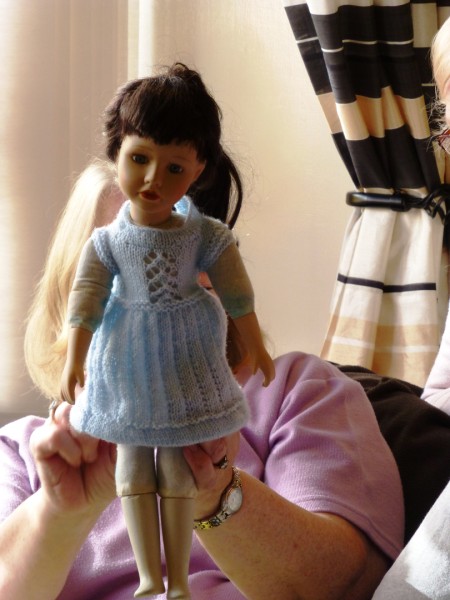 This is our newest doll model showing off one of the dresses that will be for sale in aid of the St. Vincent de Paul Society at the craft fair on November 4.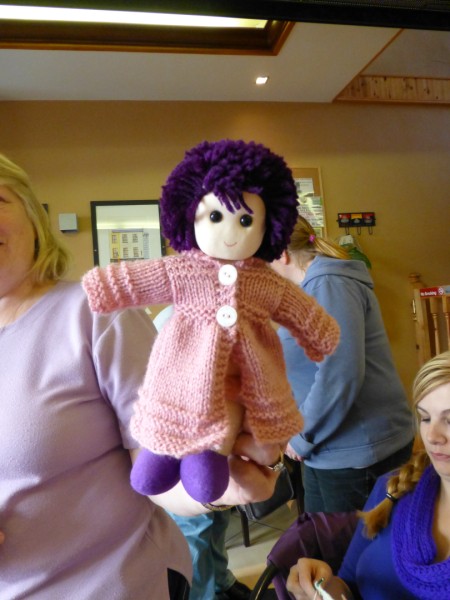 Quinny modelling a smart pink coat.
<<<<<
The quality of these pictures is really poor but I thought some people might like to see them anyway. The staff of St. Michael's College in the 1990's.


>>>>>>
Famine Donors
A little known fact is that many people worldwide came to the aid of Ireland during The Great Hunger. A new book sheds some light on just who reached out the hand of friendship to us in our darkest hour.
Former US President Abraham Lincoln, a tribe of
Choctaw Indians and a Turkish Sultan were among a group of 15,000 people
worldwide to donate money to Ireland during the Great Famine.
That's according to a new book by the historian and
lecturer Christine Kinealy, who is one of the world's most respected
authorities on the Great Hunger, having studied it for over 20 years.
The Drew University Professor says Abraham
Lincoln's donation, made when he was a newly-elected senator, came as part of a
wider effort organised by the then-vice president George M Dallas.
In 1847, the vice president of the United States
convened a massive meeting in Washington and he called on all senators and
congressmen to go back to their states and do something for the Irish
poor.
At that stage Abraham Lincoln, who was
newly-elected, really wasn't very well known except for maybe in his
home state. But he sent about ten dollars, about five pounds.
The president of the US sent a donation which was
50 dollars.
Christine says that that mass donation didn't pass
without incident, however:
There was a whole controversy about the vice
president Dallas, who was a slave owner.
So people in Ireland – most of whom were opposed
the slavery – had a dilemma: should we take money from people who owned
slaves?
In the end they decided that they would and he was
happy with their decision.
She says one of the great myths of the Famine
surrounds Queen Victoria's donation. It is widely believed that the British
monarch only sent five pounds to help with the famine relief.
In reality, she sent much more than that:
People say that 'Queen Victoria gave five pounds,
she gave a far higher amount to a local dogs' home'. In fact, this is is a
myth.
Queen Victoria was the largest individual donor to
famine relief – she gave two thousand pounds and she became involved in some
other ways.
But I think people prefer to hold on to the fabled
fiver myth. That fits into their image of [her].
Help came from further east too. A Turkish Sultan,
who was the head of the Ottoman Empire and had an Irish doctor, offered to give
ten thousand pounds to Ireland.
However, in the end gave a thousand
pounds. It's believed that he tried to help out in other ways – the
subject of which may be made into a movie – but Christine says that the story is
difficult to verify:
One of the myths, it
just hasn't been substantiated so maybe its just a myth
waiting to become a fact, [is] that he sent three ships that
the British government said couldn't land in Dublin so they
made their way to Drogheda.
So there are all these debates about whether the
Sultan of Turkey's ships came to Drogheda. It's a myth that people like to think was true because it's a
heartwarming story.
>>>>>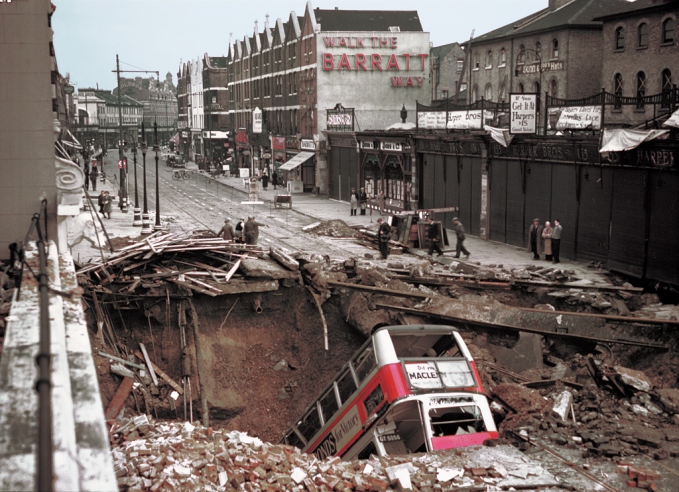 A shocking picture from Life magazine of London during the blitz
<<<<<<
Picture from The Farmers' Journal of the scene outside Dáil Eireann yesterday. The picture below is from the Irish Times.
>>>>>
Great news: Kerry Group announced 800 new jobs to be created in a new R&D plant in Naas.
Published on Tuesday 9 October 2012 16:12
Having started out as a local dairy co-operative, Kerry Group is now a world leader in food ingredients and flavours.
The group's origins date back to 1972 when they opened a dairy processing facility in Listowel, Co Kerry.
The company started out with a workforce of about 40 people and reported profits of €127,000 on a turnover of €1.3 million in it's first year.
Today, Kerry Group employs more than 24,000 people around the world and generated revenue of €5.3 billion in 2011. They supply over 15,000 food, food ingredients and flavour products to customers in more than 140 countries.
This is made possible by Kerry's manufacturing facilities in 25 countries and international sales offices in 20 other countries.
Headquartered in Tralee, Kerry Group is listed on the Dublin and London stock markets, having launched as a public company in 1986.
The group makes several well-known household brands, including Denny, Galtee, Shaws, Cheestrings, Charleville, Mitchelstown, LowLow and Dairygold.
– Liam Godinho