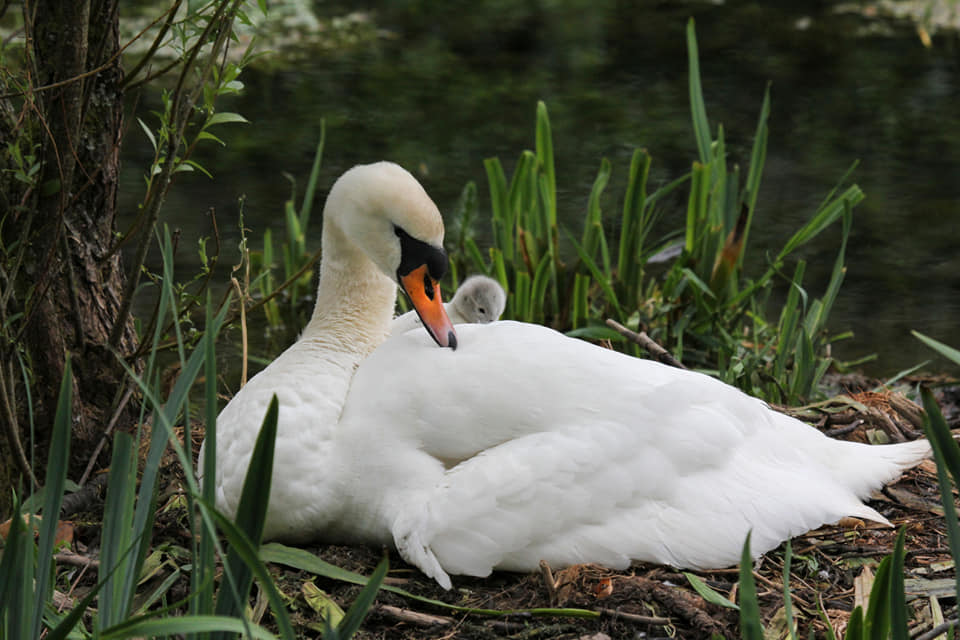 Photo; John Flynn, Blackwater Photographic Society
<<<<<<<
Ní Bheidh a Leithéidí Arís i mo Shaol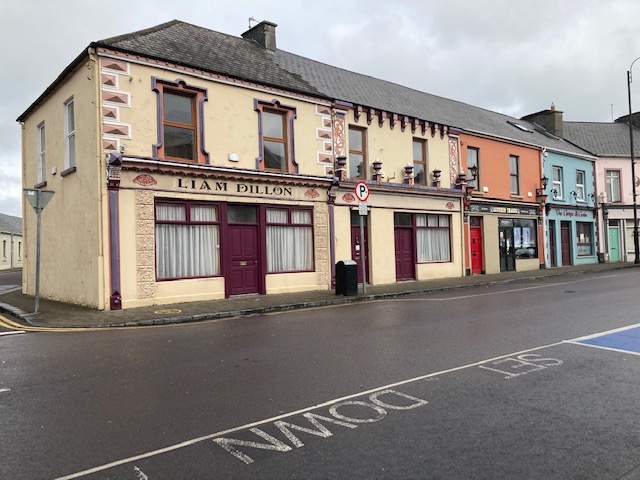 For me, Listowel has not been the same since Anne Dillon passed away. With Liam now gone to his eternal reward, Listowel is that little bit more grey.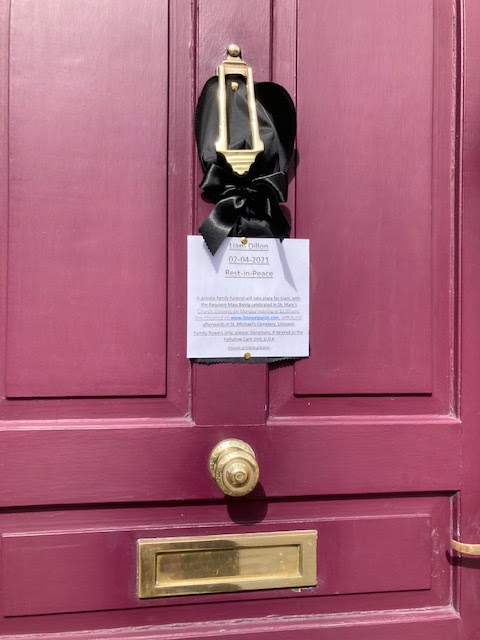 I came to Listowel to live in 1975. Liam was the local shopkeeper and Anne was a teacher in the local secondary school. Today, 46 years later, I am mourning the loss of my two great friends and two of my favourite Kerry born people in the whole world.
I came to know Anne first as a work colleague. She soon became a friend. Anyone who knew Anne also knew Liam. They were a team. Even though they had separate very different interests and very rich separate lives, they shared so much and they were one of the closest couples I know. Anne and Liam adored one another. The care they always gave to one another was magnified one hundred fold when, first Liam, and then Anne, fell ill.
Liam passed away peacefully on Good Friday 2021, two years after his beloved Anne. He was surrounded in his last weeks by his devoted family, Colette, Aine and his best mate, Éamonn.
Go gcloise tú ceol na n-éan ab ansa leat, i measc na naomh is na n-aingeal sna Flaithis go síoraí, a Liam.
I am reproducing here some of the lovely eulogy delivered by Éamonn at his dad's funeral mass. The photographs that are not mine are Éamonn's.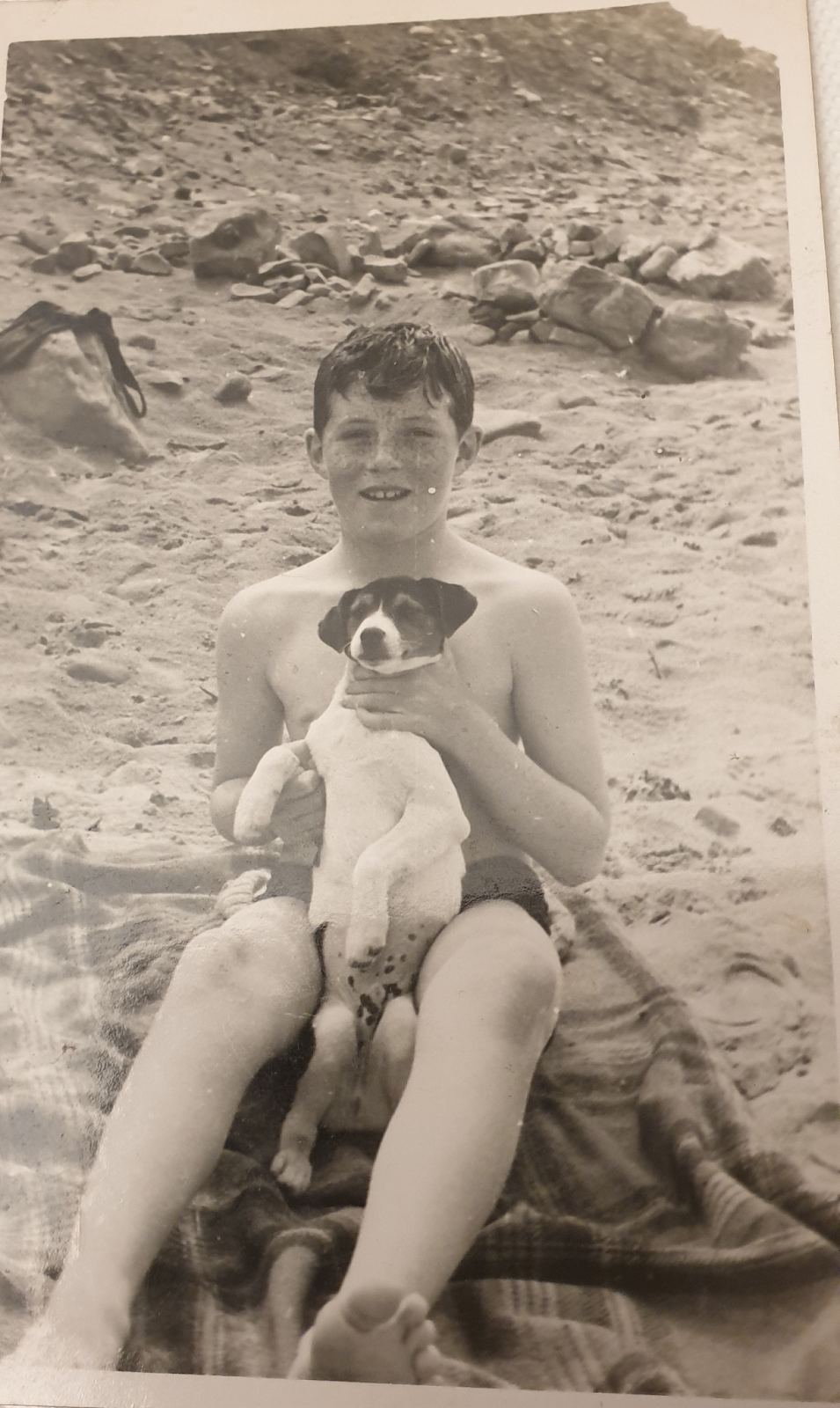 Liam Dillon and his dog, Sparky, in Ballybunion in the 1950s.
Liam was born at No. 62 Church Street, Listowel on the 2nd July 1941 to John Joe Dillon and Eileen Lane. Liam was always immensely proud of the fact that he was at least the seventh generation of the Dillon family to be born in the town of Listowel itself. Prior to that, his family came from Cnoc an Fhásaigh.
Dad had a truly wonderful life. Liam married Anne Stack from Carrueragh, Knockanure in 1969 and they went on to have three children, Colette and Áine and myself. Liam inherited the family shop at 62 Church Street and he ran that until he retired several years ago. No 62 Church Street was originally erected in 1870 by Paddy Lane (Liam's maternal grandfather) for his daughters. Liam's paternal grandfather, Bill Dillon, came from further down Church Street where Walsh's hardware shop used to be.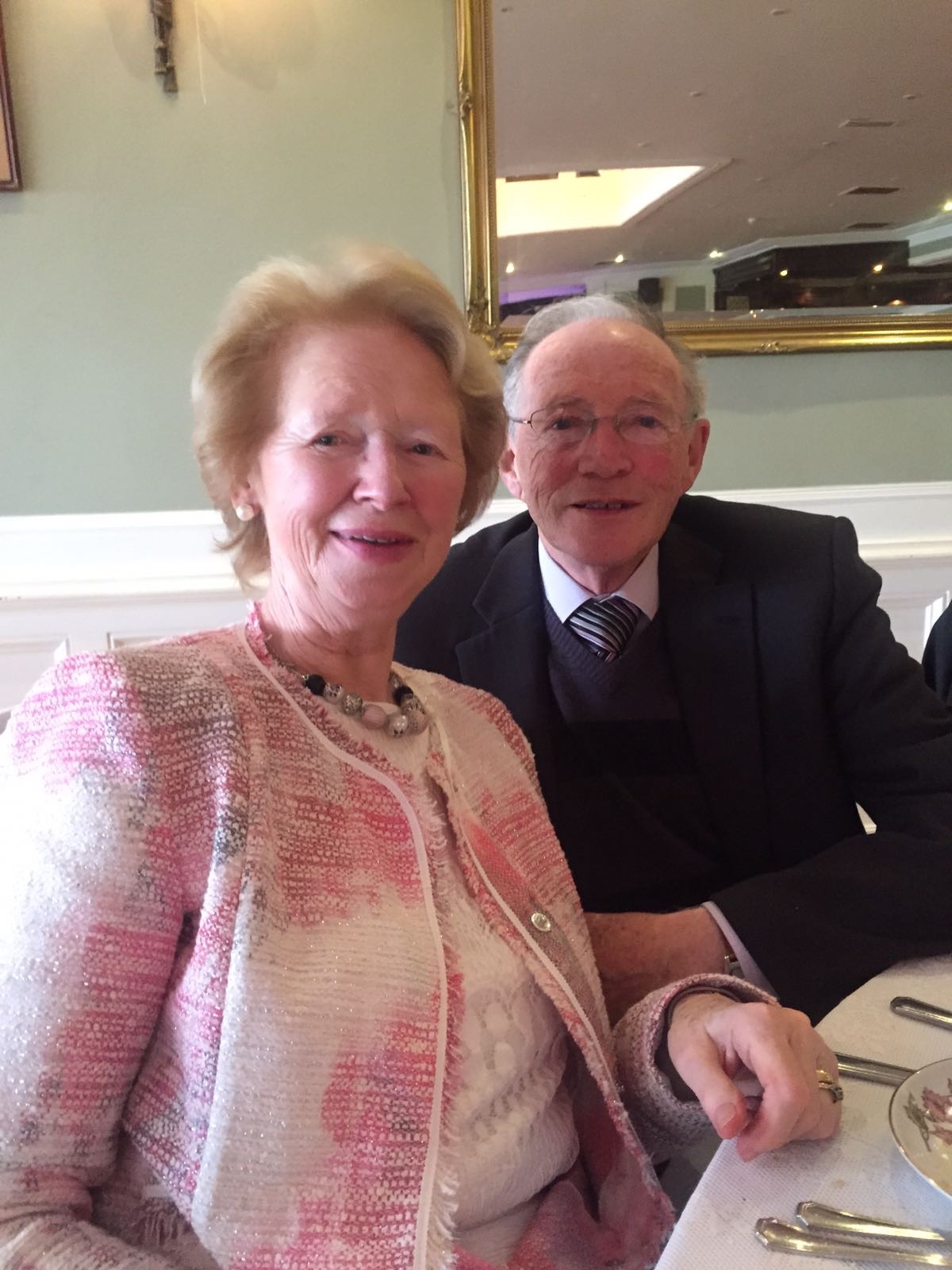 Anne and Liam Dillon in The Listowel Arms in 2017
Liam was absolutely devastated when our mother Anne, who looked after him as they used to say "like a sick priest", first fell ill and then passed away on the 3rd June 2019.
Liam himself was initially diagnosed with cancer back in 2016 but Dad never complained and took everything in his stride, and with treatment, he lived a very full and happy life until last Christmas when his health suddenly deteriorated.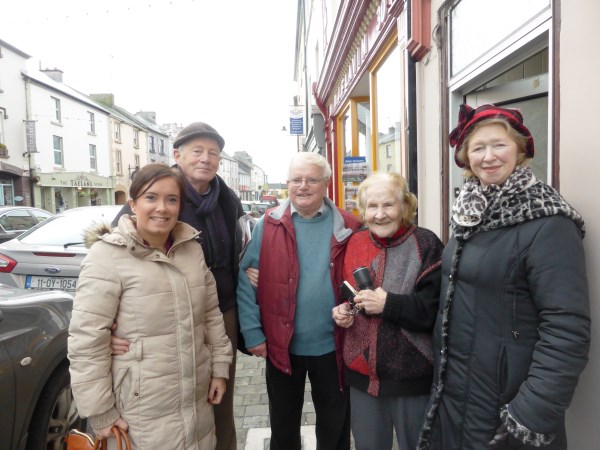 Anne and Liam with neighbours and friends on Church Street

All throughout his life, Liam's many friends, neighbours and relations in the town of Listowel generally, and in Church Street in particular, were a considerable source of delight to him. Listowel and Church Street were also very important to him. Liam was born at No. 62 Church Street, had his business at No, 62 Church Street and, even when he retired from the shop at No. 62, he only moved a few doors up the street to the Old Rectory in Upper Church Street. And indeed St. Michael's Graveyard, which will be his final resting place, is just a few steps further up the Street and across the road from The Old Rectory.
The importance of place to Liam was always evident. Even though he travelled widely in earlier years, he was always happiest back in Listowel. Over the past 20 months, since Mum passed away, his neighbours, family, in-laws and many friends all have rallied around.
Of course, Dad had a very wide variety of interests. Since Anne died, he loved nothing more than spending time in his beloved aviary with his canaries and quail which he got back into after the passage of more than 65 years.
Liam also loved reading, both history and fiction, his garden and plants, indoor and outdoor and, up to very recent years, walking as well as breeding and showing dogs. We spent many a bank holiday over the years at Irish Kennel Club Dog Shows all over the country. Dad both showed and judged dogs in the Terrier and Toy classes at Irish Kennel Club dog shows. His registered kennel prefix was "Oldcourt" (harking back to his relations, the O'Sullivans, at the Old Court in Lixnaw) and, when he spotted entries with Ch (denoting champion) coupled with the Oldcourt prefix, he was always intensely proud. For many years Liam also had greyhounds, both coursing and track (an interest he shared with Patrick Walsh).
Liam loved to tell the story about the time when, with his father, John Joe, in the 1950's, he went to purchase a greyhound pup in Tipperary. One small brindle pup ran up to him and he selected that. However his father told him that "solids" were better runners and so he put down the brindle pup and selected a "solid". Dad went on to have great luck and success with that pup and she even ran in the final of the Oaks. However, he would ruefully then point out that the first pup he picked up and put down also ran in the same race and won!
Liam and Anne with Eddie Moylan and myself at Listowel Races a few years ago.
Liam also enjoyed horse racing from the time when he used to attend the races with his own father as a child and that interest endured to the very end with him enjoying, and keenly following, the racing from Cheltenham just the week before he passed away.
Dad also loved music. When Dad was at home he played music every day. Our neighbours next door often mentioned to me how much they liked listening to the classical music that he played in the mornings. He especially liked the André Rieu concerts. However I am not sure what they made of the training videos that he regularly played for the young canary cocks to improve their singing!
When Liam was in the Palliative Care Unit in Tralee for the past nine weeks, we all took turns playing songs that he requested. His taste was wide and varied. Most of his selections, were, to us, very predictable. We knew what he liked. "Red Sails in the Sunset", "Doonaree" and selections from Oklahoma were regular favourites. But he completely surprised me one evening when he asked me to play "Two out of Three Ain't Bad" by Meatloaf. When I expressed some surprise at this apparently unusual choice he completely astounded me by commenting that Meatloaf was a great performer live! He went to explain that he had attended a Meatloaf concert in Tralee with our late mother many years ago. Our father, the rocker!!!
Dad was also very social and it would be true to say that our house was very much an "open house" over the years. Mum and Dad had a very wide circle of friends and relations who regularly called in over the years. We used to joke that the house was like Grand Central Station sometimes. All however were made very welcome and all their friends and relations brought much pleasure to both Mum and Dad over the years. It was one of the great disappointments this past year that Covid-19 prevented these visits.
On occasions such as this it is often said that a person had a great faith. This was never truer than with Dad. He had a very private and intense faith and belief which never waivered.
One of the gifts (symbols of Liam's life) that was brought up to the altar today was the poem "The Street" by the late, great John B. Keane. I must also say that although John B. nowadays is most often associated with William Street, he was born and raised in Church Street and is thus, rightfully, claimed by us. As we gather here today to honour and to give thanks for Liam's life, the final stanza of John B's "The Street" is, I think, rather apt.
"A golden mellow peace forever clings
Along the little street.
There are so very many lasting things
beyond the wall of strife
in our beleaguered life.
There are so many lovely songs to sing
of God and his eternal love that rings
of simple people and of simple things"
Beidh tú saor anois go deo, Liam. Slán abhaile.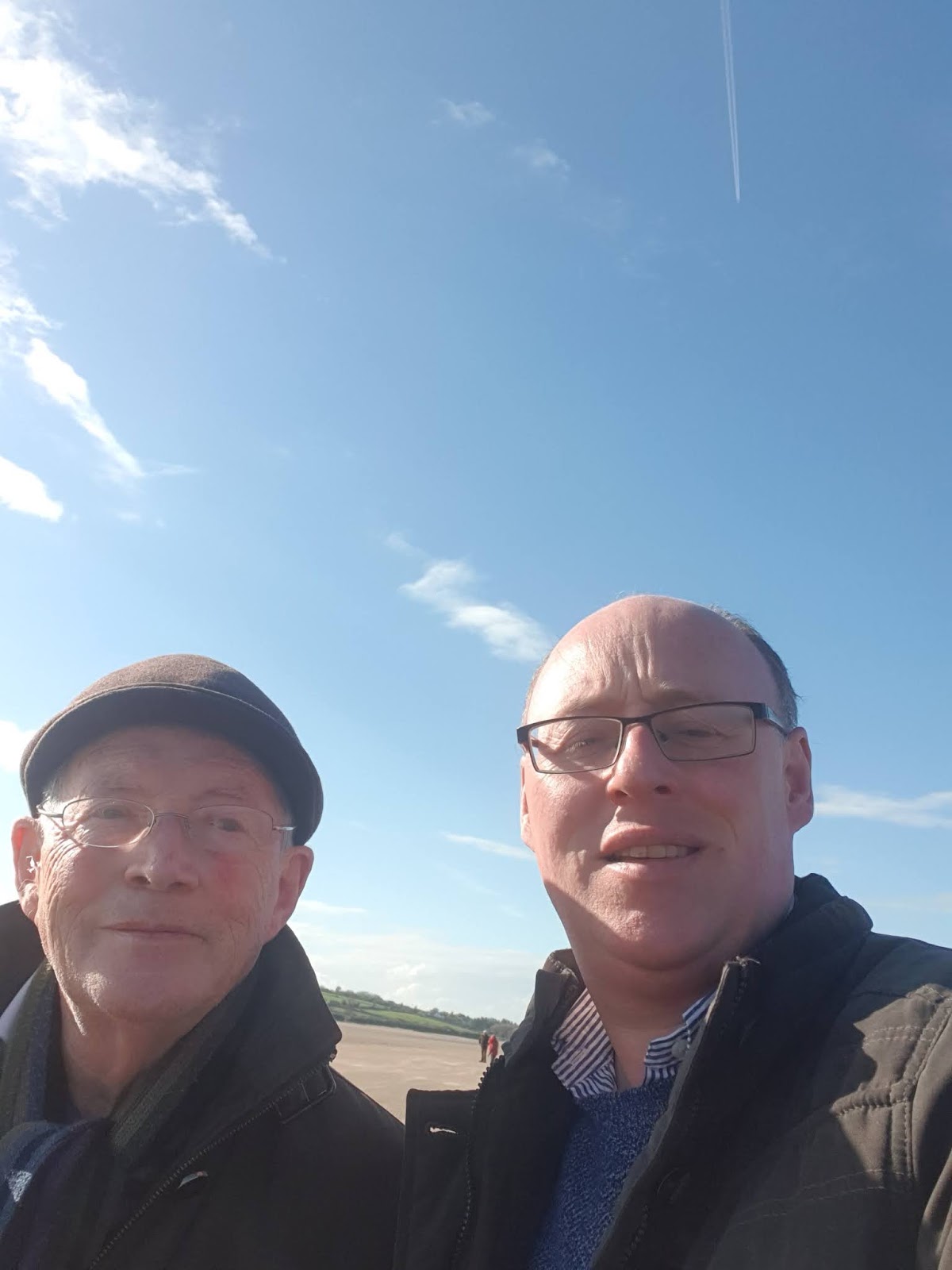 Liam and Éamonn Dillon, September 2020