Autumnal sunshine in Listowel Town Square on October 8 2020.
St. John's closed for another while.
<<<<<<<<
Rounding the Corners
People who have grown up in Listowel often call streets and areas by different names to what you will see on the signposts, e.g. Main Street is known locally as The Small Square, Childers' Park is The Cows' Lawn and Purtill Solicitors are located at Collopy's Corner or The Custom Gap.
I asked Vincent Carmody, who is somewhat of an expert on these old names, to tell us a bit about Listowel's corners and their names.
These names carry a wealth of local history and memories.
Vincent writes;
In my 2012 book, 'Snapshots of an Irish Market Town', I gave a brief history behind the naming and the attempted re-naming of the streets (without an official plebiscite) of the town. There was another aspect of the streets which I did not mention, this was, of course, the location of the most popular street corners, where townspeople, mostly men, would gather, at evening time and on Sundays, to discuss or gossip on the major events, local, national or even international events or happenings of the day. As it were, those days, youtube or facebook.
Each street had its own popular corners, those were usually called after whoever owned the particular corner house, with each corner having its own regulars. Those which I mention would have been the major corners, however I am sure a few other, more local corners, hubs !, could make a claim to fame.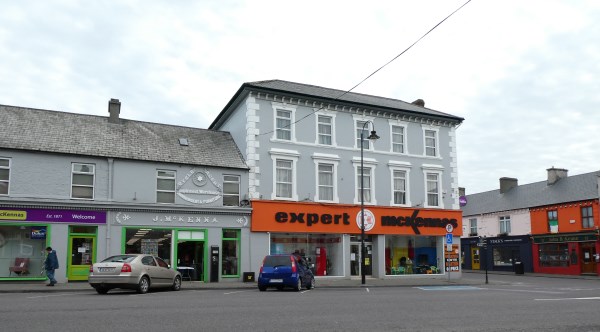 Possibly the town's most famous corner was Walsh's corner, now McKennas', famous, as it was immortalised as the location by the late John B. Keane in several articles which he wrote on the subject of corner boys. This corner was also the meeting point used by the local G.A.A. when the Emmets club had an away fixture.
Further up the street, at the junction of William Street Upper and Charles Street, stood Dillon's Corner, this was afterwards known as The Sheriff's or Carmody's. Up to the present day this corner is used as a meeting point for the players of the local Celtic Soccer Club as its assembly point prior to traveling to an away fixture.
Church Street had three well known corners, the major one been, Cotters Corner, at the junction of Church and Main Street, this is now Scullys, Further up the street, at the corner of what is now Colbert Street and Church Street, was The Bridewell corner, This was formally the location of the towns gaol or Bridewell, The street (Colbert Street) was also known as Bridewell Lane.
The corner further up Church Street with its junction to Courthouse Road, now Doran's Pharmacy, was known as McGinleys Corner, more recent locals would have known it as Crowleys.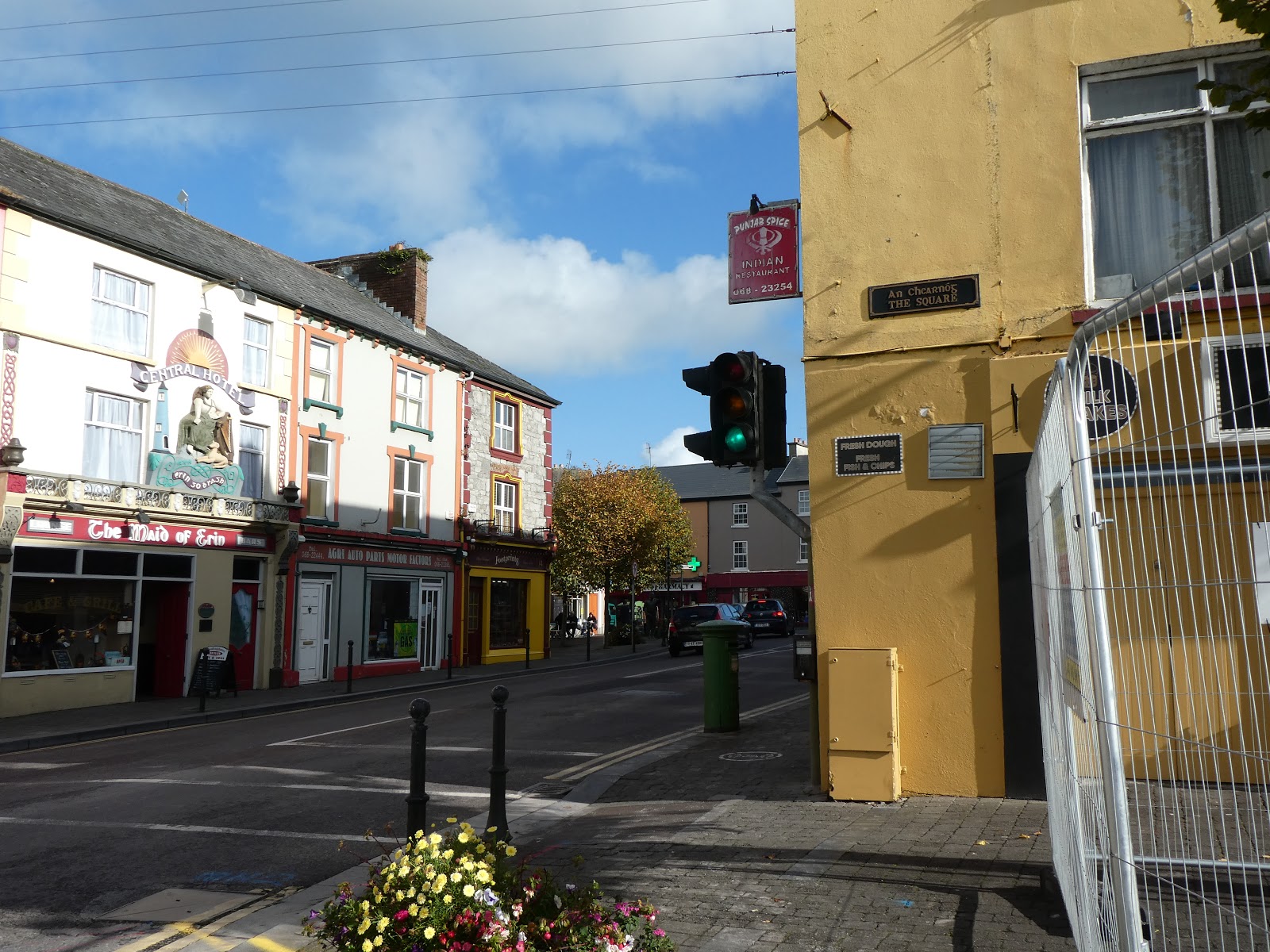 Down in the Square, at the junction of Main Street and the Square, stood Leahy's Corner, while further up at the exit from the Square to the Bridge Road stood Collopy's Corner, the Collopy family ran a small hotel and the area was also known as The Custom Cap, as Lord Listowel's agents collected tolls at this point. The building is now owned by Kieran Moloney,
Even though Walsh's Corner was remembered in a literary sense by John B, Collopys' is the only street corner remembered in verse. This is found in a way of a pronouncement, by a well known local bellman, Mick Lane. A local distressed lady, having lost her cloth furry muff !, asked Lane to advertise it on Market day, Lane did so, ringing his bell and calling out his newly composed lines,
Lost, but not found,
From Collopys' corner up to the Pound,
A hole in the middle,
And furry all round'.
There were other gathering places for locals, The Bridge, back in Convent Street was a popular rendezvous for natives of 'The Gleann', while people from the top of William Street gathered at the front of St Patrick's Hall. A popular meeting place of residents of the Boro (Charles Street) was, I believe, at the Courthouse gate.I also remember large groups gathering outside where Ned O'Sullivan shop was and also, outside what is now Gerard Leahy's Accountants in Main Street. This was formally the Fire Station and Urban Council Office.
Some corners, due to their central location were strategic locations for the erection of cinema billboards, three I remember quite clearly, were Leahy' Cotters' and Shanahans' corners.
I am sure that I may have missed out on some, anyway for what it's worth, that's my tuppence worth !!
Every generation creates its own customs and traditions. I think gathering on street corners has been replaced by hanging out in Jumbos.
If anyone else has any memories they would like to share of corners, shops, people or customs, I'm always delighted to accept your help.
I'm sure you are more than aware that these are slow news days and photo opportunities are getting harder and harder to come by.
<<<<<<<<<
All Gone
Looking at my memory key of photos from 2015, I realise how much we have lost. Here are three more business that have shut up shop in the last 5 years