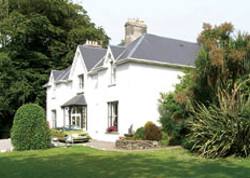 Another of Listowel's big houses is Mount Rivers which now operates as a B.&B. This is what I found on the internet about it.
MOUNT RIVERS, FINUGE, LISTOWEL
The hill above the river (Eng.)
A. Associated families: MCELLIGOTT
B. Location: Ballygrenane Townland (Townland of
the summerhouse), (1895),
enter from a short side road from the
Listowel-Abbeyfeale Rd, the
two-story Victorian house of 5 bays still stands
as part of a large
angled complex, above the Listowel Bridge. A
large garden, lawns and some
mature trees are kept there.
C. Features: Mount Rivers is a pretty residence
with a fretted barge
board on the front gable and a Victorian glass
porch with brass fittings
and marble fireplaces. The gardens and lawn are
spacious, while the
avenue with big, old trees curves uphill from the
gates.
D. History: Gerald McElligott built Mount Rivers
in 1869 and the family
has lived here ever since.
<<<<<<<<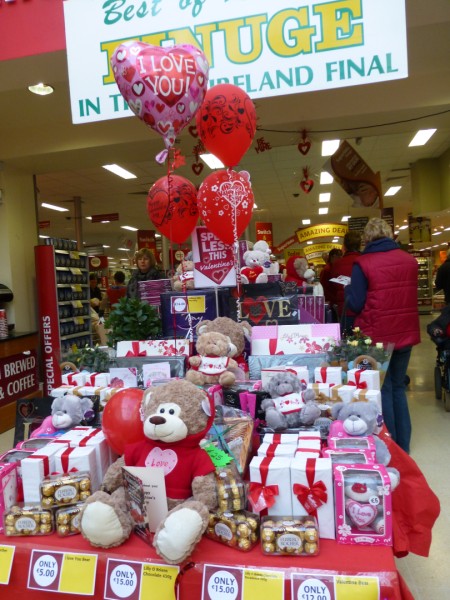 Garvey's are getting a head start with this Valentine's display. I'll bring you a few more Valentine related displays in the next week.
Isn't this a lovely photo? It shows Noel Roche and Jack Mahoney pictured in Convent St. some years ago.
<<<<<<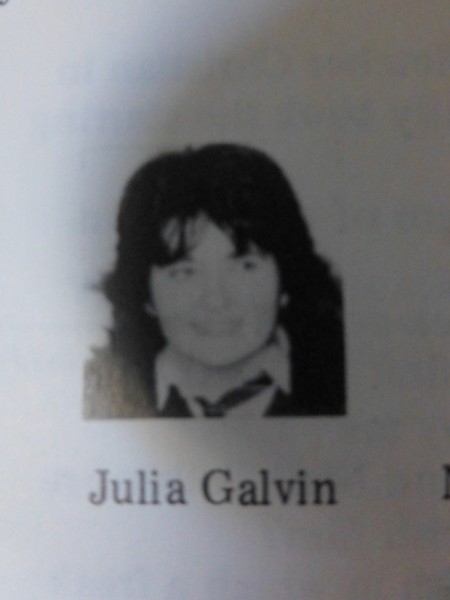 This is how she looked in 1988. Today she is better known for bog snorkeling and wife carrying.
<<<<<
More on the story of peat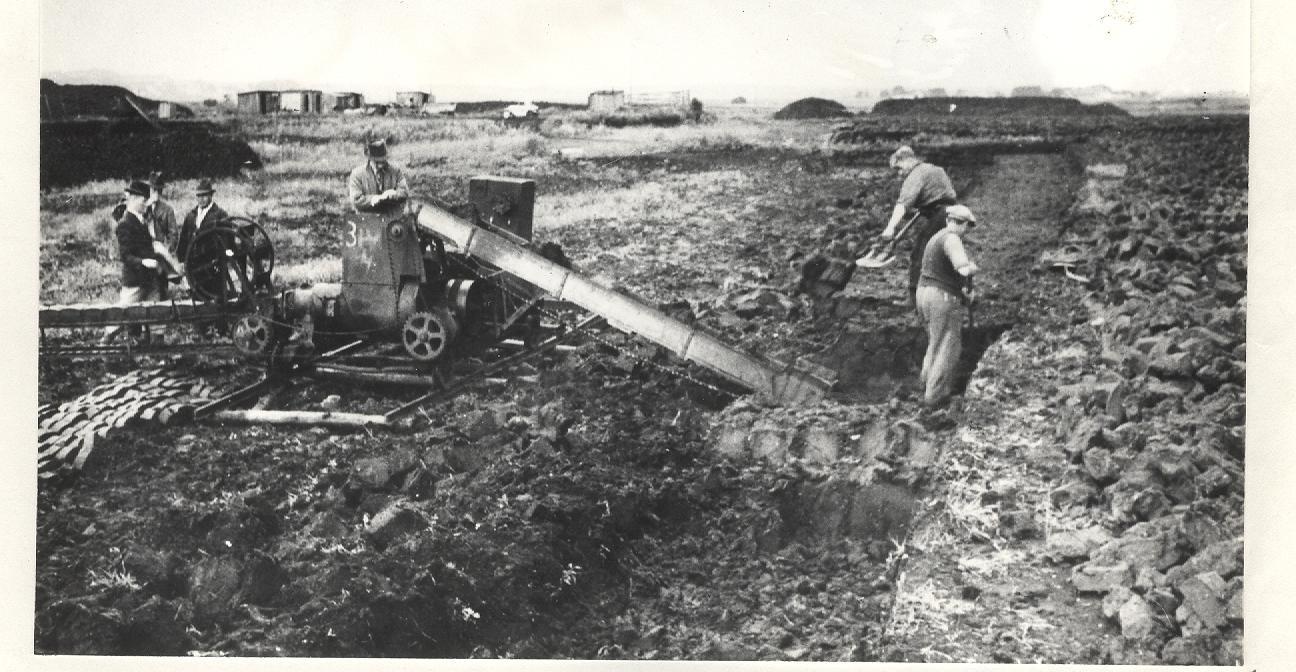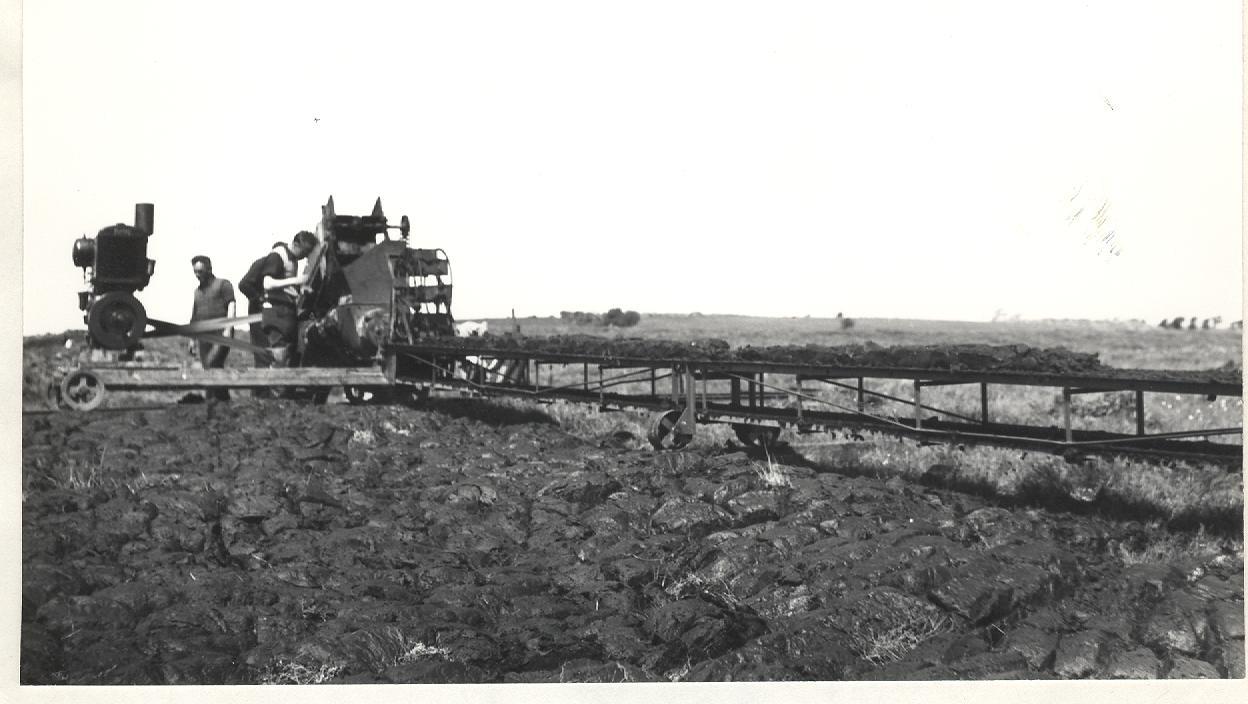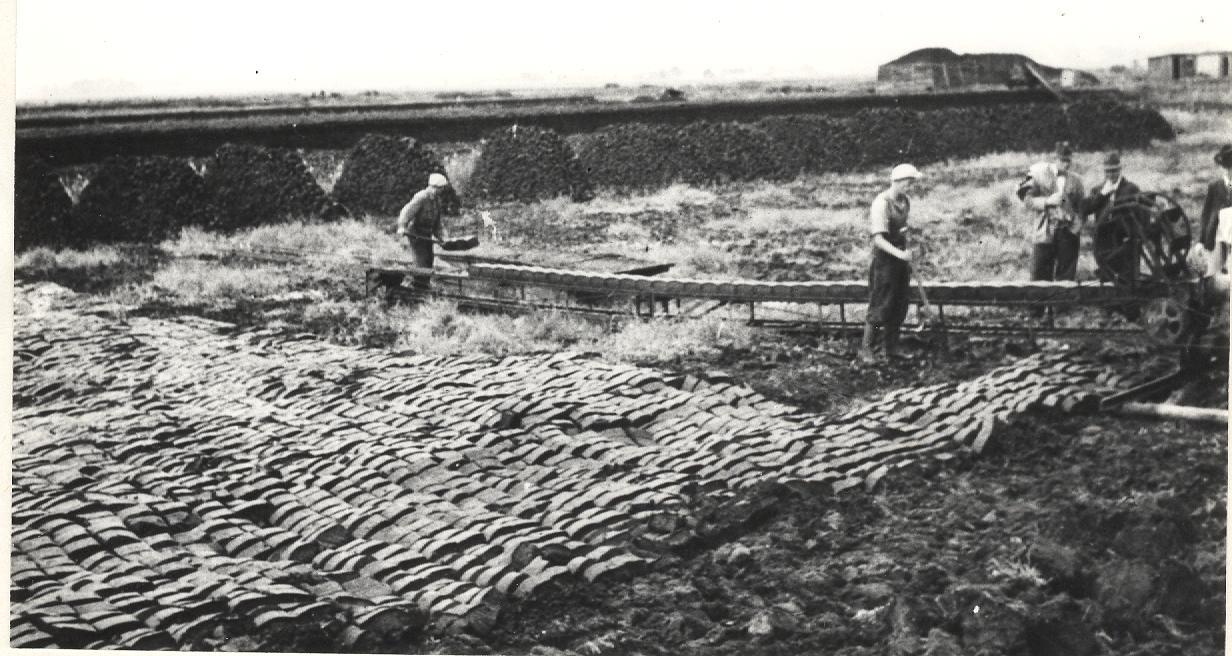 Between 1948 and 1953 Bord na Mona introduced de Smitske semi-automatic
machines with a view to improving peat quality. These machines macerated the peat, thus supplementing
the supply of handwon fuel peat. The peat was cut by hand and thrown onto the
conveyor, the machine mixed the peat and pushed it out on another conveyor.
The sods were lifted by hand from the spreader so there was
still a lot of manual work needed. It was also an attempt to provide much
needed employment. At peak in 1949 this scheme produced over 100,000 tons and
employed 3,000 workers on 61 bogs in Roscommon, Galway, Kerry, Clare, Mayo,
Sligo, Westmeath, Donegal, Offaly, Kildare, Tipperary, Limerick, Meath and
Cavan. Under this scheme over 400,000 tons of improved quality fuel peat were
produced.
These 3 very interesting photos and the text are from one of my favourite Facebook pages
Bord na Mona Heartland heritage page
<<<<<<
Eugene Moriarty's thoughts on The Rás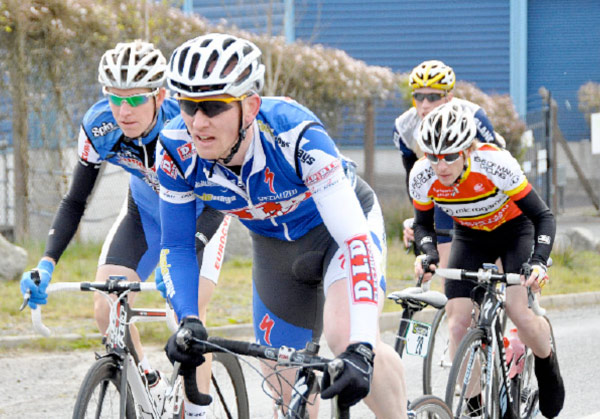 By Brian Canty
He's one of the most experienced riders in the domestic peloton at present and at 39 years Eugene Moriarty is showing no signs of letting up.
Last year, in his umpteenth Rás, he went close to a stage win on the final day – but had to settle for sixth and a best county rider prize. But he believes this year's event is much more manageable for county men.
"I think the race has been designed very cleverly, with county riders in mind but also with a pro mentality," explains Moriarty.
"If you have domestic based Irish guys who prepare properly and in the right frame of mind for it, they can easily give it a shot. The likes of Timmy Barry did phenomenally well last year in it because he prepared specifically for it. If you give guys like him the jump on the pros you never know what they can do."
"Some of us do amazing things in the Rás on less preparation than the pros. I think the domestic riders acquit themselves well and can do it again this year. Whether they can take on pros on stage seven, is a different story. However, I do think there are many chances for county riders to be competitive, maybe more so than the last two editions."
Indeed, Moriarty, from outside Listowel, is particularly familiar with the roads of Kerry and with a stage finish into his home town this year, it's hardly surprising he's aiming to ride it once more – but that stage from Nenagh-Listowel is no picnic, he explains.
"I think the first three days are relatively flat but on day three into Listowel there are some big open roads and though it's not really described as a hilly day, there are a couple of nasty stings in the tail in the final 40 kilometres. That road into Listowel is quite unforgiving and because you get to quite a height, conditions will be tough and also, as you're heading down into south westerly winds it will effectively be a block headwind. You're cutting across that so it's going to be a hard one."
"The day after (stage 4) you're going to start seeing tired legs even though the first three days are relatively flat and that will encourage the Irish guys to take on the race. There aren't huge mountains that the pros will dominate. Leaving Listowel will see anyone with aspirations for the overall start to emerge. That's where the real racing starts."
"Stage 4 is a real leg-breaker though. It's a 100-mile stage effectively and there's climbing right from the start. There's a hill of a couple hundred metres outside Listowel that will take people by surprise. The first official climb then – Lackagh West after 8kilometers – you drop down off that and head towards Castleisland, everyone will know big open roads there."
"That's a long tough one and anyone without legs will start feeling it from there and certainly from Farranfore on you will start to see fractures in the front group. From Killarney there'll be full on racing as you head towards Ladies View, Molls Gap and Garranes."
"Then the Healy Pass, it's all up and down before you even get to that. It says eight climbs on the description but there are a lot of draggy roads and by the end of that day, you'll see who is up to it and who isn't. There'll be a selection before the bottom of the Healy Pass and it'll go to pieces after that. It will make for fantastic racing."
The other stage that Moriarty reckons will be decisive is the penultimate day from Carlow to Naas.
"It's brutal! No other word to describe it. You leave Carlow, it's reasonably flat before the first climb but after Arklow the fun starts. When you hit Glenmalure there's nowhere to hide. After coming off that, you have Drumgoff and Wicklow Gap, back into the wind there probably."
"They are just hard roads. From there on to Ballymore Eustace, even though it's reasonably flat, you still have a couple of undulating climbs around there. If you're in contention for it and you have a couple of team-mates you can inflict serious damage on rivals. But at that stage it's more about legs and less about tactics. It should be a brilliant race and guys are really going to have to prepare well for it."
>>>>>>>