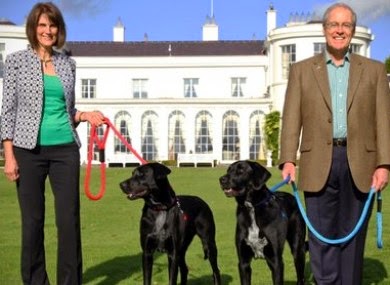 This is Kevin O'Malley, the recently appointed U.S. ambassador to Ireland.
What is his photograph doing introducing my holiday photos?
Simple! He comes from St. Louis, Missouri and that's where I went for my holidays this year.
That's the very tenuous Listowel connection.
There is another very tenuous connection you will see later on.
If you have no interest in learning about St. Louis, go on to reading your emails now, and I'll see you tomorrow.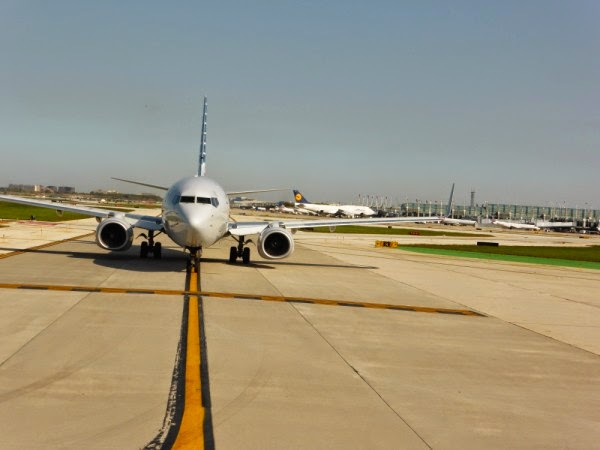 I had never been to the U.S. before September 2014. St. Louis might seem a strange location to choose. It is not exactly a holiday resort and not one that appears on The Bucket List too often. But it is a lovely place and it is where my lovely nephew, Philip, resides with his lovely American girlfriend., Anna.
One thing to remember when visiting St. Louis is that local people pronounce the final s. In fact they pronounce all their French place names (and they have many) as if they were English.
I am not going to bore you with all the details of my visit but I'll give you some highlights.
The reason for the plane photo is that my experience of air travel was a nightmare. I travelled with my sister in law on the day a poor tormented man chose to set himself alight in the air traffic control tower at O'Hare Airport. This was the hub through which we wished to travel on our journey from Shannon to St. Louis. All the air space around Chicago was closed for four hours with all the attendant delays and cancellations……..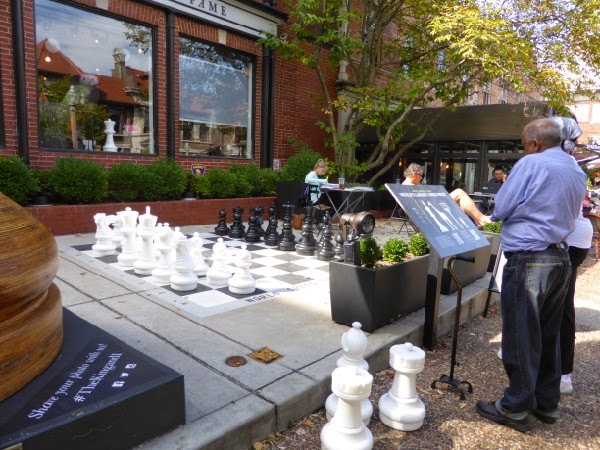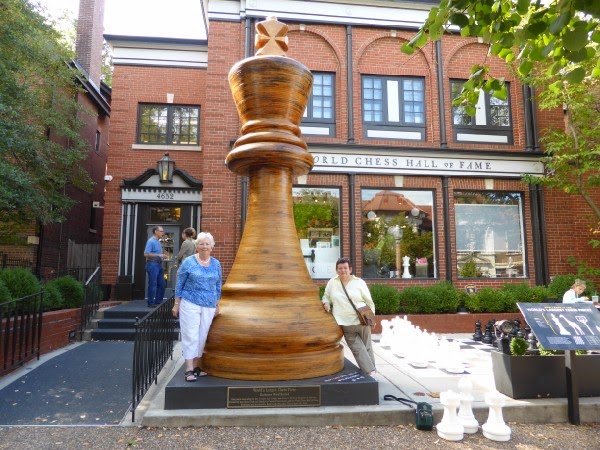 Surprisingly, St. Louis has a chess quarter. It has the world's biggest chess piece, outdoor chess, indoor chess, chess lessons, chess tournaments and a chess Hall of Fame. You can take your photo with the giant "king" and post it on Facebook on a page called The King and I.
I didn't, because I'm not 18 and besides, I can't even play chess.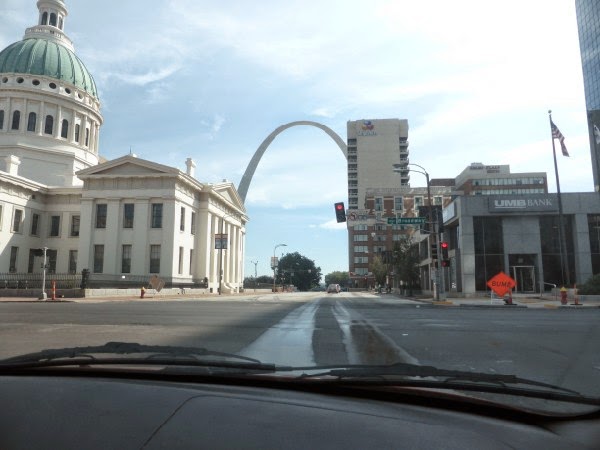 From everywhere in downtown St. Louis you can see their arch. It is a magnificent structure, about 50 times the size of Listowel's Millennium Arch. You can go up to the top in a glass viewing elevator. I didn't, because the elevator was tiny and it was 32 degrees of heat. The climate in St. Louis is one of extremes. Temperatures in mid summer can get up to an unbearable 40 degrees.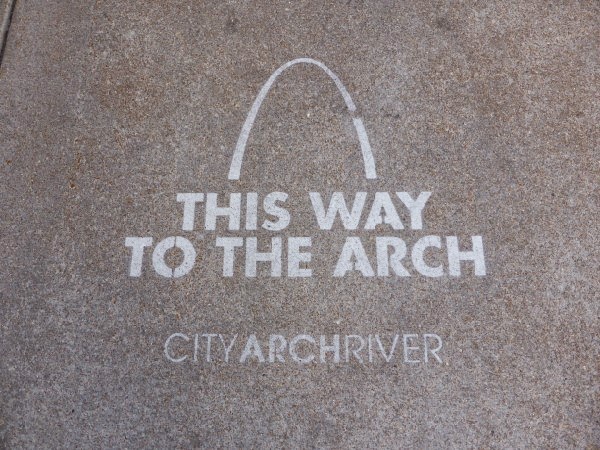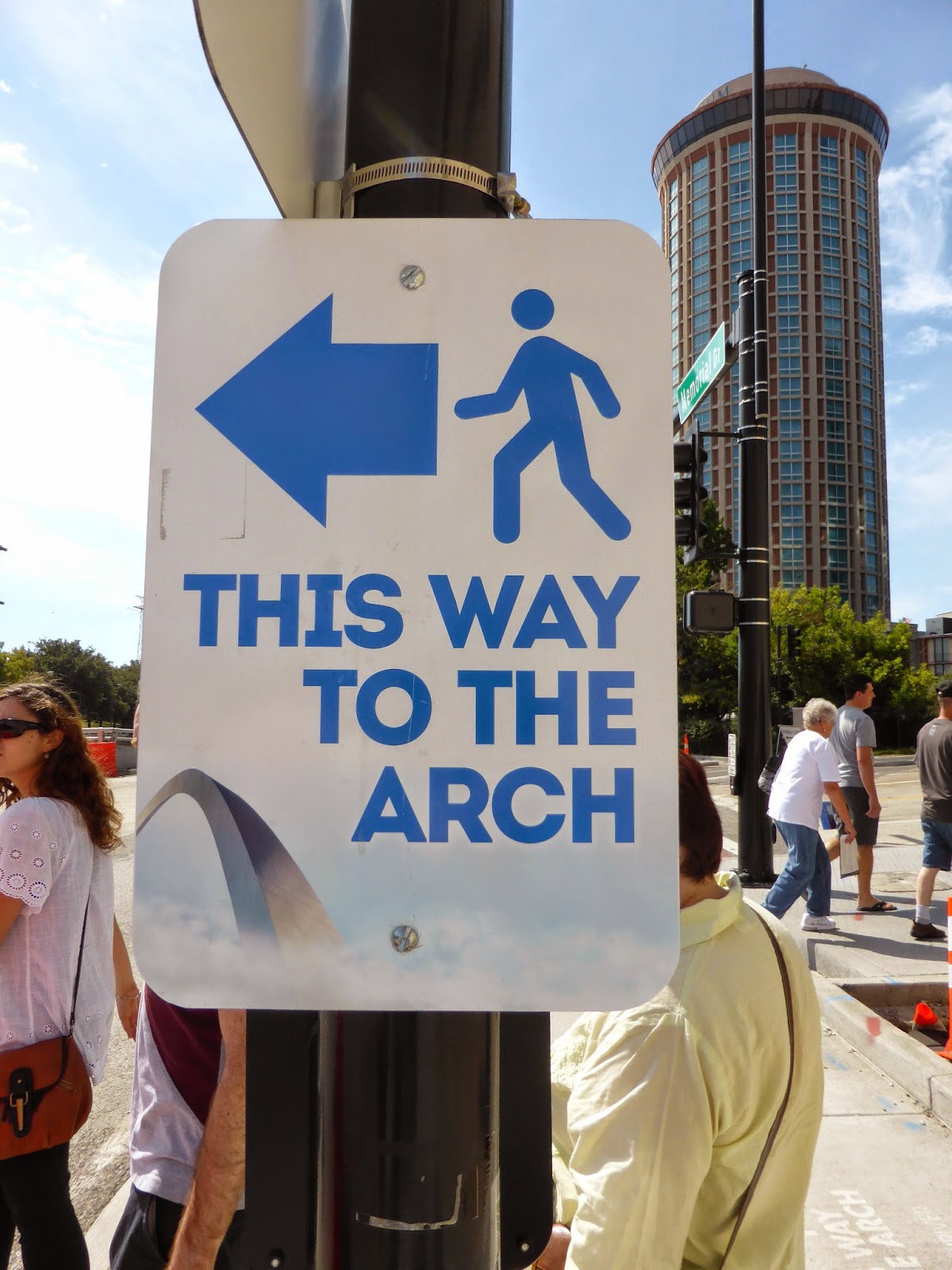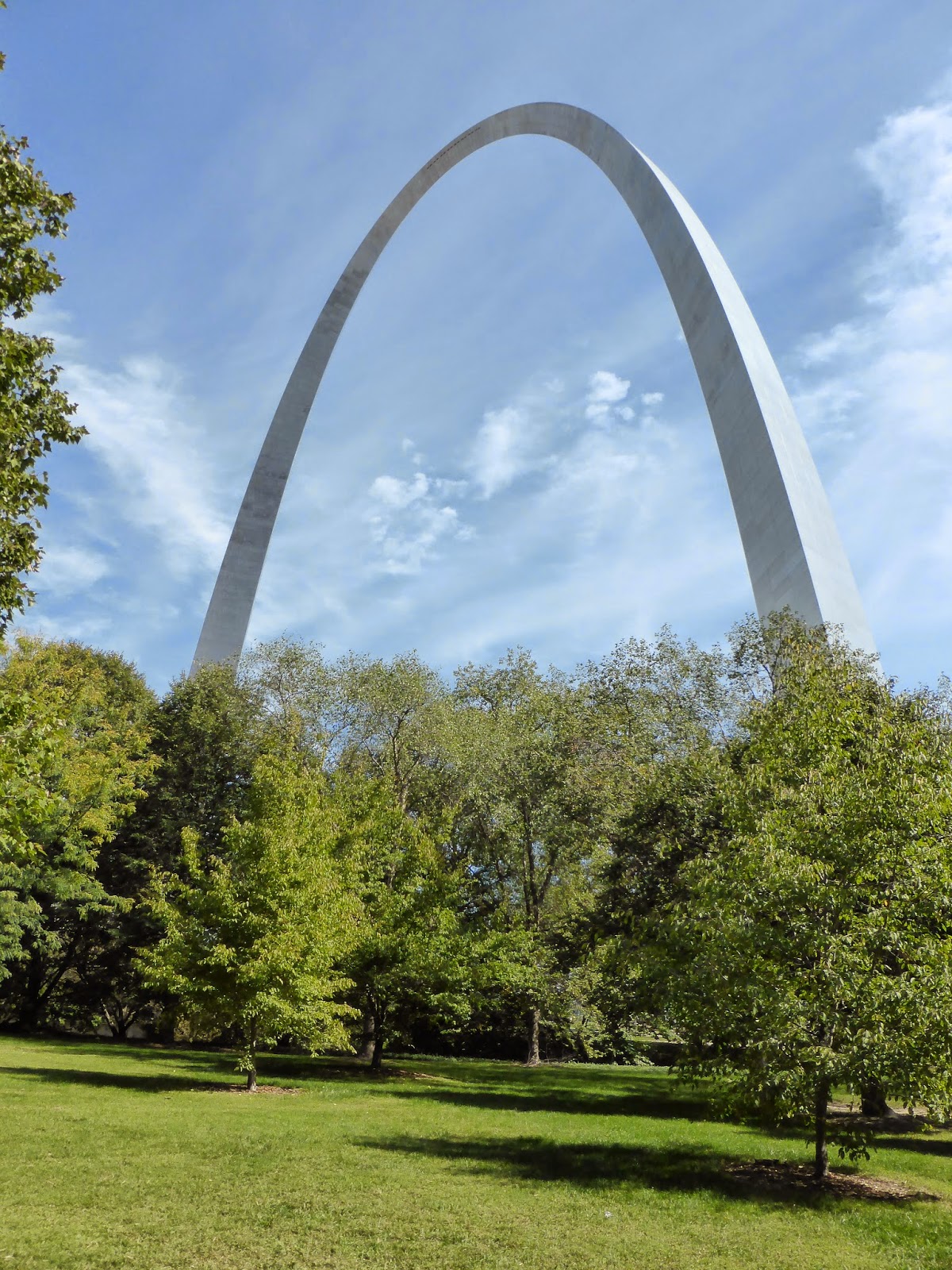 At the right of this photo is the base of the arch.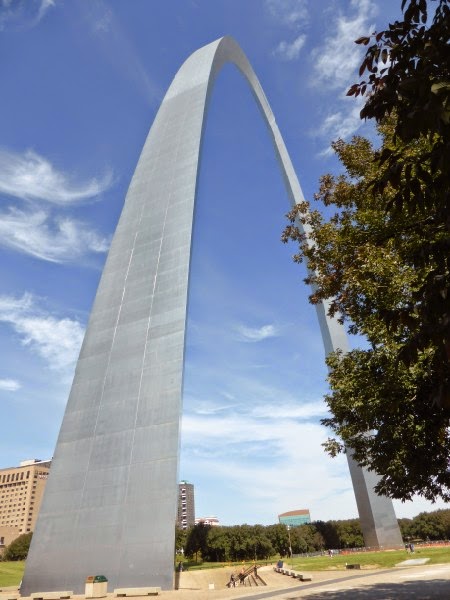 The skyscrapers in the background give you an idea of the size of this magnificent engineering achievement.
By the time I had finished reading the instructions for crossing the road, the lights had changed and I had to wait again. Traffic was very light in central St. Louis on a Saturday, but it pays to be careful.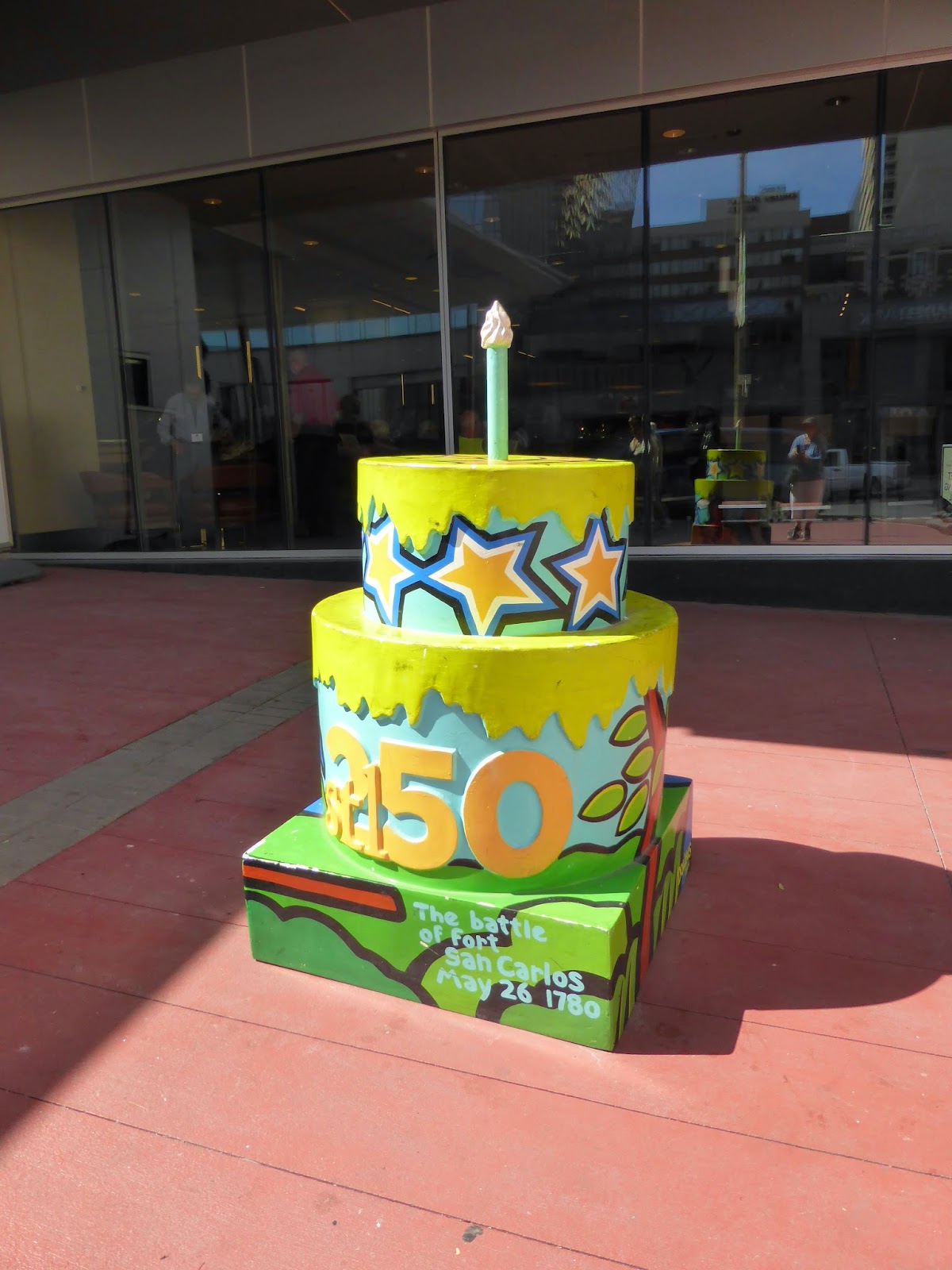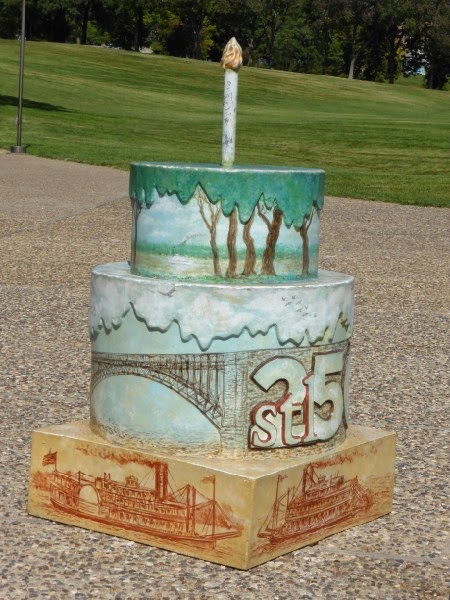 St. Louis is 250 years old this year and to mark this milestone they have placed 250 birthday "cakes" around the city. They have customized each one to match the building or area outside which it stands. I photographed lots of them. I'm just giving you a flavor of the venture. Some schoolchildren have taken on a project for the year to photograph themselves with every one of of the cakes.
The ultimate selfie challenge!
That's me above on a very warm day about to escape into the imposing public library of St. Louis.
I took this photo in a very stylish shop in a shopping mall policed by armed guards. The shops were stylish and expensive and the clientele mainly white.
St. Louis is a very racially divided city. Ferguson, of the recent infamy, is one of its suburbs.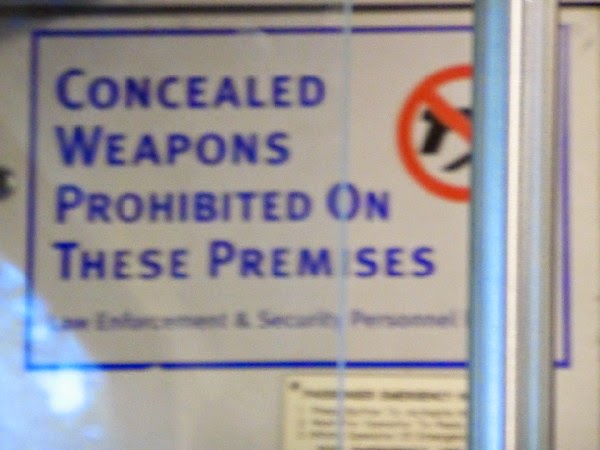 These signs are all over The Metro. They are even more scary when it is pointed out that the key word is concealed. It is okay to carry a legally held weapon in plain view.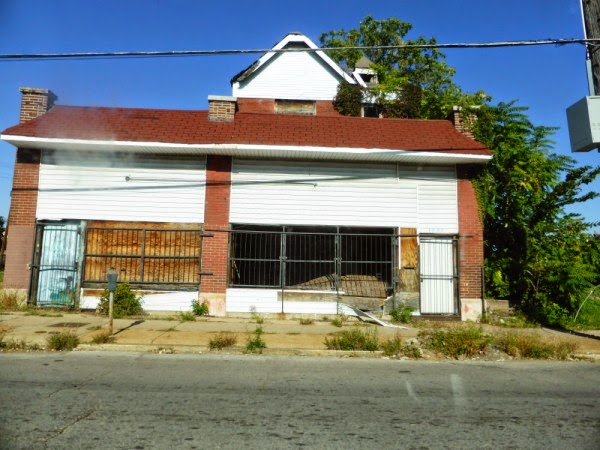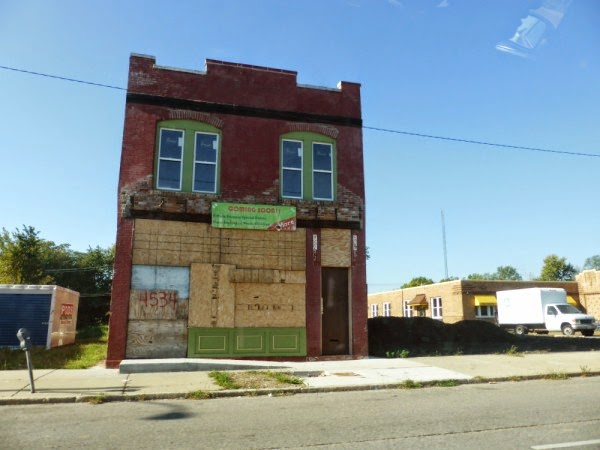 Anna, our lovely hostess and a native of St. Louis, teaches in one of the poorer neighborhoods. She drove us through some of these disadvantaged areas. We saw lots of boarded up houses and shops and everywhere signs of hardcore poverty.
Recently Anna set her class a task to write a poem modeled on George Ella Lyon's Where I'm From.
Here is what one of Anna's pupils wrote:
I'm from Divorces and Step Parents
From the oldest of 5 and only one blood sibling
I'm from a Paramedic and a nurse
An Architect and a poet
From a certified genius.
I'm from glorified opinions
From, "Shut up I'm playing the game!"
And from, "You may be older…but he's taller."
I'm from attempted rape and 1st degree depression
From self inflicted wounds and never ending nightmares.
I'm from the cliche boy jock and girl nerd relationship
From, "You may need an education, but you need to get sunlight too."
From the people who will never understand…
But will always listen….
<<<<<<<<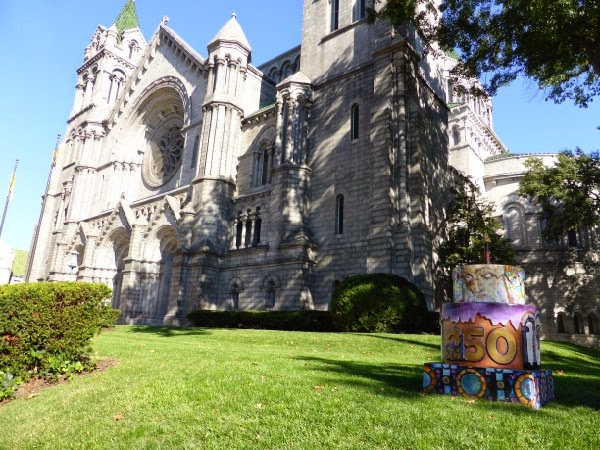 Not too far from the poorer areas is the breathtaking splendor of the Catholic basilica. Heating this nine stories tall vault of a place in Winter and cooling it in summer must cost what it would take to feed the poor of the nearby areas for a year.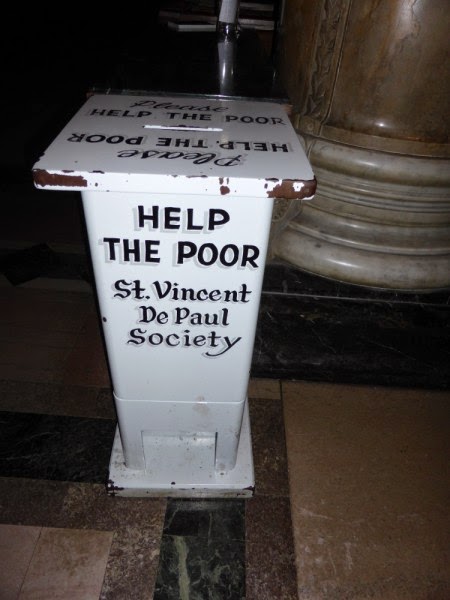 Poor Box in the basilica

The basilica was built by an Irish born archbishop of St. Louis, Fr. Glennon.
Glennon was a controversial figure, very anti women and he promoted racial segregation in Catholic schools, even in the teeth of opposition from his own priests and from the Loreto order who ran the Catholic school.
Glennon was promoted to cardinal, aged 82, and, after some hesitation, decided to make the trip to Rome for his investiture in the winter of 1946. Since he was so near to his native Westmeath, he decided to make the trip home with his new cardinal's hat. He was received by President, Seán T. OCeallaigh and Taoiseach, Éamon De Valera.
Unfortunately the trip was all too much for the elderly man. He got a flu and died. His body was brought back to St. Louis and he is buried in the cathedral.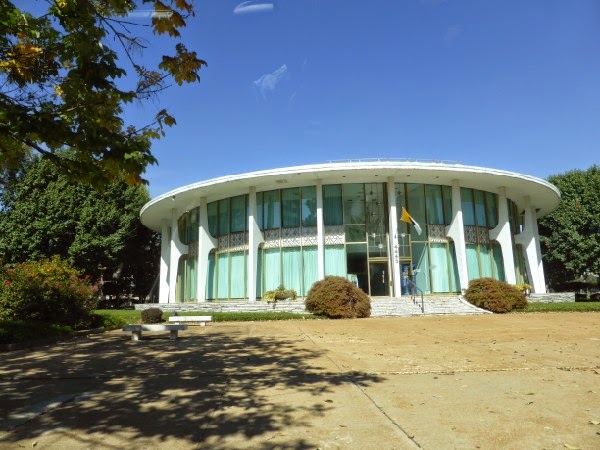 This building near where my nephew lives looks a bit like the U.S. embassy in Dublin. Could they have the same architect?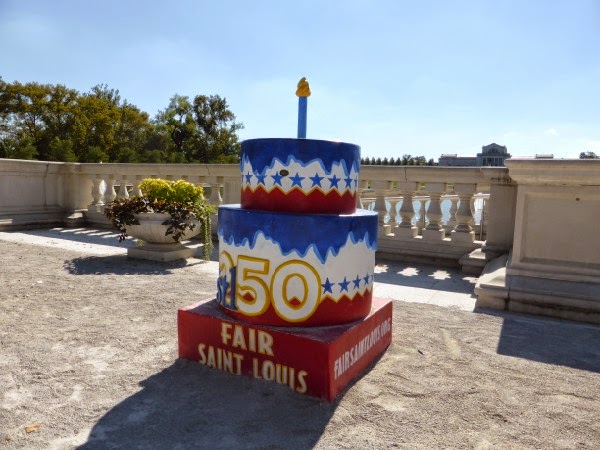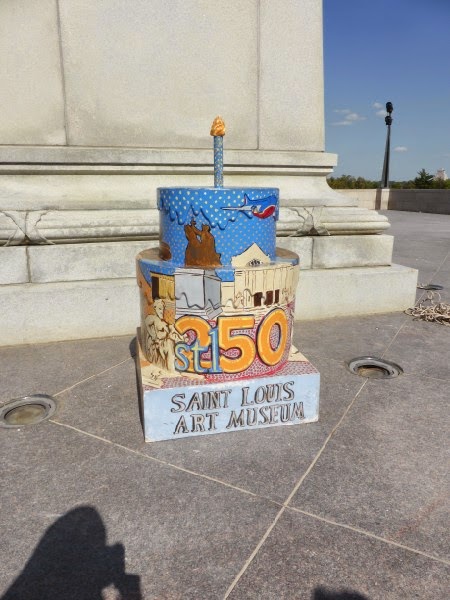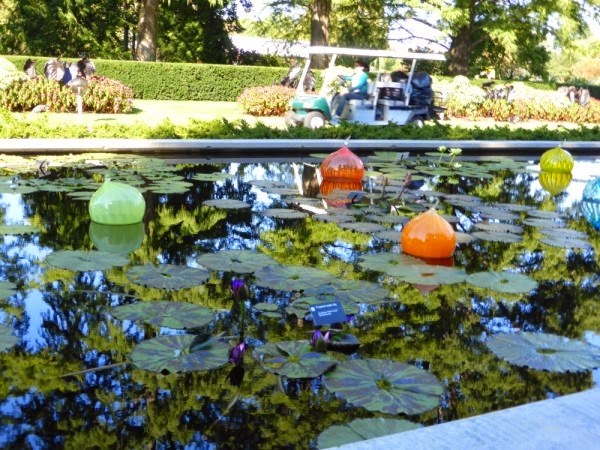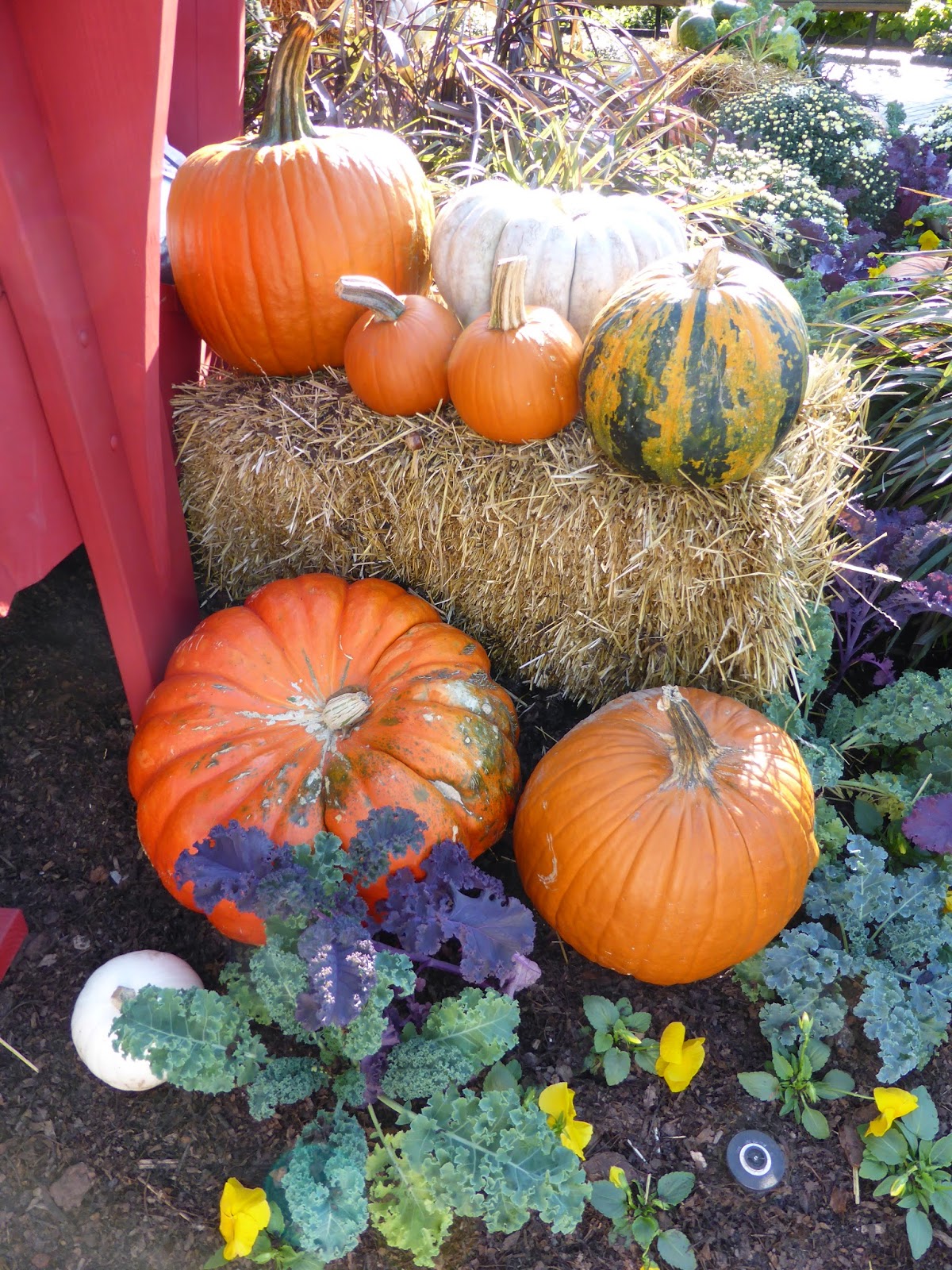 Everywhere preparations were going ahead for Halloween. I took the photos of the glass pumpkins and the real ones in the very beautiful Botanical Gardens in St. Louis.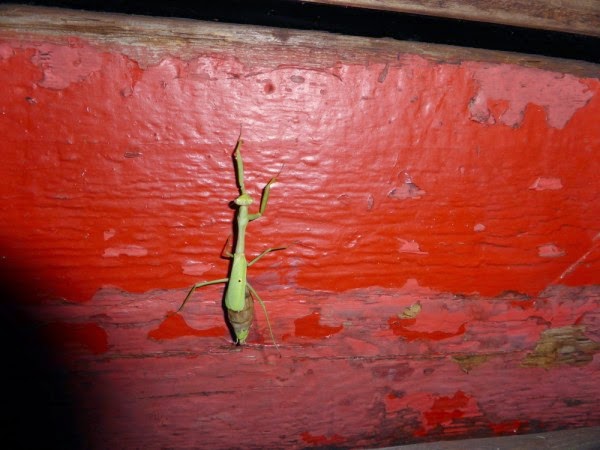 This is a praying mantis. This and the nighttime sound of the cicadas are strong symbols of St. louis for this visitor.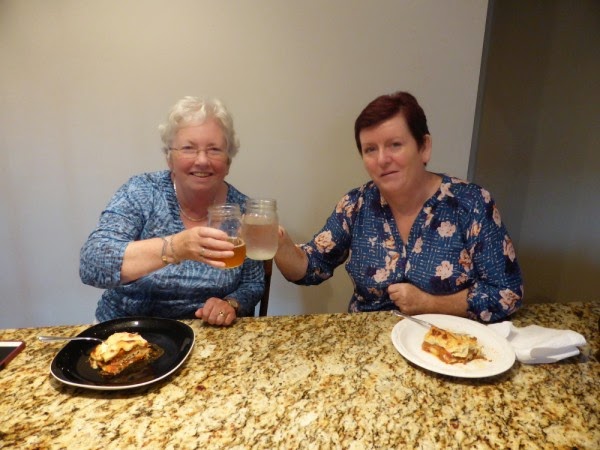 There is a fad in St. Louis for drinking out of jam jars. When in Rome….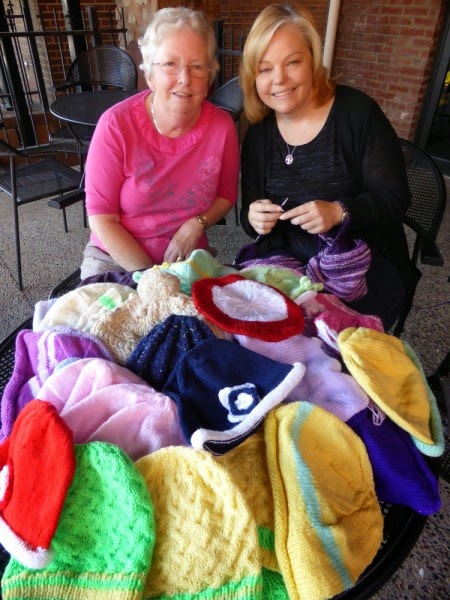 While I was in town I handed over a consignment of caps, knitted by the ladies of Knitwits Listowel for the charity, Hats from the Heart. In the picture with me is Sabrina Wagoner. Sabrina is the lab. manager in the laboratory at Washington University in St. Louis, where my nephew works. She is also founder of the charity which provides knitted caps to children undergoing chemotherapy in hospitals in the St. Louis area. I was delighted to be part of this Listowel connection.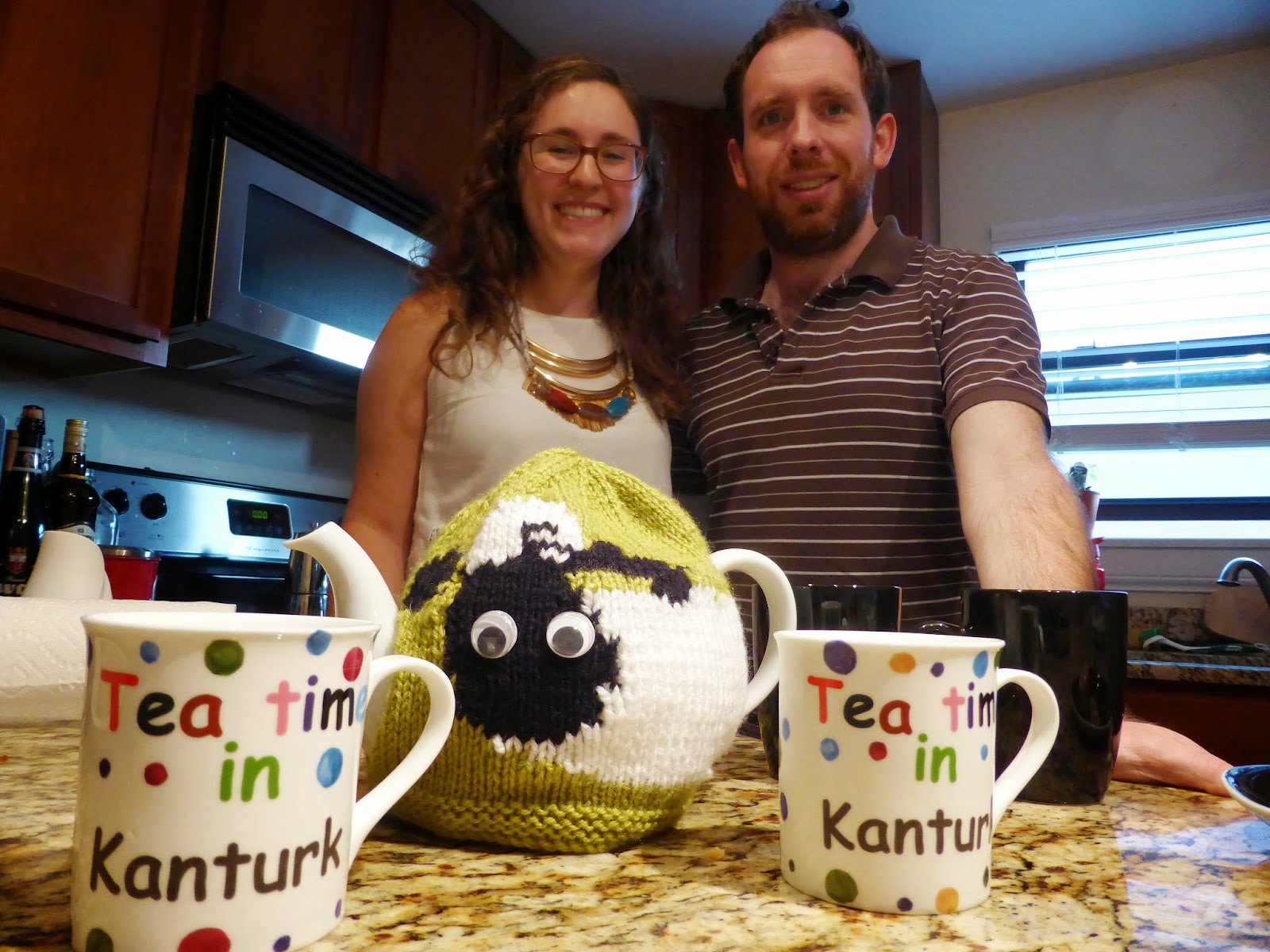 Farewell Philip and Anna. (I knitted the tea cozy and Philip's mom provided the mugs from home)
After our trip to St. Louis, we moved on to Chicago where we spent three happy days exploring that city.
Farewell, St. Louis, lest I never pass this way again.