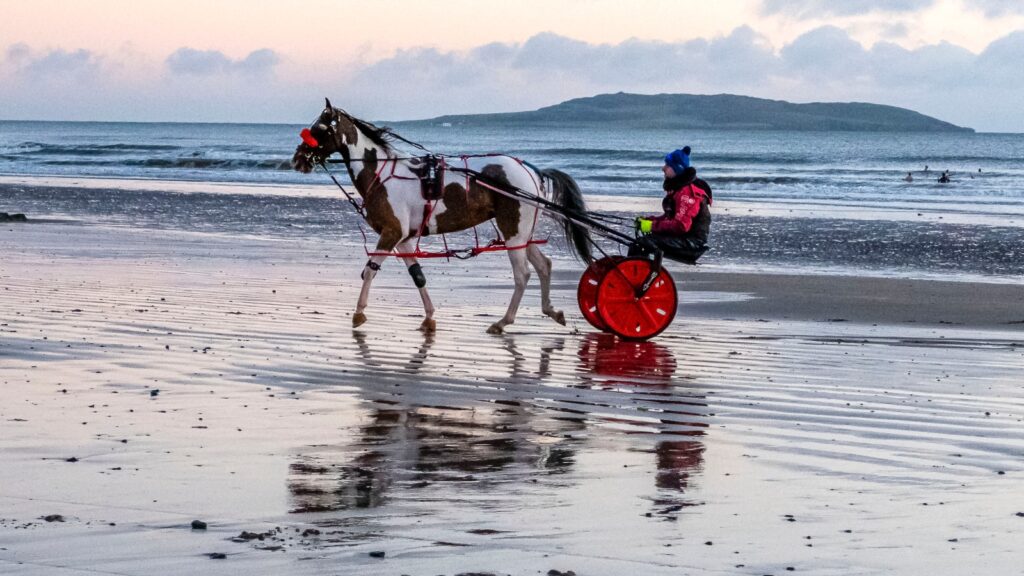 Portmarnock on a Sunday morning in December 2021;
Photo; Éamon ÓMurchú
<<<<<<<<<<<<<<
A Street with Five Names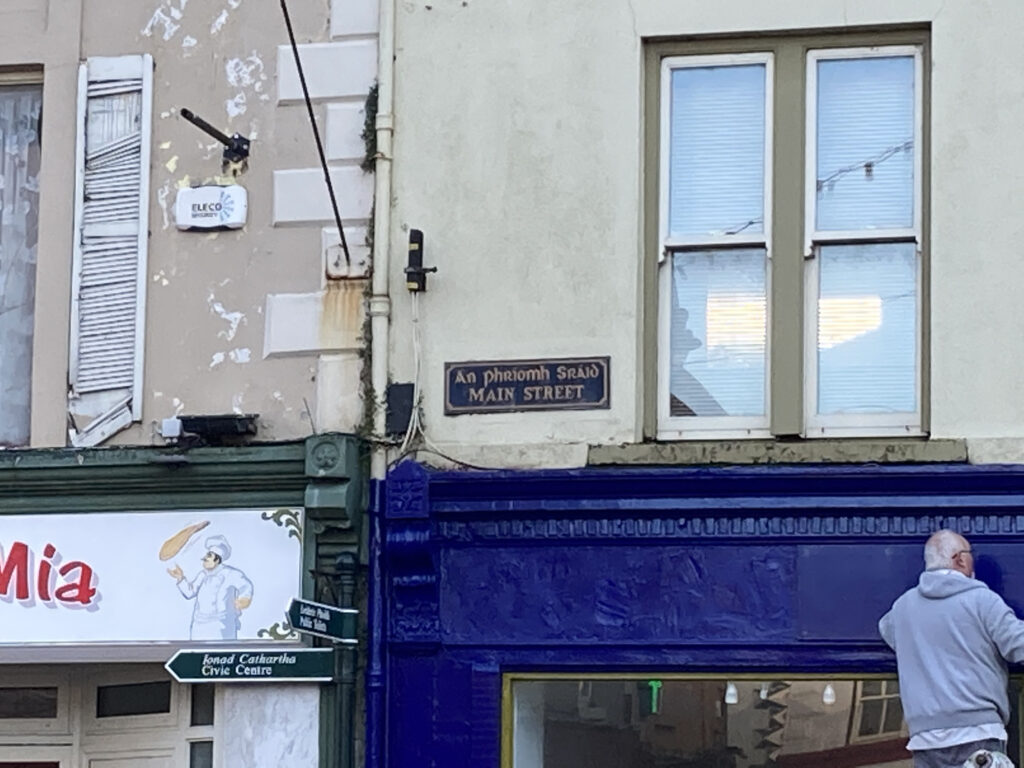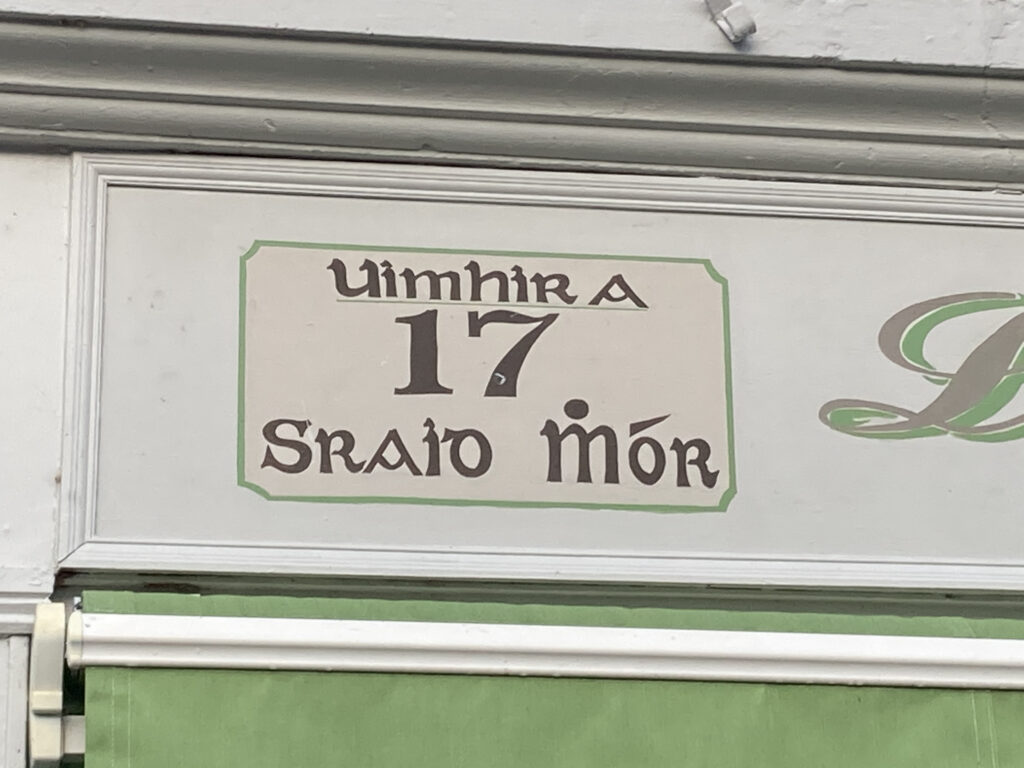 Remember this story from a few weeks ago? The part of town local people call The Small Square is also Main Street, An Príomh Sráid an An Sráid Mhór.
Vincent Carmody reminded me that it was also called O'Rahilly Square.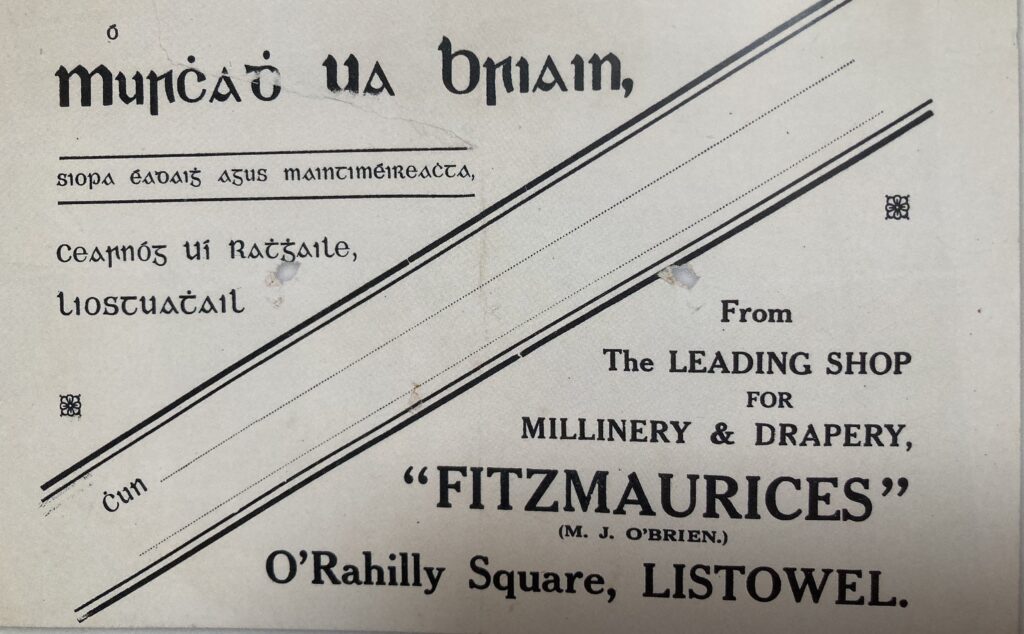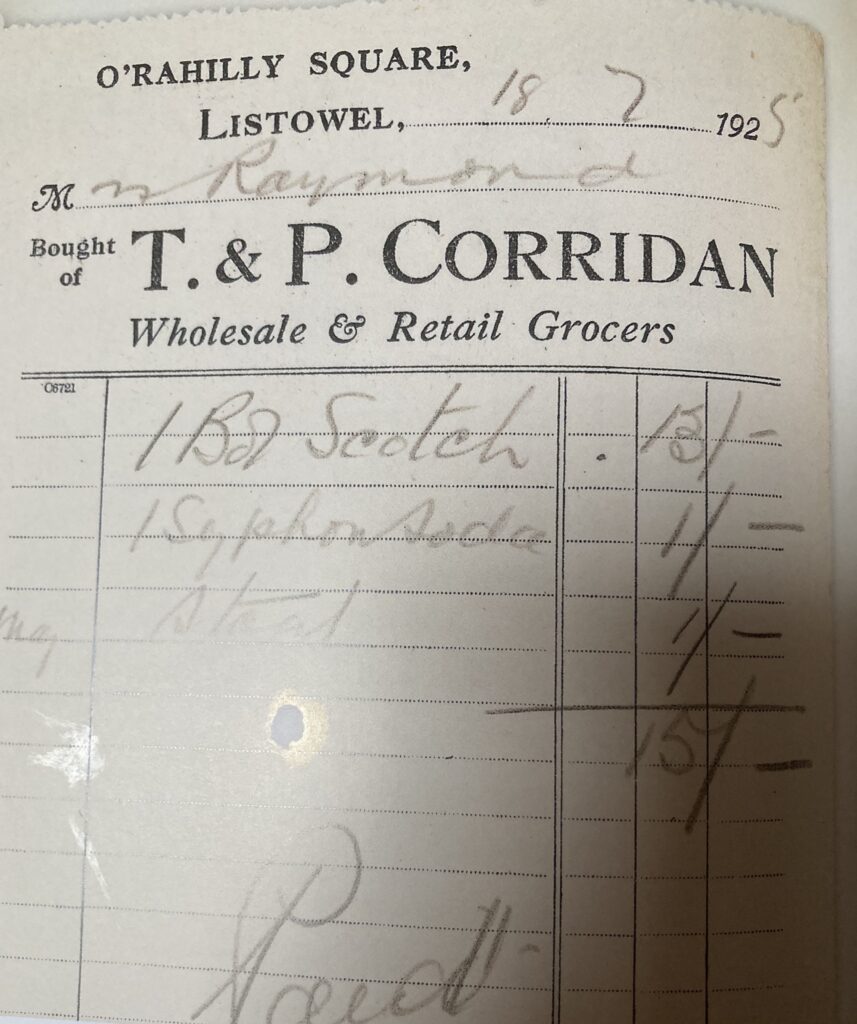 Here are two billheads from Vincent's great book, Snapshots of a Market Town.
<<<<<<<<
The Lawrence Photographer

Robert French
In the early 1900s a man came to town who would shape the way future generations would see Listowel. Robert French took the photographs of the streets of Listowel for the Lawrence collection. His photographs have appeared in postcards, in calendars and everywhere that Listowel in the twentieth century is spoken of. We owe him a lot.
So who was Robert French?
Here is Noel Kissane's essay from The Dictionary of Irish Biography
French, Robert (1841–1917), photographer, was born 11 November 1841 in Dublin, eldest of the seven children of William French, a court messenger, and Ellen French (née Johnson). At the age of nineteen, in September 1860, he joined the Constabulary (later RIC) as a sub-constable, giving his occupation as 'porter'. He was stationed at the barracks at Glenealy, Co. Wicklow. Having served almost two years, he resigned in August 1862.
French next found employment in Dublin as a photographic printer, possibly at the portrait studio operated by John Fortune Lawrence at 39 Grafton Street. He later joined the more successful studio run by John Fortune's brother, William Mervin Lawrence (qv) (1840–1932), which opened at 7 Upper Sackville (later O'Connell) Street in March 1865. Progressing upwards through the grades of printer, colourer-retoucher and assistant photographer, he attained the rank of photographer in the mid-1870s. Meanwhile, William Mervin Lawrence had developed a lucrative trade in the sale of topographical views and he gave French the task of providing a comprehensive range of scenic photographs representing all parts of the country. French performed this role with dedication and distinction for almost forty years until his retirement in 1914.
French's function was to provide photographs for a market that favoured views of picturesque landscapes, seaside resorts, and the streets of cities, towns, and villages. Lawrence was in charge of marketing strategy and planned French's itineraries, but French selected the individual views. He travelled throughout the country, identifying and photographing appropriate subjects, generating stocks of negatives from which Lawrence's printers produced multiple images for sale in the medium of prints, stereoscopic views, and lantern slides. The images were also widely used in commercial advertising and in publications designed for the tourist market, particularly in the extensive postcard trade that Lawrence developed in the late 1890s. As people wanted views that were up-to-date, many of the images, particularly those of urban scenes, were periodically retired and replaced, the replacements almost invariably being taken from the same optimum viewpoint. The photographs presented the more positive aspects of Ireland and contemporary Irish life, with evidence of social deprivation appearing only incidentally, and with few instances of social or political conflict other than a relatively small number of eviction scenes.
French married, 1 December 1863, at St Peter's church, Dublin, Henrietta Jones, daughter of Griffith Jones, a farmer at Newcastle, Co. Wicklow. The couple had eleven children, some of whom long afterwards recalled their father as a fervent unionist, fond of singing rather loudly in the congregation at St Patrick's cathedral, and infuriatingly painstaking when taking family photographs. He is portrayed in a number of his own photographs as a dignified figure with a fine full beard. In his later years he lived on Ashfield Avenue, Ranelagh. He died 24 June 1917.
While French played a central role in the success of the Lawrence firm, which dominated the photographic trade nationally for a generation, his historical significance arises from the extensive archive of surviving negatives. These make up the greater part of the Lawrence collection (held by the National Photographic Archive in Dublin), amounting to approximately 30,000 of the 45,000 images in the collection. They reveal him as a talented and extremely competent photographer. His compositions presented sites to best advantage, and the images are invariably sharp and engaging and suggest the inherent atmosphere of the place. The predominant factor, however, is that the photographs provide an invaluable visual record of urban and rural Ireland over a period of almost forty years. They document the process of change and modernisation in various aspects of environment and society, reflecting the considerable economic and social progress in the decades of relative peace and prosperity leading up to the first world war. While engaged in the relatively mundane profession of commercial photographer, French emerged as one of the foremost chroniclers of his generation, albeit unwittingly, and endowed posterity with a unique cultural and educational resource.
<<<<<<<<<<<<
A Poem for our Exiles
Shared by the poet on Facebook
AN EXILE'S CHRISTMAS
It was Christmas Eve in London,
And an Irishman, called Joe.
Stood by an upstairs window
That looked on the street below.
He could see the shoppers passing by,
Their voices filled with cheer.
As they shouted Happy Christmas,
And a prosperous new year.
As he looked around the little room,
That for years had been his home.
He was fifty years in London,
Since he crossed the ocean foam.
His youthful days behind him now,
And his working days long gone.
In retirement, his days were spent
On his own, to carry on.
He could hear a church bell ringing,
On the street across the way.
Where mass was celebrated, on
The eve of Christmas day. |
Then a choir started singing and
The strains of silent night,
Came drifting through the window.
Into Joe's old flat that night.
As he listened to the singing,
He began to shed a tear.
For he always felt emotional,
On Christmas Eve each year.
When old memories came flooding back,
And his thoughts began to stray.
To his childhood days in Ireland,
Long ago and far away.
He could see again the old thatched house,
At the corner of the lane.
Oh what he'd give to be a lad,
and be back there once again.
The candle in the window,
To light a welcome way.
For the virgin and the Christ child,
On the eve of Christmas day.
The holly and the ivy,
and the cards Around the fire.
And his mother's Christmas cooking,
That would fill you with desire.
The boxes left for Santa Claus,
In the hopes that he would call.
With the toys to play on Christmas day,
The happiest times of all.
As his memories began to fade,
reality Set in.
He was back once more in London,
In his little flat again.
And he drew his coat around him,
as he sat back in his chair.
And for all those in his memories,
he began to say a prayer.
And he asked the Lord, to grant them rest,
In the land beyond the sky.
All the folks he once shared Christmas with,
In the happy years gone by.
Tomorrow at the Centre, he will meet o
His old friend Jack,
an Irishman just like himself.
That never made it back.
They will have their Christmas dinner,
and a glass or two of beer,
As they join their old acquaintances,
And the friends they love so dear.
Everybody has their party piece,
To raise a bit of cheer.
At their Christmas get together.
In the Centre every year.
So to all our Irish exiles,
in lands far off and near
The blessing of this Christmas time
we wish you all this year.
And although we are divided,
by land and sky, and foam,
A very Merry Christmas,
from the Irish Folks at home.
Martin O'Hara © 29/11/2021
<<<<<<<<<<<
High Praise Indeed
John Comyn is the Bridge columnist with The Irish Independent. He has been writing the column for 50 years and he has been playing Bridge at the top tier for far longer. He has played against top international players.
However, he says the best player he ever encountered was Pat Walshe, from Listowel, Co. Kerry.
<<<<<<<<<<<<
Something to look forward to
#ANSEOKerry LIVE in LISTOWEL FREE OUTDOOR CONCERT for all the family – Saturday 18th December 12-6pm. LOOK – it's going to be special… Get ready for some SINGING
and lots of craic!Fanzini Grace Foley Singer Drum Dance Ireland The O'Neil Sisters Renovator plus more….
<<<<<<<<<<