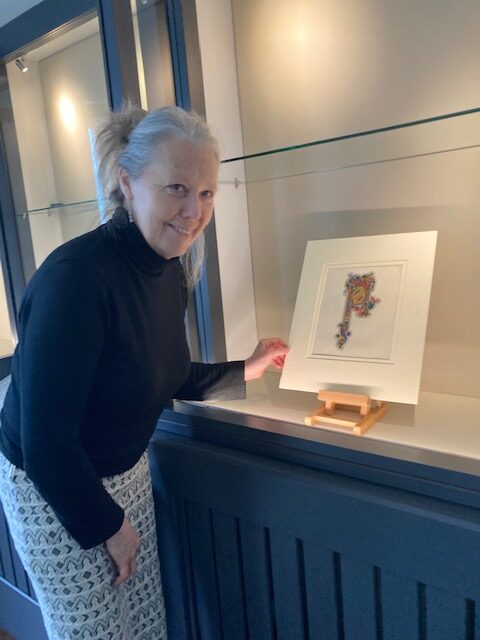 This is Susan Corr. She was in Kerry Writers' Museum on Friday last, February 18 2023 bringing with her a very precious cargo. Susan is Ireland's leading paper  conservator/ restorer. She was in Listowel to bring the first tranche of Michael O'Connor's artwork back to the house where he grew up.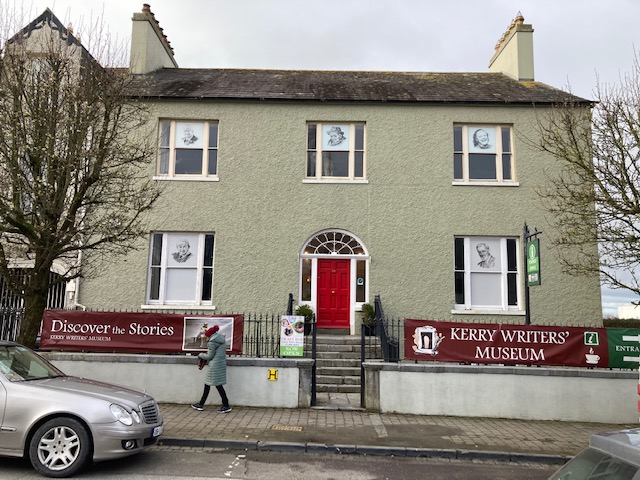 Now in its new incarnation as Kerry Writers' Museum it will be the repository of his exceptional bank of illustrations/ illuminations.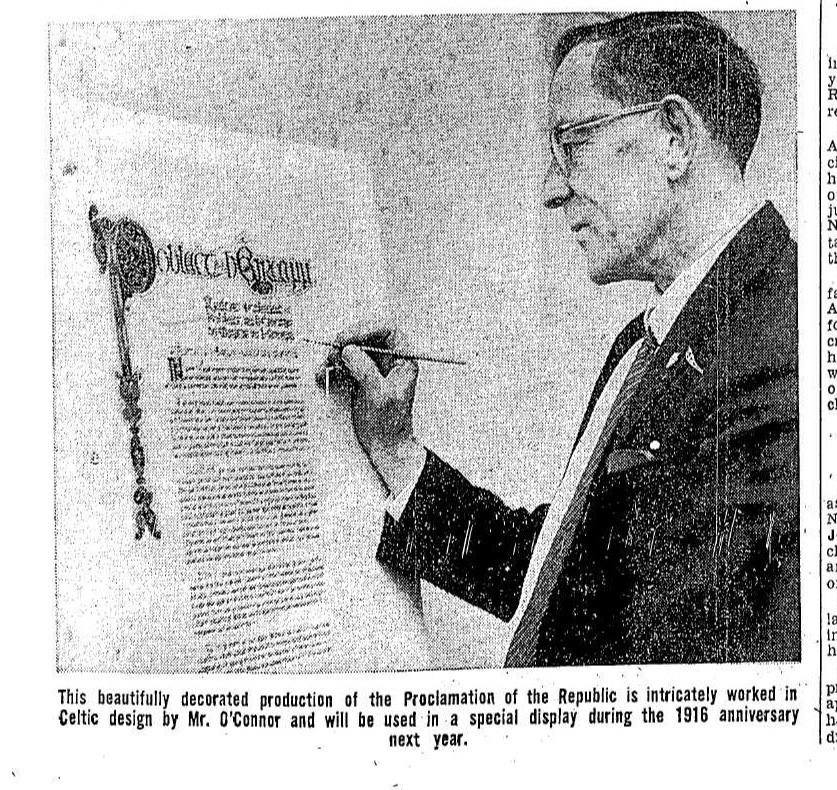 Here is my story in a nutshell. One Saturday in 2020 I had a phonecall from a man who introduced himself as Stephen Rynne. Stephen was sorting through his late father, Etienne Rynne's, papers when he came upon a folder of correspondence and artwork. Stephen recognised that the artwork was of an exceptional quality. It was by Michael O'Connor, an artist whose name he had never heard. A quick Google of Michael O'Connor brought Stephen to Listowel Connection and there I entered the story.

Michael O'Connor grew up in No. 24 The Square.
The artist's father was Dr. Michael O'Connor, a Listowel g.p., a religious man and a republican.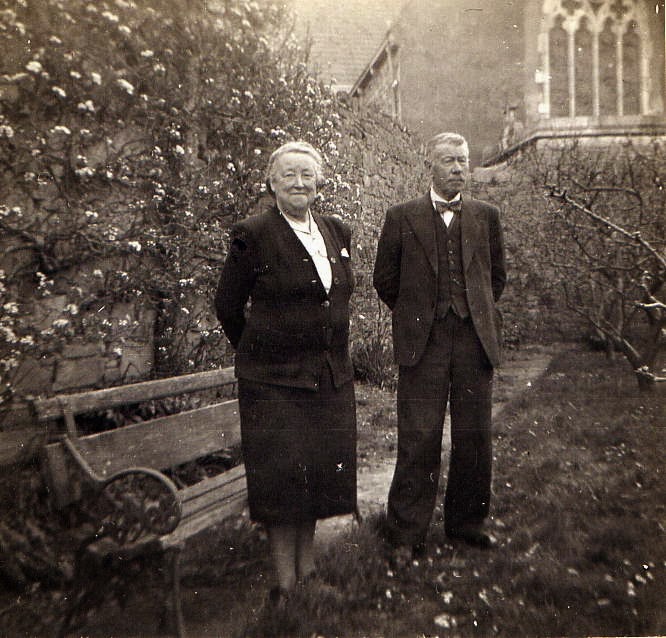 Dr. O'Connor was one of the local republicans who were interned in Ballykinlar in 1921. While in jail the Kerry men sent back newsletters to their families at home. These newsletters were embellished with Celtic borders, the work of Micheal Reidy of Killarney.
This was young Michael O'Connor's first brush with celtic art. Of course, growing up in Listowel he was surrounded by the stucco work of Pat MAuliffe which is replete with symbols of celtic Ireland.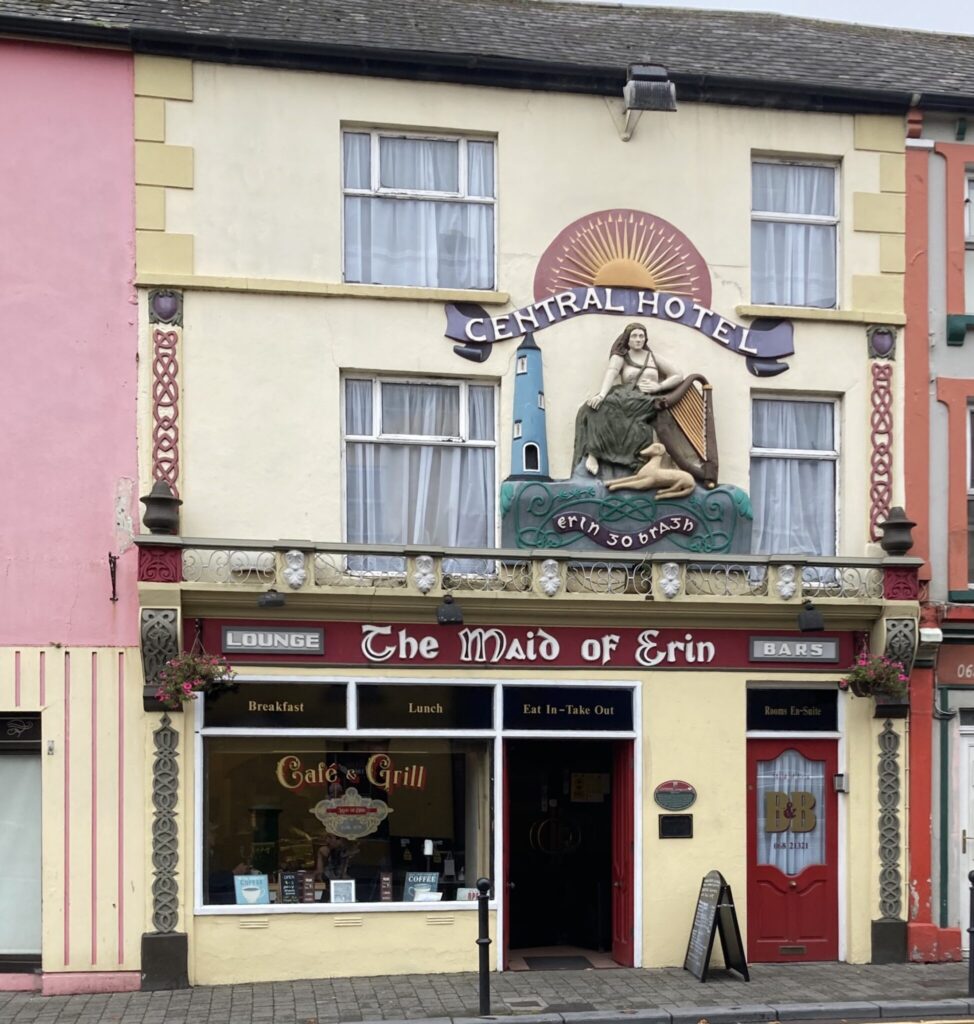 Stephen realised that Michael OConnor was a prolific artist. The more he delved into O'Connor's corpus of artwork the more he realised that O'Connor was the top Celtic illuminator of his age producing work comparable to the work of the monks who produced The Book of Kells.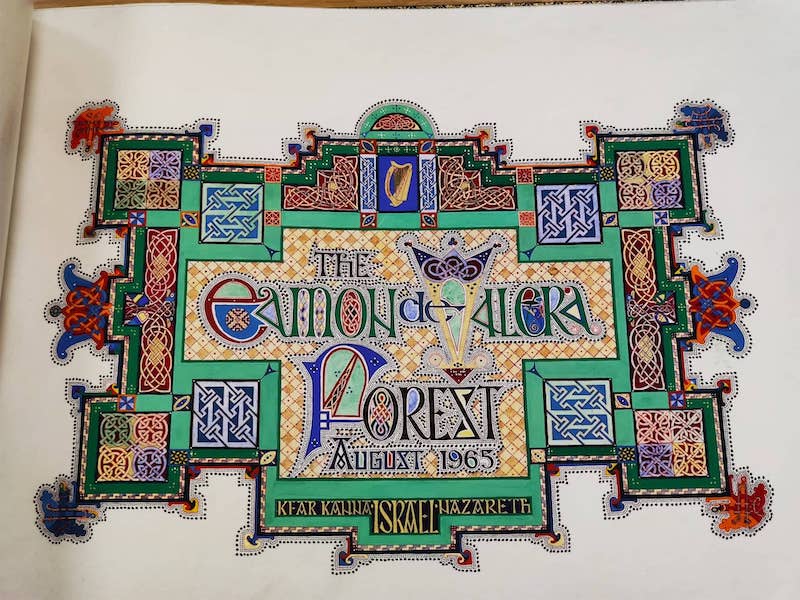 Why had no one in the art world ever heard of this genius?
Stephen found that much of O'Connor's work was done for family and friends. He was happy to stay below the radar.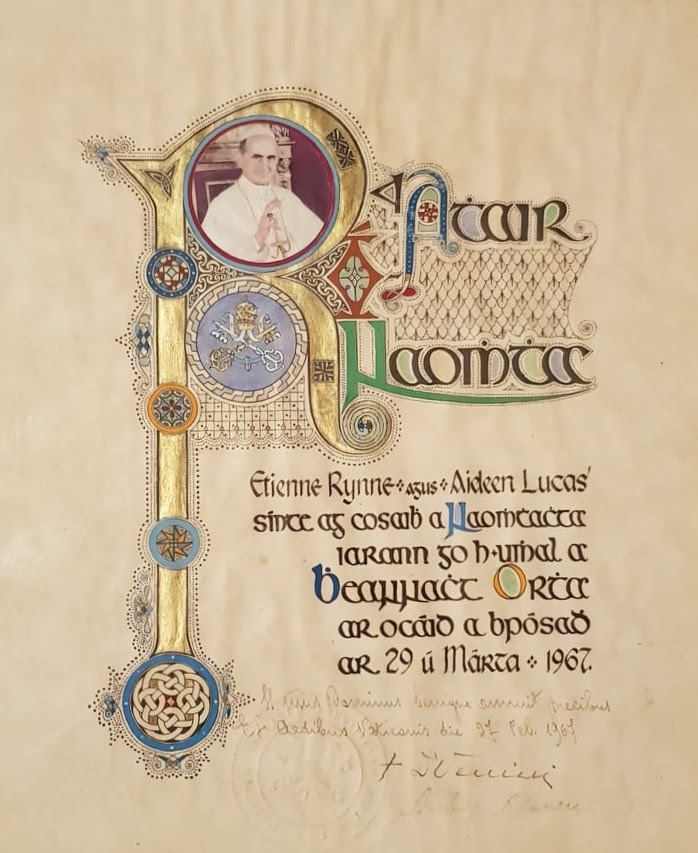 His biggest commissions were for the Jewish Irish community and official gifts presented to visiting dignitaries. These gifts are now lying in archives around the world.
O'Connor was generous with his talents, particularly to his Listowel friends.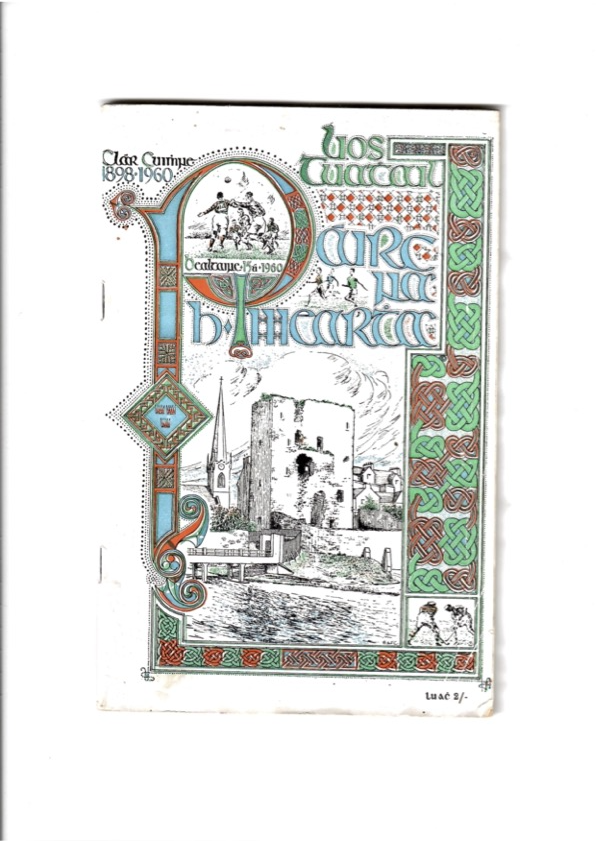 He was a humble man. When asked for a short bio. to put in this booklet whose cover he illustrated for Listowel Emmets in 1960, his response was that he was a Listowel man and that is all people needed to know.
These are the words of his son, Fr. Brendan
We were so accustomed to his artistic creations that we didn't fully appreciate the originality, skill and dedication he brought to his art. He had the humility to continue working at a very high level of achievement without seeking to be known or appreciated. The completed work was its own reward.
This is shown in particular in the "Breastplate of St Patrick" – a family heirloom which he produced for his own enjoyment in 1961 to celebrate 1,500th anniversary of the national saint.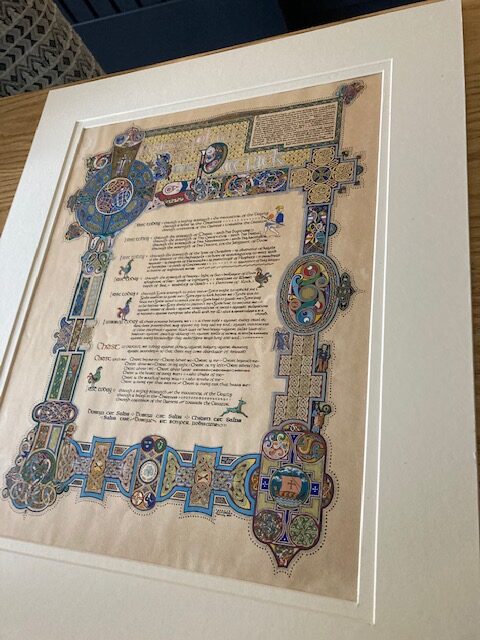 The O'Connor family have very kindly donated this family treasure and other artworks to O'Connor's ancestral home in Listowel.
Stephen Rynne took on a painstaking mission to search out and find as much of O'Connor's artwork as he could. His search put him in touch with archives around the world. During the 1950s and 60s Michael O'Connor's work was the presentation gift of choice to visiting dignatories. Examples of his work are in The Vatican, the JFK library, Liverpool cathedral, archive of an Egyptian emperor as well as in The Brazen Head pub in Dublin, TCD, UCD and other Irish locations.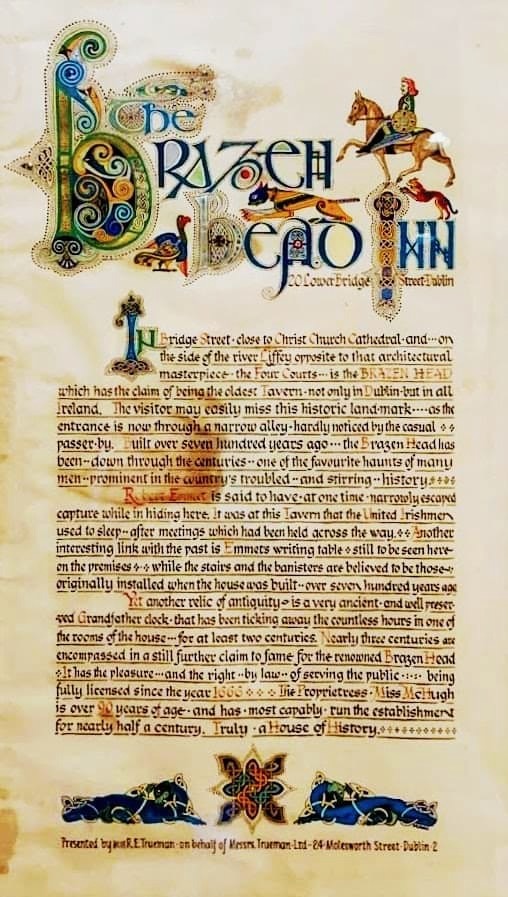 Listowel was always close to Michael O'Connor's heart. He joined with Bryan MacMahon in producing many Christmas cards and bookmarks.

His most outstanding collaboration and probably one of his best pieces is a collaboration with the Listowel writer in a magnificent presentation piece to Listowel Race Company. The lyrical words by Bryan MacMahon and illumination by Michael O'Connor make this a Listowel treasure.
On the left of the picture is Thomas O'Connell, chairman of the Race Committee with Michael Kennelly, Michael O'Connor, Dan Moloney T.D. and Dr. Bryan MacMahon on the occasion of the handover of the work to the race committee during race week 1958.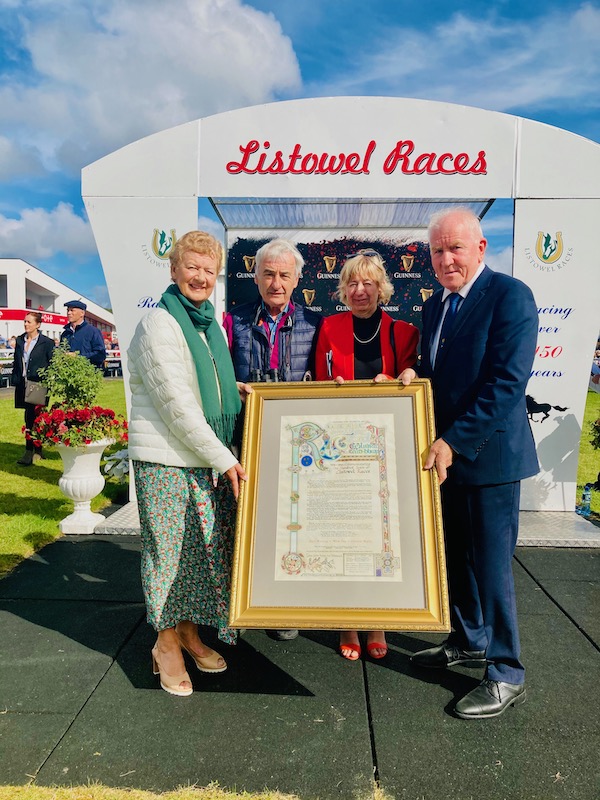 The Stokes family, descendants of Thomas O'Connell who have kept this important piece safely until a home was found for it, handed over the picture to Jimmy Deenihan, representing Kerry Writers' Museum during Listowel Races 2022.
Pictured at the handover of the piece to Kerry Writers' Museum on Friday September 23 2022 are Olive and Oonagh Stokes with Owen MacMahon and Jimmy Deenihan.
The O'Connor family, Listowel Race Company and others have very generously agreed to donate family heirlooms, and irreplaceable priceless treasures to Kerry Writers Museum.
The museum has secured some of the funding to mount this important exhibition.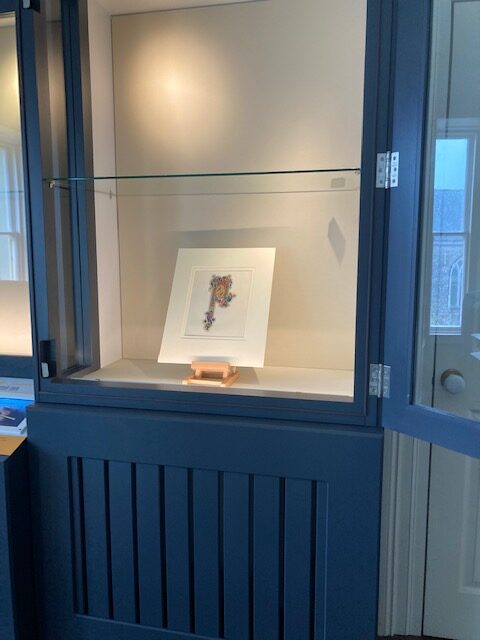 Special airtight display cabinets have been installed. Susan Corr, conservator's, services have been engaged.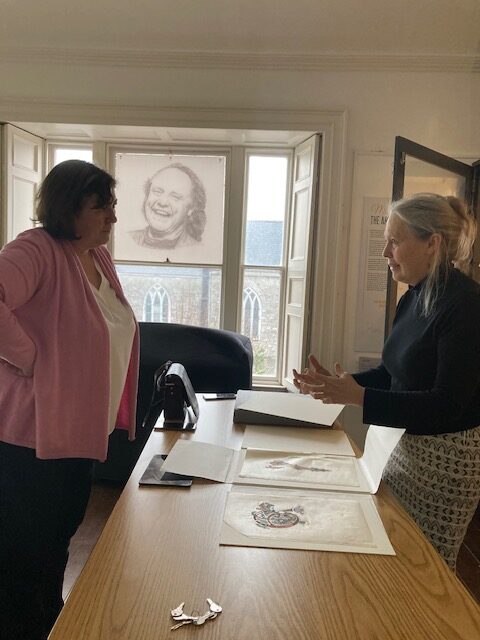 Cara Trant and Susan on Friday February 18 2023 at the handover of the first batch of restored illumination.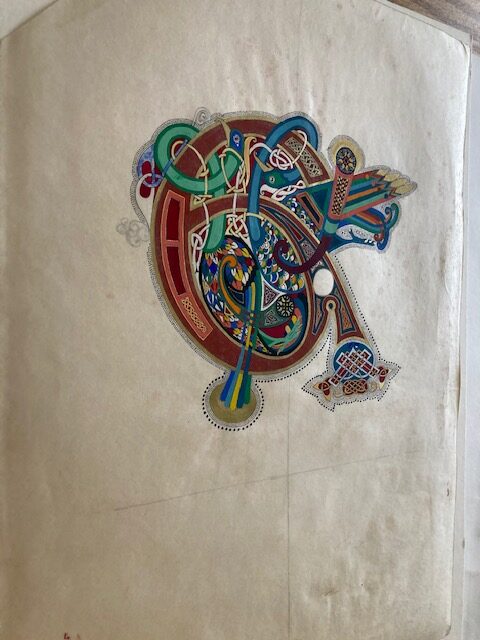 Beautifully restored and mounted letter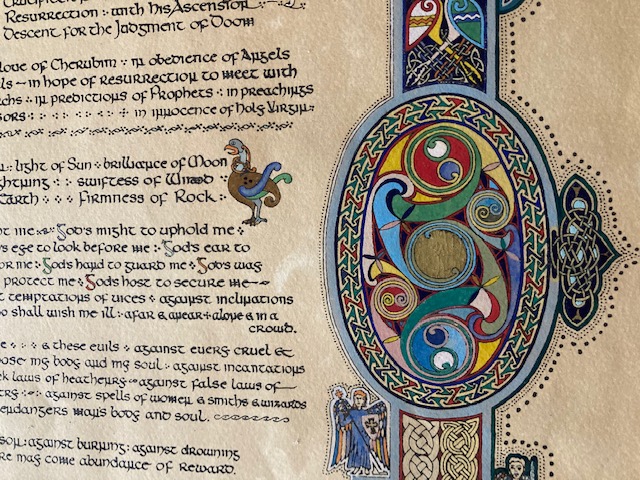 Celtic detail and beautiful calligraphy on the magnificent breastplate piece.
Conservation work is a very specialised job involving matching colours, repairing of vellum with isinglass which is also a collagen and restoring old pictures to their original vibrant state.
The process is slow but the work has started and hopefully we will all get to see the first of these treasures before the end of 2023.
I am privileged to be a witness to this, by far the best story so far to come my way since I started blogging in August 2011.
Thank you, Stephen Rynne.
Thank you too, David O'Sullivan for all the invaluable research
<<<<<<<<<<<