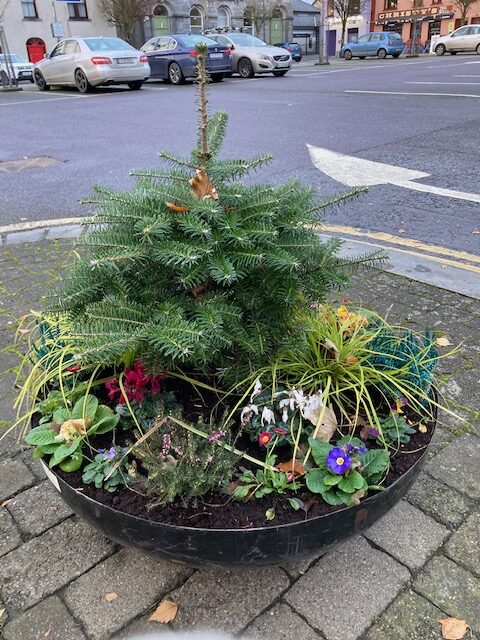 Christmas in Listowel Town Square
<<<<<<<<<
Cyril Kelly Remembers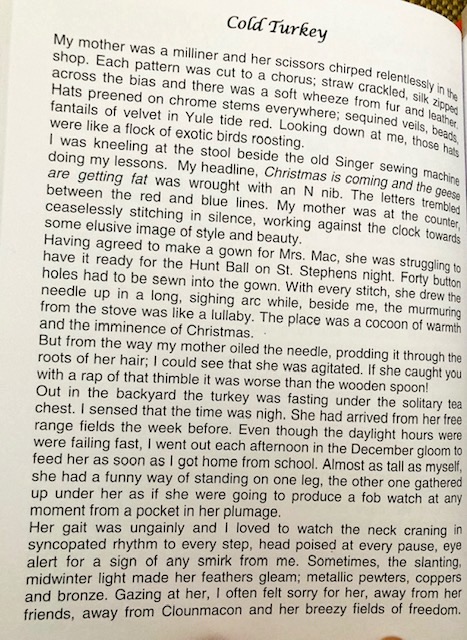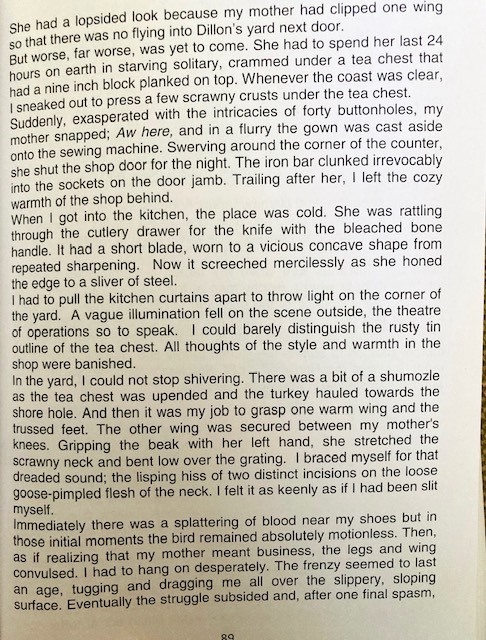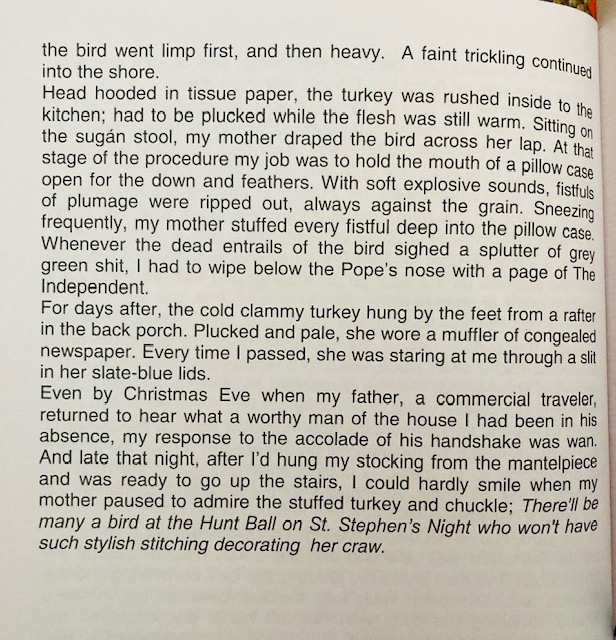 <<<<<<<<<
Sunday December 3 2023
In St. Mary's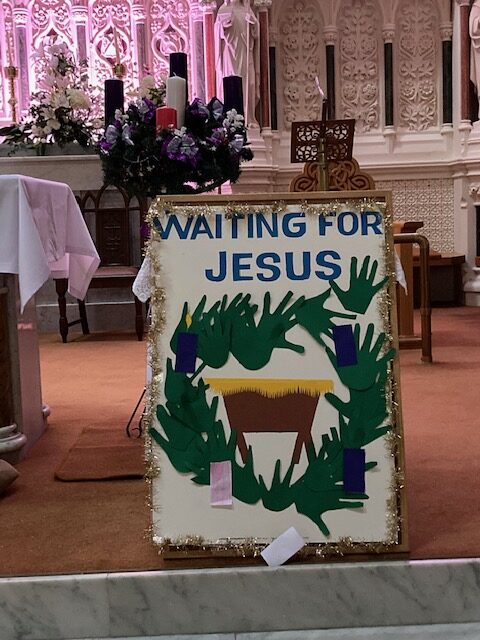 Beautiful Advent wreath in place. A candle will be lit on each off the Sundays of Advent.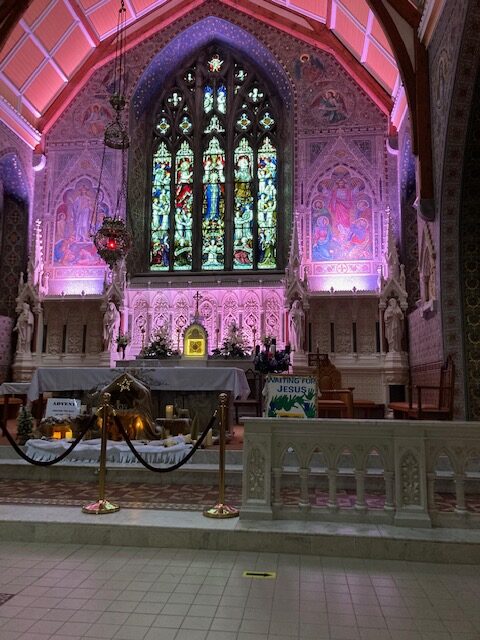 The Sanctuary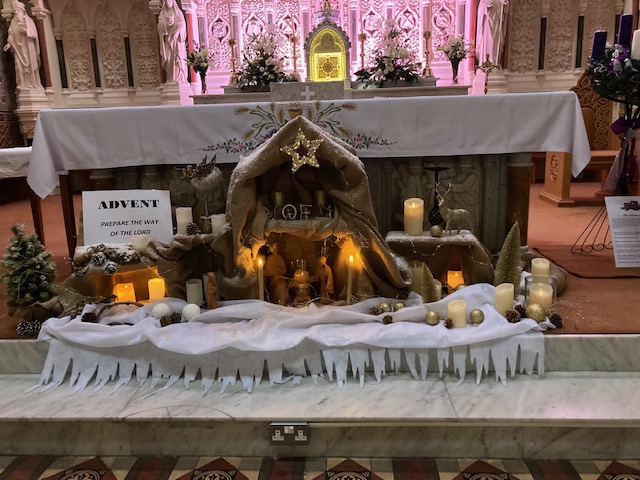 My photo does not do justice to this beautiful Bethlehem scene before the main altar.
<<<<<<<<<
A Christmas poem
Martin O Hara An Exiles Chjristmas
This time last year we posted a poem called the Exiles Christmas, about an old retired Irishman, living in a small flat in London, reminiscing about his childhood days in Ireland in his youth.
I based that poem on a man called Joe I worked with in England over thirty years ago. He was from county Tipperary, and he was actually living in a one bedroom flat from the time he came to England, up until I came to know him, a period of 22 years.
He had never been back to Ireland in all that time. When the job finished, I lost contact with Joe, no mobile phones in those days. I often wondered what became of him as he had a fondness for the drink.
To make a long story short I based that poem on Joe, and as it proved so popular last year, I thought we might post it again. And Joe, if your still out there, a very Merry Christmas to you.
AN EXILES CHRISTMAS
It was Christmas eve in London,
And an Irishman, called Joe.
Stood by an upstairs window
That looked on the street below.
He could see the shoppers passing by,
Their voices filled with cheer.
As they shouted happy Christmas,
And a prosperous new year.
As he looked around the little room,
That for years had been his home.
He was fifty years in London,
Since he crossed the ocean foam.
His youthful days behind him now,
And his working days long gone.
In retirement, his days were spent
On his own, to carry on.
He could hear a church bell ringing,
On the street across the way.
Where mass was celebrated, on
The eve of Christmas day.
Then a choir started singing, and
The strains of silent night,
Came drifting through the window.
Into Joe's old flat that night.
As he listened to the singing,
He began to shed a tear.
For he always felt emotional,
On Christmas eve each year.
When old memories came flooding back,
And his thoughts began to stray.
To his childhood days in Ireland,
Long ago and far away
He could see again the old thatched house,
At the corner of the lane.
Oh what he'd give to be a lad, and be
back there once again.
The candle in the window,
To light a Welcome way.
For the virgin and the Christ child,
On the eve of Christmas day.
The Holly and the ivy, and the cards
Around the fire.
And his mothers Christmas cooking,
That would fill you with desire.
The boxes left for Santa Claus,
In the hopes that he would call.
With the toys to play on Christmas day,
The happiest times of all.
As his memories began to fade, reality
Set in.
He was back once more in London,
In his little flat again.
And he drew his coat around him, as he
Sat back in his chair.
And for all those in his memories, he
began to say a prayer.
And he asked the Lord, to grant them rest,
In the land beyond the sky.
All the folks he once shared Christmas with,
In the happy years gone by.
Tomorrow at the center, he will meet his
Old friend Jack, an Irishman just like himself.
That never made it back.
They will have their Christmas Dinner,
and a glass or two of beer,
As they join their old acquaintances,
And the friends they love so dear.
Everybody has their party piece,
To raise a bit of cheer.
At their Christmas get together.
In the center every year.
So to all our Irish exiles, in lands
far off and near.
The blessing of this Christmas time we
wish you all this year.
And although we are divided, by land
and sky, and foam,
A very merry Christmas, from the Irish
Folks at home.
Martin O'Hara © 29/11/2021
<<<<<<<<<
Estuary Rollers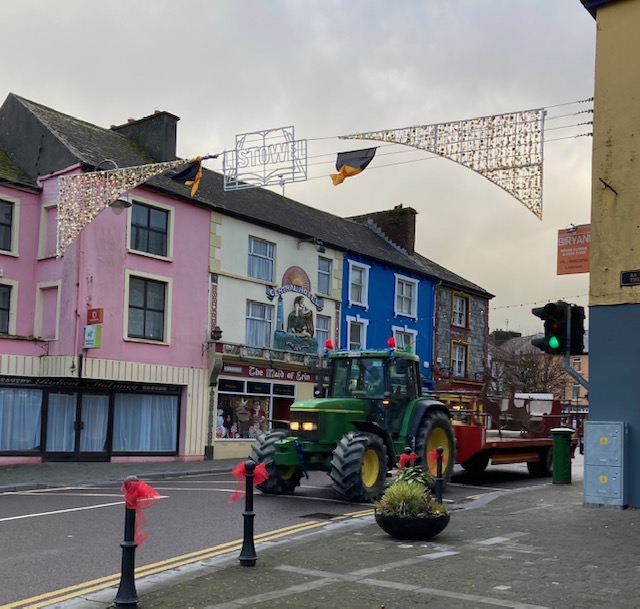 I caught one of the early arrivals rolling into town on their way to the mart field to assemble for their annual Christmas run to the Knockdown Arms. The parade of tractors was a sight to behold. The children loved it.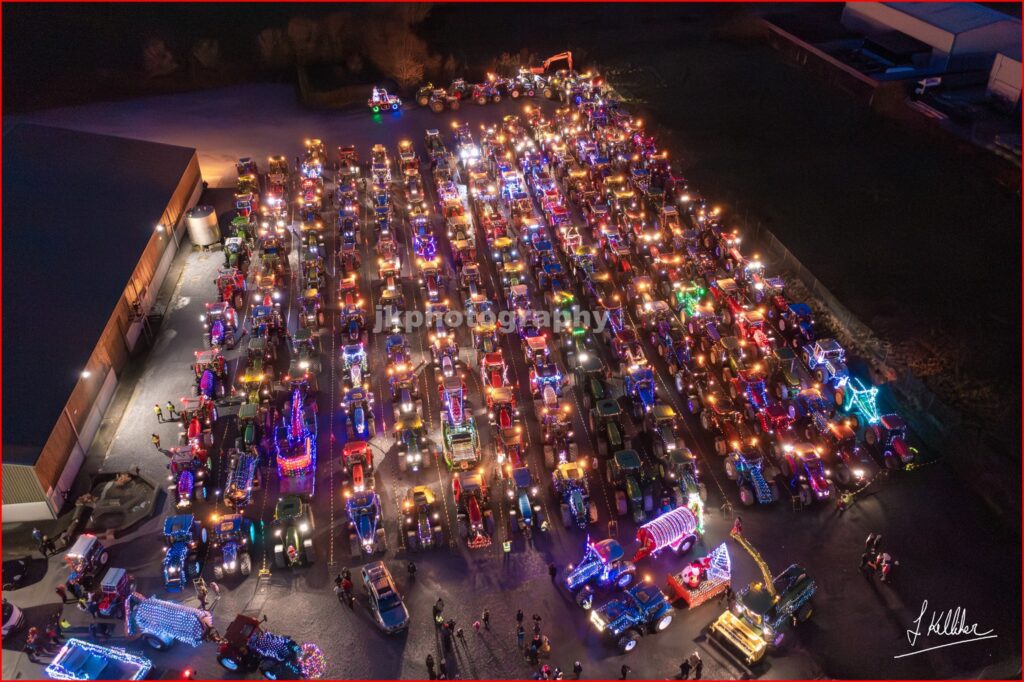 John Kelliher took this great picture of the assembled tractors
A great new rural tradition.
<<<<<<<<
A Santa Fact
Santa, St. Nicholas, was depicted as a rather austere and saintly figure until 1931
In 1931 Coca Cola hired an illustrator called Haddon Sundblom to create an image of a jolly old man for a magazine advertising campaign. So the image of Santa we are all familiar with today was created; a portly bearded oldish laughing man dressed head to toe in red and with white trim.
<<<<<<<<<