Kerry Robins in Summer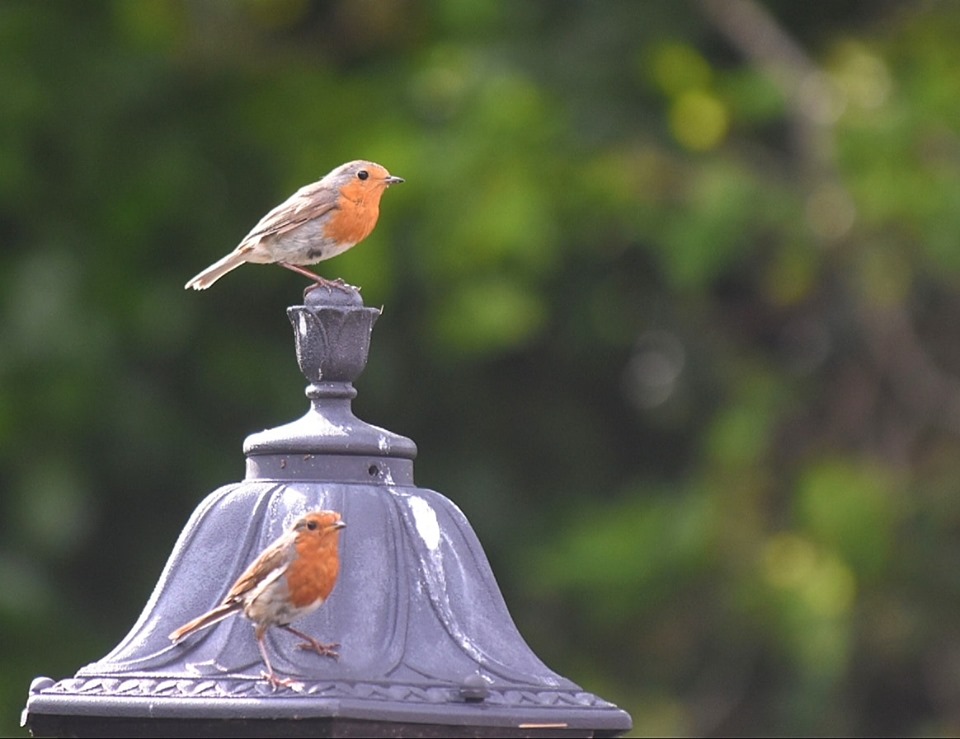 Photo: Chris Grayson
<<<<<<<<<<
Bee Facts from the internet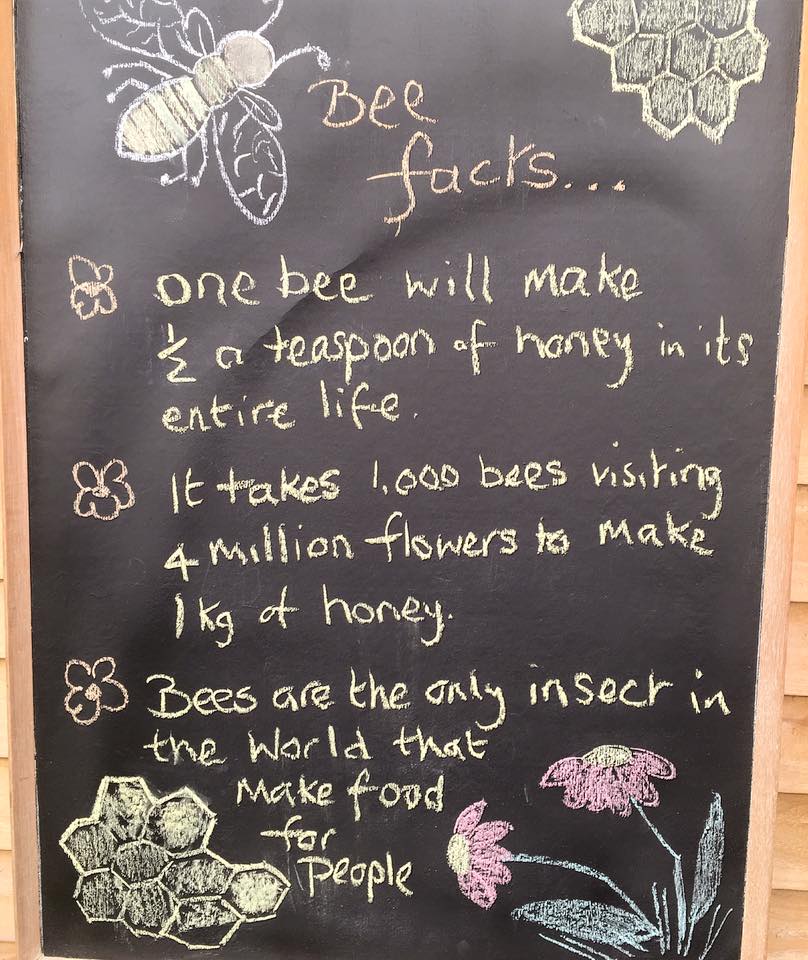 <<<<<<<<<<
Dioscesan Changes July 2019
Bishop Ray Browne wishes to announce the following changes to the appointments of clergy in the Diocese of Kerry:
Msgr. Dan O'Riordan P.P. Castleisland retiring
Very Rev. Luke Roche PP Castlemaine retiring
Very Rev. Tadhg Ó Dochartaigh P.P. Firies retiring
Appointments:
Fr. Maurice Brick PP Lixnaw to be PP Castleisland
Fr. Anthony O'Sullivan Rathmore (pro tem) to be PP Lixnaw
Fr. Michael Hussey PP Castlegregory to be PP Ballylongford
Fr. Eamon Mulvihill PP Kilcummin to be PP Castlegregory
Fr. Joe Begley PP Dingle to be PP Glengarriff/Bonane
Fr. Michael Moynihan PP Glengarriff/Bonane to be PP Dingle
Fr. Padraig Kennelly PP Ballylongford to be PP Firies
Two more parishes without a Resident Priest:
The parish of Castlemaine will be served by the priests of the Killorglin Pastoral Area with Fr. Kevin Sullivan to be Moderator
The parish of Kilcummin will be served by the priests of the Killarney Pastoral Area with Fr. Kieran O'Brien to be Moderator
Fr. Denis O'Mahony PP Abbeydorney to be VF of the Naomh Bhréanainn Pastoral Area
Fr. Brendan Walsh PP Causeway to be Moderator of Ballyheigue
Priests of all Pastoral Areas of the Diocese take up different responsibilities outside their own parishes and within the Pastoral Area. This will be decided and communicated locally.
These changes will become effective on Wednesday, July 17th 2019
<<<<<<
Owen Family return to their Roots


Harriet and her brother John Owen grew up in Leinster, far from the birthplace of their parents in Ballyhorgan. But when they returned to Finuge to celebrate mass and chat with their family and new found North Kerry friends, they felt that they had come home.
I count myself lucky to be counted among those North Kerry friends who have enjoyed watching this reconnection.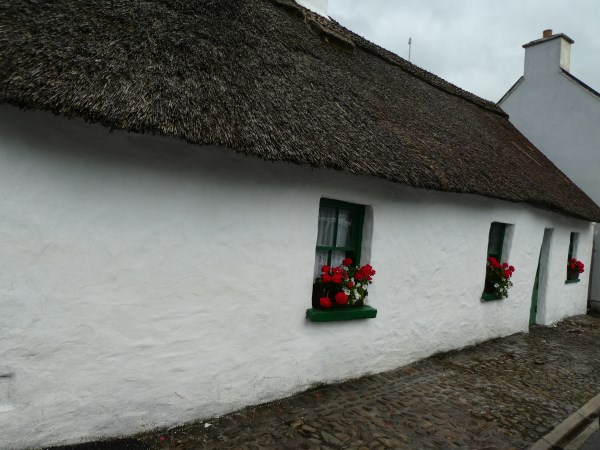 The thatched house was the venue for the mass which was celebrated by Fr John Owen, a Divine Word missionary who has spend many years in Argentina and is now ministering in Blanchardstown, Dublin.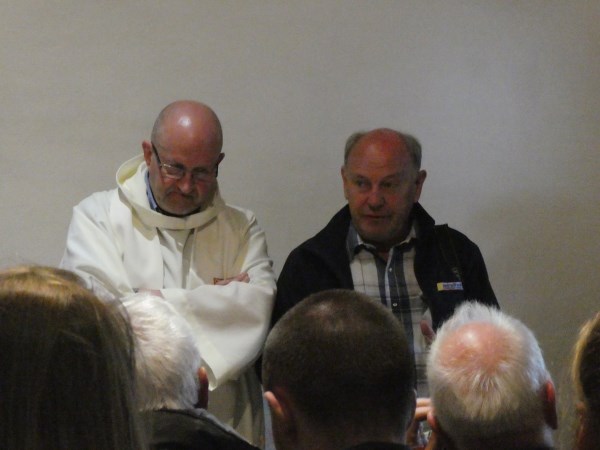 Fr. John with Tom Fitzgerald, one of the local historians who was able to give the Owens first hand history of their home place. There is a still a field in Ballyhorgan called "Owenses' Field".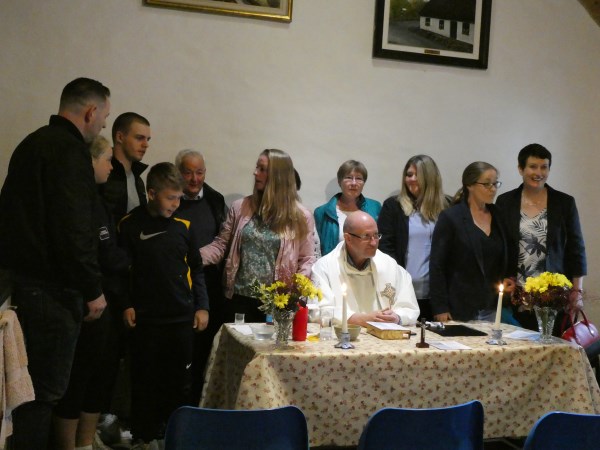 Owen family came from the U.K. and Ireland.
Paul Kennelly remembers Harriet's parents who sadly passed away when Harriet was quite young.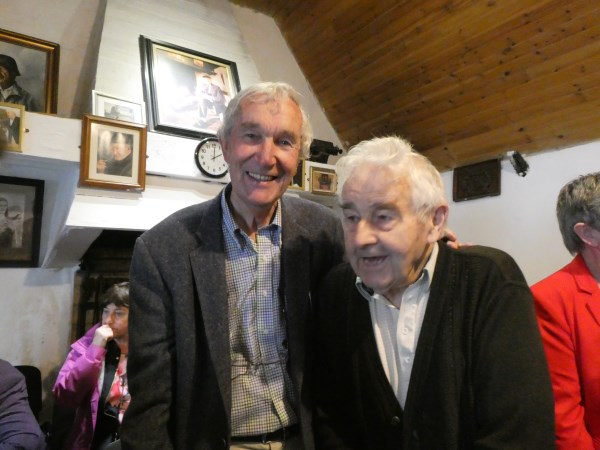 Paul also met up with his old friend, Jim Sheahan.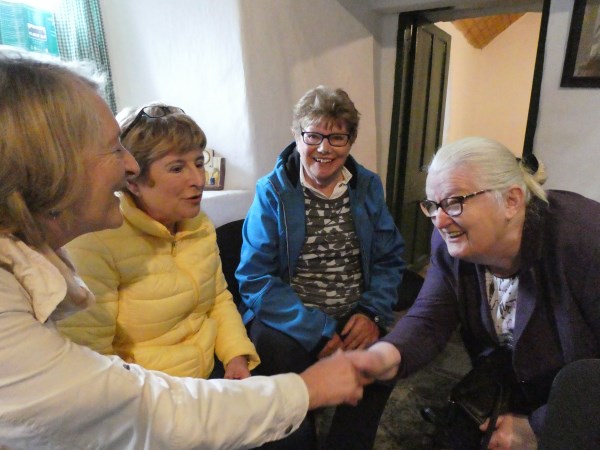 Some local ladies joined the family for the mass.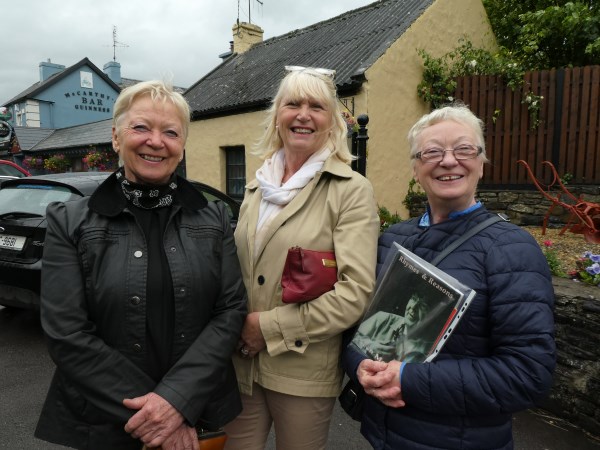 The Sweeney family were the choir.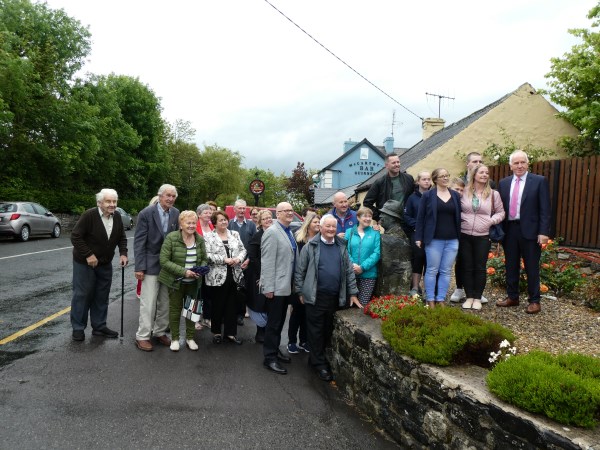 Group photo at Finuge Cross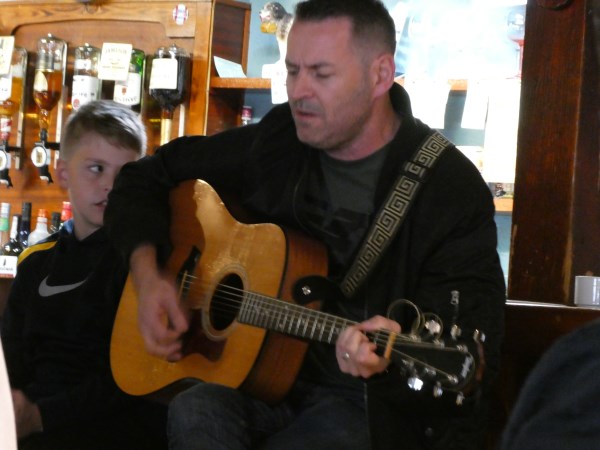 Harriet and John brought a family musician to help out with the entertainment in McCarthy's of Finuge.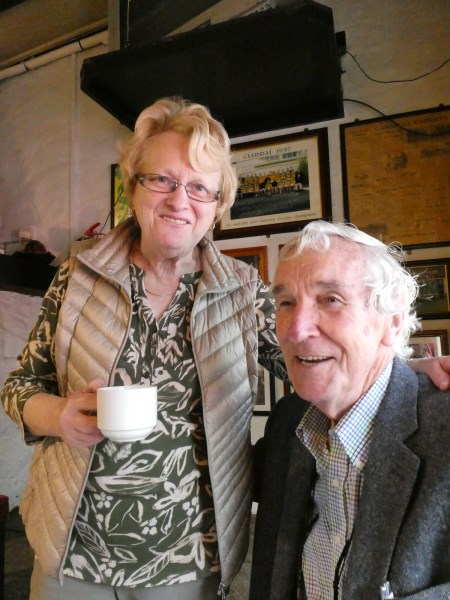 Jim Sheahan sang us The Homes of Donegal. He has lost none of his musicianship since his show band days.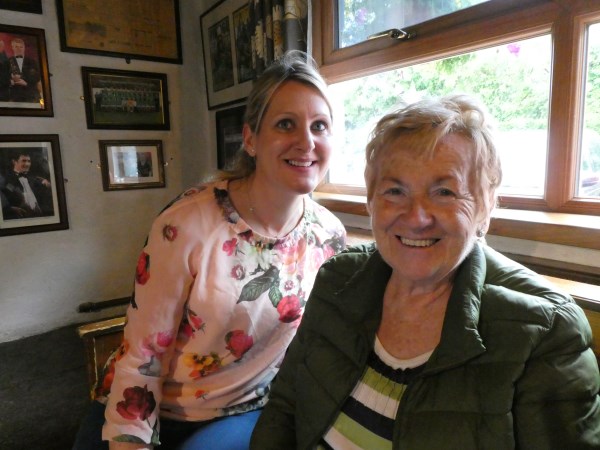 Nollaig McCarthy and Nora Sheahan
<<<<<<<<
Listowel Folk Group Summer Barbecue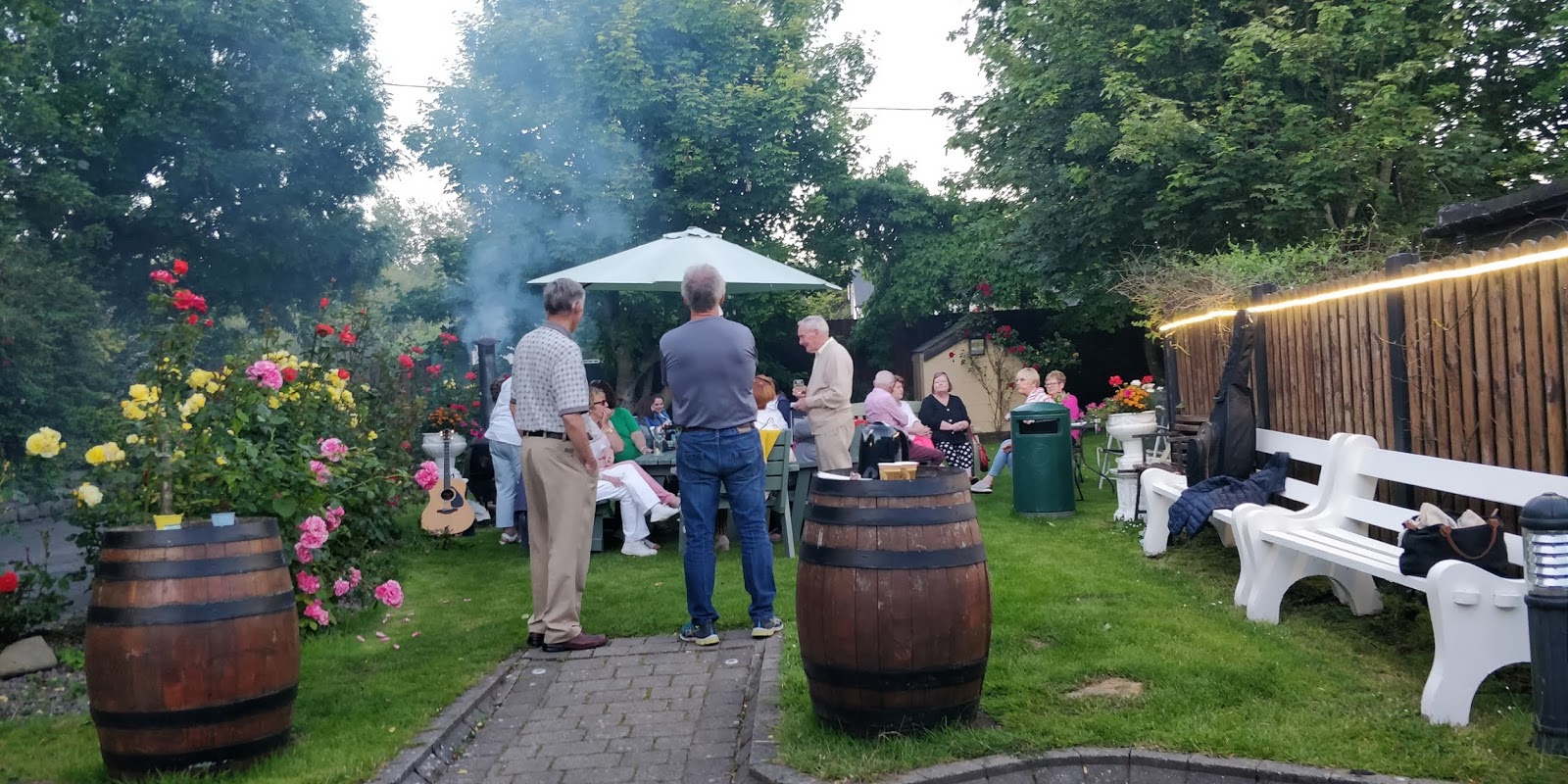 I'm assured that the good folk of Listowel Folk Group had a great night with lots of good food, good music and lots of singing in McCarthy's Bar in Finuge.