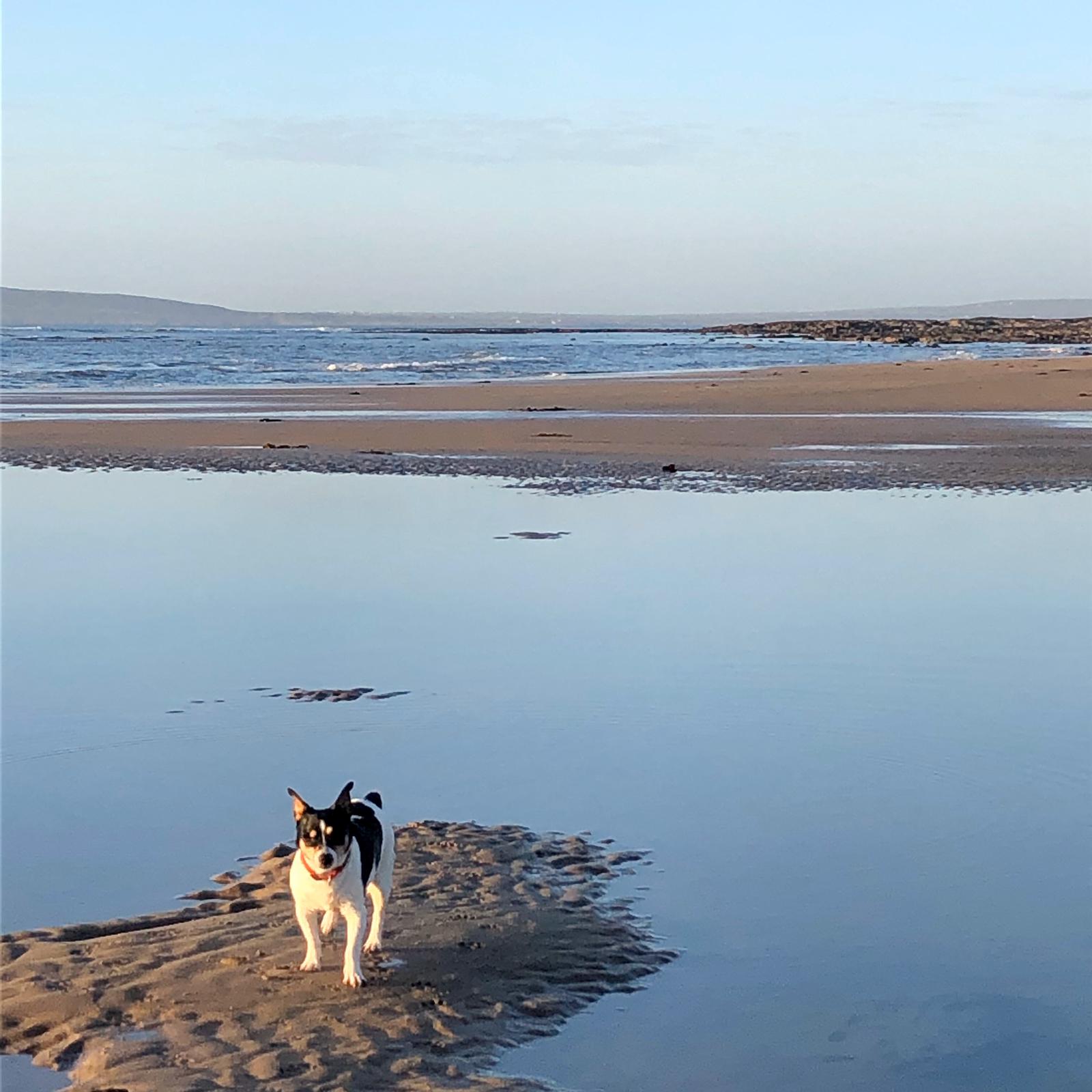 A dog who loves the beach Photo by Bridget O'Connor
<<<<<<<<<<
A Writers' Week Memory
It must have been 1988 or 1989, because To School Through the Fields was published in 1988 and its author, Alice Taylor is the subject of my story.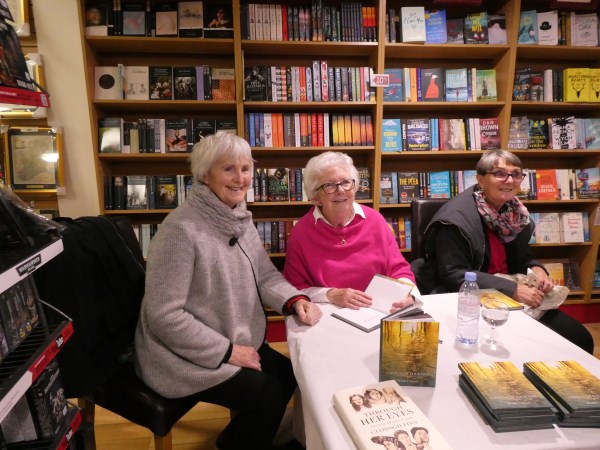 Alice Taylor and me in Philips Bookshop in Mallow at a book signing in
November 2019.
Back in 1988 Alice Taylor was starting out on her literary career and she came to Listowel to attend Writers' Week. I was a Mammy with a little girl who was anxious to take part in the Writers' Week fancy dress parade. I thought up the perfect dress- up character for Clíona. Easy peasy as all the props and costume requirements were easy to acquire.
I dressed her up in her school uniform, tied a few old books together with a leather strap/belt and found a sod of turf. Ta dah! Alice Taylor goes To School Through the Fields.
As we were dispersing after the parade the bus with the people on the bus tour was just arriving in The Square. Alice Taylor was alighting from the bus when she spotted the little girl dressed as herself. She called us over, gave Clíona a fiver and posed for a photo. Poor Clíona hadn't a clue who the lady was but she pocketed the fiver all the same. She didn't really appreciate the fact that she had just met one of Ireland"s up and coming memoir writers.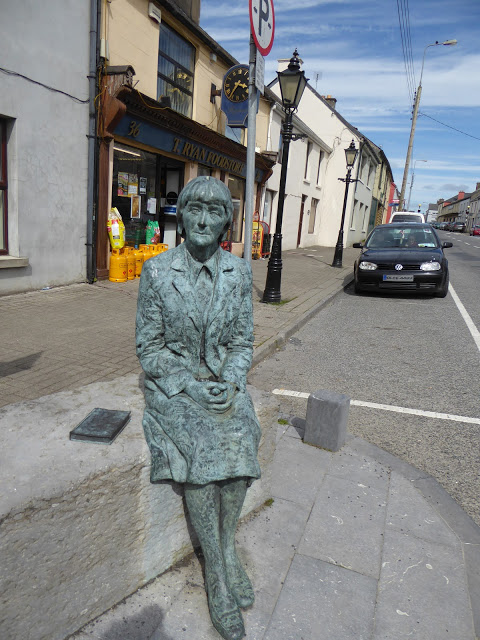 Statue of Alice Taylor in her native Newmarket, Co. Cork
<<<<<<
Listowel Writers' Week Art Committee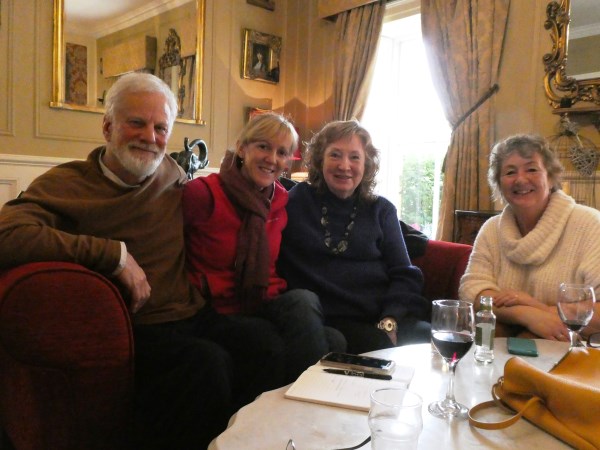 Jim Dunn, Catherine Moylan, Carol Stricks and Elizabeth Dunn finalising a brilliant Art programme for Listowel Writers' Week 2020, which will run from May 27 to May 31 2020
I got a sneak peak at what's in store and its really really good.
I'm on the 50th Commemoration Committee and we are desperately looking for old photos, or stories from the last 50 years of festivals. A big thank you to the people who have sent stuff already but there must be lots of stuff in albums and attics that others would enjoy seeing. Take a look for us, please.
<<<<<<<<<,
The Bittling Woman of Rathea
Yesterday's story from Rathea raised many questions. I think we are all agreed that it refers to some kind of pisheóg behaviour. The dead cow at the end is the clue here.
Dave O'Sullivan found the meaning of the word bittling in a dictionary of Scots Gallic
Dictionary to the Scots language
It would appear she was washing clothes and beating them clean. The reference to hearing her is obviously to hearing the beating sound as she pounded the clothes.
Pisheógs were often invoked to bring good luck to one family and bad luck to another. The death of a cow would be a huge stroke of bad luck. Pisheógs often involved the stealing of milk or butter. A man told me that he heard of a family who could work pisheógs. The person casting the spell would come to the cow house of the person to be cursed, would take the spancel and would work it back and forth under the best cow in the herd. That cow would dry up and the pisheogie person's cow would produce gallons of milk.
Another story he told me was of a man who could work pisheogs. When he went to mass on Sundays, when it came to the consecration, he would turn his back on the altar and face the congregation behind him.
(the power of pisheogs was thought to come from the devil)
<<<<<<<<
Cotter na Gruaige
A Pied Piper story from Rathea in the School's Folklore collection
About 74 years ago a most unwelcomed visitor occasionally went past the village of Duagh, as it was the main road from Listowel town to Cork City for carting all farm produce. The name of this visitor was Cotter na Gruaige, he used to set charms, and also curse people for little cause and everybody was afraid to meet him. He was conspicious looking. He wore his hair hanging to his waist at his back and his beard hung to his waist in front. His mode of travelling was a pony about 20 years old and spotted like a magpie.
He often went without causing any trouble but on one occasion while passing through Duagh the school children were at play in the school.grounds and when Cotter na Gruaige came on they threw puddle on him and his pony. He immediately drove his pony into the school yard to accuse the teacher named (Mr James Dore) who met Cotter in the yard and ordered him out on the road. When on the road Cotter said to the teacher "I am going now but I am leaving you my army."
Master Dore lived 100 yards from the school, in a nice thatched residence which stands to this day. When school was over Dore walked up home, but to his amazement the thatch of his house was torn and thrown down by an immense crowd of rats. He entered the house but could not eat his dinner as the rats came up on the table. He was half frightened and did not know what to do. He went to the Parish Priest Father O Regan and told him his story. The priest went to see the rats and when he saw them he told the teacher, he should find Cotter na Gruaige and pay him to withdraw his charm.
Next day the teacher set out on search of Cotter and found him in the evening at the house of a man named Nolan of Brosna. The teacher apologised and asked Cotter to come next day and take away the rats which he promised to do. The teacher came home that night and told his story to everybody including Father O Regan.
Next day about noon Cotter na Gruaige was coming to the village and crowds flocked round him to see what would occur. Cotter rode his pony to the yard in front of the teachers house, put his hand in his pocket and drew out a bugle which he sounded and out came all the rats on the road. Cotter kept playing his bugle and riding slowly on his pony until he came to a small river South of Duagh named Glashamore. When he came to the river bank all the rats were around him, except one which he asked for, and the teacher said one rat remained in the yard.
Cotter na Gruaige ordered two rats to go for the missing one and they went immediately and brought the largest rat of all which was blind. He walked between his two Guards led by a cord which he held in his mouth. When the blind rat landed on the river bank Cotter ordered all rats to disappear and all the rats jumped into the river below the bridge and were out of sight in a second and from that day to this no rat was seen at Dore's house.
COLLECTOR

Gender

male

Address
INFORMANT

father

Relation

parent

Gender

male

Address

<<<<<<<,