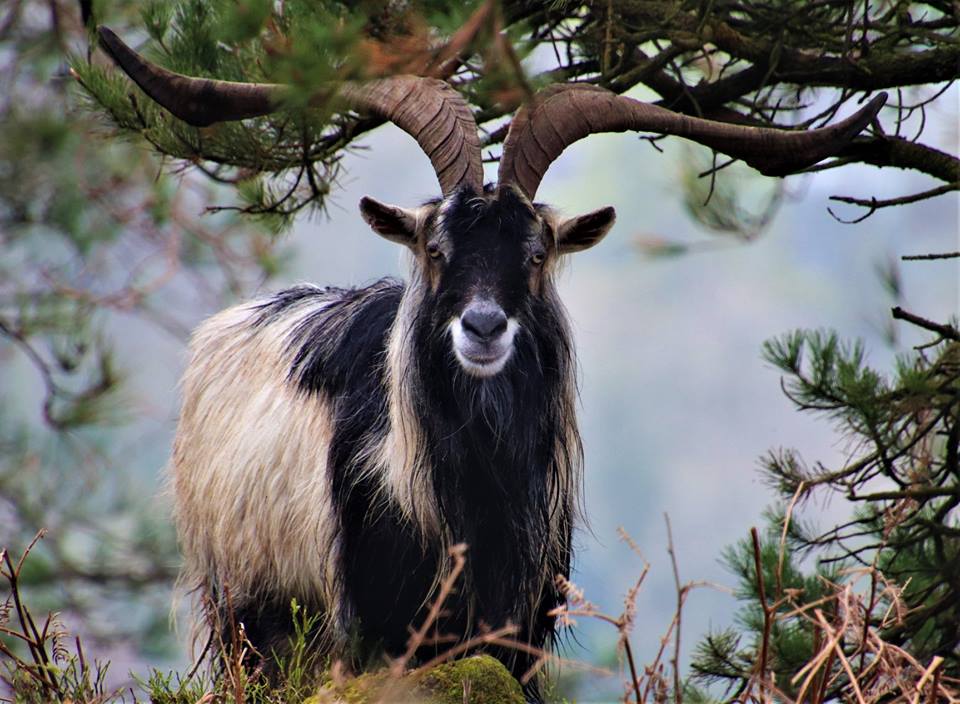 A Feral Goat by Neil T. Halligan, photo finalist in the Irish Widlife Trust photography competition.
<<<<<<<
Old Chapel Lane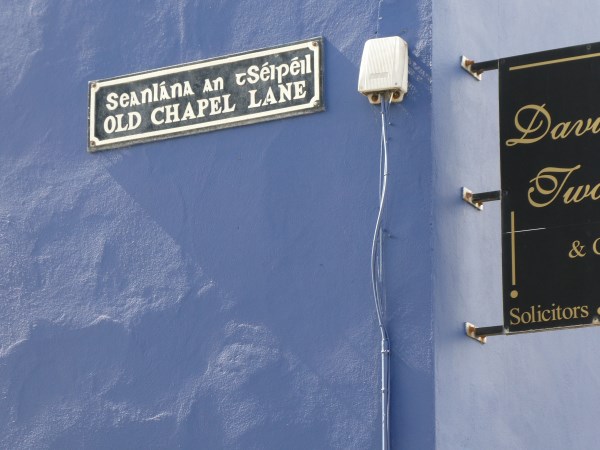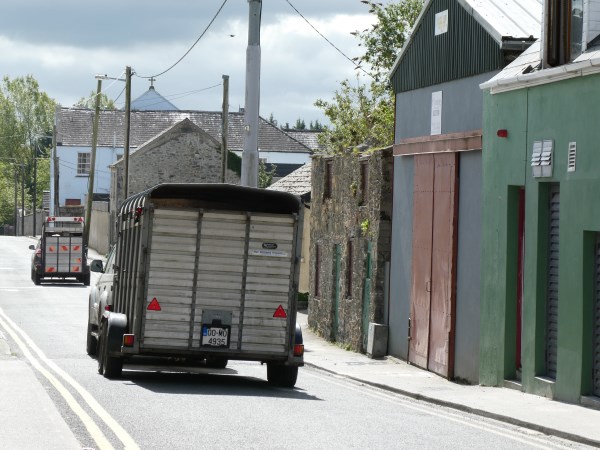 On the day I was in Castleisland this road would have been better named Mart Lane. Every car that went down while I was there had a trailer of cattle behind it,
When you have a really wide footpath you have room for some lovely trees without interfering with the flow of traffic.
<<<<<<<
Listowel MacAuliffes, Plasterers extraordinaire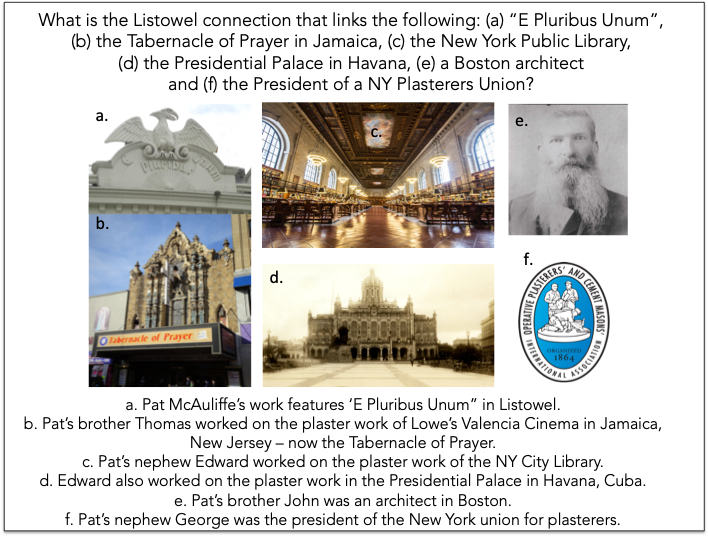 A great grandson of Pat MacAuliffe who contributed so much to Listowel's unique streetscape put the above picture together for us. Warren Buckley, in the course of his family research discovered that many of his family had distinguished careers in plastering. It's not just Listowel that has been enhanced by McAuliffe plasterwork. We share that distinction with Jamaica, New York, Havana and Boston.
<<<<<<<
In the Early Morning Dew


Apparently there was a May custom in Ireland of collecting dew. The following account I found in a website called Our Irish Heritage in a blog by Mike Rendell
The collecting of dew would take weeks of preparation. In April, May and into June the girls would get up before the dawn, go to the green fields (wheat was best) and harvest the dew – either with their bare hands, or more especially by spreading a sheet out over the moist grass, and then wringing it out and collecting it in a glass jar. This would be topped up every day, and for the whole year would sit in the sunlight by a suitable window. Every few days the concoction would be purified by carefully straining off the water so as to leave behind any sediment, dirt, or other impurities. And so, after nearly a year in which the freshest of fresh waters was imbued with sunbeams, it could be splashed on the face! Dr Boate's book opined "The dew, thus thoroughly purified, looketh whitish, and keepeth good for a year or two after."
The distillation was at its most powerful if applied before sunrise on 1st May, and in an age when we consider it beneficial to rub avocado extract into our hair, or spread unmentionable products over our skin to prevent wrinkles, who is to say that a spot of early morning dew water is not just as magical in its properties?
The practice gave rise to the riddle
I washed my face in water
That had neither rained nor run,
And I dried it on a towel
That was neither woven nor spun.
The answer lay in the fact that having washed your face in dew you always allowed it to dry in the fresh air – you would hardly go to all that trouble and then wipe it off afterwards!
<<<<<<<


Just a Thought


Last week I was the "preacher" on Radio Kerry's Just a Thought. My Thoughts are