Social Distancing in Glenteenassig
Photo: Brenda O'Haloran Enright
<<<<<<<<<<
Twin Spires In Listowel Town Square
(Photo and text from Cathleen Mulvihill in Glin Historical Society's page on Facebook)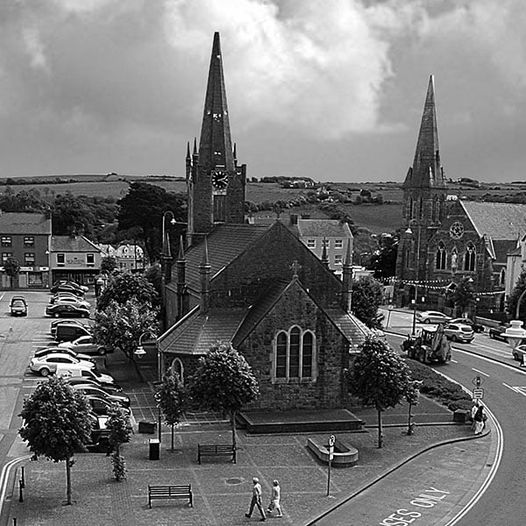 St. John's and St. Marys, Listowel.
St. Johns Theatre & Arts Centre – A former Church of Ireland Gothic style church, located in the centre of the newly developed Town Square. In 1814 the site for this church was presented to the community by Lord Listowel. It was designed by a Cork architect, named Payne and it is believed that the stone used to build St. Johns was taken from the ruins of Listowel Castle. It was used by the faithful of North Kerry as a place of worship from 1819 until its deconsecration in 1988. The Church of Ireland community and the people of Listowel were anxious to preserve the building and make it a centre for local cultural activities and heritage. It now houses a Theatre & Arts Centre and Tourist Office. St. John's Theatre & Arts Centre features and annual programme of performances including theatre, music and dance, exhibitions and educational programmes and an annual summer school.
St. Mary's Roman Catholic Church – Built in 1829, St. Mary's Church is centrally situated in the Square and its spire and porch were added in 1865. The side aisles were added in 1910. In line with reforms that followed Vatican II, much of the old altar was removed and the pulpit taken out. Local folklore has a story that Lord Listowel prevailed upon the clergy to ring the Angelus bell at 7.00 p.m. so that he could get an extra hours work from his men.
<<<<<<<
In Cobh, Co Cork
Daniel McDonnell was in Cobh and he spotted that Sonia O'Sullivan's statue is wearing a mask these days.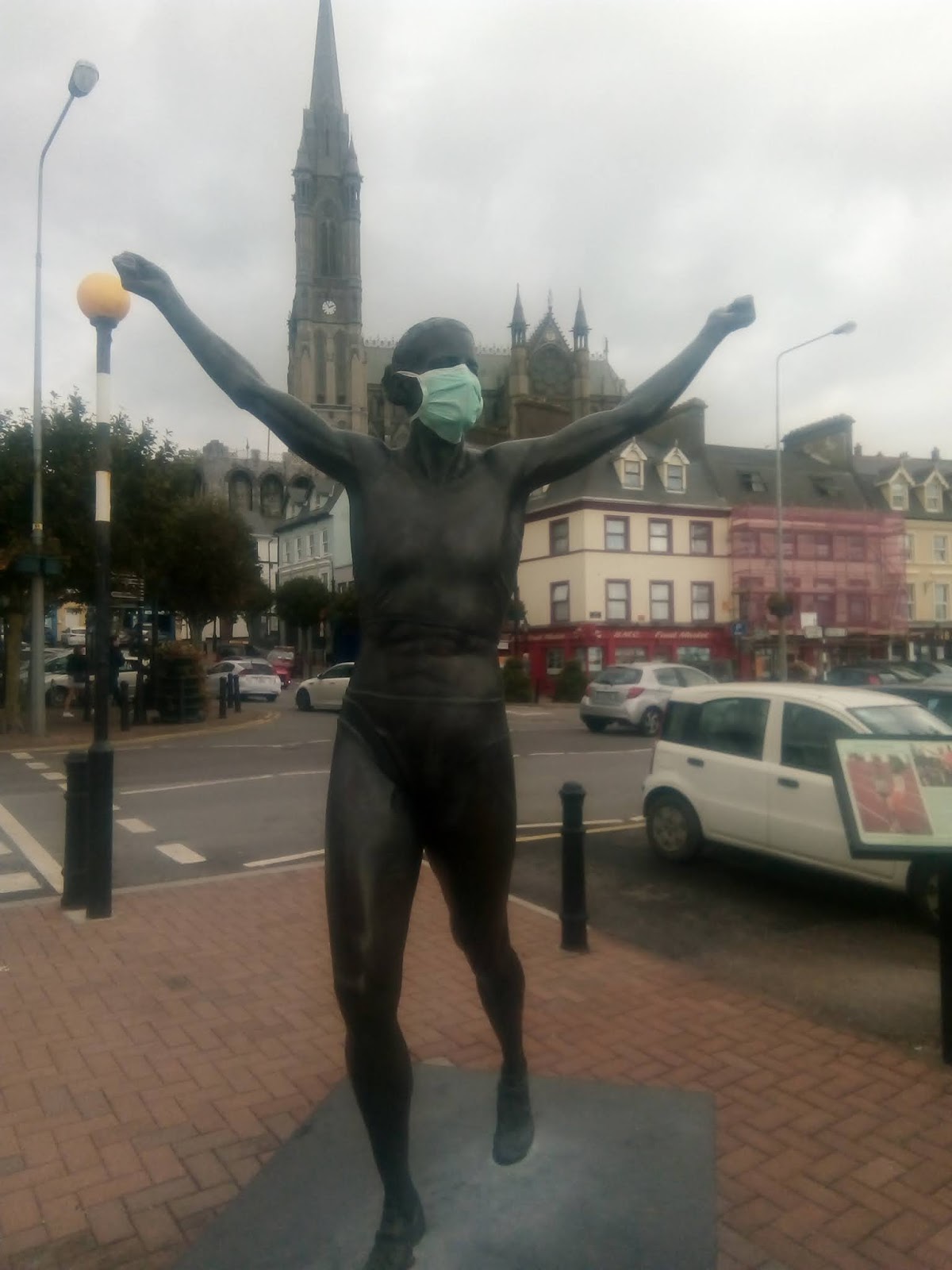 <<<<<<<<<<
Updating My Cooking Skills
I recently bought a new cookbook. It's not your ordinary cookbook. It is a Junior Cert Home Ec. textbook, written by my friends' daughter, Laura Healy.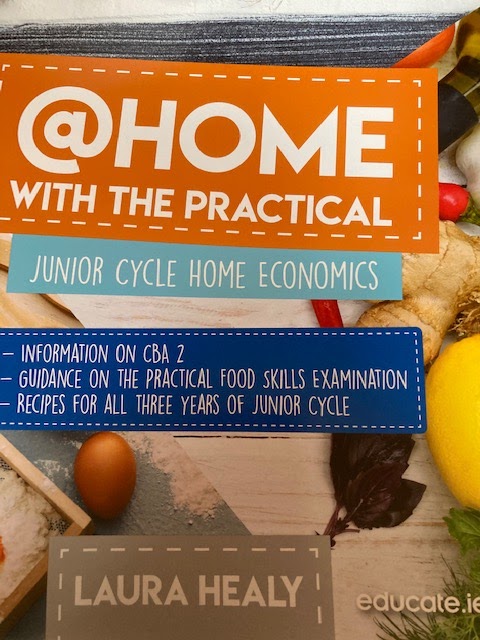 I like a simple basic cookbook with easy to follow instructions. That is why I prefer a school textbook to any of your fancy modern cookbooks, although I have a few of them too.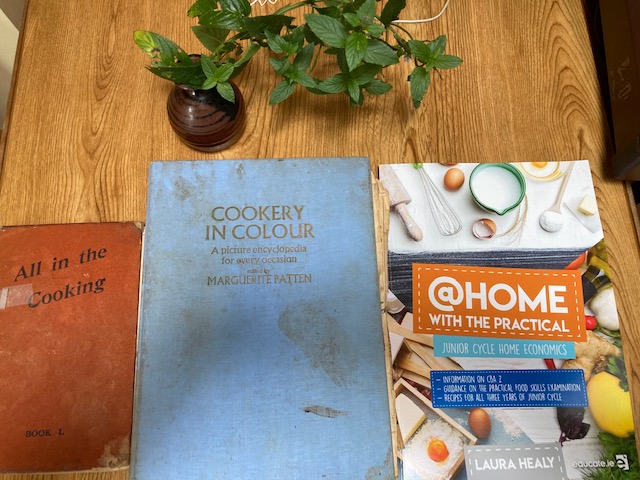 I still have All in the Cooking from my own schooldays. It's well used and very shabby at this stage but I still refer to it occasionally.
Next comes that favourite of Home Ec teachers in the 1970s and 80s, Cookery in Colour. Its a great book but not at all as attractive as my new 2020 purchase @ Home with the Practical.
The title of Laura's book would most likely be like Double Dutch to Marguerite Patten.
This is a well used page from my All in the Cooking.
My mother used to make buns. I dont remember her having a cookbook. She had the few recipes she used in her head. They were probably passed on from her mother.
Her repertoire consisted of plain buns, sultana buns and best of all, iced buns.
In my day, buns became Queen Cakes or Fairy Cakes and they could be transformed into Butterfly buns with the addition of a dollop of cream and a bit of jam.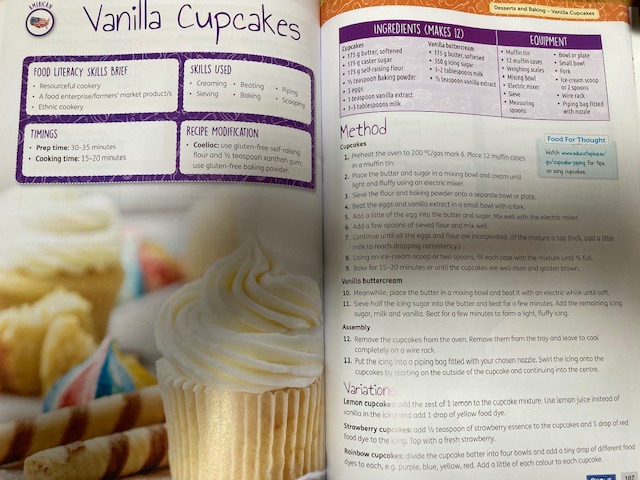 Look at today's buns. In Laura's book they are cupcakes. The recipe is basically the same but now it is a accompanied by a mouthwatering picture.
Cookbooks, even school textbooks have come a long way.
<<<<<<<<
More Changes at Danny's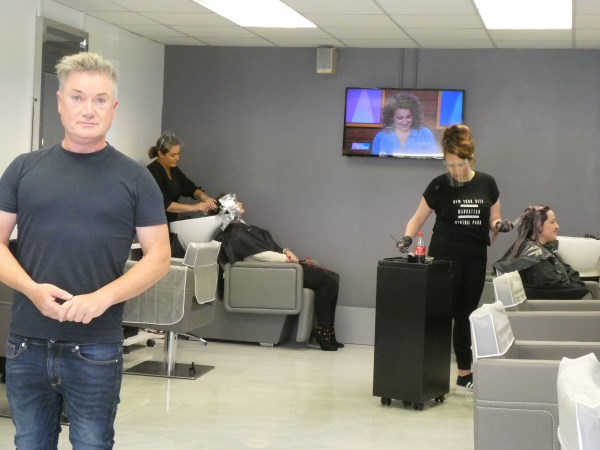 Danny Russell has moved across Main Street into his lovely new hair studio.