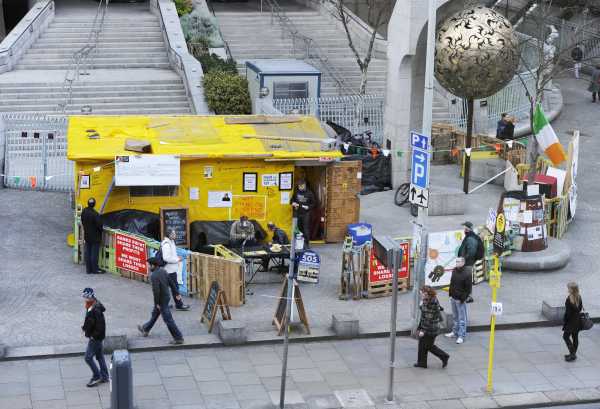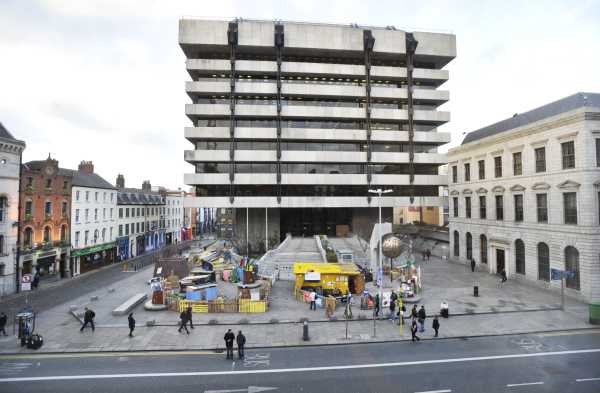 I took these pictures from Broadsheet.ie. Credit to Photocall. This was the Central Bank on Tuesday. what do these Occupy Dame Street people hope to achieve with this? I know the building is absolutely horrible and dominates in its ugliness every other building within an asses roar of it. But these tigíns…..!
St. Patrick's Day is approaching and the eyes of the world will be on us. It is reported that this group of protesters are refusing Garda requests to dismantle their shanty town before the festival.
………………
Update: 7.15 a.m. They're gone! The Gardaí and Dublin City Council swooped during the night and removed this unsightly mess. No,not the Central Bank, that is too permanent a structure. They removed the temporary structures which had been erected by the protestors. They say that they'll be back though!!
I think I'll steer clear of controversial subjects for a while……
……..
After the rant something more gentle.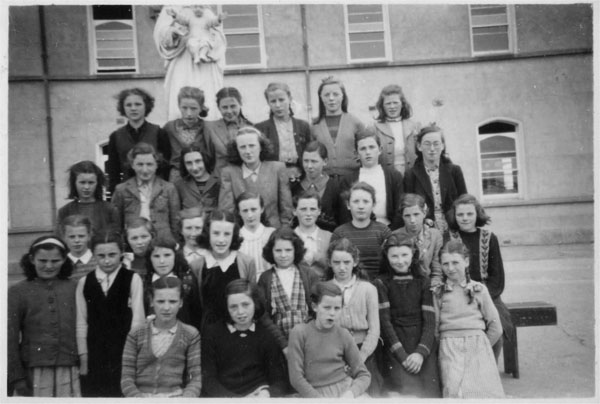 This is a group of Listowel convent girls in 1943. The picture first appeared on the internet about 4 years ago when a man called Mark Hewitt was researching his wife's family tree. His wife's mother was one Mary Hannon from Listowel and he had a biscuit tin of photographs from her old home. This was among the treasures, no names, no date. Mark put it on the internet, I saw it and started my detective work. Anna Sheahan recognized a few, among them Beatrice Carmody. Beatrice enlisted the help of Louise MacDonagh, now sadly passed on, and with Madeleine Mulvihill they got the names for us.

Walshe

Mail
Road

Louise O'Connell

Clieveragh

Ciss Walshe

Ballybunion
Rd.

Maureen Browne

Bedford

Kathleen Keane

Clieveragh

Mary Relihan

O'Connells
Ave.

Peggy Griffin

O'Connells
Ave.

Mary Hannon

Ballygrennan

Patricia Carmody

Clontubrid

Noeleen Keane

Church
St.

Terry Enright

Joan Costelloe

Beale

Peggy Sullivan

Derry

Terry Murphy

O'Connell's
Ave

Mai Grogan

Charles
St.

Pat O'Connor

O'Connell's
Ave.

Margaret Keane

Clieveragh

Noreen James

O'Connell's
Ave.

Annette keane

Ballygrennan

Mai Carmody

Clountubrid

Peggy Mangan

Bedford

Anne Keane

Church
St.

Marie Murphy

Church
St.

Beatrice Buckley

Bridge
Rd.

Teresa O'Brien

Tanavalla

Mary Mahoney

Charles
St.

Maureen Flaherty

Charles
St.

Maura Perryman

Beale

Ina O'Sullivan

Inch,
Lisselton

Anna Mai Foley

Lisselton

Madeline Power

Clieveragh

Joan Purcell

Woodford
—————————————————————————————————————
These are the names as Beatrice gave them to me . I think they are front to back but I'm not at all sure.