This is the roadway beside the Tidy Town Community Fruit and Vegetable Garden.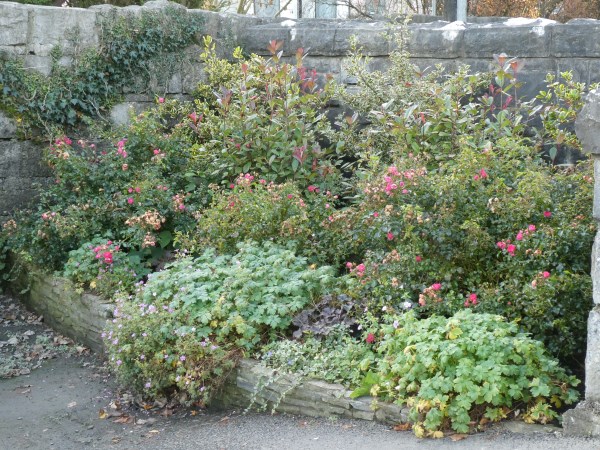 This lovely border is just beside the Arch.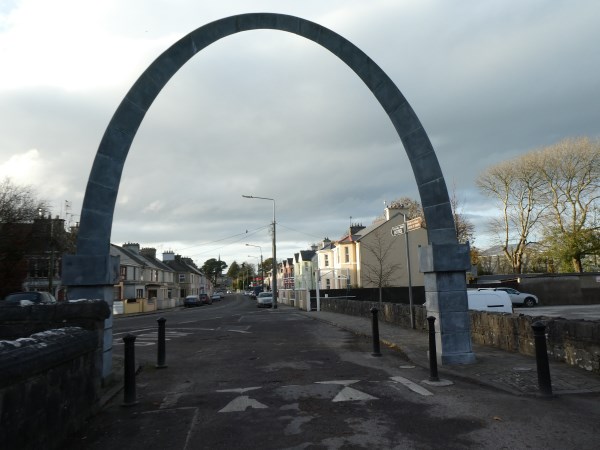 The arch looking towards Bridge Road on a frosty morning in November 2020.
<<<<<<<<
A Note of Encouragement
I am truly grateful for all the support I have received from blog followers lately. With your help I am plodding along with mostly old news.
I'll share with you another encourager who expressed his support in such glowing terms.
Hi Mary,

I would like to add my voice to the clamour from all over the world
expressing appreciation for the joy you enable from almost forgotten
memories of our individually loved ancestors. It is thought by many
philosophies that one does not really die until memories of you fade
from the memories of the living.

What you give to Listowel is a precious resource and we all, all current
residents and ancestor's offspring alike, thank you for the well of
emotion you release daily with the blog. My own day always starts with a
touch of the computer button for your icon.
Thank You,
Billy McSweeney


<<<<<<<<
An Obituary with a Finuge Connection
Margaret Christina "Peggy" Daylo
Olympia, Washington
Jan 3, 1932 – Aug 27, 2018 (Age 86)
Margaret Christina Lyons was born in Listowel, County Kerry, Ireland. She was the eldest daughter of John Lyons and Josephene Regan. John and Josephene had 8 children. Margaret, Noreen, Dan, Betty, Mary, Joan, Marie and Johnnie, in that order with Margaret being the eldest. Peggy was her nickname. Since it was the post-Depression period, even in Ireland, Margaret was raised by her mother's parents. Michael Regan and his wife Norann Regan-(nee Carroll) were their names. She attended a Catholic School in Listowel administered by Nuns until her mother removed her from the school and enrolled her in the local public school, Drom Plough, which is in Finuge, County Kerry, Ireland. Since she was more advanced than most of the students at the public school, the teacher would take breaks from the class and put her in charge of the class while she was gone for short periods.
Margaret left Ireland around 1950 when she graduated from school and spent time with an Uncle and Aunt in Cornwall, England making cucumber sandwiches and tea at a Gentleman's club that her uncle owned and operated after the war ended.
She went back to Listowel for a short time after a falling out with her aunt in Cornwall, and then ended up back in London as a nanny for a Jewish family.
In 1951 she was of legal age and met her husband to be, Bonifacio Dimain Daylo. Bonifacio started out as a Filipino National serving in the U.S. Navy as a Steward for the officers. It was Post World War II and Filipinos had fought alongside the Americans in the Philippines and were allowed to join the U.S. Navy and become citizens. Margaret was impressed with Bonifacio because he played the guitar, so a musician swept her off of her feet and they got married in London in 1951. Madeline Maria Daylo was their first born in London. In 1954, Ronald Michael Daylo came along, also born in London. By then Bonifacio had advanced to Yeoman, and typed up all the paperwork that was required by the Navy officers, so wherever the officers traveled Bonifacio was required to be. In the 1950's whole families traveled with the U.S. Navy sailor wherever he was stationed. In April, 1956, Belinda Daylo was born in Cannes, France. The family was then transferred to the Philippines, where Roberto Dimain Daylo was born in November, 1957. The family then moved to Yokosuka, Japan where Lisa Ann Daylo was born in 1959, then Raymond Daylo in 1961. Margaret was the glue that held this family together while Bonifacio was out at sea in those days. The family finally moved to the United States, stayed in Vallejo, California for a short time, then settled in San Diego where Jeanette Daylo was born in October, 1962.
Margaret was busy holding down the fort raising 7 children, while Bonifacio, who was advanced to Chief Yeoman by then, kept his nose to the grindstone supporting the family financially. They purchased their first home in Chula Vista, California in the mid 1960's.
Margaret was a great mother. She was very organized and was a good cook. You never went hungry in our house. She was outspoken at times, as are most Irish women, but she had a heart of gold and was always concerned about the welfare of others before herself. She assimilated well into the Filipino culture and learned to cook Filipino food for our Dad. Everybody was welcome in her home and she always had a great smile for everybody. Whenever our father could not participate in a function, Mom
was there. She attended concerts, parades, graduations; whatever events her children were involved in.
Around 1970, after all the kids were grown and could take care of themselves, she took a job at North Island Naval Air Station, working for the Navy Exchange as a cook. Shortly afterwards she applied for and was hired as a Supply (Accounting) Supervisor at North Island Amphibious Base. She retired in the late 1980's. Mom received many accolades while working as a supervisor.
In 1977, Mom convinced our father to buy a house in the Mount Helix area in La Mesa, California. She had a passion for gardening, shopping at thrift stores (for white pants). She enjoyed knitting sweaters and afghan blankets for the whole family, especially for the grandchildren. She is survived by 6 of her 7 children, Madeline, Ronald, Belinda, Lisa, Ray and Jeanette. Roberto, her second eldest son, died in 2000. She is also survived by 8 Grandchildren and 4 Great-Grandchildren.
In 2011, our mother broke her hip. After two hip operations, one a replacement, she started become forgetful. It was determined by her doctor that she had early symptoms of Alzheimer's, then later re-diagnosed as Lewy's Body Dementia.
It had been hard to witness a woman who was so vibrant and full of life, slowly fade away. Life can be cruel, but death will never erase the light that she spread into this world to all who were lucky enough to be touched by her, and be a part of her life. We will miss you Mom, but you will never fade from our memories or hearts!
Note: The family is planning to bury her cremated remains in the Fall of 2019 at the Regan family cemetery in Finuge, Ireland. A private memorial service was held at the "Funeral Alternatives of Washington." Their address is 2830 Willamette DR. NE. Suite G, Lacey, Washington 98516. Please do not send flowers to the Crematorium, but instead donate something to a research organization for Alzheimer's/Dementia or leave some kind words on how our mother touched your life.
<<<<<<<
Main Street 1959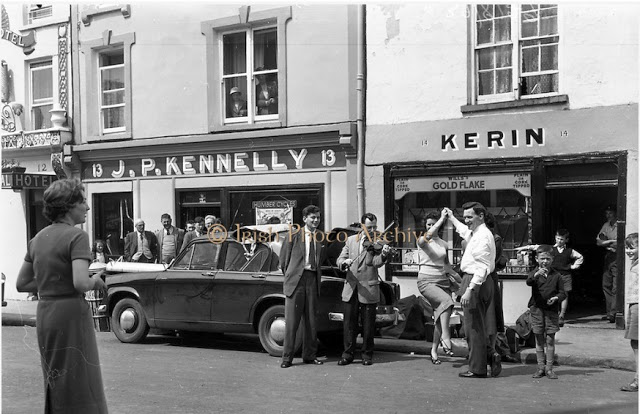 No better man than Vincent Carmody to come up with the names.
"In the photo of Main Street which you had up last week, I could see (outside J.P. Kennelly's, Tom O'Connell, publican, Main Street, Tim Kennelly of J.Ps, Timmy Brosnan of Woodford and Jerry Flaherty of Church Street (Marie Fitzgerald's father). I do not know the other man. Upstairs, looking out Kennelly's window I think are Gertie Kennelly and her Mother, Mary (Tim Kennelly's wife)
Maurice Cahill (whose family owned Kerin's) is the figure standing just inside the front door of Kerins shop. The young man (boy) on the right of the photograph, on the roadway, is Frank Murray.
A memory I still have of J.P.Kennelly's is of a distinctive aroma of mixes of turps, putty, paints and a general smell of hardware goods, also one thing stands out in my mind, they, like McKennas, had an overhead track for sending money from the singular counter to their office, it could be described as similar to a singular rail line, whereas McKennas was similar to Heuston with several tracks going to the main terminal."